A robust e-learning authoring tool called Adobe Captivate makes it possible to create dynamic and exciting lessons, simulations, and tests. Captivate assists educators and trainers in developing and delivering efficient learning experiences available to students across various devices and platforms thanks to its user-friendly UI and sophisticated features.
Content producers can quickly create unique e-learning lessons with Captivate, including features like video and audio narration, multimedia animations, interactive quizzes, and simulations. The utility also enables the development of responsive content, which can adjust to the learner's device or screen size, making accessing the content from any location more straightforward.
It is an ability to build augmented reality and virtual reality simulations, which give students realistic learning opportunities, and is one of its standout features. The tool also comes with a selection of pre-made templates and themes that can be altered to meet the requirements of any assignment or course.
Additionally, Captivate has robust analytics and reporting tools that give teachers and coach insightful data on student performance, enabling them to continuously tweak and enhance their lessons.
 It is a flexible and strong tool for making effective and engaging e-learning content.
Adobe Captivate Features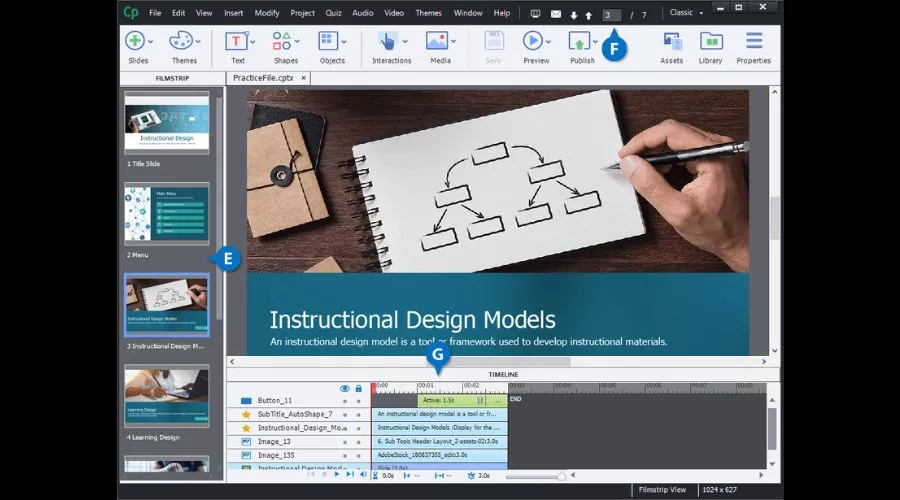 It is a powerful e-learning authoring tool that offers content creators a wide range of features. Here are some of the latest features of Adobe Captivate:
1. Interactive videos: 
Video content producers can now add overlays, hotspots, and other interactive elements to their videos using it, which enables the creation of interactive videos.
---
2. Fluid boxes 2.0: 
Fluid Boxes, a Captivate feature for responsive design, has been updated to version 2.0, making it simpler to build responsive e-learning materials that adjust to various platforms and screen sizes.
---
3. Multistate objects: 
With the most recent version of Captivate, content producers can now make objects with multiple states, such as clicked or hovered states, allowing them to create interactive content with these different states.
---
4. VR and 360-degree learning: 
Captivate now has tools for building virtual reality and 360-degree learning situations, giving students an immersive and interactive experience with the material.
---
5. Direct preview of responsive courses: 
Captivate now provides a preview option for responsive practices, enabling content producers to watch and test their content on various devices and screen sizes.
---
6. Advanced branching: 
The branching feature in Captivate has been updated with advanced branching capabilities, allowing content producers to include complicated scenarios and decision trees in their e-learning materials.
---
7. Accessible e-learning:  
E-learning that is more accessible: Captivate now has features like closed captions, playback controls that are accessible, and support for screen readers that make e-learning material more accessible.
Overall, it continues to evolve and offer new features for content creators to create engaging and effective e-learning content.
---
Adobe Captivate Prime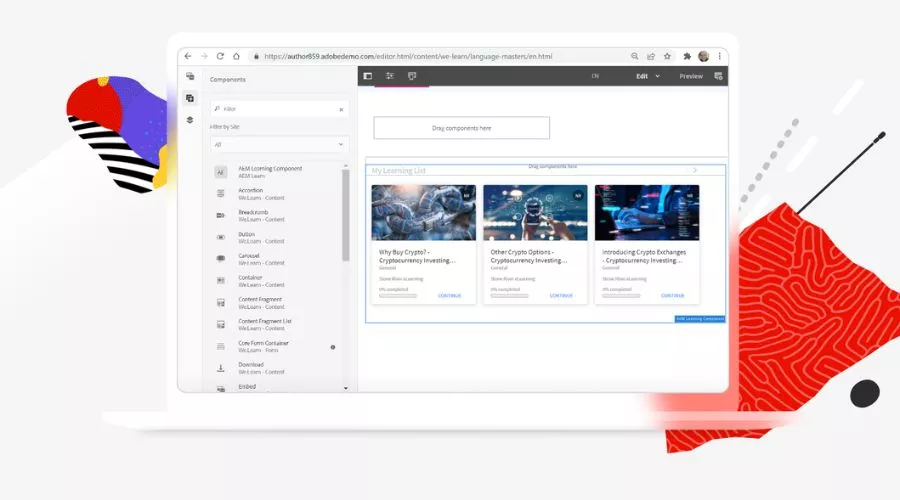 An award-winning learning management system (LMS) called Adobe Captivate Prime is made to offer individualised learning experiences and streamline training procedures. To develop, manage, and distribute e-learning content, Captivate Prime, a component of the Adobe eLearning Suite, seamlessly integrates with it.
With Captivate Prime, you can build, administer, and execute training programmes using various features, such as customisable learner dashboards, gamification tools, social learning, and a mobile app for on-the-go learning. In-depth reporting and analytics tools are also included in the platform to assist managers and trainers in assessing the success of their training initiatives and pinpointing areas for development.
One of its main advantages is the emphasis on individualised learning in Captivate Prime. The platform offers adaptive learning pathways customised to specific learners' requirements and preferences using AI and machine learning. It enables students to move through their training classes at their own pace and maintain motivation and engagement.
Moreover, Captivate Prime provides a variety of connections with other well-known learning tools and platforms, including Salesforce, Workday, and LinkedIn Learning. As a result, integrating various training resources into a seamless learning experience and streamlining training procedures throughout a company are made simple.
Overall, Adobe Captivate Prime is a robust and adaptable LMS that provides several features to aid in the development, administration, and execution of efficient training programmes. Captivate Prime is a potent tool for advancing learning and development efforts, regardless of whether you are a teacher, trainer, or business professional.
Adobe Captivate Download Process 
It is an e-learning authoring tool that enables the creation of interactive and engaging courses, simulations, and assessments. 
It is downloaded in two versions: Captivate 2019 and Captivate 2019. For content producers, both versions provide a variety of features, such as responsive design, virtual reality and 360-degree learning, engaging videos, and sophisticated branching.
The methods below can be used by users to download Adobe Captivate:
Go to the Adobe website and access the Adobe Captivate product.

To download a 30-day trial version of the programme or to buy it, click the "Download trial" or "Buy now" buttons, respectively.

Follow the instructions to finish the transaction and download the software if you buy it.

Follow the instructions to download and install the software on your computer while downloading the trial edition.
Note that It is a subscription-based service. Users must continue to pay a monthly or yearly fee to use the programme after the trial time has passed. 
Overall, getting Adobe Captivate from the company's website is a straightforward procedure.  It is a powerful tool for content producers looking to design and deliver successful e-learning experiences thanks to its cutting-edge features and user-friendly interface.
Conclusion 
As a powerful e-learning authoring tool, Adobe Captivate provides content producers with many features. Interactive videos, responsive design, multistate objects, VR and 360-degree learning, sophisticated branching, and accessibility features are some of its most recent features. The official Adobe website offers a download for it, also accessible as a subscription-based service. It allows content creators to produce engaging and successful e-learning classes, simulations, and assessments thanks to its user-friendly interface and sophisticated features. It is a flexible instrument that can be utilised by educators, trainers, and companies to provide learners with individualised and interactive learning experiences. It is helpful for those looking to produce top-notch e-learning material. For more information, visit Trendingcult.
FAQs