With the invention of the camera, capturing special moments in our lives has become very easy. In recent times, clicking photos of nature, wildlife, events, persons, etc., falls under our daily activities. With the advancement of technology, editing photos has become an art. People like to edit and post their photos on several social media platforms. But choosing the right photo editor is very difficult due to the presence of many photo editing apps. Here comes Adobe Photoshop Lightroom Classic, where you can easily edit your photos as per your preferences. It is also important for professional photographers as it provides extensive editing tools and seamless integration with other Adobe products. Adobe Photoshop Lightroom Classic is designed to help users organise, edit and share their photos conveniently and efficiently. Digital artists prefer Adobe Photoshop Lightroom Classic as they can edit photos from simple colour adjustments to complex image manipulations.  
Understanding Adobe Photoshop Lightroom Classic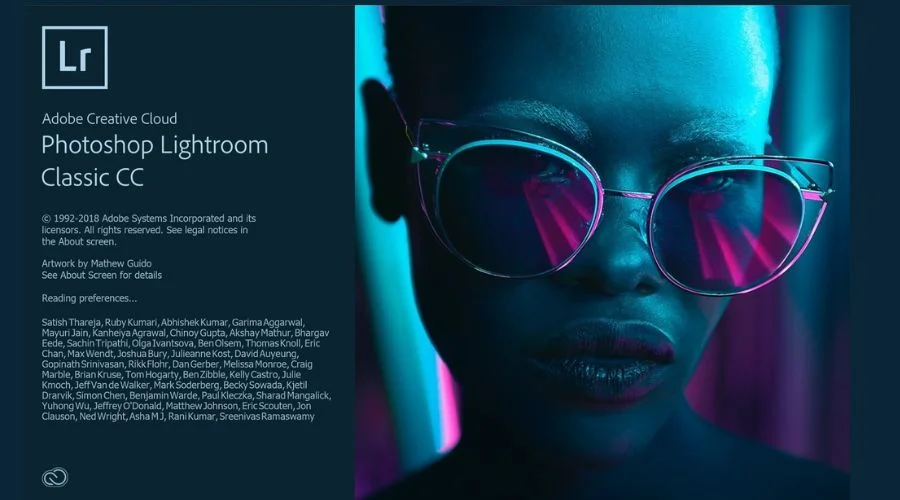 Adobe lightroom classic and photoshop is a simple, user-friendly software program. It provides advanced editing tools to its users. The software is designed to edit, organise and share digital photos. With the latest software advancements, users can easily import their photos from their cameras or smartphones and organise them into collections or folders. After organising their photos, users can start editing these with several Adobe Photoshop Lightroom Classic tools. Lightroom offers the option to directly share your edited image(s) to social media platforms like Facebook, Flickr etc.  
Adobe Photoshop Lightroom Classic integrates with other Adobe software like Photoshop and Adobe Creative Cloud. It makes it easier for a user to move between different software programs and to share their work with others.  
There are two versions of Adobe Photoshop Lightroom Classic available in the market. They are: 
1. Adobe Lightroom Classic
Adobe Photoshop Lightroom Classic is a part of Adobe's Creative Cloud subscription service, designed for desktop computers. Many professional photographers use it to organise and edit their photos on the desktop. Adobe Photoshop Lightroom Classic includes basic editing tools like exposure, contrast, saturation, etc. Advanced features like selective editing, noise reduction, lens correction etc., are also available in this software. This digital photo editing software has a wide variety of preset filters. The Lightroom Classic's Library module makes it easier for the user to view, tag, sort, rate and manage photos based on different criteria. The software's ability to edit RAW or uncompressed image files is one of its standout features. 
---
2. Adobe Lightroom CC
Adobe Photoshop Lightroom Classic CC is a part of Adobe's Creative Cloud subscription service, which is designed specifically for mobile devices and web browsers. Photographers who want to edit their photos quickly like to use this software. This photo editing software provides almost all the features of its desktop counterpart, like basic to advanced photo editing tools and different filters. The feature that differentiates Adobe Photoshop Lightroom Classic CC from Adobe Photoshop Lightroom Classic is the ability to import photos from a camera roll or cloud storage like Dropbox or Google Drive using an internet connection. Once imported, the user can easily edit the image(s) using Lightroom CC's instinctive interface.  
The editing part in Adobe Photoshop Lightroom Classic is very interesting. Different photographers like different edits to their photos. Most importantly, this software follows non-destructive editing, which means you can always go back to your original photo if you do not like your edit.
---
A few key editing tools of Adobe Photoshop Lightroom Classic are given below: 
1. Basic adjustment Tools
A wide range of basic adjustment tools is found in Adobe Photoshop Lightroom Classic, which lets you quickly and easily edit your photos. Exposure, contrast, highlights, shadows, white, and black adjustments can be made to your photos. With these tools, it becomes easy for you to highlight, brighten or darken areas on the image as per your preference. 
---
2. Advanced Adjustment Tools
If you are very sceptical about editing photos and want precise editing of your photo, Lightroom provides a range of advanced adjustment tools to play with. Colour adjustments like saturation, vibrance, hue adjustments, sharpening and noise reduction can be made to your photos. These tools help you to enhance the colour, reduce the noise and sharpen the details of your photo.
---
3. Localised Adjustment Tools
Adobe Photoshop Lightroom Classic localised adjustment tools help the user to make adjustments to specific areas of the photo rather than the entire photo. Tools like adjustment brush, radial filter, graduated filter, etc., are available to perform specific edits to certain areas on the photo. 
---
4. Lens Correction Tool
With the Lens Correction Tool, a user can correct any distortion or vignetting present in the photo due to the camera or lens. 
---
5. Advanced Editing Tools
Adobe Photoshop Lightroom Classic provides the option to create HDR (high dynamic range) and panorama images.
---
Adobe Lightroom vs Photoshop 
Adobe Photoshop and Lightroom are software to edit digital photos. But they have different usages and functions. Lightroom is built in a way to ease a photographer's workflow, whereas Photoshop focuses more on editing like image manipulation, creation and enhancement. Overall, the usage of this software will yield a special final product. Both can be used to ease your workflow and have exceptional editing of your photos.  
Conclusion 
Overall, Adobe Photoshop Lightroom Classic is a perfect tool for a photographer looking to organise, edit, and enhance his/her photos. This software provides a wide variety of functionalities and features. It allows photographers to manage their images effectively and efficiently. The non-destructive editing process makes Adobe Photoshop Lightroom Classic an exceptional tool for photographers. Lightroom is accessible on different platforms like desktops, smartphones and web browsers. Adobe Photoshop Lightroom Classic is a powerful tool that helps photographers achieve their creative vision and enhance their photography skills to higher levels. For more information, visit Adobe and the official website of Trending Cult.
FAQ's