With the increasing trend of social media reels and videos, we require much better and more creative video editing applications to gain and maintain those followers and shine in their feeds. Adobe Premiere Rush comes as an answer to all video editing-related questions. It is a very easy-to-use application and can be accessed even by a beginner-level skill set person. You can use it anywhere, on your mobile or desktop, for free and find your space to be creative. It is not time-consuming and can be used wherever you are working and capture and/or edit professional-looking videos at your fingertips. Not just for social media content, this can also be useful for students in creating their presentations. The addition of text, audio, and videos is done very effectively on this application.
Key Features of Adobe Premiere Rush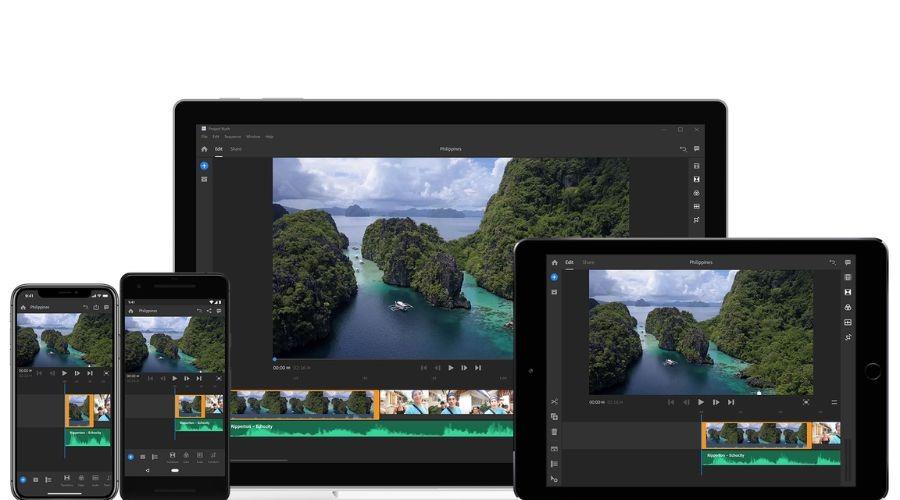 This feature enables the user to adjust the speed of the video and the audio in it accordingly. It can be slowed down or sped up as wished by the user. All you need to do is click on 'Speed' on the bottom toolbar and adjust the speed range and ramp according to the requirement.
Add professional-level colours and filters to your video through this particular tool in Adobe Premiere Rush. Moreover, enhance the quality and desired aesthetic of the video by adjusting intensity, highlight, contrast, exposure, and countless other tools within this feature.
Transition videos on social media have always been the most popular. When you make a transition video, you don't want people to notice any slight delay in it. Setting an exact time duration within Adobe Premiere Rush makes these transitions smoother and easier by using features like 'cross dissolve' and 'dip to black'. The 'Dip to black' option provides you with adobe premiere rush to add a black screen. You are now free to show your creativity on a black background.
Whether it be your school assignment presentation video or your social media video, adding audio and sound effects helps in making it much more effective and appealing. Click on the '+' sign on the bottom left side of the toolbar and then click on the third option from your left, 'media'. Select from countless Rush Tracks available in Adobe Premiere Rush and add them to your video. Now, adjust the song length, speed, volume, and all the other aspects you want to adjust.
For the introduction of every video, a title is added. Customise your title and add it to your video. Choose from various fonts and styles, and place your title in your desired position in the video. Get a variety of built-in templates and select the one that fits your video the best. This feature of Adobe Premier Rush gives a good and engaging start to your video.
Share the videos created by you through your imagination on any social media platform or download them on your device by clicking on the 'Export' option on the top right side of the screen. Feel free to share your creativity on Instagram, TikTok, Facebook, and any other platform. 
Make an Adobe Premiere Rush pro crop video using the crop feature available. Remove the unwanted parts from the screen. Click on 'Transform' and then click on the 'crop' option and crop your video in any way you wish to.
Advantages of Adobe Premiere Rush
It is a very easy-to-use application and can be learned quickly by anyone. Even if you are a beginner at editing, this application will give you good-quality videos to fulfil any purpose.

Choose amongst a wide range of tools mentioned above, like adjusting colours and contrast, adding titles, and editing any way you want to.

It is accessible on your mobile as well as desktop, which puts editing videos at your fingertips.

It helps you follow your imagination and helps you create what you had in mind. Think out of the box, and Adobe Premiere Rush will be there to assist you.

The quality of the video is maintained throughout, and even though there are several competitors for video editing applications, Adobe Premiere Rush remains top-tier with so many features and so much clarity by being less time-consuming.
Premier Rush Starter and Premier Pro
If you need to use the basic tools mentioned in the sections above, Premiere Rush Starter is the right choice for you. It is free of cost and gives you great editing effects, free sharing, thousands of soundtracks to choose from, and many other features that will enhance your videos.
If you want to use the advanced options and features, opt for Premiere Pro. The price of this particular subscription is USD 9.99/month. This comes with many other cloud express features, including the ones in Premier Rush Starter and 100GB of additional cloud storage, which can later be upgraded if required.
---
Conclusion
Whether you are a beginner or a pro, Adobe Premier Rush has got you covered when it comes to video editing. Choose from the thousands of features the application has to offer and create something right out of your imagination. Shine on the top of your followers' feeds with your amazing editing skills and increase your engagement. Stay on top of every piece of information like this with Trendingcult.
FAQ's