Adobe Scan Mobile App is a powerful mobile scanning app that allows users to easily capture documents, receipts, business cards, and more using their mobile devices. To make scanned documents appear their best, Adobe Scan uses cutting-edge image processing technology to automatically crop, align, and correct the colour of the documents.
The ability of Adobe Scan Mobile App to turn scanned documents into searchable PDF files makes it simple to locate particular information within a document. This is one of the program's outstanding features. Additionally, programme users can annotate, highlight, and sign documents.
For anyone who needs to scan and manage documents while on the go, Adobe Scan is a helpful tool. Adobe Scan Mobile App is a programme you should look into whether you're a student, a working worker, or just someone who wants to keep their paperwork organised.
---
Features of Adobe Scan Mobile App
Scan Anything in a Snap: With Adobe Scan Mobile App, users can quickly capture and transform documents, forms, business cards, and whiteboards into

high-quality Adobe PDFs

. To ensure the best scans each time, the app offers a variety of capture options in addition to automatic boundary detection.

AI-Enhanced Scans: Adobe Scan makes intelligent use of scanned documents to improve and clean them up using Adobe Sensei, a potent AI technology. It fixes perspective issues with images, enhances handwriting or printed text, and gets rid of unwanted things like glare and shadow.

Save Pages as JPEG: Adobe Scan Mobile App users have the option to

save

f

iles as JPEGs

for greater scanning freedom. Scanner images can be added to documents or uploaded to their preferred applications.

Organize Your Scans: Adobe Scan enables users to easily

organise their scans

into custom folders and save files with suggested file titles and dates. Any Acrobat desktop, web, or mobile programme can view saved scans.

Open in Acrobat: Users can

open scans in the desktop

, web, or mobile apps for Acrobat to complete forms, sign papers, annotate PDFs, and collaborate on reviews.
Overall, Adobe Scan is a feature-rich mobile application that gives users access to a strong scanning and document management utility in the palm of their hands.
---
Adobe Scan Mobile App download process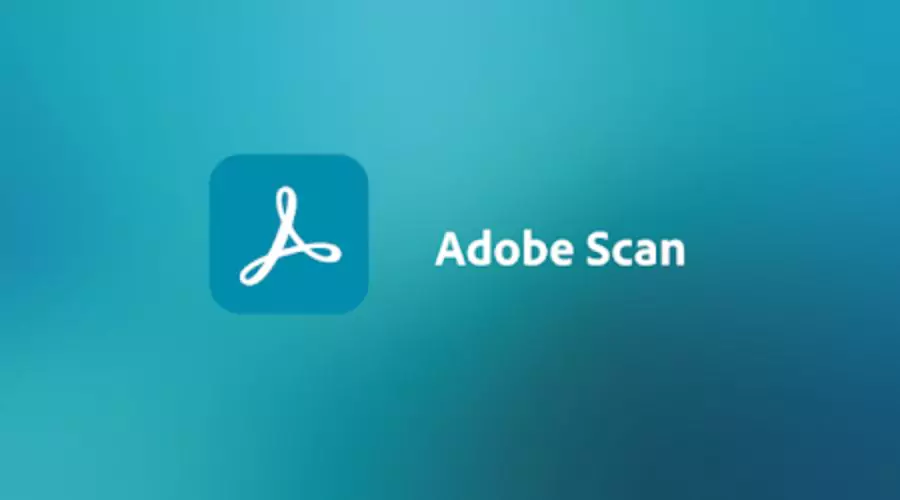 The methods for the Adobe Scan Mobile App download are as follows:
On your mobile device, launch the Google Play Store (for Android devices) or the App Store (for iOS devices).

Enter "Adobe Scan" in the search field, then press the search icon.

Choose the "Adobe Scan: PDF Scanner with OCR, PDF Creator" software from the search results.

Tap on the "Install" button (for Android devices) or the  "Get" button (for iOS devices) to obtain the app.

Tap the app symbol to launch it after it has been downloaded and installed.

Log in using your Adobe account, or if you don't already have one, register for one.

To give the required permissions and begin using the app, adhere to the on-screen instructions.
That's it! You can now use the Adobe Scan Mobile App to scan documents, receipts, business cards, and more on the go.
---
Plans and Pricing of Adobe Scan
On iOS and Android devices, users can obtain a free version of the Adobe Scan Mobile App. Basic functions like document, form, business card, and whiteboard capture and conversion into high-quality Adobe PDFs are available in this free version. For added freedom, it also has automatic boundary detection and the option to save files as JPEGs.
Users can, however, commit to Adobe Acrobat plans and pricing, which include Acrobat Pro and Acrobat Standard, for more sophisticated features. With an annual subscription, Acrobat Pro is offered for $19.99 per month and Acrobat Standard for $12.99 per month. Users also have the option of paying yearly, either in advance or every month.
Acrobat for teams is offered to companies at a monthly cost per licence of $22.19, with a 7.5% discount for team packs of five or more licences. This package comes with tools for text and picture editing, PDF export to Word, Excel, and PowerPoint, e-signature collection, and integration with business software like Microsoft 365 and SharePoint.
---
Adobe mobile apps scan old pictures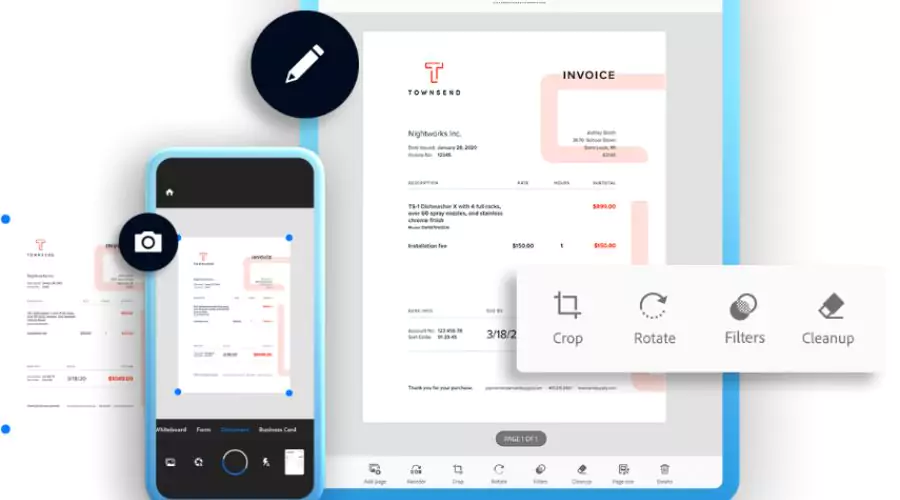 Adobe Mobile Apps scan old pictures and digitally restore them. You can quickly take a high-quality picture of your old photo using the app's built-in camera and save it as a digital file. This will shield the image from deterioration and loss.
The ability of Adobe Scan to enhance and improve the picture is one advantage of using the app for old photographs. Adobe Scan can automatically identify and correct picture perspectives, sharpen text, and remove unwanted elements like glare and shadow with the aid of Adobe Sensei, the app's AI-powered technology. This may produce a digital copy of your old picture that is clearer and more vibrant.
To give you more options for storing and sharing digital versions, Adobe Scan also enables you to save the scanned images as PDF or JPEG files. The files can be readily shared with loved ones and acquaintances, or you can upload them to cloud storage services for long-term storage.
---
Conclusion
Adobe Scan Mobile App is a potent instrument that can assist people and organisations in quickly and easily digitising their paper documents, receipts, business cards, and old photos. It's simple to take high-quality scans with the app's AI-enhanced features, which include automated boundary detection, perspective correction, and text recognition. These scans can then be stored as PDFs or JPEGs. You can arrange your scans using Adobe Scan, password-protect them, and even export them in various file forms for simple editing.
Additionally, Adobe Scan easily integrates with other Adobe products like Acrobat Reader, enabling users to fill out forms, sign papers, and collaborate on PDF reviews. Adobe provides subscription plans with advanced features and support for people and businesses even though the app is free to download and use. For anyone seeking to simplify their document management and digitisation processes, the Adobe Scan Mobile App is a crucial tool. For more information, visit the official website Trendingcult.
FAQs