The Adobe Substance 3D Modeler represents an innovative software that brings about a transformative change in the process of 3D modelling. Through its advanced tools and user-friendly interface, this software bestows the power to artists, designers, and creatives to freely express their artistic vision by producing striking 3D designs. Whether for character, environmental, or object creation, the vast features and adaptability offered by Substance 3D Modeler facilitate the realisation of your desired outcome. This article contains all the details you need to know about Adobe Substance 3D Modeler.
Features of Adobe Substance 3D Modeler
Substance 3D Modeler is the latest addition to the Adobe family. You can learn more about Adobe Substance 3d Modeler by clicking the link given below.
The convincing features of Adobe Substance 3D Modeler are:
1. Multi-Surface Support
The functionality of supporting multiple surfaces is an integral aspect of Substance 3D Modeler, facilitating the artists to work on diverse materials and textures. With this attribute, designers can effortlessly attend to disparate surfaces without switching between different software applications. The seamless workflow empowered by Substance 3D Modeler's multi-surface support is a time-efficient approach that streamlines the creative process. The multi-surface assistance provided by Substance 3D Modeler offers advantages to those engaged in gaming and entertainment. 
2. Assembly Tools
The assembly tools integrated into the Adobe Substance 3D Modeler facilitate the effortless creation of intricate structures for artists and designers, especially those operating within the video game, product design, and architectural sectors. The assembly tools offered by Adobe Substance 3D Modeler provide a notable advantage in terms of customisation. By choosing from a variety of pre-fabricated components and parts, artists can customise unique and intricate structures. This adaptability empowers designers to produce accurate and aesthetically pleasing models while saving time otherwise spent on manual modelling.
3. Symmetry And Repetition Tools
The symmetry and repetition functions available through the Adobe Substance 3D Modeler empower artists and designers to produce symmetrical structures and patterns with precision and ease, proving especially advantageous when crafting intricate organic shapes that necessitate symmetry and repetition for an authentic, visually compelling outcome. The symmetry and repetition functionalities offered by Adobe Substance 3D Modeler provide significant advantages due to their inherent flexibility. By granting artists the ability to tailor the frequency and level of symmetry and repetition present within their models, these features enable a high degree of customisation that is pivotal to successfully creating visually appealing and original works.
4. Organic Sculpting Tools
Substance 3D Modeler offers a comprehensive suite of tools that empower artists and designers to create 3D art that exhibits an unparalleled level of realism. The software simulates sculpting with clay but with more sophisticated features that allow for unmatched precision and creativity. Users are afforded complete control over their creative output. The Substance 3D Modeler provides users with a convenient means to create impressive sculptures. A plethora of customisable features is available, allowing the user to manipulate and refine the sculpture's size, shape, texture, strength, and depth to a high degree of accuracy, thereby achieving intricate and captivating results.
5. Hard Surface Sculpting Tools
The hard-surface sculpting tools of Substance 3D Modeler are tailored to suit technical applications that demand precision and accuracy. This toolset empowers artists and designers to produce well-defined and resolute structures using diverse parametric primitive shapes which can be deftly integrated and carved into intricate models. Thus, the hard-surface modelling process becomes flexible and more robust. The hard-surface sculpting tools available in Substance 3D Modeler offer superior precision and control. The software allows artists to effortlessly manipulate the size, shape, and orientation of their designs, facilitating delicate refinements and adjustments. Such capabilities are fundamental to achieving the requisite level of accuracy and meticulousness in fields like product design and engineering.
Creative possibilities offered by Adobe Substance 3D Modeler
Modeler boasts a prominent attribute in its capability to sculpt 3D models with digital clay, which emulates the gestural and natural essence of drawing, fostering your creative fluidity and enabling you to attain an exceptional degree of precision and authenticity in your models. The Adobe Substance 3D Modeler is a highly versatile software that presents an extensive spectrum of creative prospects. Regardless of whether you're engaged in concept art, preliminary sketches, prototyping, game-level outlining, character or prop detailing, or sculpting a complete landscape, this tool will meet your requirements. Its intuitive design liberates you from conventional 3D modelling's technical impediments, facilitating you to focus solely on the artistic process. The software application called Modeler possesses remarkable flexibility, enabling the user to transition effortlessly between the desktop and virtual reality realms. This facilitates an individual's adaptability to choose the most suitable hardware at every stage of their creative process, whether it involves a classic desktop configuration or an avant-garde VR setting.
Adobe Substance 3D Modeler Tutorial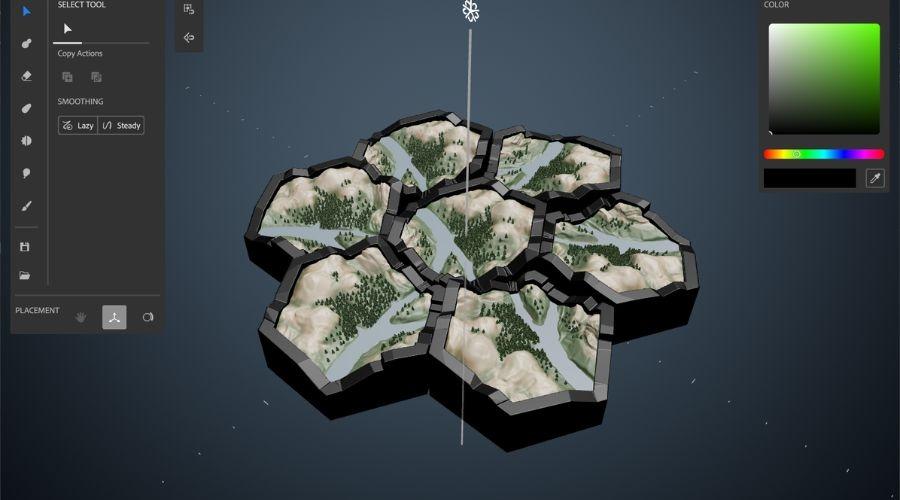 The website of Adobe Substance 3D presents an extensive collection of tutorials aimed at assisting users in acquainting themselves with the software and mastering new procedures. These tutorials touch on an assortment of topics, from fundamental modelling and texturing to complex workflows and techniques, and are formulated to be comprehensible to users at various skill levels. Regardless of whether you are a novice 3D modeller or a seasoned artist seeking to broaden your repertoire, the Substance 3D tutorials furnish abundant information and resources to enable you to make the most of the software.
What's the latest addition to Adobe Substance 3D Modeler?
Adobe Substance 3D Modeler Beta represents the most recent iteration of Adobe's 3D modelling software, featuring a suite of robust capabilities and functionalities that aid artists and designers in designing remarkable 3D models and environments effortlessly. 
---
Conclusion
In Conclusion, Adobe Substance 3D Modeler is a multifaceted software for 3D modelling, enabling a range of advanced characteristics and utilities. It allows creators and designers to create striking 3D models and panoramas seamlessly, eliminating the technological limitations of conventional 3D modelling. For more information, visit Adobe and the official website of Trending Cult.
FAQ's