Adobe Experience Manager, or AEM, is a popular content management system. It lets businesses create, manage and publish digital content like a breeze. With AEM, you can quickly build and maintain websites and apps across different channels, locations and languages.
Website templates in Photoshop can be super helpful for web designers and developers. Photoshop lets you create perfect layouts that become the foundation for your real HTML and CSS templates. By designing website mockups in Photoshop first, you can figure out the ideal layout, colours, fonts and visual elements before writing any code. This speeds up development and ensures a polished final product that matches your design vision.
Benefits of Using Website Templates in Photoshop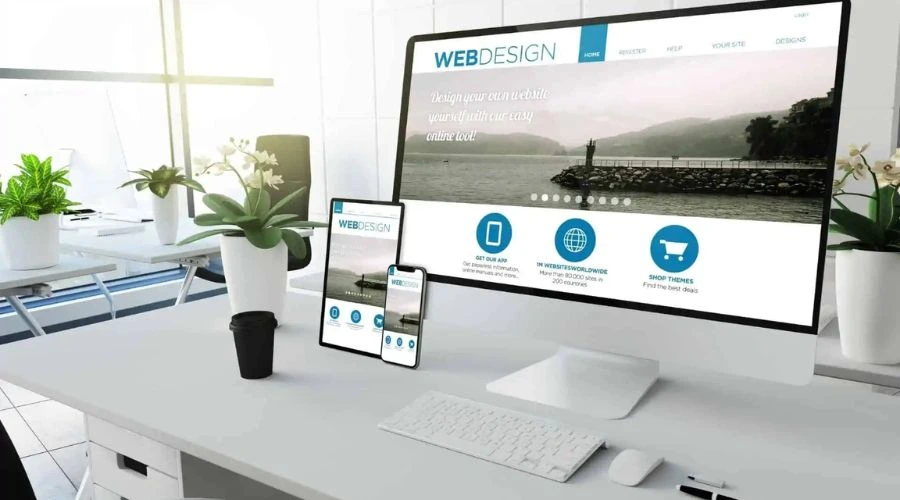 Consistency: Website templates in Photoshop help maintain a

consistent visual style

across all website pages. The templates ensure things like colours, fonts, spacing, and other design elements remain uniform. This provides a more cohesive and recognisable brand experience.

Reusability: Photoshop templates can be

reused for creating future websites

. You can make minor edits to the templates to suit different clients or projects, saving you design time. Once created, templates act as a starting point for new websites.

Flexibility: Photoshop's layers, groups, and slices make modifying elements within a website template easy. Images and text can be quickly changed, and colours and styles adjusted. This

flexibility allows you to experiment

and evolve your designs efficiently.

Faster Prototyping: Website templates in Photoshop allow you to visualise and prototype different website designs quickly. You can iterate through multiple design concepts using the same template before settling on a final design. This

speeds up the design

exploration process.

Easier Design Handoff: Photoshop files can be shared easily with developers, providing them with a pixel-perfect guide for website design. Templates also make it simpler to specify colours, fonts, sizes, spacing, and other details to developers for accurate translation into code. This streamlines the design-to-development process.

Reusable Components: Common design elements like headers, footers, sidebars, and buttons can be extracted from website templates in Photoshop and

reused across multiple templates

. This further improves consistency and speeds up the design of future website mockups.
How To Create Effective Website Templates in Photoshop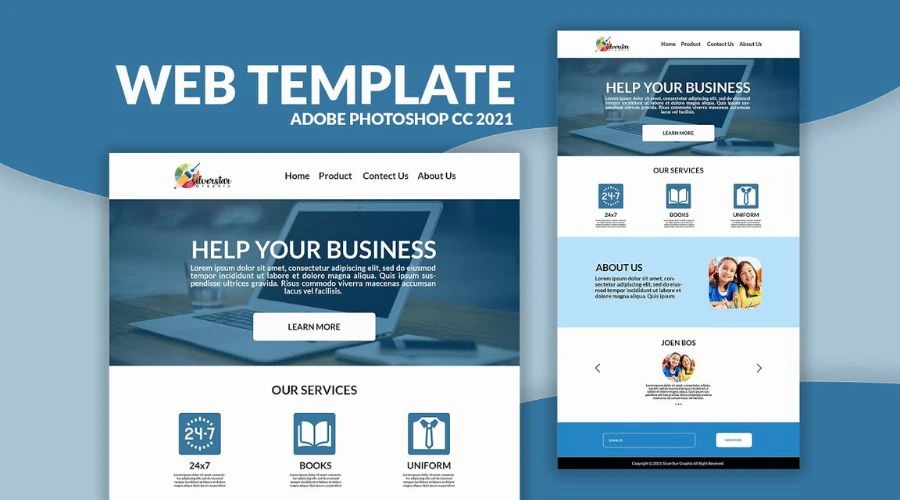 Here are the steps to create compelling website templates in Photoshop:
Set up the canvas size and layout grid.

Determine the basic page dimensions and set the canvas size accordingly in Photoshop. Then add a grid to aid with alignment using the Guides panel or 3rd party grid plugins. A common grid layout for a website template is a 12-column grid with visually appealing column widths.

Apply style guides.

Define the visual style of your website by applying style guides for colours, fonts, and spacing. Pick a colour palette using the Color Picker and save/apply the colours as swatches. Select fonts from Adobe Fonts and save them. Establish global styles for margins, padding, line heights, etc.

Add pages, sections, and placeholders.

Create layers for each page – Home, About Us, Services, etc. Organise layers into header, navigation, footer, and primary content sections. Insert generic placeholder images and example text to represent real content.

Use slices for page sections.

Slice the Photoshop file into sections like header, sidebar, footer, etc., by going to Layer > New > Slice. Name each slice appropriately. Save the slices within your Photoshop file.

Export assets in the proper format.

Save images in PNG, JPEG, or SVG formats. Export colours as CSS or SCSS. Save fonts to your server. Export other assets based on your development stack.

Provide dev specs.

Document key specs for developers in a separate file or layer within Photoshop, listing pages, sections, elements, colours, fonts, sizes, and spacing used in the template.
By following these steps to create website templates in Photoshop, you'll have an organised, reusable template that serves as an accurate mockup for developers to translate into a coded website template. The consistency the style guides and slices ensure will also propagate across your live website for an on-brand experience.
Conclusion
Website Photoshop templates can be a powerful way to streamline the web design process. When created effectively in Photoshop, website templates offer numerous benefits like consistency, reusability, flexibility, and ease of development handoff. By defining styles and layouts in a Photoshop template, elements like colours, fonts, spacing, and components remain consistent across a website. This ensures a unified visual design and on-brand experience. Common sections within the template become reusable components that can speed up the design of future websites. Read more on TrendingCult.
FAQs