If you have a stunning garden view but don't spend some time enjoying it then what is the point? Whether it's a stroll by the fragrant flower beds or sitting by the patio, You deserve to take a few minutes for yourself and just relax. Don't have the right furniture to accentuate your garden? vidaXL's outdoor benches and chairs are here to give you a comfortable seating experience as well as complement your patios! Keep reading to know some outdoor bench recommendations and find the perfect one for you! 
6 Outdoor Benches on vidaXL to Augment your outdoor space!
1. Acacia Wood Garden Bench with Table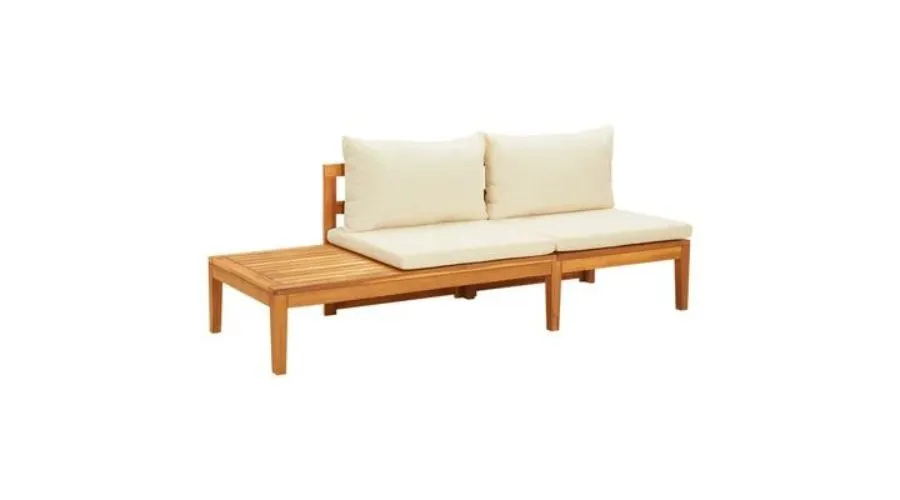 A peaceful garden and wooden bench with a table, now that sounds like a perfect Sunday! This outdoor bench is made of acacia wood and is sturdy and quite strong! The bench comes with cream white cushions which add a tinge of elegance to it. The table can be mounted on either the left or right side! So you have the option to choose according to your convenience. The cushions provide added support and a comfortable seating position so you don't have to sit on a stiff surface. It is advisable to keep the furniture away from direct water to preserve it for a longer time.
---
2. 4 Piece Lounge Set with Cushions
Hosting a tea party for your old friends? How about taking the party outside and showing them your lovely outdoor view? This 4 piece lounge set is a great way to accessorize your garden or balcony. It includes two sofas and one chair. The table has ample space to keep your drinks and mini snack bowls. On top of that, the white cushions will add a touch of sophistication to your outdoor space. And the solid acacia wood ensures the strength and durability of the furniture. If you feel like loosening up a bit then add the back cushions and give your back and neck some padded support. 
---
3. 8 Piece Lounge Set with Cushions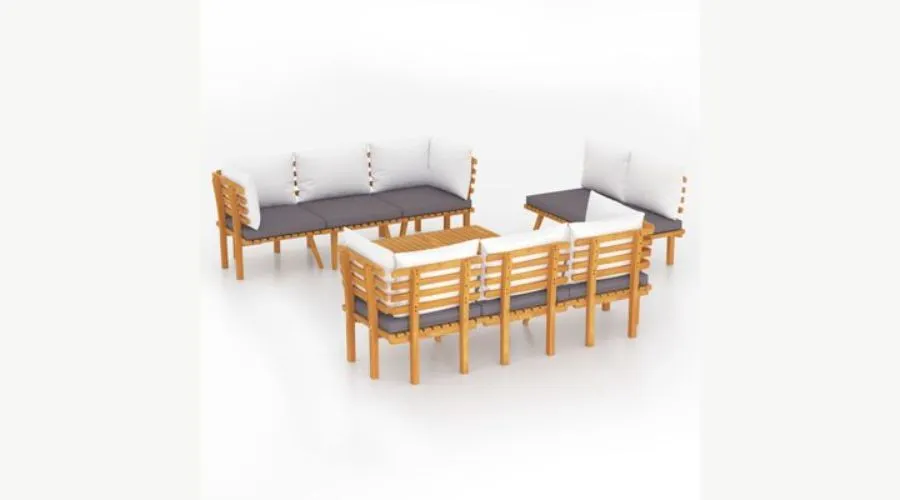 Spend a carefree Sunday surrounded by your loved ones at home! Got a large family? Don't worry about that because this 8-piece lounge set is meant just for you! Whether it's a power nap in the evening breeze or a quick family get-together, this bench set is an excellent choice for you! If you feel like something is missing then decorate your centre table with colourful flower vases or small showpieces! The white and grey cushions are there to provide enhanced support and a cosy seating experience. Although this lounge set is on the expensive side, it makes up for that with its flexible functionality.
---
4. Spruce Wood Garden Bench
Do you love spending some quiet-quality time by yourself? How about doing that surrounded by the tranquillity of nature? A spruce wood garden bench seems like the right choice for you! Giving an antique vibe, this dark brown bench will blend in perfectly with any kind of space. Whether it's your garden or balcony. Slump back with ease as the backrest gives you a pleasant and snug feeling. The bench is easy to move and relocate so if you feel like being away from the rest of the crowd then let the bench accompany you! Go sit under a shady tree and de-stress.
---
5. 4 Piece Gray Garden Set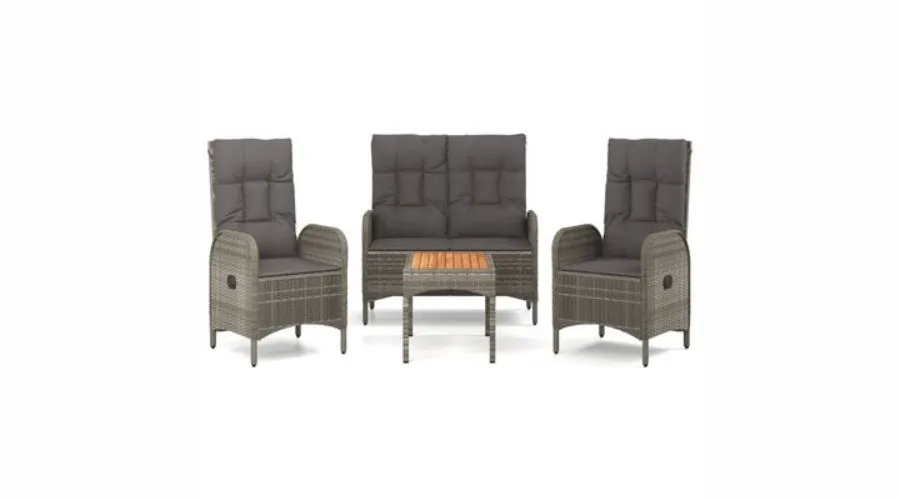 Don't you just love it classic? This greyish garden set exudes a retro-style aura. The set includes one bench, two chairs and one mini table. The chairs have the option of adjusting the backrest, so if you want to take a breather then adjust it according to your comfort requirements. 
Most suitable for keeping in the gardens, this set has a periodic allure and looks like it is from the old days. So if you love it vintage then you need to bring it home!
---
6. Wooden Lounge Set with Table
Questo wooden set with table is perfect for those who want to unwind and just bask in the sun. The long table is an optimal choice for those who love a variety-based lunch. Whether it's your fruits, snacks, milk jar or juice box, there is plenty of space for keeping them all! The set is super convenient to carry and you can change its location as per the requirements. Family pool day? Or a garden side party? How about spending some time on the terrace? Take it wherever you want!
---
Conclusione
Spending some quality time with your loved ones or alone doesn't always require extensive preparations. Sometimes, having a cup of tea in your garden with amiable conversations is enough. And vidaXl 's outdoor benches are an ideal way to get some much-needed relaxation and memorable time. From garden chairs to cushioned benches, the assortment of outdoor benches helps buyers explore various affordable options. For more information on outdoor wooden benches and outdoor bench cushions, visit Culto di tendenza. 
Domande frequenti