In the realm of home organization, few items are as versatile and indispensable as the humble clothing rack. From providing a practical solution for drying laundry to offering a convenient way to keep your wardrobe in order, a reliable clothing rack is a game-changer. Tendanceculte helps you find the perfect clothing drying rack or clothes hanger rack. With their extensive range of options that seamlessly blend functionality with style, Trendingcult has become a go-to choice for those seeking top-quality clothing racks for their homes. In this comprehensive guide, we will delve into the myriad benefits of clothing racks and why they have become a must-have for every household. 
Top features of Clothing Racks: 
Clothing Drying Rack: Clothing drying rack offers a convenient and eco-friendly solution for air drying clothes. With ample hanging space, it reduces energy consumption and preserves the quality of your garments.

Clothes Hanger Rack: Clothes hanger rack combines style and functionality, providing an elegant way to organize and display your clothes. It maximizes storage space and keeps your wardrobe wrinkle-free. 

Space Optimization: Clothing racks optimize space efficiently, utilizing vertical storage and offering additional features like shelves or drawers for accessories and folded items.

Portability and Flexibility: Clothing racks are lightweight, portable, and flexible, allowing you to easily move and customize them to suit your needs.

Aesthetically Pleasing Design: With sleek and modern designs, clothing racks enhance the organization of your home while adding a touch of sophistication to your decor. 
Here are some of the best Clothing racks available: 
1. Kledingrek 110x38x170 cm massief grenenhout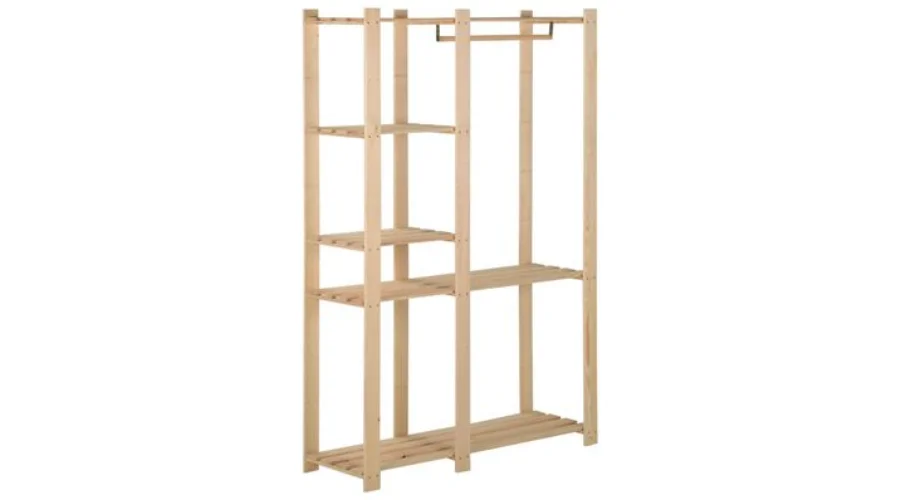 Introducing the Clothing Rack, measuring 110x38x170 cm, crafted from solid pine wood. This practical and stylish addition to your interior offers ample storage space and a hanging rod, allowing you to neatly organize your clothes and accessories. The sturdy construction ensures durability, while the simple yet elegant design adds a touch of charm to your bedroom or wardrobe. Upgrade your storage solutions with this Clothing Rack, a reliable and visually appealing choice for keeping your belongings in order. 
---
2. Storage solutions Kledingrek met 4 schappen 60x26x155 cm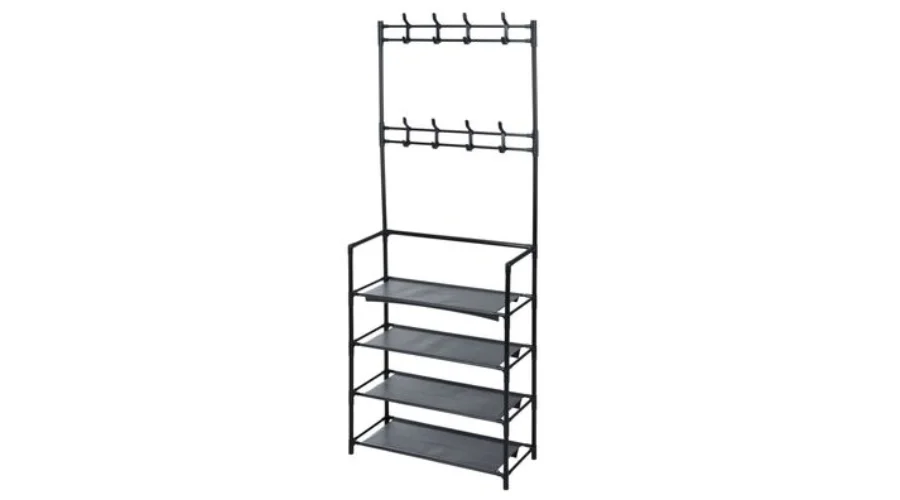 The Storage Solutions Clothing Rack with 4 shelves measuring 60x26x155 cm offers a versatile storage solution for displaying clothing and larger items throughout your home. It is also suitable for use in film studios and warehouses. This multifunctional coat rack is a valuable addition to any room, from the attic to the basement. The metal rack features 4 shelves for storing smaller items such as shoes or bags, along with 8 hooks for hanging various belongings. The shelves are made of easy-to-clean non-woven polyester material, ensuring convenience and practicality in maintaining a tidy space. 
---
3. Kledingorganisers hangend 2 st met 4 schappen stof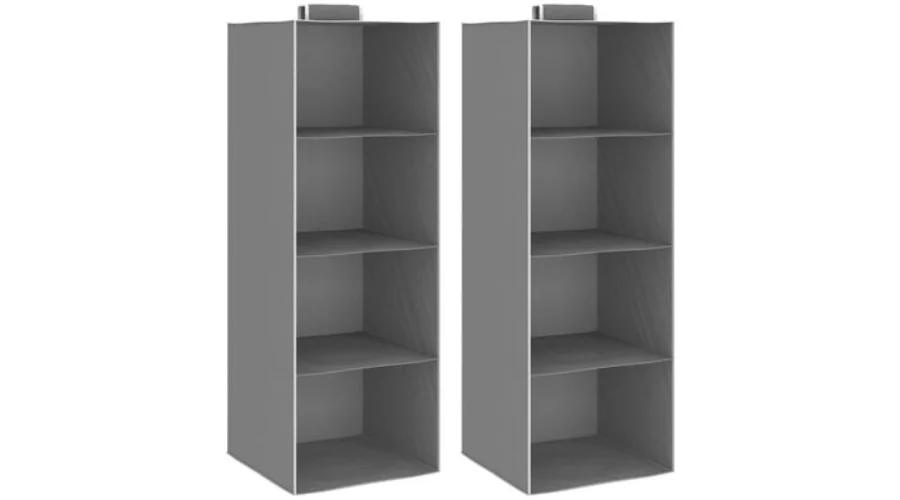 The Hanging Clothing Organizers, set of 2 with 4 shelves each, offer a convenient storage solution for your wardrobe. These organizers feature wide and open shelves, allowing easy access to the contents. With four open compartments in each hanging organizer, you have excellent visibility of the stored items and ample space to store clothing and accessories such as sweaters, towels, pajamas, clothes, swimwear, and hats. Additionally, these organizers are foldable, making them extremely compact and easy to move around as needed. Upgrade your storage capabilities with the practical and versatile Hanging Clothing Organizers.
---
4. Kastorganiser hangend met 7 schappen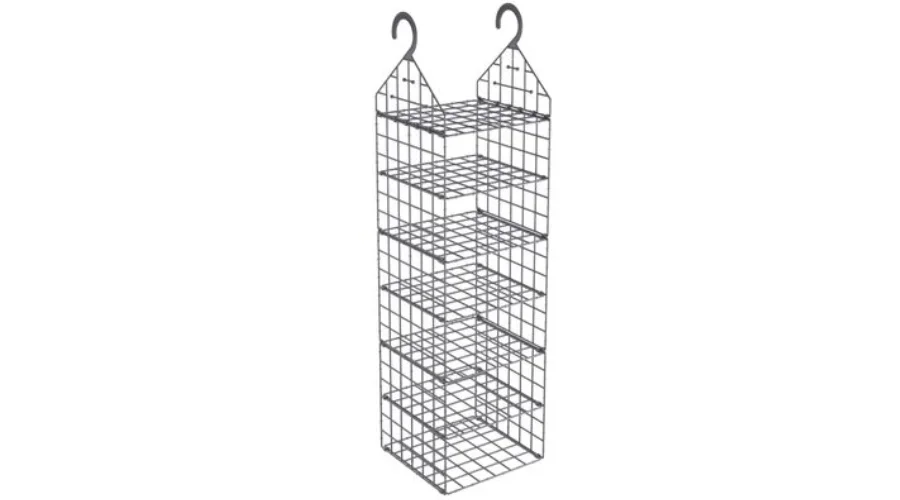 The Hanging Wardrobe Organizer with 7 shelves is a classic and practical choice for organizing your closet in a well-structured manner. With its 7 spacious shelves, this hanging wardrobe organizer maximizes storage space, allowing you to make the most of your closet. The open design enables easy access to the shelves, making it convenient to reach and retrieve items whenever needed. This organizer is user-friendly and can be effortlessly hung on any clothing rail or mesh rack, providing flexibility to relocate or remove it as desired. Bring order and efficiency to your wardrobe with the Hanging Wardrobe Organizer, ensuring your clothes and accessories are neatly organized and easily accessible.
---
5. H&S Collection Kledingrek met 2 haken metaal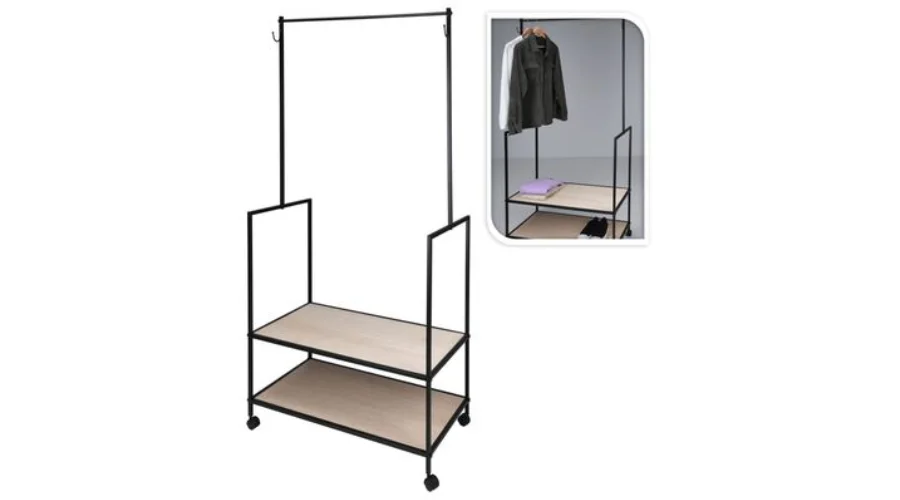 The H&S Collection Clothing Rack, made of metal and MDF, is a practical addition that provides extra storage space for a tidy bedroom. This clothing rack is also suitable for clothing boutiques or tailoring shops. It features two shelves, two hooks, and a black powder-coated metal frame. You can hang numerous coats and jackets on it while storing a considerable number of boxes underneath. Furthermore, this clothing rack is equipped with four wheels, making it easy to move around according to your needs.
---
Conclusion 
UN clothing rack is an essential addition to any home, offering versatility, space optimization, and convenience. Whether you need a clothing drying rack to air dry your laundry or a clothes hanger rack to keep your wardrobe neat and accessible, Trendingcult provides a wide range of stylish and functional options. Explore their collection today and elevate your organization game while adding a touch of elegance to your living space. Say goodbye to cluttered closets and embrace the efficiency and style of a clothing rack. For more information, visit Trendingcult.
FAQ