Are you all set for your tropical vacation? But, wait did you pack a stylish and sexy swimsuit? Don't worry, we have got you covered with this stunning women's swimsuits collection offered by Hunkemoller. The brand offers chic designs and versatile prints that would make for a perfect vacation outfit. So, take a look at these six spectacular pieces that you'd instantly want to add to your cart.
6 Versatile Women's Swimsuits for Beachy Vacations
1. Scallop One Piece Swimsuit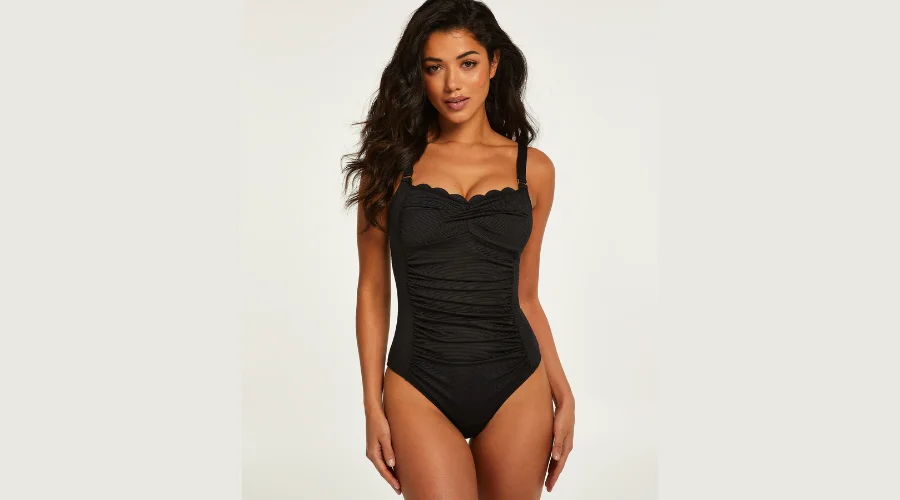 Ce Classic Black Scallop One Piece Swimsuit is one of the best Hunkemoller women's swimsuits you can purchase. It is made from 100% recycled high-quality polyester fabric giving it a flattering and timeless outlook. It comes with non-removable padding and adjustable straps so you can style it according to your body shape.
The beautiful scallop edge detail adds a rich and modern twist to the swimsuit which you can combine with a pretty tunic and you are ready for a swimming session in the Bahamas. You can choose the bold fit in various colours apart from black like red, blue, and green and the stunning piece only costs €10. So, hurry and choose your size from UK 34-48, before it runs out.
---
2. Swimsuit Leopard
Le Brown Leopard-Print Swimsuit has a trendy style written all over it. It is a sustainable swimwear piece that all women, be it any size or shape, will feel confident and comfortable in. This versatile silhouette can be worn for both a brunch or a pool party making you stand out amongst the rest. The ring detailing above the non-removable cups gives it a sexy finish.
The article is made of recycled polyester and polyamide fabric making it light-weight and ever-lasting. Just don't wash the article in a washing machine, hand-wash it with liquid detergent after every 3 or 5 washes so that it doesn't deteriorate quickly. You can choose this stunning women's swimsuit in sizes from UK 34-48, and it costs €52.99.
---
3. Shaping Swimsuit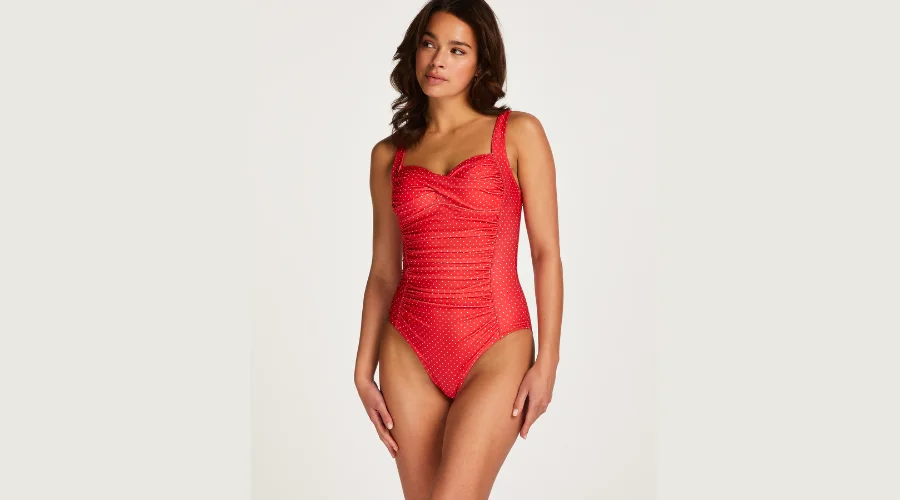 If you need a shapewear featured within your bathing suit, this Red Shaping Swimsuit by Hunkemoller is the ideal find. Not only will you feel super-confident and comfortable in this body, but it also features side ruching that perfectly hugs and takes up your body's shape giving you a seductive outlook. It even comes with removal cups for added comfort and support.
The article is made from an 80-99% recycled polyester blend making it sturdy and durable and also has adjustable straps for perfect fit. For a complete look, you can pair the stylish women's swimsuits with a stunning pareo. The product is available in various sizes from UK 34-46 and only costs €10, making it an affordable investment.
---
4. Swimsuit Crete
What's more amazing than an alluring shaping swimwear available for plus sizes so that every woman of shape and size can wear it and flaunt it? This Green Crete Swimsuit features thick and adjustable straps so you can easily reshape it according to your body. And, comes with a beautiful band design detailing across the body giving it a refined and lavish outlook.
With such a wide range of women's swimsuits offered by Hunkemoller, this figure-skimming swimsuit is one of the best and most reasonable finds. The green colour brings out a rich quality and the high-quality polyamide blend makes it very extremely strong and lightweight allowing you to have a fun swimming session. You can order this swimsuit in sizes from UK 34-46 and it only costs €10.
---
5. Swimsuit Luxe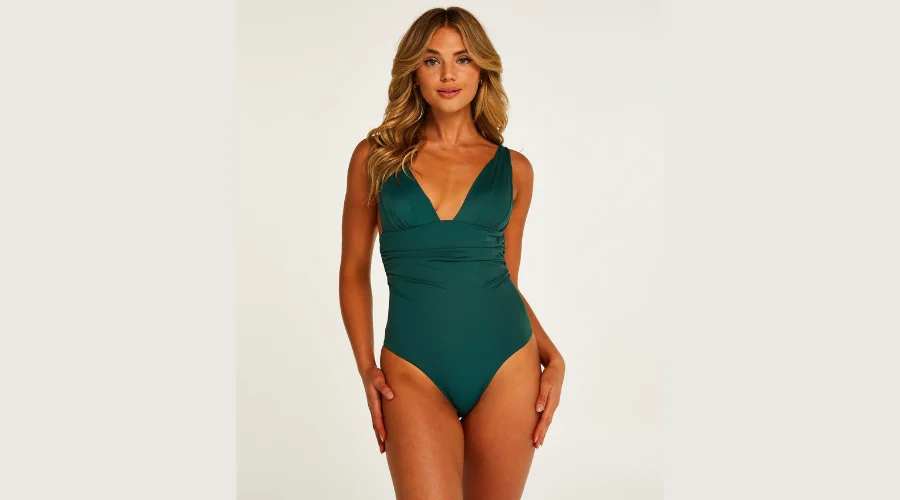 Le Swimsuit Luxe as the name suggests is a luxurious article that gives you a bold and desirable shape. This feminine, timeless swimsuit should definitely be in your backpack for your next tropical trip as it is an indispensable one. Whether you want to relax and have a soothing beach experience, or want to try some fun adventurous water activities, this stretchy swimwear is a perfect find.
The fashionable green or black coloured-swimsuit has a long back along with adjustable straps and non-removal padding. It is a sustainable swimwear outfit made from recycled nylon giving it a softer and lustrous feel. The article is available in bigger sizes as well from UK 34-48 and it costs €42.99.
---
6. Grenada High Leg Swimsuit
Le Hot Pink Grenada High Leg Swimsuit will surely turn many heads around when you walk down the beach. The ruched front design and the low-plunging neckline are to live for as it offers a very appealing and fashionable appearance. It is one of the best women's swimsuits by Hunkemoller that is both stylish and trendy and comes at pretty reasonable rates too.
The swimsuit features a high neckline with strappy details that ties at the back and is made of a top-quality polyamide and elastane blend that hugs your body and gives your curves an ideal shape. Wear it with a pareol and you are all set for your beach vacation. The article is available in various sizes from UK 34-48 and it only costs €10.
---
Conclusion
There are tons of women's swimsuits available in the market making it a challenging task to find yourself numerous well-fitted and seductive swimwears at affordable prices. But, with Hunkemoller's wide range of selections, you get everything in one place. Also, swimwear outfits are different from our day-to-day clothing, they need extra care and hand-washing so that they last longer. So, order yourself a luxe-feel swimsuit and have a soothing beach holiday. For more such information, visit Trending Cult.
FAQ