Fashion is a constant evolution, with trends coming and going, but there are certain styles that have the power to transcend eras and captivate hearts for generations. The babydoll dress is its A-line silhouette, which flares out from the bust, creating a playful and flirtatious look. This loose cut made it a favorite among women of all body types, allowing for movement and comfort while creating femininity.
These dresses are often adorned with whimsical embellishments like lace, embroidery, and appliqués. Pastel colors, floral prints, and soft fabrics contribute to the dress's innocent and youthful aesthetic. The neckline can vary, from a classic scoop neck to a delicate V-neck or even a high collar, each adding its unique charm to the overall look. In this blog, we'll explore with Trending Cult some VICI babydoll dresses and their styling options.
How to wear a babydoll dress with style?
Choose the right fit:
The key to pulling off a baby doll dress is finding the right fit for your body type. While the dress is meant to have a loose and flowy silhouette, make sure the bust area is well-fitted to prevent a shapeless appearance. Look for dresses that accentuate your waist without being too tight.
Opt for the right length:
Babydoll dresses come in different lengths, ranging from mini to knee-length. Choose a length that flatters your height and proportions. If you're on the taller side, you can confidently rock a shorter dress. If you prefer a more modest look, opt for a knee-length style.
Experiment with necklines:
Babydoll dresses come with various neckline options, including scoop necks, V-necks, and high necks. Choose a neckline that complements your face shape and your desired style. If you want to add a touch of elegance, opt for a higher neckline and delicate detailing.
Embrace prints and patterns:
Prints and patterns add visual interest to your overall look. From floral prints to polka dots and stripes, choose a pattern that resonates with your style. Keep in mind that smaller prints can appear more delicate, while bold prints make a statement.
Layer thoughtfully:
Layering can add depth and dimension to your baby doll dress outfit. Consider adding a denim jacket or a cropped cardigan for a casual look. For a touch of sophistication, pair your dress with a tailored blazer. Keep the layers proportionate to avoid overwhelming the delicate silhouette.
Accessorize thoughtfully:
Accessories can elevate your babydoll dress ensemble. Consider adding a statement belt to cinch your waist and create a definition. Play with delicate necklaces, earrings, and bracelets to enhance the overall look. Avoid heavy and chunky accessories that may overpower the dress's charm.
Top 5 babydoll dresses available on VICI
1.   Bow Babydoll Dress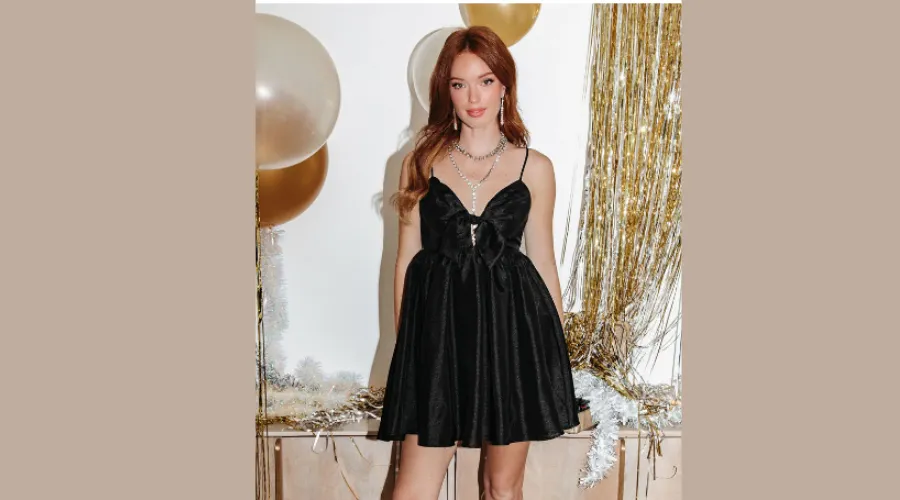 Elevate your feminine charm with this black babydoll dress, a perfect embodiment of grace and playfulness. Designed with a flattering babydoll fit, this dress gracefully flows to create a silhouette that's both comfortable and captivating. The adjustable straps offer a personalized fit, while the back zipper closure ensures easy wear. The delicate bow detail adds a cute touch to this dress. Pair this dress with high heels to complete your overall chic look.
2.   Puff Sleeve Babydoll Dress
Step into a realm of dreamy elegance with the Puff Sleeve Baby Doll Dress in a serene grey-lavender color. The scoop neckline adds a touch of sophistication, while the distinctive bubble hem sleeves create a playful charm. Crafted with a blend of nylon and polyester for a soft and textured feel, the rayon lining ensures comfort against your skin. Effortless to slip into with its back zipper closure, this dress is thoughtfully lined to enhance your comfort and confidence.
3.   Tiered Babydoll Dress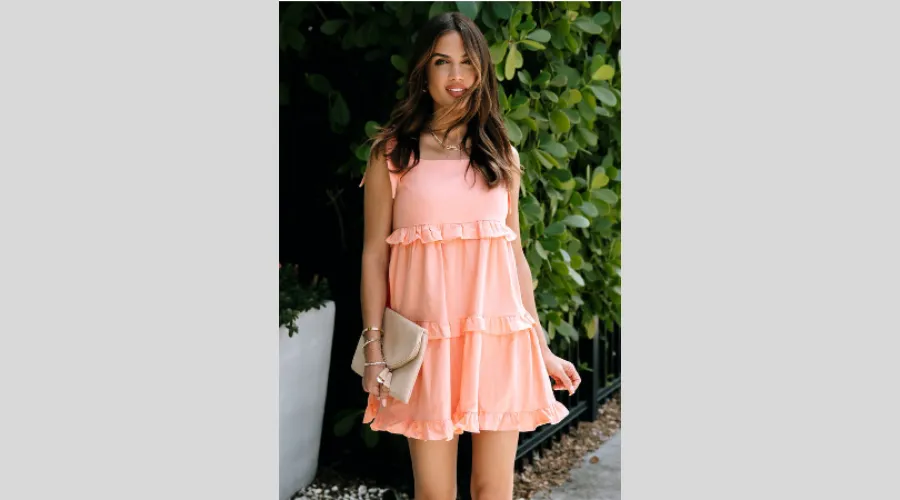 Upgrade your wardrobe with a burst of vibrant charm with this tiered dress in a captivating coral color. Crafted with 100% cotton, this dress offers both comfort and breathability, making it perfect for warmer days. Designed with adjustable ties to help keep a customized fit. Its tiered skirt adds movement and texture, creating an effortlessly chic look. The back keyhole with button closure adds a subtle yet stylish detail to the dress. For a boho-inspired twist, layer the dress with a long cardigan, ankle boots, and layered necklaces.
4.   Plaid Babydoll Dress
Crafted from a blend of polyester and rayon, this classic and contemporary dress ensures both comfort and style. The square neckline creates timeless elegance, while the elastic waistband provides a flattering and adjustable fit. The dress features charming balloon sleeves with elastic cuffs, adding a touch of volume and sophistication to the overall look. Whether you're heading to a casual brunch or a stylish gathering, this plaid dress offers versatile styling options. Pair it with ankle boots and a denim jacket for a chic daytime look, or elevate it with heels and statement jewelry for an evening affair.
5.   Scrunch Shoulder Babydoll Dress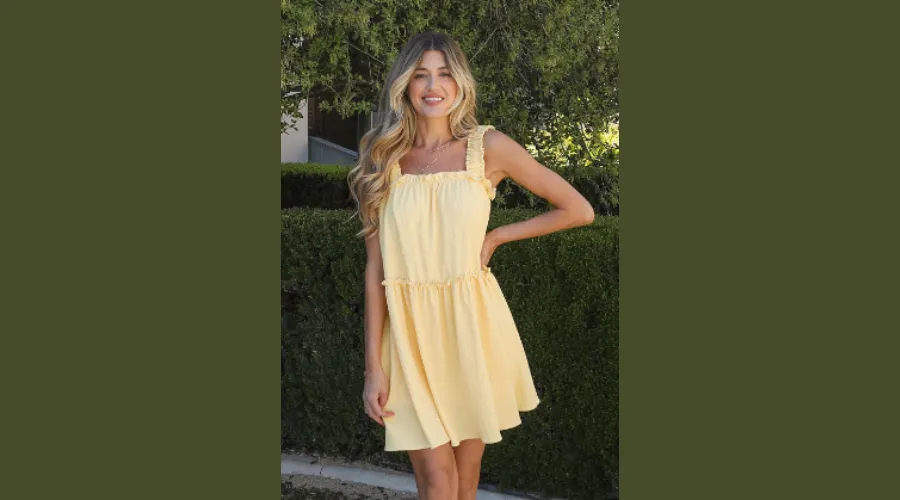 Step into the sunny side of style with this scrunch-shoulder dress in a refreshing lemon color. Its mini-length adds a youthful touch, while the straight neckline creates classic elegance. With its no closures design, slipping into this dress is very convenient. The scrunch shoulder detail adds a playful and unique element to the overall look. For a charming daytime ensemble, pair it with white sneakers, a wide-brimmed hat, and delicate gold jewelry.
Wniosek
Wearing a babydoll dress is all about embracing its playful elegance and creating looks that reflect your personal style. With the right fit, length, and accessories, you can effortlessly exude charm and confidence. Whether you're a fan of prints or prefer a solid color, remember that the beauty of a babydoll dress on VICI lies in its versatility and ability to make you feel effortlessly chic wherever you go. For more information, visit Popularny kult.
Często zadawane pytania