Step into the world of fashion and elegance, where you can pull off a traditional or modern look in seconds with these fantastic flared jeans. While skinny jeans are still trending when it comes to denim collections, these flared jeans are giving them tough competition by providing a playful and chic aesthetic. And, there are so many styles available now, like slim fits, cropped denim, or twill hems, that you can choose and style according to your liking. So, take a look at these five inspirational outfits curated with flared jeans that you can pull off for any occasion.
5 Inspirational flared jeans ideas for modern and refreshed looks
1.   Invest in Neutral Shades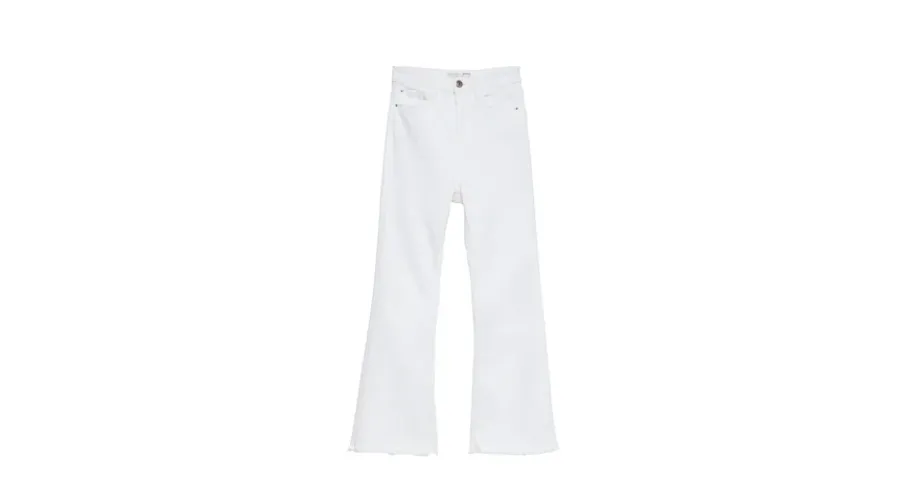 If you don't want to try bold colours but also want a change from casual blue denim, invest in these neutral-shaded STRADIVARIUS Cropped Denim Flared Trousers D78. These high waisted flare jeans will take up the shape of your curves and accentuate your body, which will ultimately boost your confidence.
When you pair these minimal cropped pants with a colourful bodysuit or even a light-shaded one like beige or pale green along with wedges and a cute sling bag, you'll look stunning and still feel comfortable. The denim is made of various materials like cotton, polyester, viscose, and elastane to provide a perfect fit. So, hurry up and purchase these flared jeans that only cost €25.99.
2.   Classic Slim Fits for Day Outs
If you want to curate a classic look, try this STRADIVARIUS's Flared Jeans with a Slim Fit waist, which are a testament to both style and innovation. These fashion-forward flared jeans come with a flirty side slit on the inside and hold five pocket designs for easy carrying of personal stuff. This thoughtfully designed, comfortable, and versatile find is perfect for a day out with your loved ones.
The flared jeans are made of a perfect blend of cotton and elastomultiester to give you breathable and stretchy pants in which you can feel comfortable all day long. Pair the stylish find with a cute blouse or a crop top to add that flirty charm, and curate an adorable attire by adding sneakers and a shoulder bag to the fit. The article is available in various colours and sizes, from 32-44 and only costs €29.99.
3.   Keep it Beachy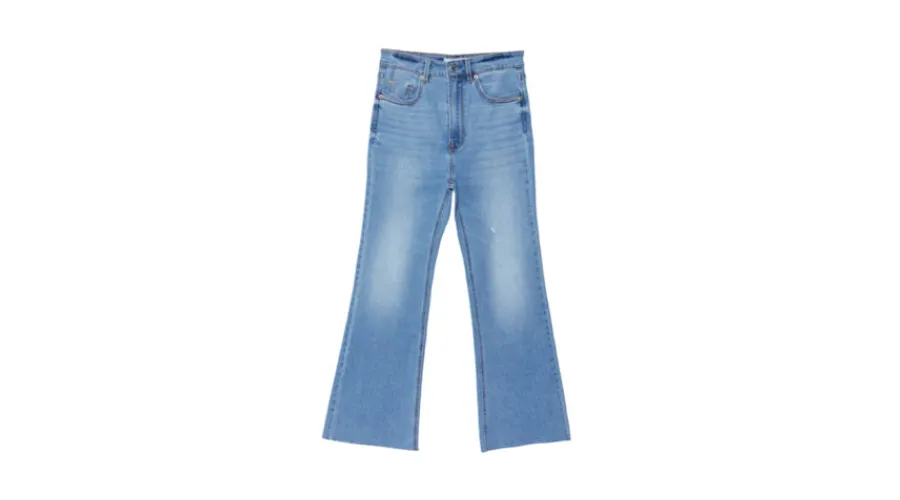 Opt for a relaxed-fit wide-legged flared jeans for your breezy beach or poolside outfit. With STRADIVARIUS's Cropped Denim Flared Pants D78. The article features a five-pocket design with a high-waist fit that perfectly accentuates all your curves. Made with a fine combination of high-quality fabrics like cotton, polyester, elastane, and viscose, it it a sturdy and cosy find that one should surely invest in.
The seamless hem and the zip fastening with a metal button at the front provide a chic outlook and ease of wearing. Whether you want to take a stroll down the city of Indlugde in evening activities you can easily pair the flared jeans with a white shirt, a faux leather jacket, and ankle boots and pull off a retro appeal. This affordable find will only cost you €25.99 and you can choose from various colours and sizes ranging between 32-44.
4.   Casual Cool
Elevate your fashion game with this STRADIVARIUS's Black Flared Jeans with a Slim Fit that comes with a seamless slim fit attire to shape your body well. Everyone has at least one blue denim in their wardrobe but adding these black flare jeans will give you a cool casual appearance that you can wear for a day out or even for an eventful evening.
Having a high waist and a side slit gives it a perky vibe that you can easily pair with a tube top or an oversized denim shirt. If you want an evening look style it with ankle boots and an adorable handbag or wear sandals and a waistband for a laid-back appearance. Order this black slim fit right away at a cost of just €29.99.
5.   Finest Detailing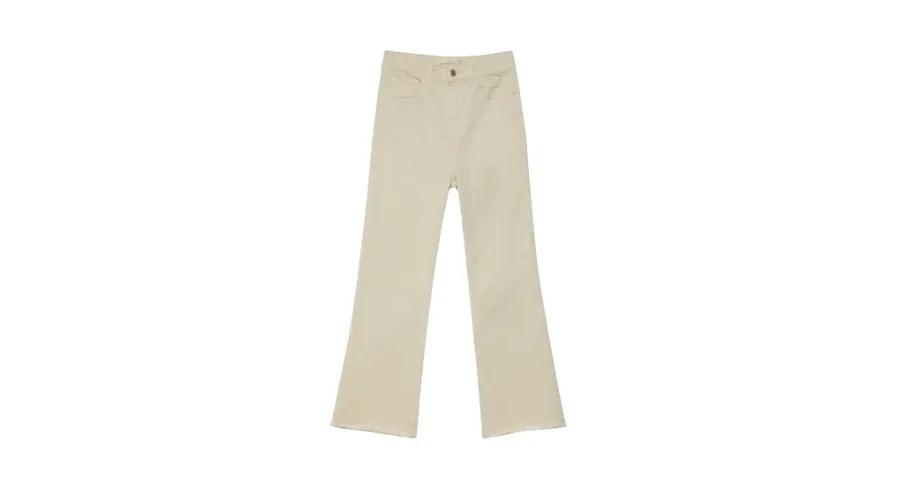 Finding beige flared jeans with a twill detailing will instantly transform your entire look into a refreshed and sophisticated one. Made with top-quality fabrics like cotton and modal, this STRADIVARIUS's Beige Cropped Flared Jeans in Twill D78 would be an excellent addition to your wardrobe.
Being a high-waist pants makes it worth investing as it gives your body an ideal shape that will boost your confidence. Whether you are planning to hang out with friends or go for a professional meeting, style this flared jeans with a white crop top, a black blazer and strappy heels and you're good to go. So, order this amazing find right away as it will only cost you €25.99.
Wniosek
From the streets of New York to celebs Instagram feed, flared jeans are making quite a buzz in the market, and if you still haven't bought a pair yet, the time to purchase have come. They are so easy to style, feels comfortable and breathable when worn, and you can quickly make the transition from a day look to an evening attire with just a few perks. So, take a look at STRADIVARIUS's selected flared jeans item that are available in various colours and sizes to choose from and at pretty affordable. For more such fashion information, visit Popularny kult.
Często zadawane pytania