Greece is home to some of the world's best beaches, crystal clear waters, lush landscapes, and a unique blend of culture and history. From the white sands of Zakynthos to the emerald coves of Crete, there is something to suit all tastes when it comes to finding your perfect beach getaway. Whether you are looking for a romantic escape or an action-packed family holiday, Greece's stunning coastline has something to offer. Pack your bags and explore the best beaches in Greece starting today.
---
4 best beaches in Greece:
1. Myrtos Beach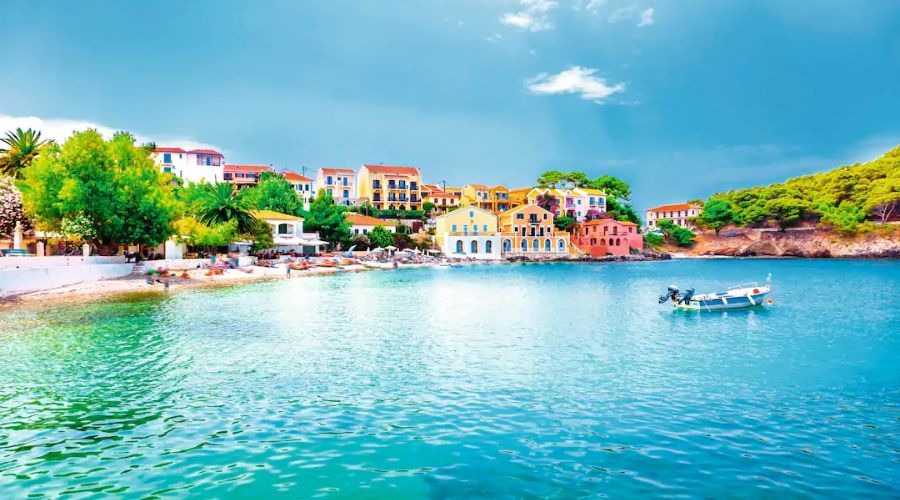 One of the best beaches in Greece is Myrtos Beach on the  Ionian islands of Kefalonia. Myrtos is an absolute gem and a must-visit for anyone visiting Greece. Hidden between two mountains and surrounded by deep blue waters, this beach boasts a serene and almost spiritual atmosphere. The view from the winding road that leads you to the beach is breathtaking, as is the arc of soft white sand. The clear turquoise waters that lap around the beach are like nothing you have ever seen before. This beach is also known for being the location of the romantic movie "Captain Corelli's Mandolin" starring Nicolas Cage. 
This is among the best beaches in Greece islands. It can be accessed via a short and easy hike, and the path is lined with dazzling marble-coloured pebbles that lead to the sparkling shore. Myrtos is an ideal spot for swimming, snorkelling, and scuba diving, and it also features plenty of picturesque rocky outcroppings ideal for sunbathing. Additionally, the beach is also surrounded by plenty of restaurants, cafes, and mini-marts. 
In short, Myrtos Beach on Kefalonia island is a must-visit and one of the best beaches in Greece, having marvellous beauty, a dramatic setting, and a star-studded history making for an unforgettable experience.
---
2. Elafonisi Beach.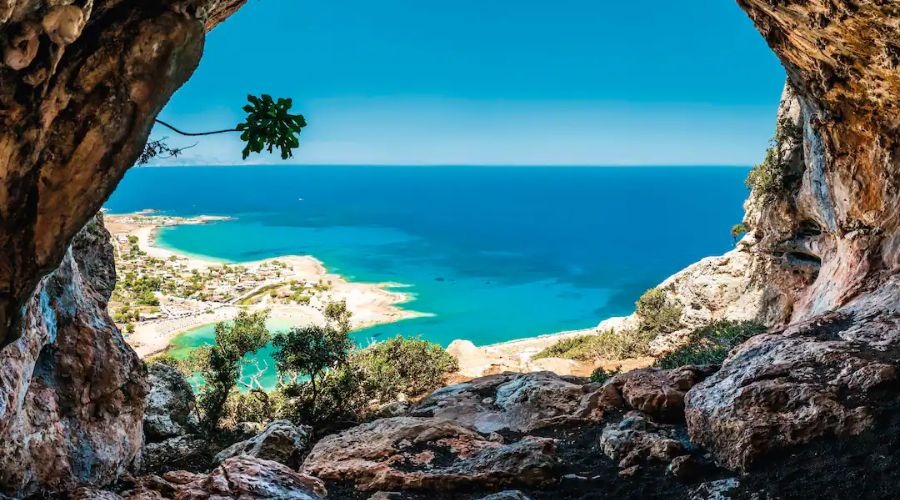 Elasfonisi beach is among the best beaches in Greece, located on the island of Crete. With its pink-hued sand and crystal-clear waters, Elafonisi Beach is a paradise-like location that will leave you feeling relaxed and rejuvenated.
This stunning beach is surrounded by cedar trees and fragrant lilies, creating a tranquil atmosphere. Plus, the beach is also home to some of Europe's largest natural palm groves, which adds to its exotic charm.
If you are looking for a bit of variety, you can also head to Vai, which is among the best beaches in Greece. Crete is just as stunning as Elafonisi. Vai is famously known for its 500 densely clustered palm trees that make it look like a tropical oasis.
---
3. St Pauls Bay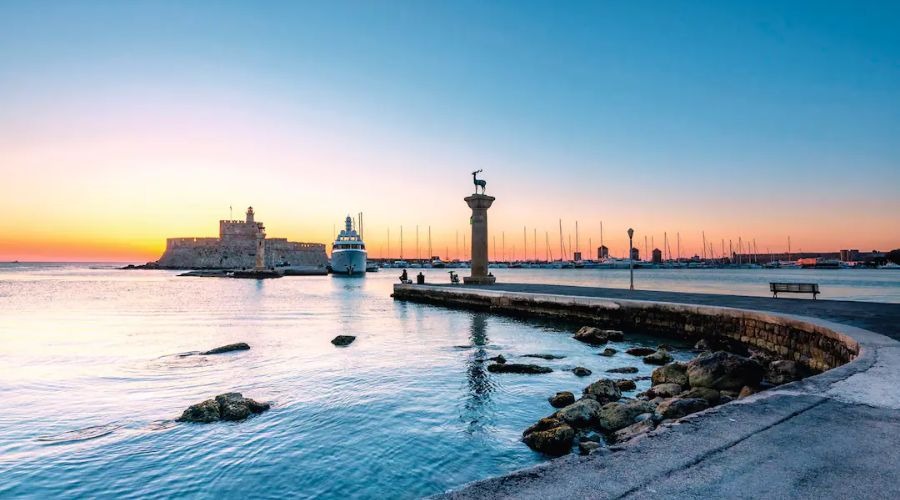 St. Pauls Bay is one of the best beaches in Greece, located on the picturesque Greek island of Rhodes and is the ultimate romantic beach. With its heart-shaped curve, white chapel, and crystal blue waters, it is no surprise that this beach is a popular place to say 'I do'.
This idyllic beach offers plenty of snorkelling coves, perfect for exploring the vibrant coral reefs. If you're hungry, there are plenty of nearby tavernas that serve up delectable platters of freshly-caught seafood.
Just a few steps away from the beach is the ancient Acropolis of Lindos. This ancient citadel provides the perfect opportunity to explore the vibrant history of Rhodes. You can wander around the crumbling walls and take in the sweeping views of the bay.
---
4. Shipwreck Beach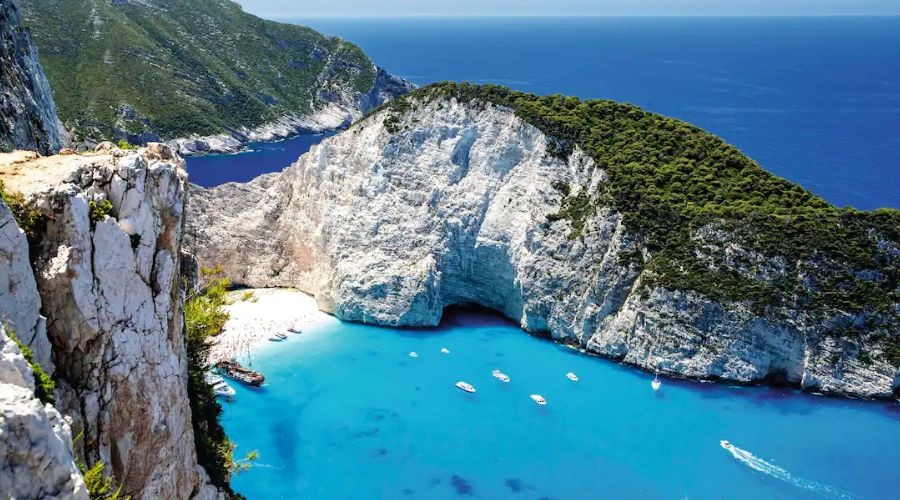 Shipwreck Beach in Zanteisg is one of the best beaches in Greece. Located in the Ionian Sea on the western coast of Greece, Shipwreck Beach is also known as Navagio Beach or Smugglers Cove and can only be reached by boat.
Shipwreck Beach is among the best sandy beaches in Greece and is framed by high cliffs and is best known for its pirate-like atmosphere, thanks to its infamous abandoned smugglers' ship. The boat ran aground on its sandy shores over 30 years ago after being pursued by the Greek navy. It is believed the boat was transporting contraband cigarettes, and it has now become a tourist attraction.
The powdery white sand on Shipwreck Beach is surrounded by crystal-clear water, with a few small caves and rocks to explore. As you make your way to the beach, you will be treated to breathtaking views of the surrounding cliffs and seascapes.
---
Conclusion
Greece is known for its stunning beaches, and these four best beaches in Greece are truly a sight to behold. Whether you are looking for a beach with crystal clear waters, a bustling beachfront, or a tranquil spot to relax, Greece has a beach that is perfect for you. From St Paul Bay to Shipwreck Beach, these beautiful beaches are sure to provide you with an unforgettable beach experience. Read more on TrendingCult!
---
FAQ's