A blazer for women is one of the best fits to surely have in your wardrobe as it can easily turn around any outfit's look into a versatile one. You can pair them with denim and a simple white tee for an everyday look, or add it with that pencil skirt or a formal dress for pulling off a fine work fit. With the latest fashion trends coming every day, styling blazers for women over a traditional outfit makes up for a stunning wedding guest look as well.
STRADIVARIUS is a Spanish-French women's clothing brand that offers top-quality collections at pretty competitive prices. So, take a look at these 7 exceptional blazers for women you can easily find on the website.
7 Exceptional Blazers for Women to Shop Right Away
You can choose from a collection of blazers for women divided into three segments: Cropped, Straight, and Long.
1. Flowing Cropped Blazer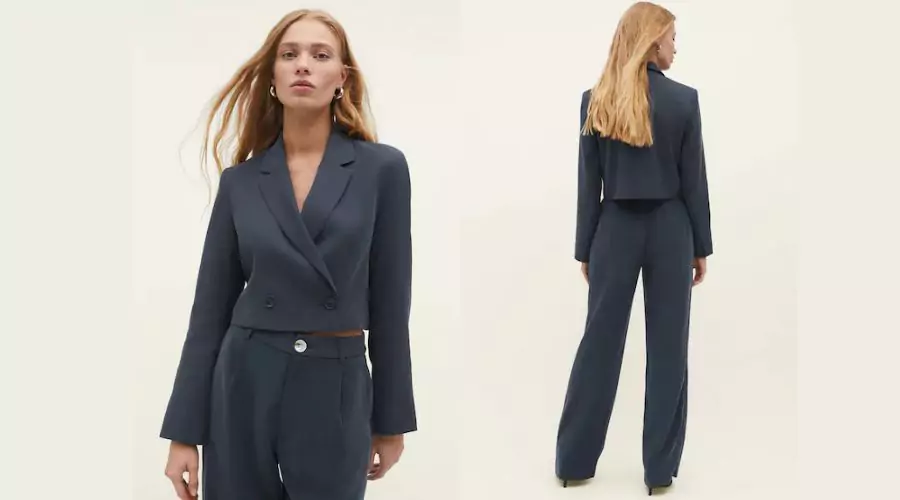 Gen Z likes wearing oversized, colorful clothes that give them a comfortable and modish look. And what's their verdict on blazers for women? They like it cropped and flowy. To fulfil their wish, STRADIVARIUS has a variety of Flowing Cropped Blazers in rich colours like Navy Blue, Black, White, and Beige that you can choose from and pair it with matching bottoms.
The cropped blazer is collared with long sleeves and two buttons fastened at the front. It is made from high-quality polyester and cotton blend giving it a solid and an ever-lasting appearance, making it a must-have in your wardrobe. The article costs €35.99 and you get to pick from several sizes available from XS-XL.
---
2. Cropped Blazer with Linen Content
Pull off this rustic off-white Cropped Blazer with Linen Content that comes with a lapel collar, long sleeves, and a closure button at the front. You can easily style this blazer for women with blue denim and a white or black cropped tee for a classy look. Otherwise, you can purchase matching linen shorts for a well-polished appearance.
The stylish article is made from a blend of polyester, cotton, linen, and viscose providing durability along with an amazing and comfortable fit. The cropped blazer is available to shop away at distinct sizes varying from XS-XL, and costs €35.99 only making it a reasonable find.
---
3. Knit Blazer
Straight Blazers give away more of a sophisticated vibe than the oversized or cropped variety. It is much wearable clothing item and can be easily styled as a casual or a formal fit. This Knit Blazer for women comes with a lapel collar, and rolled-up sleeves fitted with shoulder pads for added comfort. The folded sleeves have a modish striped lining along with flag pockets and a front button closing.
Choosing from all the stunning coloured blazers for women including Black, Gray Melange, Sky Blue, and Ecru could be pretty tough as all of them provide a chic, iconic look. Made from mainly top-quality polyester material, you can move freely in the blazer and still feel fabulous at the same time. You can choose sizes from XS-XL, and it costs €35.99.
---
4. Blazer with Button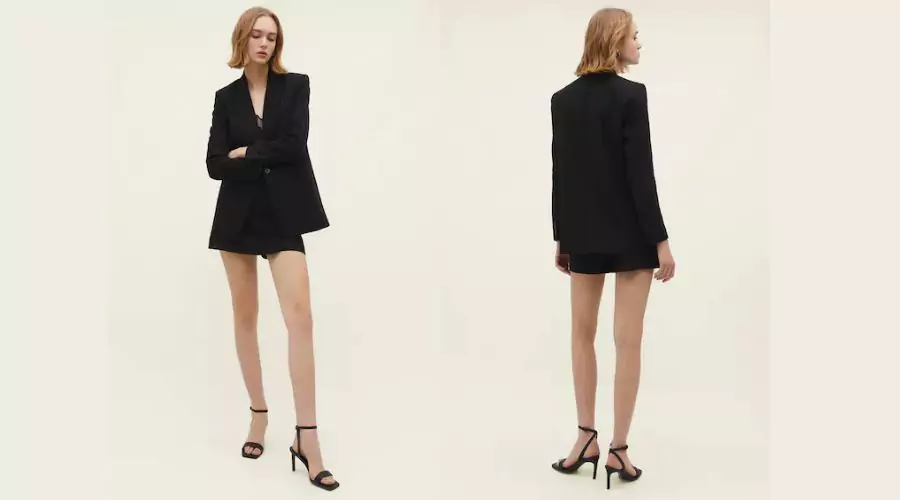 This Blazer with Button article is one of the exclusive blazers for women that you can find at such an affordable price. It comes with a lapel collar, front pockets on both sides, along with a small chest pocket, and a double-breasted button closure on the front. It is such a sleek piece that you can wear on a dinner date paired with matching shorts and heels, or go for full trousers and wedges for an important office meeting.
The article is made from the best-quality polyester blend giving it a silky, smooth finish. So, visit the STRADIVARIUS online channel right away and swift off this posh black blazer available at only €39.99. Also, you can choose which size from XS-XL fits you perfectly and make a purchase accordingly.
5. Straight Fit Blazer
Another Black Straight Fit Blazer's perfect consistency and fabric usage make it an ideal find. It is one of the most standard black blazers for women that can be paired quickly with any outfit. It gives off an oversized appearance with long sleeves, a lapel collar, flap pockets on both frontal sides, and a single closure button.
If you want to style this blazer distinctively, pair it with baggy jeans and closed-off heels for a perfect blend of structure and comfort. The straight blazer is made from a blend of polyester, viscose, and elastane for providing an amazing fit, is available in various sizes ranging from XS-XL and costs €35.99 only.
---
6. Long Blazer
If you are looking for an impeccably tailored blazer, investing in this Long Black Blazer is surely a worthy spend. This oversized silhouette can be worn on a daily basis and will still give you a newer and refreshed look every time. It constitutes of a lapel collar, long sleeves, marked shoulders, and flap pockets, along with a double-breasted button closure at the front.
It is one of the best blazers for women which has an elegant, streamlined appearance, offering the perfect blend of smart and casual. The article is mainly made from polyester material giving it a sturdy and fine finish, and it's available in varied sizes from XS-XL, costing only €39.99.
---
7. Long Blazer with Pinstripes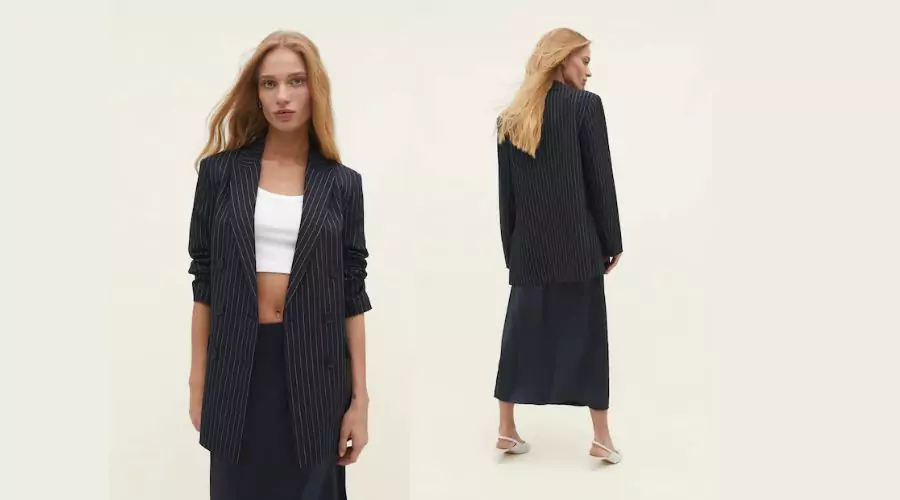 If you love long blazers but don't want to go with solid colours, this Long Blazer with Pinstripes is what you really need. The lapel-collared, long-sleeved black blazer makes every outfit looks ten times better because of its classy appearance. Going on with solids is obviously a much safer choice, but if you want to take your fashion style up a notch, this blazer for women is the answer.
The blazer has 6 closure buttons on the front making it stand out amongst others, and can be easily paired with a long skirt or even short denims for a invigorating outlook. You can order this article from STRADIVARIUS which offers a variety of sizes from XS-XL to choose from. And, it only costs €39.99.
Conclusion
Whether you want to find an oversized blazer or a solid-coloured with intricate detailing, STRADIVARIUS has got you covered with a wide selection of blazers for women to choose from. What's more interesting is that they are made of high-quality fabrics offering long-lasting and comfortable fits and don't burn a hole in your pocket. So, explore the online shopping portal and order yourself an amazing article that will work elegantly with everything available in your wardrobe. For more such information, Trendingcult.
FAQs