Born from the resilient landscapes of America, cowboy boots are becoming a signature style for many high-end fashion designers. Celebs like Beyonce and Harry Styles are also seen wearing such impressive cowboy boots at many events, pulling off stunning looks. The best part about thinking of purchasing a pair is that you don't have to spend tons of money, as you can very easily find good-quality cowboy boots at STRADIVARIUS's website. So, come and take a look at these amazing, playful cowboy boots that you can invest in.
List of 6 best cowboy boots to purchase in 2023
1. Heeled Denim Ankle Boots in Cowboy Look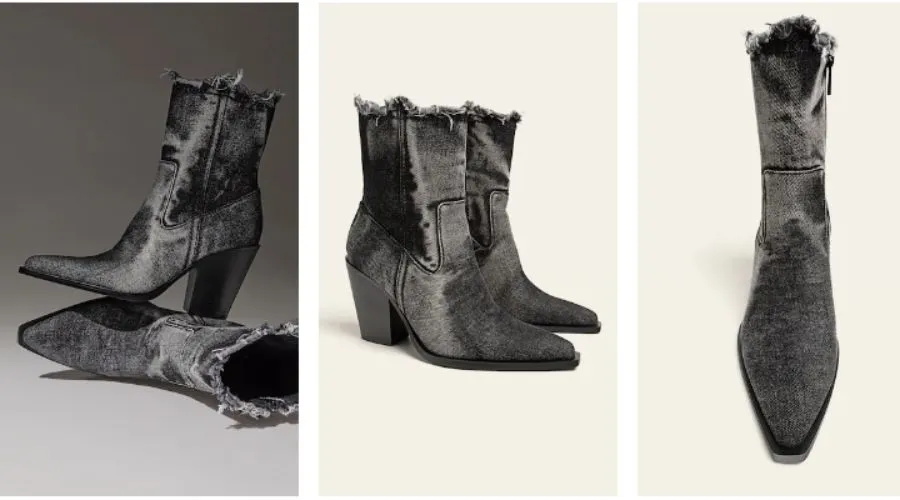 With a charming allure of Western style and a rugged look, these Heeled Ankle Boots in a cowboy look made of Denim are simply stunning. The allure of the denim gray shade and high-quality cotton and polyester fabric blend gives them an appealing and authentic vibe. The side zip makes it much more convenient to wear and remove them without comprising style.
With a high heel of 8.5cm height, these cowboy boots will add a touch of elegance to your every step, and you can easily style them with a dress for an evening look. Otherwise, elevate a casual look by pairing them with denim jeans and a cute top. The article is available in sizes from 35-41 and costs €49.99.
---
2. Heeled Boots in a Cowboy Look with a Removable Cover
Indulge yourself in Western culture with these Pointed-Toe Heeled Boots in a Cowboy Look that come with removable denim sleeves. So, you can style them easily in two distinct outlooks, like wearing them as classic cowboy boots for a bold appearance or adding the denim sleeve for a modern attire.
These black cowboy boots come with delicate embroidery on the shaft and tabs on the sides to easily slip them on or take them off. With a comfortable heel of around 7cm, you can stride with style without compromising on a comfortable fit. So, order these striking boots right away through STRADIVARIUS at a cost of €69.99.
---
3. Heeled Boots in a Cowboy Look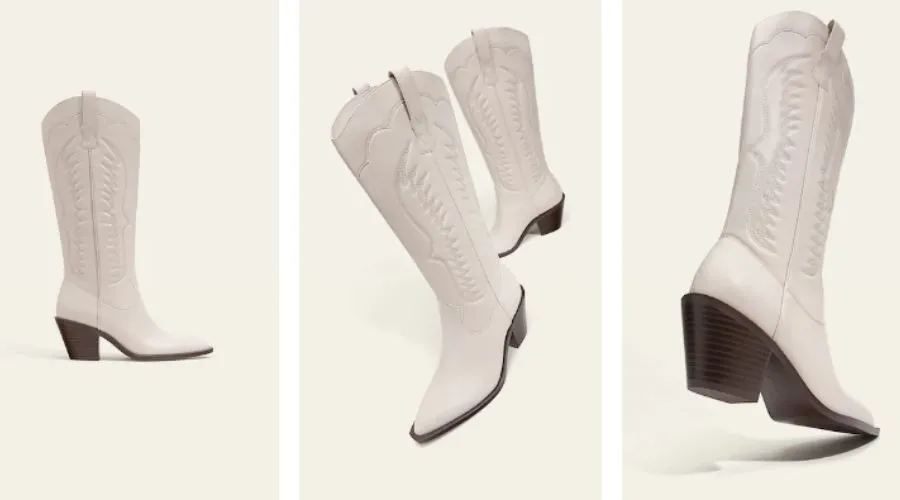 If you are looking for cowboy boots for women that offer both sturdy and feminine charm in one pair, these Heeled Boots in a Cowboy Look are what you are looking for. Made with a perfect combo of polyurethane and polyester, these cowboy boots hold durability and a sense of style and are one of the best eco-friendly leather alternatives, providing a stylish outlook.
With intricate embroidery on the shaft and side pull tabs for easy sliding, you can choose from two first-class white and black colours. The cowboy boots come with a heel of 7cm exuding both elegance and ease allowing you to stride in style. You can choose from various available sizes from 35-41 at a cost of €65.99.
---
4. Fashionable Metallic Ankle Boots in a Cowboy Look
Styling these fashionable metallic ankle boots in a Cowboy Look might require your inner stylist to come out and play. These cowboy boots for women are an exceptional choice as they have topstitching on the shaft, making them stand out with every step you take.
The metallic-coloured combination boots with a side zip make them a dazzling choice to complement your unique style and fashion sense. The boots come with a heel height of 7cm providing you with a comfortable and easy gliding experience. So, if you want to diversify your wardrobe, order these cowboy boots right away through STRADIVARIUS for €59.99.
---
5. Leather Ankle Boots in a Cowboy Look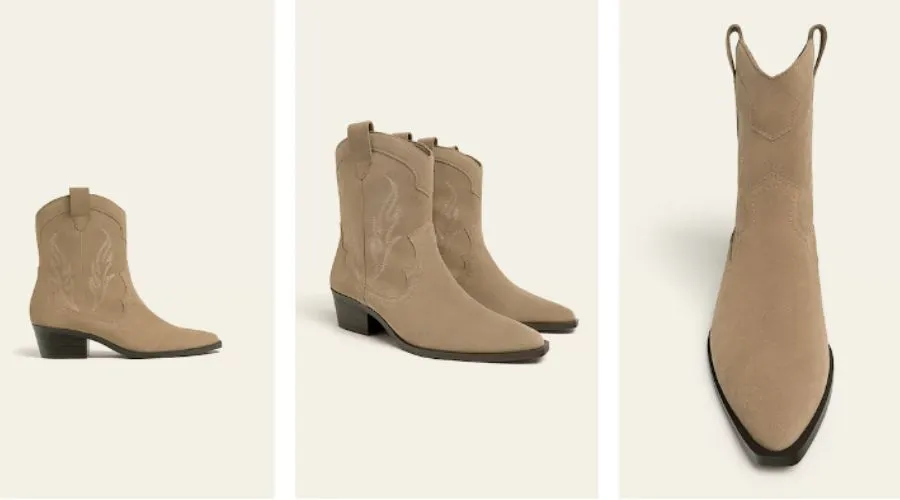 Crafted with high-quality cow leather and polyester material, these Beige Leather Ankle Boots in a Cowboy Look make for an excellent addition for every fashion-forwarded woman. This classic cowboy boot with elegant embroidery on the shaft and pull tabs on both sides makes it much easier to wear and style for everyday looks.
Embrace the essence of the wild west that these cowboy boots carry with an ankle heel of 4.5cm providing a perfect balance between comfort and style. Pair the boots with a flowy maxi dress or skinny jeans and a leather jacket for modish attire. The article is available in various sizes from 35-41 for €59.99.
---
6. Fashionable Metallic Boots with a Cowboy Look
Another pair of voguish cowboy boots you can spend money on are these baby pink Fashionable Metallic Boots that will surely provide you with a prominent outlook. Embrace yourself with a modern cowgirl look with these quilted metallic seam-designed boots, offering a perfect twist of traditional and modern charm.
The cowboy boots are made from a polyurethane and polyester mixture that provides sturdiness and durability qualities, making them a worthy purchase. So, whether you want to pair the boots with a chic bohemian dress for a picnic look or go with leather pants and a tailored blazer for a sophisticated ensemble, you can easily order the pair through STRADIVARIUS for €69.99 only.
---
Conclusion
Whether you invest in traditional cowboy boots or go with the trendiest and out-of-the-box item, they will surely help you curate a striking look and be a conversation starter. So, take a look at STRADIVARIUS's wide footwear selection, which is made from top-quality materials and comes at competitive rates, and order right away. For more fashion updates, visit Trending Cult.
FAQs