The holiday season is here, and people everywhere are looking for places to enjoy this time. Whether it is beaches, waterfalls, mountains, sunsets, rice fields, or nightlife you are looking for, holidays in Bali will let you experience all of it. 
Where is Bali?
Bali is a small island located at the tip of the Lesser Sunda Islands, Indonesia. It is approximately 700 miles east of Jakarta. Bali, a tourist favorite for decades, is the most famous of the many islands in Indonesia. For many years now, Bali has attracted surfers, hikers, and tourists who are in search of natural beauty and holistic living. 
Why spend holidays in Bali?
With its breathtaking scenery, unique culture, natural beauty, and ancient architecture, Bali have been a favorite of tourists from all over the world. The exotic beauty also makes Bali one of the most romantic islands in the world. Even after a lot of development and the arrival of modern hotels and golf courses, Bali has managed to retain its original magic. Undoubtedly, the island provides holistic holidays on a budget and has something to offer to everyone. 
Destinations in Bali
The island of Bali is divided into one city and eight regencies. This island is known for its many hotels and lots of comfy, budget accommodations to fit the needs of a backpacker as well as a luxury traveler. 
However, most tourists prefer to visit the Kuta area for shopping and its nightlife. Ubud is popular for its cultural sights and rice fields. Canggu is known for its hip cafes. Uluwatu is popular for beaches and surfing. And the Sanur area is a quiet and family-friendly place to stay.
Some Hotels Which Will Make Holidays In Bali Memorable For You
1. Melia Bali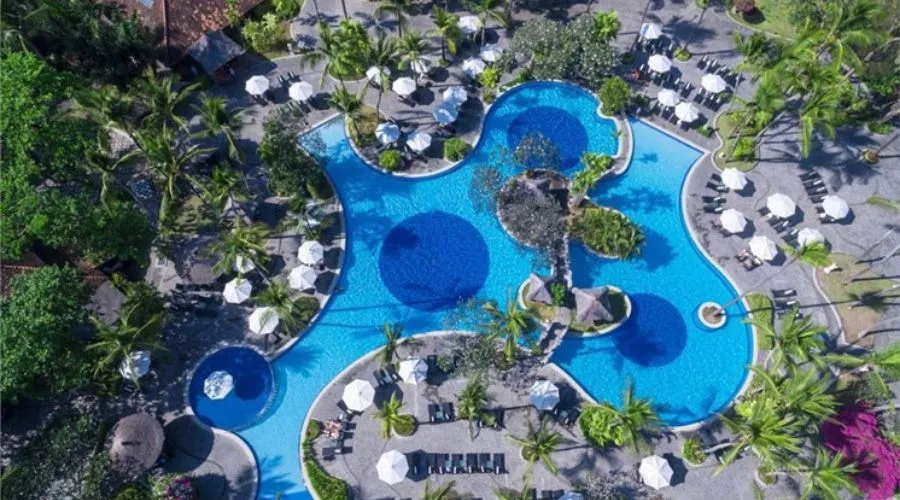 Melia Bali has all the important ingredients to make your holidays in Bali a treat. It is a luxe tropical retreat with lots of natural beauty surrounding it. This hotel includes two pools that look like natural lagoons and a spa that will immerse you in luxury as it offers everything from massages to facials. You can find lip-smacking authentic Indonesian cuisine. To get to the beach, all you have to do is pick a path through the palm trees surrounding the hotel. This is a huge place with 494 rooms, each with a garden view and a terrace or balcony.
What you will love:
Beachfront

Five restaurants

Spa

Sports 
---
2. Hard Rock Hotel Bali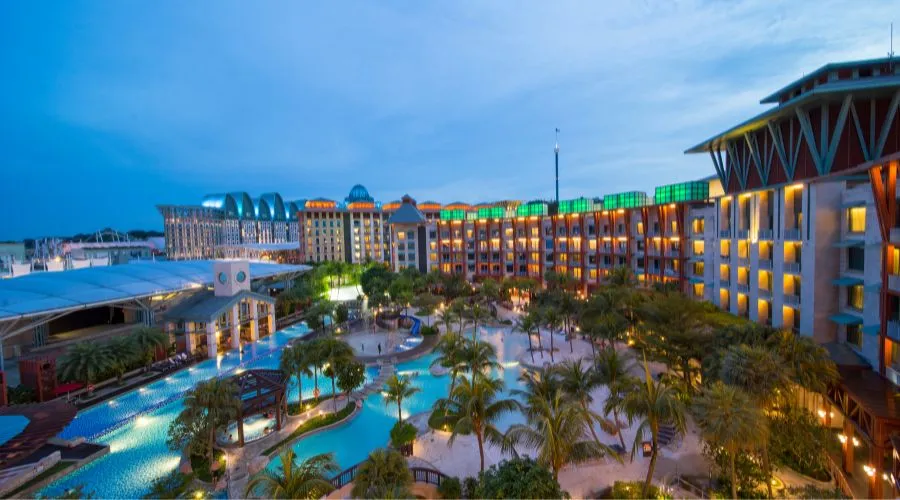 Holidays in Bali can never go wrong when you are at the Hard Rock Hotel. Located just across the road from the sands of Kuta Beach, this hotel gives luxury a new definition. Shops, restaurants, and markets are all but five minutes away from here. The hotel's interior has records and guitars signed by music legends like Sting, Bon Jovi, etc., hanging on them. If this makes you feel like letting your hair down and singing your lungs out, you could always order a Fender guitar, and the room service will get it for you. Or, you could always head down to the hotel's recording studio. This is a huge hotel with 418 rooms and pools for adults and kids.
What you will love:
Four restaurants

By the beach

Clubs

Outdoor pool

Splash Bistro

Chill out area
---
3. Ibis Styles Bali Benoa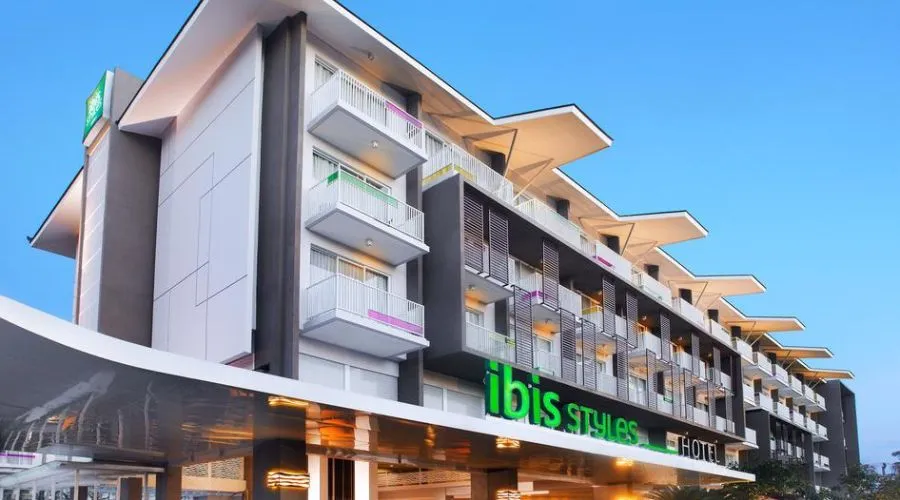 You do not need to stay at a luxury hotel to enjoy your holidays in Bali. This simple restaurant can make your time memorable too. Located on Bali's Tanjung Benoa peninsula, this hotel is just a two-minute walk from the beach. On the beach, you will have access to all the watersports like banana boating, parasailing, and scuba diving. This hotel offers an L-shaped pool, a restaurant with different cuisines, and a poolside bar. A gym for the adults and a playroom for the kids make this place a family-friendly location to spend your Bali holidays in.
What you will love:
Outdoor pool

Watersports

Close to the beach 

Balinese cuisine
---
4. Ubud Village Hotel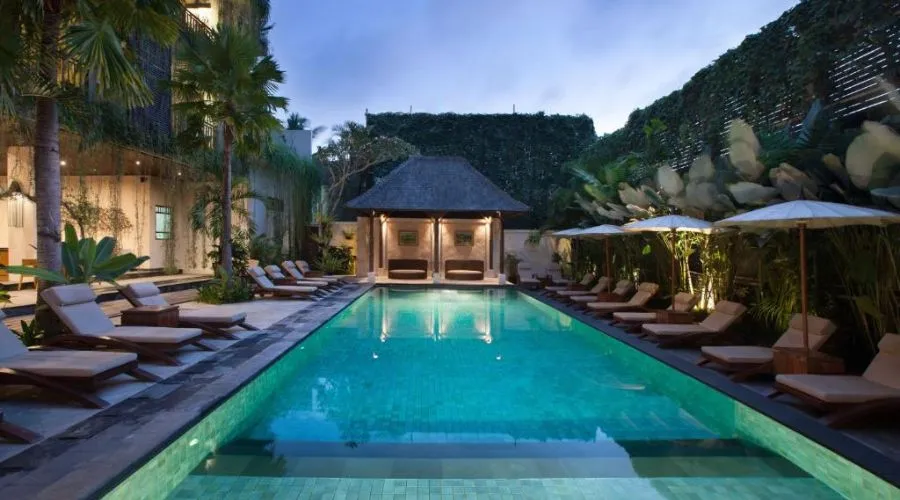 The Ubud Village Hotel offers a tranquil base to spend your holidays in Bali. This hotel has two pools and three restaurants. The top attractions are just about 10 minutes from the hotel, and the famous Ubud market is within walking distance. To blend with the natural jungle surroundings, this hotel has its balconies draped in vines and ponds present both indoors and outdoors. Most of its restaurants are open-air, but the rooftop bar takes the cake. You can also join cooking or yoga classes here. There is a gym and a spa for those who never give up on workouts and relaxation. 
What you will love:
Close to the Monkey forest

Rooftop bar

Mexican cuisine

Sunsets from the terrace
---
5. Sofitel Bali Nusa Dua Beach Resort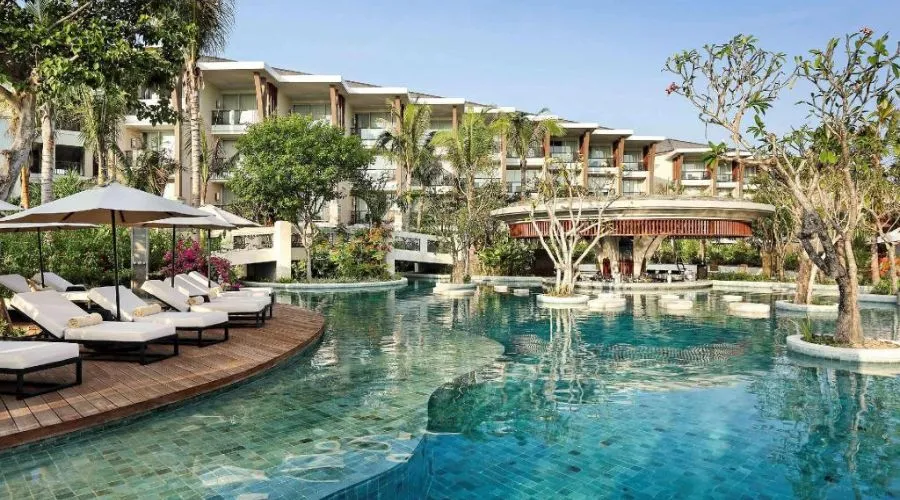 The Sofitel Bali Nusa Dua Beach Resort has everything you need to make your holidays in Bali a luxury stay. This hotel oozes class. Experience luxury dining in the Italian and Balinese restaurants or enjoy the beach grill. Cooking classes, cycling, spa treatments, and bubble baths are some of the many things you can do here. The gourmet brunch is a must-try. The beachfront setting and the quiet location, surrounded by tropical gardens, make this one of the best-ranked hotels in Bali. 
What you will love:
Outdoor lagoon-style pool

Luxury spa

Gourmet food

Spa and Sauna

Sports

private beach
---
Conclusion
Bali is known for its stunning beaches, scenic lakes, lush greenery, waterfalls, rice fields, secret canyons, gushing rivers, watersports, and its amazing hotel industry. To make your holidays in Bali a treat to remember, choose your stay destination wisely. There are a lot of Bali holiday packages to choose from. TUI has many offers and deals to make your Bali holidays in 2023 special. For more Information Visit Trendingcult's Official website.
---
FAQ's