Antalya, a captivating city located on the picturesque Mediterranean coast of southwestern Turkey, offers a wide array of holiday experiences. When it comes to holidays to Antalya, Turkey, you'll find yourself surrounded by stunning beaches and immersed in a rich history and vibrant culture. From the famous Konyaaltı Beach to the breathtaking Lara Beach, the options for enjoying the sun and sand are abundant. Whether you're seeking tranquility or craving adventure water sports, holidays to Antalya offer the perfect blend of relaxation and excitement. Bask in the warmth of the sun while lounging on the golden sands, dive into the crystal-clear waters for a refreshing swim, or engage in thrilling activities like jet skiing and parasailing – the opportunities for fun and adventure are limitless in Antalya, making it an irresistible destination for holidays.
Discovering ancient history:
One of the highlights of  holidays to Antalya is the opportunity to explore its rich historical sites. The city is home to a plethora of ancient ruins and archaeological treasures, offering a fascinating glimpse into its past. 
The ancient city of Termessos, perched high in the Taurus Mountains, is a must-visit for history enthusiasts. The well-preserved amphitheatre of Aspendos and the awe-inspiring ruins of Perge are also worth exploring. As you wander through these ancient sites, you can immerse yourself in the stories of civilizations that once thrived in this region.
Antalya's cultural scene is vibrant and diverse, offering visitors a chance to experience the city's unique traditions and customs. The Kaleiçi district, with its narrow cobbled streets and charming Ottoman-era houses, is a treasure trove of Turkish culture. 
Here, you can wander through bustling bazaars, sample delicious local cuisine, and witness traditional music and dance performances. Don't miss the opportunity to visit the Antalya Museum, which houses a vast collection of artefacts that showcase the region's cultural heritage.
---
Here is a list of stays by On the Beach during the holidays to Antalya
1. Barut Hemera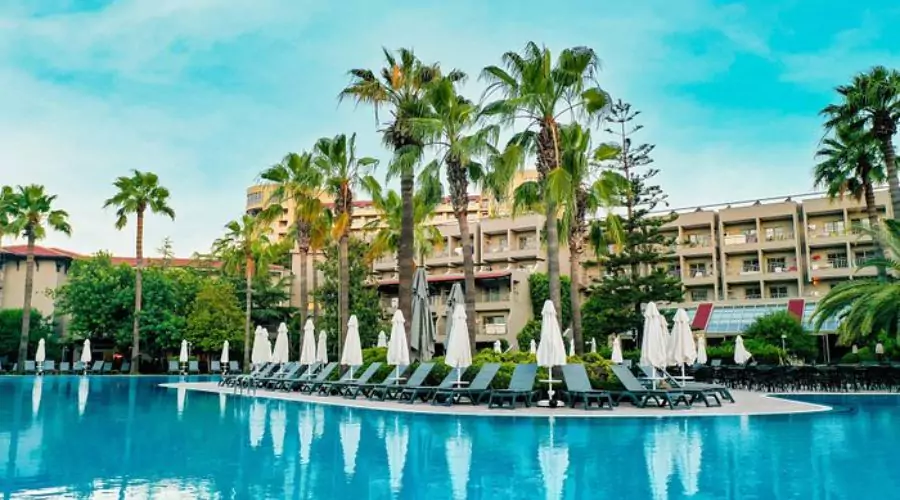 Barut Hemera is a remarkable beachfront resort located in Antalya, Turkey, and can be booked through On the Beach. This luxurious destination offers the perfect setting for an unforgettable holiday in Antalya. The resort boasts stunning architecture, lush gardens, and a serene atmosphere that creates a haven of relaxation and tranquillity.
When it comes to holidays in Antalya, Barut Hemera is an excellent choice. With its prime location right on the beautiful sandy beach, guests can enjoy breathtaking views of the Mediterranean Sea while basking in the warm Turkish sun. The resort provides a range of comfortable and spacious accommodations, from stylish rooms to luxurious suites, ensuring a pleasant stay for every type of traveller.
---
2. Titanic Mardan Palace
Welcome to the epitome of luxury and grandeur at the Titanic Mardan Palace, a magnificent 5-star resort nestled along the stunning coastline of Antalya. Renowned for its opulence and impeccable service, this remarkable destination offers an unforgettable experience for those seeking the perfect holiday to Antalya. 
Prepare to be captivated by the sheer grandeur of Titanic Mardan Palace. The resort is a masterpiece that combines neo-classical design elements with Ottoman-inspired accents, creating a truly unique ambience. As you step into the grand lobby, adorned with crystal chandeliers and intricate marble floors, you'll feel like royalty. 
The resort boasts a range of luxurious accommodations, from lavish rooms to expansive suites, each meticulously designed to provide the utmost comfort and style. With panoramic views of the Mediterranean Sea or the lush gardens, every moment spent in your room is a true delight.
---
3. The Land of Legends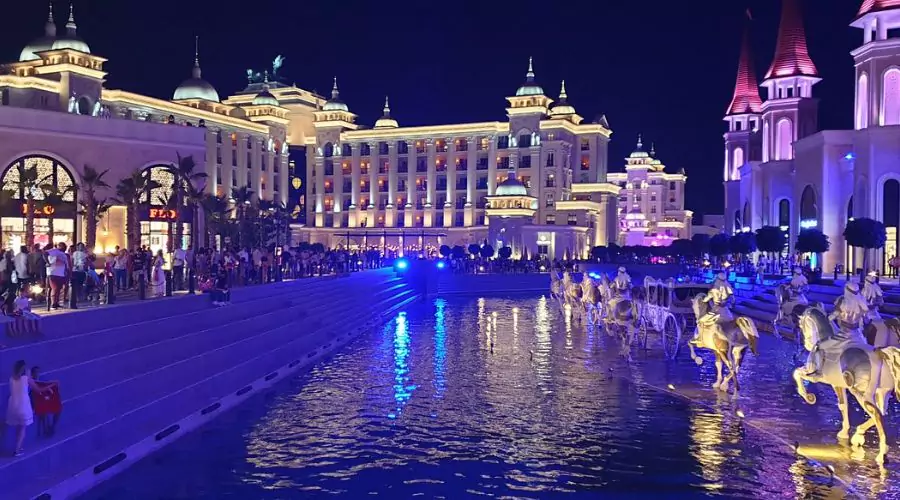 Located in Antalya, Turkey, "The Land of Legends" is a premier entertainment and accommodation complex that offers unforgettable holidays to Antalya. Situated on a stunning beachfront, this extraordinary resort captivates visitors with its unique concept, blending thrilling attractions with luxurious amenities. 
When it comes to holidays in Antalya, The Land of Legends stands out as an exceptional destination. With its extensive range of attractions, there is something for everyone to enjoy. From the adrenaline-pumping rides at the theme park to the awe-inspiring shows at the amphitheatre, guests can immerse themselves in a world of excitement and wonder.
---
4. Miramare Beach
Miramare Beach, situated in the beautiful city of Antalya, is a captivating destination that promises a memorable beach holiday experience. Nestled along the stunning Turkish Riviera, this exquisite beach resort is a true haven for sun-seekers and leisure enthusiasts. With its pristine sandy shores, crystal-clear turquoise waters, and a plethora of activities, Miramare Beach offers the perfect escape for those seeking relaxation and adventure.
When it comes to holidays in Antalya, Miramare Beach stands out as a top choice. This beachfront paradise boasts a wide range of accommodation options, from luxurious beachfront villas to cosy seaside bungalows, catering to all types of travellers. Whether you're planning a romantic getaway, a family vacation, or a fun-filled trip with friends, Miramare Beach has something for everyone.
---
5. Sunis Kumkoy Beach Resort Hotel & Spa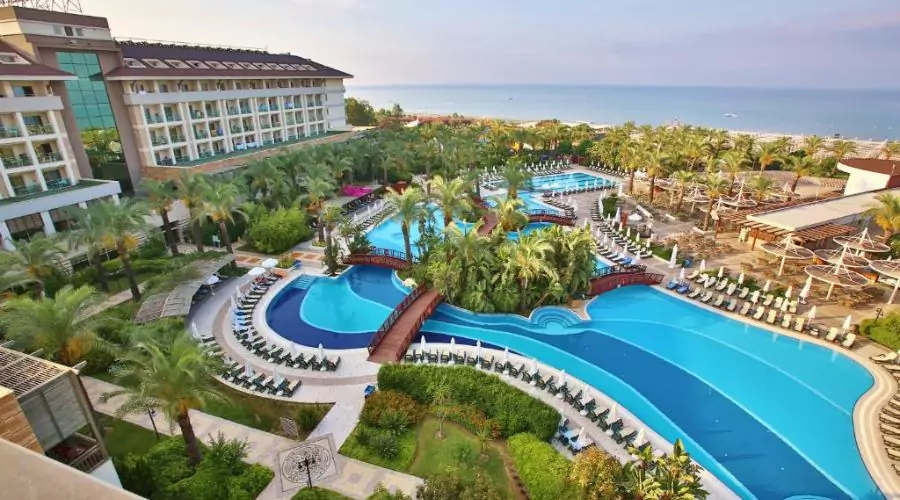 Sunis Kumkoy Beach Resort Hotel & Spa, nestled on the beautiful shores of Antalya, offers a delightful escape for those seeking unforgettable holidays in Antalya. This exquisite beachfront resort is a true paradise, boasting a range of luxurious amenities and breathtaking views of the Mediterranean Sea.
The Sunis Kumkoy Beach Resort Hotel & Spa provides guests with a diverse selection of accommodation options, from elegantly appointed rooms to spacious suites. Each room is tastefully decorated and equipped with modern amenities, ensuring utmost comfort and relaxation throughout your stay.
---
Conclusion
Holidays to Antalya on On the Beach offer a perfect blend of sun, sea, history, culture, and natural beauty. Whether you're seeking relaxation on the beaches, exploring ancient ruins, immersing in vibrant culture, indulging in gastronomic delights, or discovering natural wonders, Antalya has something for everyone. The city's warm climate, welcoming locals, and diverse attractions make it an unforgettable vacation destination. For more information on holidays to Antalya, visit On the Beach and the official website of Trending Cult.
FAQ's