Christmas and New Year are around the corner. It is the perfect time to take a break from the hectic life schedule and plan a getaway with your loved ones. And what could be a better idea for enjoying your holidays than hotels in Niagara Falls NY.
Niagara Falls is a city named after the famous Niagara Waterfalls in Niagara County, New York (USA). Every year tourists gather here for the attractive view of Niagara Falls. It is near Niagara River and has renowned tourist attractions such as:
Maid of the Mist

Cave of the Winds.

Niagara Falls State Park (American Falls, Bridal Veil Falls, and Horseshoe Falls/Canadian Falls).
If you plan to stay at some of the top hotels in Niagara Falls NY, are situated in the downtown area. Here is a list of 5 Top Hotels in Niagara Falls NY.
Best Hotels In Niagara Falls NY
Are you searching for an amazing hotel to stay in Niagara Falls NY? Then check out this article. We have curated the best hotels in Niagara Falls NY that have a minimum 4-star rating. 
1. Wanderfalls Guesthouse and Hostel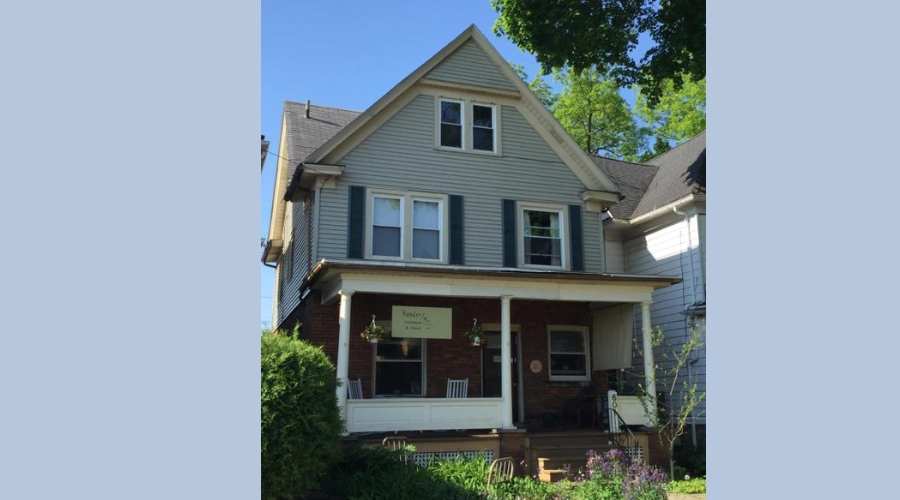 This guesthouse cum hostel is one of the highest-rated stays in Niagara Falls, NY. It is located 1 km from the Niagara Gorge and 2.6 km from Niagara Falls State Park. 
It has facilities such as Wi-Fi and storing luggage. The guests can have access to private or shared rooms that have small lockers and bed linens. They can also use the kitchen to make their meals, and laundry machines are available too.
Considering the beauty of Niagara Falls, and the craze among tourists every year, this hotel has introduced premium services for their guests. You can avail of these services in Niagara Falls hotels with your usual hotel package for a great experience. 
The nearest tourist attractions from this hostel are Seneca Niagara Casino (2.5 km) and the Aquarium (750 m). TOPS Friendly Markets is located 800 m away. Location: 601 Spruce Avenue, Niagara Falls, NY 14301, United States
---
2. The Giacomo, Ascend Hotel Collection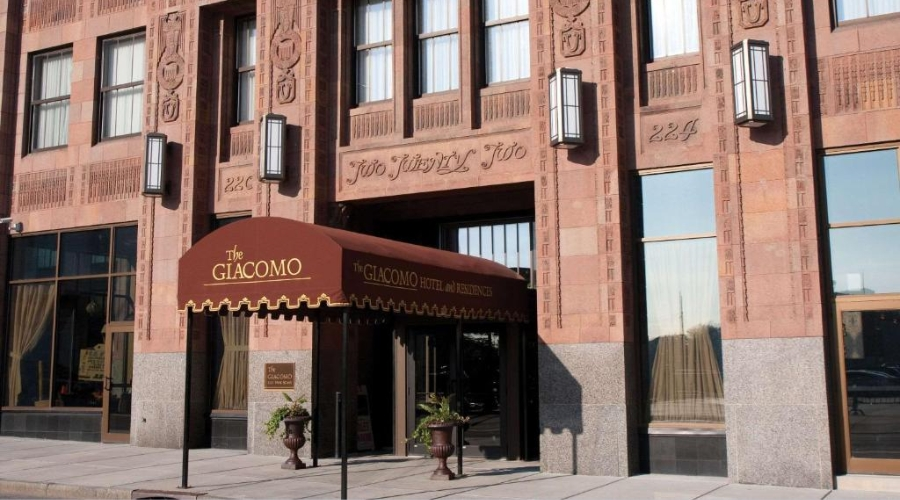 It is one of the most popular and luxurious boutique hotels in Niagara Falls NY. It has Sky View Room on the 19th floor, a lounge, and a gym. The guest rooms have a desk, a walk-in shower, comfortable bedding, a coffee/tea maker, and 32-inch television. Some selected rooms also have stone-covered fireplaces or spa baths. The guests can enjoy a hot breakfast buffet to start their day and visit famous tourist hotspots. Location: 222 First Street, Niagara Falls, NY 14303, United States
---
3. Hampton Inn Niagara Falls
This hotel offers a central location in the heart of Niagara Falls, NY. It is a few minutes away from the breathtaking falls. The hotel offers comfortable guest rooms.The closest amenities include restaurants, shopping centre, and tourist attractions, including the Seneca Niagara Casino, New York State Park Observation Tower and the Conference Center of Niagara Falls.
The staff provides a complimentary breakfast buffet after a restful night sleep on the hotel signature Cloud Nine beds. It also features free high-speed internet access, an on-site fitness centre, and an indoor swimming pool for recreation and a relaxing experience.Location: 501 Rainbow Boulevard, Niagara Falls, NY 14303, United States.
---
4. Comfort Inn and Suites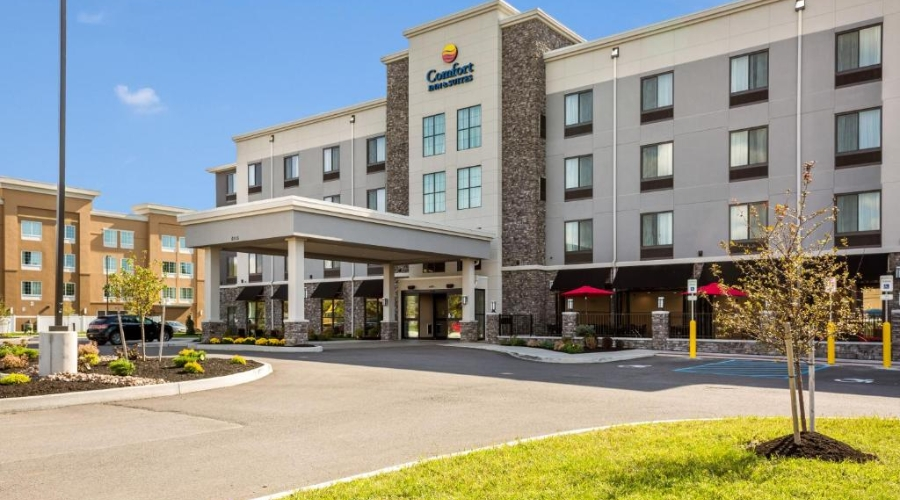 This hotel has 2-star accommodations. This hotel is located near Niagara Falls, 6.3 km from Old Falls Street and 7.5 km from American Falls. It includes a gym, 2-star air-conditioned rooms with free WiFi, and a private bathroom. This place is located 6.3 km from Niagara Falls Conference Center.
Moreover, each room has a desk. Guest rooms in this hotel are well-equipped with a flat-screen TV, Wifi, coffee/tea maker, and toiletries.
Tourism hotspots include Casino Niagara (7.9 km) and Rainbow Bridge (7.9 km). The nearest airport is Niagara Falls International Airport (4 km). Location: 6115 Niagara Falls Blvd, Niagara Falls, NY 14304, United States.
---
5. Red Coach Inn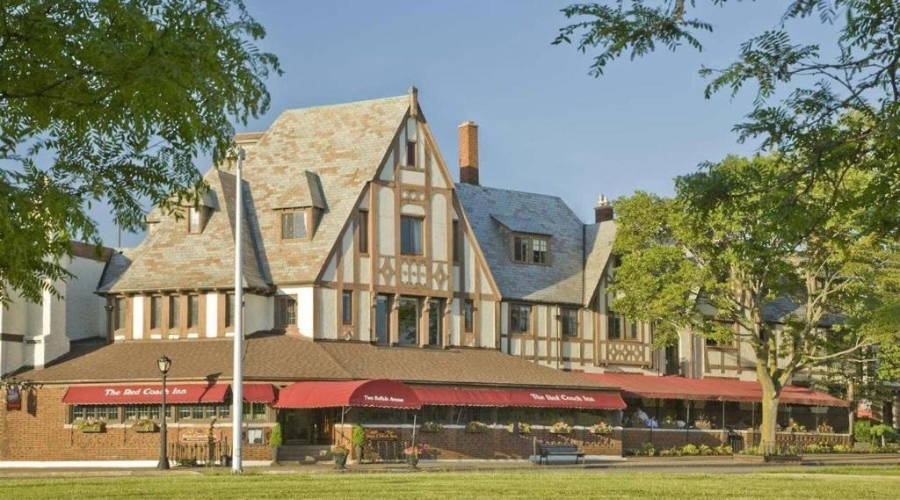 This inn is located 1 km from American Falls. It has an on-site restaurant and free WiFi. Every room has a cable TV, a Bose™ stereo system, and bathrobes. You can also have a coffee machine. Some selected suites have a fireplace and a fully equipped kitchen.
This restaurant serves breakfast, lunch, and dinner by the fireplace or on the seasonal outdoor patio. It also has a mahogany wine and cocktail bar. Cheese and crackers trays and champagne are offered to the guests as complimentary on arrival. They can enjoy high-quality room service. Moreover, meeting and banquet facilities are also available in this inn.One of the most popular attractions of Niagara Falls in NY, The Maid of the Mist boat tour is 550 m away from the Location: 2 Buffalo Avenue, Niagara Falls, NY 14303, United States
---
Conclusion
These hotels in Niagara Falls NY offer a lifetime experience to enjoy the beautiful landscapes and scenery. A few of them are close to the Niagara River and tourist attractions nearby.  The famous tourist hotspots are a few km away from the hotels and guest houses. The hospitality of the hotel staff is top-rated. The most important factor is that these hotels are favourites among couples and hence, the perfect honeymoon options for celebrating Christmas and New Year. 
The hotels in Niagara Falls NY provide free wifi, parking, gyms, a 24-hour desk facility for help, swimming pools, non-smoking zones and sumptuous meals (free breakfast at some hotels). Enjoy your stay at Niagara Falls and celebrate your New Year with new zeal and fervour!!! Don't forget to check Trendingcult for more information on these hotels. 
FAQs