Having a lovely kitchen and dining area is ideal for every housewife. A kitchen may be both attractive and functional with the help of kitchen accessories. You can buy certain kitchen accessories that are made to suit your practical needs and add an artistic touch to your kitchen to improve and make it more appealing. Many kitchen utensils, measuring cups, spatulas, baking sheets, heat pads, coasters, and cutting boards, make cooking and cleaning simple. You can shop at Sinsay to adorn and style your kitchen. Kitchen accessories from Sinsay come in various styles, including copper kitchen accessories, toy kitchen accessories, and other lovely collections. Children will love the toy kitchen items. Kids will love the toy kitchen accessories collection designed to enhance children's creative skills.
Find the best kitchen accessories on Sinsay
Here are the top 5 options on Sinsay that make your kitchen beautiful and efficient. The 5 kitchen accessories are :
1. 16-Piece Cutlery Set
This 16-piece cutlery set consists of 4 sets of dining cutlery sets, including forks, spoons, and eating knives. This set is available in golden colour, which adds a royal look to your dining table. It is an elegant set of 16-piece cutlery made with stainless steel material and coated with gold. 
---
2. BBQ Tools set 3 pack
The BBQ tools set 3 packs is the best choice for your barbeque nights to enjoy with your family and friends. This set contains barbeque accessories for grilling and cooking with ease. This array also has a bamboo basket, giving a classy look to the complete set arrangement. This set is available in beige colour. The set consists of 80% of stainless steel material and 20% bamboo. The set is for food contact and heat contact. This is an eco-friendly product with travel-friendly features.
Note: This product does not support washing in the dishwasher.
---
3. Kitchen tool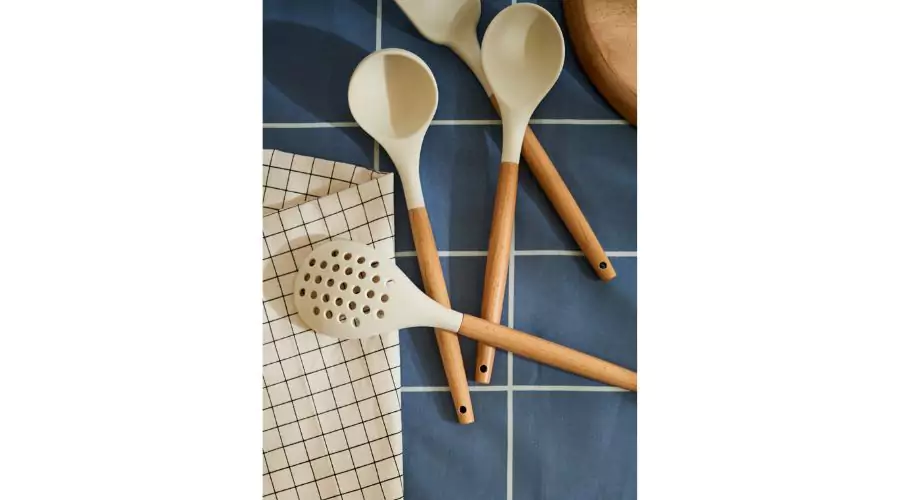 This product is a combo set of silicon-based kitchen tools with wooden handles. The spatula is heat-resistant and eco-friendly. It is available in cream colour. The composition of this product is 39% silicon, 28% wood, 23% polyamide, and 10% stainless steel. It is a classy-looking product with a stylish touch. The quality of the product is 100% assured and safe for food contact.
---
4. Sauce Bowls set
This sauce bowl set has three ceramic bowls and a wooden coaster to hold them. It is an ideal set for sauces and side dishes. It comes in classic cream-coloured bowls and a wooden coaster in beige colour. The composition of this set is 70% ceramics and 30% wood. This set is heat resistant. The bowls are microwave-friendly. The coaster perfectly goes with any kitchen interior and gives a subtle look to your dining table. One of the best kitchen accessories to be discovered on Sinsay.
---
5. Baking cups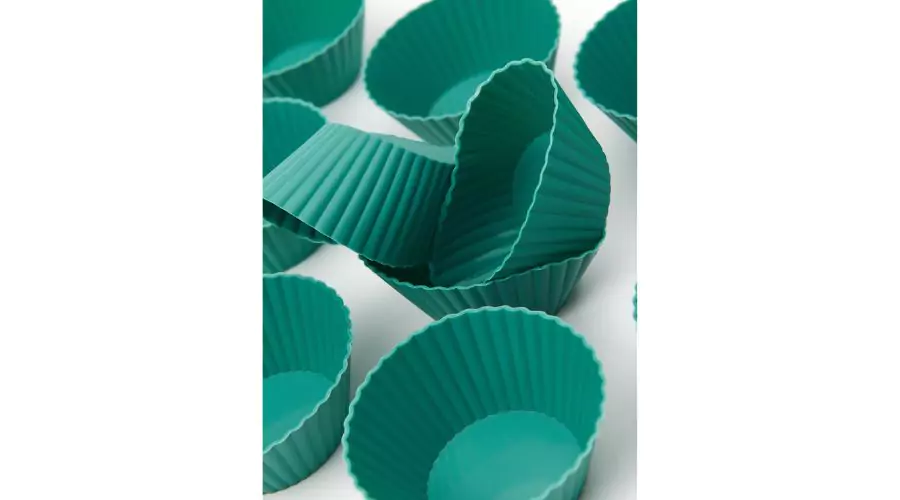 This cute set of baking cups is available in green colour. The set has 12 baking cups. The cups are flexible. This would be a perfect choice to make it easy to bake your cupcakes. These baking cups are flexible, so there is no concern for crumbling cupcakes while baking. The cupcake set is 100% silicon made. The size of each cup is 6,7 cm. It is microwave safe and safe for food contact. Silicon-based kitchen products are in high demand and trending in the market. These baking cups would make your day by holding your cupcakes in their best shape.
---
Conclusion
Many people are concerned with making their homes beautiful. The kitchen is the most crucial part of one's home. The kitchen binds the memories and emotions of the residents. Therefore having an elegant kitchen is a blissful thing. To make a kitchen clean and elegant, one is supposed to buy kitchen accessories that are trendy and efficient. The kitchen tools are made for better functionality. The tools should be necessarily practical. To purchase such practical appliances and tools, you can visit Sinsay. Sinsay has optimal products which are travel-friendly as well as eco-friendly. Sinsay assures you of the best quality collections of kitchen accessories. The toy kitchen accessories are fabulous! You can also find the best copper kitchen accessories on Sinsay. It provides you with a wide range of products with different metallic compositions. It has great deals with ceramic cutlery and tools. Stay tuned to Trending Cult for more interesting information and products.
FAQ's