Embracing your sexy side is a delightful feeling. Whether it's dressing up in a hot gown or putting on lacy lingerie, you deserve to feel hot and bodacious. And that's why Hunkemoller is here! Hunkemoller's eclectic lingerie set collections will help you embody your bold side. The lingerie sets are available in various sizes and come in different styles. From shorts, thongs, or briefs, to lacy and colorful items, this is the right place to discover your seductive aura. Let's discover the hot and sexy lingeries set with Trending Cult.
About Hunkemoller
Hunkemoller is one of the most popular lingerie brands in Europe. Its product catalog includes exciting and broad-ranged products for customers. From bras, knickers, lingerie sets, corsets, and sexy accessories to swimwear, Hunkemoller is exactly where you'll find the sexiest and most irresistible products. 
Hunkemoller is a big believer of body positivity and hence its product range also caters to needs for different shapes and sizes. 
Feel Hot and Irresistible with these lingerie sets from Hunkemoller
If you are new to the realm of lingeries and sexy inner wear then here are some recommendations to guide you! 
1. Unpadded Underwire Bra with High-cut Thong
It's time to be sexy. Whether it's for you or a special someone, this light purplish bra and thong set is suitable for every need. The bra has lace and strap details which give it a super hot look. And the metal and strap design adds a unique touch to this lingerie set. 
The high-cut thong is semi-transparent but the lace, satin, and cut-out finishes make it super sizzling to wear. The backside is not covered, so show off your shapely bum and embrace your seductive allure. 
---
2. Black Bralette and Thong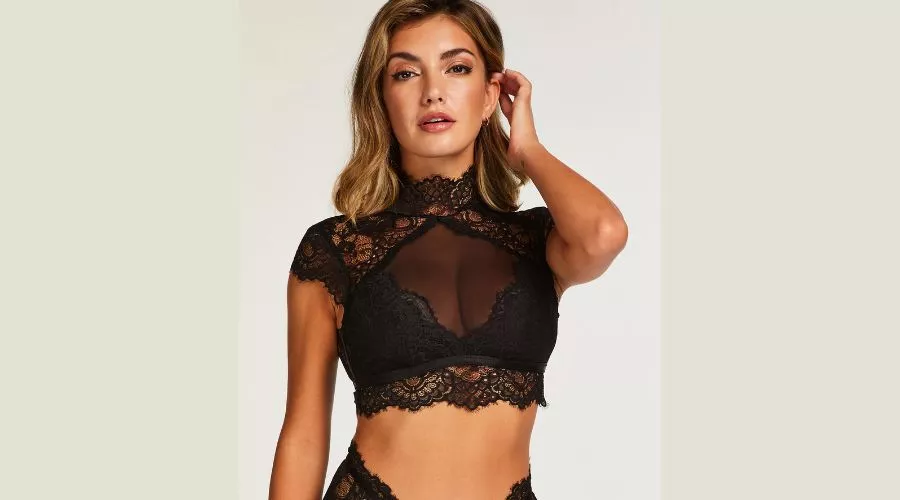 How does a bralette sound? This black lingerie set includes a bralette that can be used for versatile purposes. Feeling sexy? Check. Want to dress up for a steamy night? Check. Want to wear it as a crop top? Good for you. The bralette top has cap sleeves and is extremely lacy and cute. If you are not a fan of padding then you can remove the pads too! The back has a cut-out shape and gives a sexy look. 
The thong is high-waisted and the stunning lace and mesh patterns will catch your eye. The backside is partially covered. 
---
3. Padded Push Up Wired Bra and Brazilian Thong
Want a more flattering cleavage? Then a push-up bra is the right option for you! This white-colored push-up bra will not only help elevate your breast shape but also add a sexy lacy look. The bra has a front closure, which means that you secure it from the front side. The backside has a cross design, which adds a fancy touch to the back. 
The white thong gives a half-covered look and includes a lot of lace and mesh! Ideal for those who love white and lace bras.
---
4. Green Longline Underwired Bra and Thong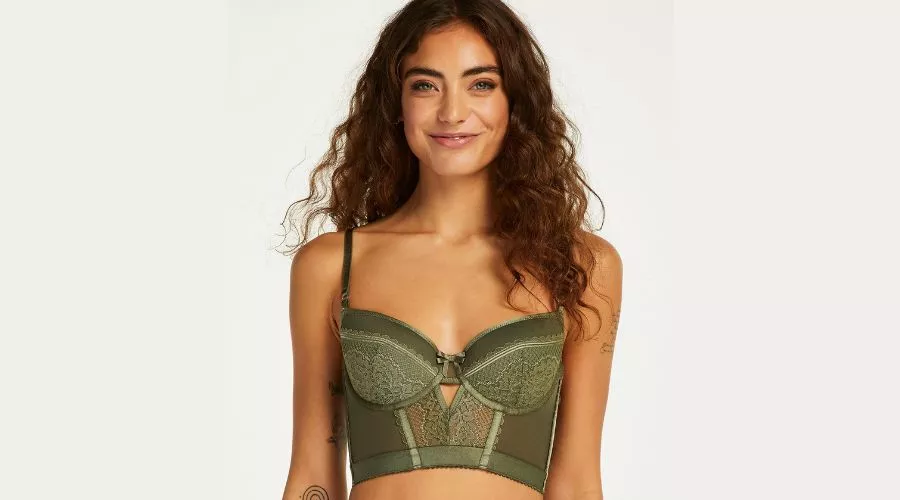 Green, a great color to feel bold and fearless. The longline design of this underwired bra gives a gorgeous fitting and an added bow on the front is a cute accessory. The bra is detailed with lace and mesh which bring a dash of elegance. 
The string thong is semi-transparent, and gives minimal coverage but is super cute! The look is finished with a small green colored bow on the front. 
---
5.Black Non Padded Wired Bra and Thong 
A super sexy addition to your lingerie collection, this set won't disappoint you! The bra is non-padded and has a tiny bow attached to the front. The cut-out design on the front is gorgeous and throws in a pinch of sexy and chic. The Thong is a semi-transparent and lacy, perfect wear for a sexy time. The lacy lingerie set features and strappy details of the thong make it super hot and sensual to don. 
The set has a total of five items and you can choose the ones that you like or purchase the entire set. A bustier, non-padded bra, thong, strap, and open crotch thong for spicy nights.
---
Conclusion
Lingerie sets are an ideal way to look hot and bold. You don't need to wait for an occasion to look sexy! Sexy can be now as well. All you need to do is put on the lingerie set that makes you feel and look good. Hunkemoller's comprehensive range of lingeries and bras will give you a magnetic aura. It's time to look super sensual whether it's for you or your loved one. 
For more information, visit Trending Cult.
FAQs