In the realm of men's fashion, trousers hold a significant place as versatile wardrobe essentials that effortlessly combine style, comfort, and functionality. Fatface, a renowned brand known for its commitment to quality and timeless designs, offers a remarkable range of trousers for men. Whether you're dressing up for a formal occasion or aiming for a more casual look, Fatface trousers for men are designed to meet diverse fashion needs.
Versatility: From Casual to Formal
One of the key strengths of Fatface trousers for men lies in their versatility. They effortlessly transition from casual outings to formal occasions, making them a reliable choice for any event. For a relaxed and casual look, Fatface offers a range of the best jeans for men and chinos that can be paired with a stylish t-shirt or a button-down shirt. These trousers strike the perfect balance between comfort and style, ensuring you look effortlessly put together while maintaining a relaxed vibe.
On the other hand, when the occasion calls for more formal attire, Fatface dress trousers come to the fore. Crafted from premium fabrics and tailored to perfection, these trousers exude sophistication and elegance. Pair them with a tailored blazer or a crisp dress shirt, and you'll be ready to make a lasting impression at weddings, business meetings, or other formal events. The versatility of Fatface trousers for men allows for seamless transitions between various dress codes, making them a practical addition to any wardrobe.
The following is a list of the top Trousers for Men on Fatface
1. Straight Pull On Trousers
Straight pull-on trousers for men are characterized by their streamlined silhouette and effortless style. They are designed to be pulled on without the need for buttons or zippers, offering a convenient alternative to traditional trousers. Made from high-quality fabrics such as cotton, linen, or blends, these trousers provide optimal comfort and ease of movement.
The waistband of straight pull-on trousers is often elasticized, ensuring a secure and adjustable fit. This feature eliminates the need for belts, giving the trousers a clean and uncluttered appearance. Additionally, some styles may feature drawstrings or adjustable tabs for further customization. The absence of buttons or zippers on the front contributes to a sleek and modern look.
2. Modern Coastal Chino
One of the key reasons for the enduring popularity of modern coastal chinos is their ability to be paired with a wide range of garments. For a relaxed, casual look, they can be effortlessly paired with a plain t-shirt or a lightweight button-down shirt. Rolled-up cuffs add a touch of nonchalance and showcase the versatility of these trousers. When aiming for a more polished appearance, coastal chinos can be paired with a well-fitted blazer or a tailored dress shirt, creating a refined ensemble suitable for business casual occasions.
Modern coastal chinos are available in an array of colours, ranging from traditional neutrals like beige, khaki, and navy, to more vibrant hues like olive green, light blue, and even pastel shades. This diverse colour palette allows individuals to express their personal style and experiment with different looks. In addition to solid colours, chinos may also feature subtle patterns, such as pinstripes or micro-checks, adding a touch of visual interest without overwhelming the overall aesthetic.
3. Straight Cotton Linen Trousers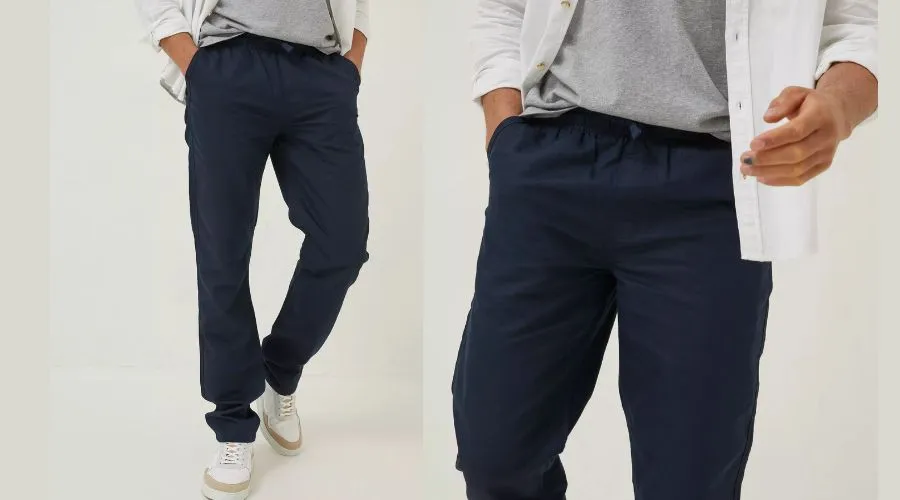 Straight cotton linen trousers are crafted using a combination of cotton and linen fibres, both of which have distinct characteristics. Cotton provides softness, breathability, and durability, making it an ideal fabric for everyday wear. Linen, on the other hand, adds a lightweight and textured feel, perfect for warmer weather. The blend of these two fibres creates a unique fabric that is comfortable, airy, and resistant to wrinkles.
One of the key advantages of straight cotton linen trousers for men is the exceptional comfort they offer. The breathable nature of cotton and linen allows air to circulate freely, keeping the wearer cool and comfortable even in hot and humid conditions. The lightweight fabric prevents the trousers from clinging to the skin, providing a relaxed and airy feel throughout the day.
4. Corby Straight Cargo Trousers
Corby Straight Cargo Trousers are designed with functionality in mind. The inclusion of cargo pockets sets them apart from regular trousers, providing ample storage space. These spacious pockets are located on the sides of the thighs and often feature additional smaller pockets on top, further enhancing their practicality. The cargo pockets are perfect for carrying essentials like keys, wallets, phones, or even small tools when needed. This feature is particularly beneficial for individuals who require quick and easy access to their belongings while on the go.
Additionally, the Corby Straight Cargo Trousers often come with reinforced stitching and durable fabrics, ensuring longevity and resilience even in demanding environments. The robust construction allows them to withstand rigorous activities, making them suitable for outdoor adventures or work-related tasks. Whether hiking, camping, or engaging in physical labour, these trousers offer the durability and functionality necessary to meet the challenges.
5. Heyshott Slim Stretch Chino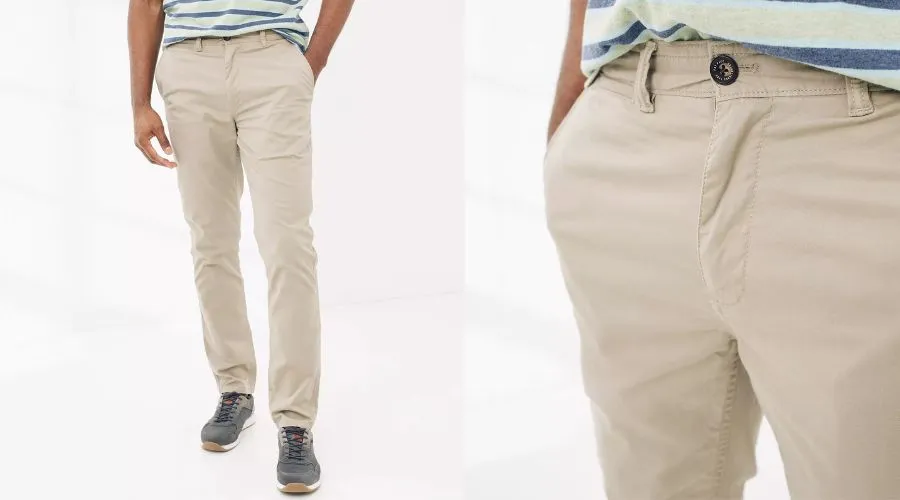 The Heyshott Slim Stretch Chino boasts a carefully crafted design that caters to modern man's aesthetic sensibilities. These trousers for men are tailored with precision, offering a slim-fit silhouette that flatters a range of body types. The tapered leg design creates a streamlined look, enhancing the overall appearance and providing a contemporary feel.
One of the defining features of the Heyshott Slim Stretch Chino is its exceptional comfort, achieved through the use of high-quality fabric. Made from a blend of cotton and elastane, these trousers offer a remarkable level of stretch. This innovative combination ensures flexibility and freedom of movement, allowing the wearer to navigate their day with ease. Moreover, the breathable nature of the fabric enhances comfort, making them suitable for various climates and seasons.
Conclusion
Fatface trousers for men epitomize the perfect blend of style, versatility, and craftsmanship. From their diverse range of styles to their seamless transitions between casual and formal wear, these trousers cater to the fashion needs of modern men. Whether you're dressing up for a special occasion or seeking a casual everyday look, Fatface offers a plethora of options to suit your personal style. For more information, visit Trendingcult
FAQs