The beauty of women's bomber jackets lies in their ability to elevate any outfit. Whether you prefer a casual, edgy, or chic look, the bomber jacket effortlessly complements various styles. The iconic status of women's bomber jackets has been further cemented by their appearance in popular culture. From Hollywood movies to music videos, many celebrities have sported bomber jackets, making them a symbol of coolness and style. Their versatility also extends to formal and casual occasions, making them an essential wardrobe piece that can be worn year-round. In the following blog, Trending Cult has curated the top 5 women's bomber jackets on JD Sports and their styling options.
Styling Options for Women's Bomber Jackets
Casual and Cool: For a laid-back and effortless look, pair your bomber jacket with a graphic tee, high-waisted jeans, and white sneakers. Add some oversized sunglasses and a baseball cap to exude a cool and sporty vibe.
Edgy Street Style: Embrace your inner rebel by combining a black leather bomber jacket with a black bodycon dress and ankle boots. Accessorize with chunky silver jewelry and a studded handbag for an edgy street-style ensemble.
Sporty Chic: Opt for a nylon women's bomber jacket in a bold color and team it with a crop top, leggings, and your favorite sneakers. This athleisure-inspired outfit is perfect for running errands or hitting the gym in style.
Boho Glam: Create a bohemian-inspired look by pairing a floral print bomber jacket with a flowy maxi skirt and suede ankle boots. Add some layered necklaces and a wide-brimmed hat to complete the boho glam look.
Glamorous Nights: For a night out on the town, throw on a sequin or metallic bomber jacket over a little black dress or a bodycon jumpsuit. The shimmering effect will turn heads and make you the star of the evening.
Layering Game: Experiment with layering by wearing your bomber jacket over a turtleneck sweater or a plaid shirt. Complete the look with skinny jeans and ankle boots for a chic fall or winter outfit.
Retro Vibes: Channel vintage vibes by pairing a satin bomber jacket with high-waisted flare jeans and platform shoes. Add some retro-inspired accessories, like cat-eye sunglasses and a headband, for a nostalgic touch.
Top 5 bomber jackets for women for a stylish look
1. New Balance Women's Bomber Jacket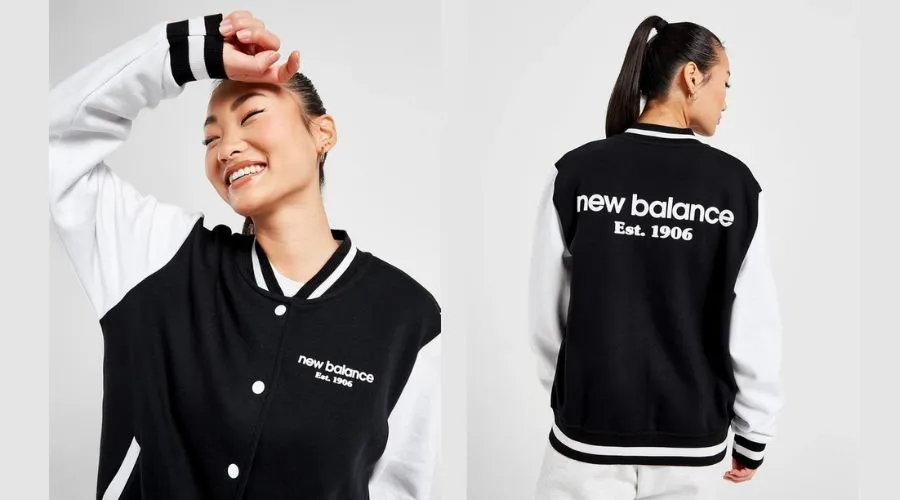 Step back in time with this women's bomber jacket, which offers a regular-fit design crafted from soft and breathable cotton fabric, ensuring long-lasting comfort. The black body with contrasting white sleeves adds a touch of vintage flair to your overall look. The button fastening allows for customizable coverage, while ribbed trims optimize the fit for a flattering silhouette. To complete the look, the jacket is signed with New Balance branding on the chest and back, showcasing your sporty and fashion-forward sense of style.
---
2. New Balance Women's Bomber Jacket: Lilac and white
Get ready to relive those college vibes with this women's bomber jacket. Crafted from a cotton fleece blend, the jacket offers unbeatable comfort that lasts all day long. The button front and classic aviator collar give it a timeless appeal, while the striped ribbed trims add a touch of sporty flair to the relaxed fit. Convenient side pockets provide practicality, making it easy to carry your essentials on the go. Signature New Balance branding on the chest and the back showcases a sporty and fashionable appeal.
---
3. Nike Varsity Bomber Jacket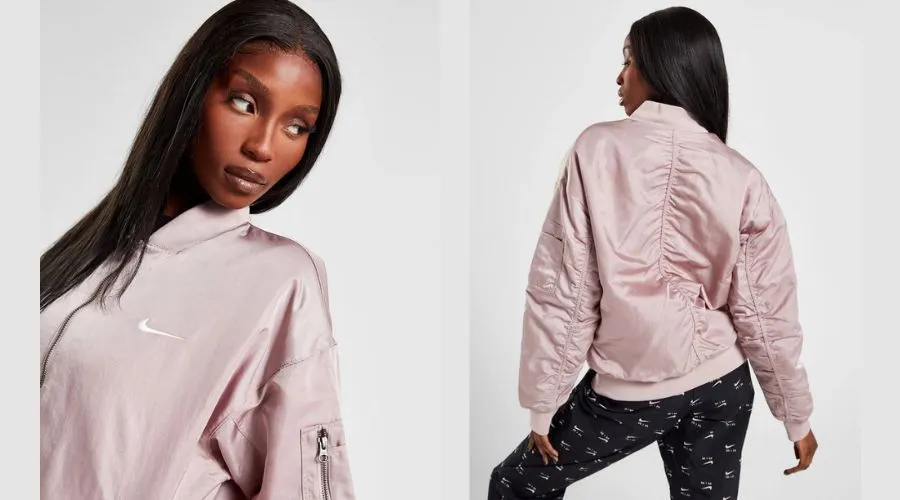 Introducing the versatile and stylish Nike Reversible Women's Bomber Jacket, which is a must-have addition to your winter wardrobe. This jacket is designed to keep you warm and comfortable with its insulating synthetic filling, making it the perfect companion for those chilly days. The first side of the jacket features gathered sleeves, ribbed details, and a convenient pocket on the left arm, giving it a classic bomber jacket look that never goes out of style. On the flip side, you'll find a soft and warm diamond quilting that feels like a cozy lining, offering you a more relaxed and snug appearance. Both sides of the jacket are equipped with snap button pockets, ensuring you can safely store your essentials while you're on the go.
---
4. Nike Varsity Bomber Jacket
This reversible women's bomber jacket is designed to provide both warmth and style, making it an absolute essential for colder days. The jacket is lightly padded in the arms and body, offering you the perfect amount of insulation to keep you comfortable in chilly weather. The smooth and ultra-soft quilted lining adds an extra layer of coziness, allowing you to easily layer this jacket on top when the temperature drops. With its reversible design, you can switch up your look and style it to suit your outfit and mood. Whether you're heading to the gym, running errands, or simply need an extra layer of warmth, don't miss out on this must-have piece.
---
5. adidas Originals Women's Varsity Bomber Jacket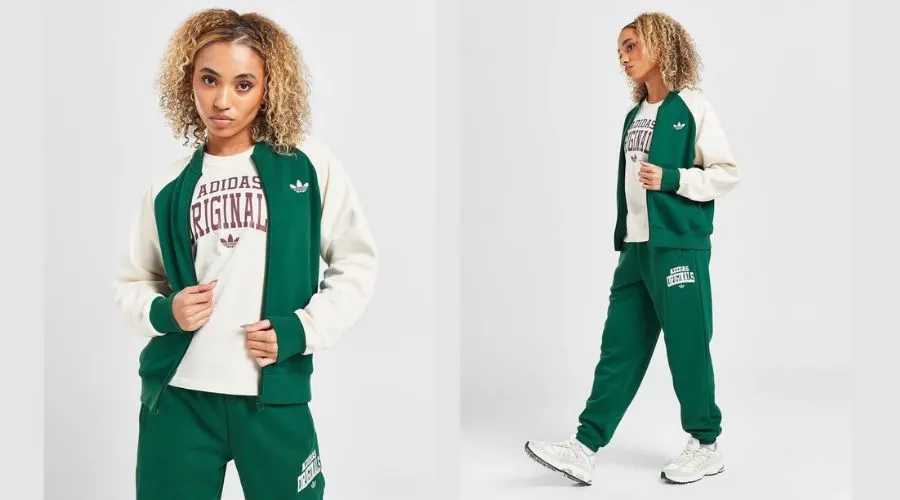 Elevate your style with the Adidas Originals women's bomber jacket. This trendy jacket comes in a striking green color, adding a pop of color to any outfit. Crafted with a blend of soft cotton and recycled polyester fleece, it ensures lasting comfort and sustainability. The stretch ribbed trims provide a secure and flattering fit, enhancing the shape of the jacket. With its classic aviator collar, you'll feel effortlessly cool and stylish. This bomber jacket is the perfect piece to complete your athleisure look with a touch of retro flair.
---
Przeczytaj także – Przycięte dżinsy: najlepsze połączenie stylu i wygody
---
Wniosek
The women's bomber jacket continues to hold a special place in the world of fashion. These jackets embody style, versatility, and functionality. During colder months, layering a women's bomber jacket over sweaters or hoodies provides added warmth and protection against the elements. In spring and fall, bomber jackets make the perfect lightweight outerwear option to stay stylish without feeling bulky. As fashion evolves, these iconic jackets from JD Sports will undoubtedly remain a go-to choice for fashion enthusiasts of all ages, continuing to inspire and captivate for many more years to come. For more information, visit Popularny kult.
Często zadawane pytania