Looking for the ultimate island getaway? Look no further than Ibiza, the stunning Balearic island known for its pristine beaches, lively nightlife, and world-class cuisine. But before you pack your bags and jet off to this paradise, you'll need to find the perfect hotel to match. Luckily, we've done the legwork for you, compiling a list of the best hotels in Ibiza to suit any taste and budget.
Ibiza is a must-visit destination for anyone looking for a memorable vacation. This idyllic island has everything you could want in a holiday spot – sun-soaked beaches, crystal-clear waters, world-renowned clubs, and delicious local cuisine. With so much to see and do, it's no wonder that Ibiza is one of the most popular tourist destinations in Europe.
But a great vacation is more than just the destination – it's also about the experience. And that's where choosing the right hotel comes in. Your hotel is your home away from home, your base camp for exploring all that Ibiza has to offer. So whether you're looking for a luxurious getaway, a chic boutique hotel, or a budget-friendly option, it's important to choose the right accommodation amongst the best hotels in Ibiza to suit your needs.
TrendingCult is here to help you find that perfect hotel, no matter your preferences or budget. We've done the research and compiled a list of the best hotels in Ibiza, covering a range of categories to suit every taste and pocket. So whether you're planning a romantic getaway, a family vacation, or a solo adventure, keep reading for our top picks of best hotels in Ibiza.
Factors to consider when choosing a hotel in Ibiza:
Location

Type of accommodation

Amenities

Budget
Before we dive into our list of best hotels in Ibiza, it's important to understand the key factors to consider when choosing a hotel in Ibiza. These include the location of the hotel, the type of accommodation, the amenities offered, and your budget.
Location is key when it comes to choosing a hotel in Ibiza. The island is home to many beautiful beaches and neighborhoods, each with their own unique vibe and attractions. When selecting your hotel, think about the areas you want to explore and choose a hotel in a convenient location.
The type of accommodation is another important consideration. Ibiza has a range of options, from high-end luxury hotels to charming boutique properties and budget-friendly hostels. Think about the level of luxury and the kind of experience you're looking for when picking the best hotels in Ibiza. 
Amenities are also important when choosing a hotel in Ibiza. From swimming pools and spas to restaurants and bars, the amenities offered by your hotel can enhance your overall vacation experience.
Finally, your budget will play a role in your hotel selection. Ibiza has hotels to suit every budget, so it's important to decide how much you're willing to spend before you start your search.
Best hotels in Ibiza:
1. Hotel Argos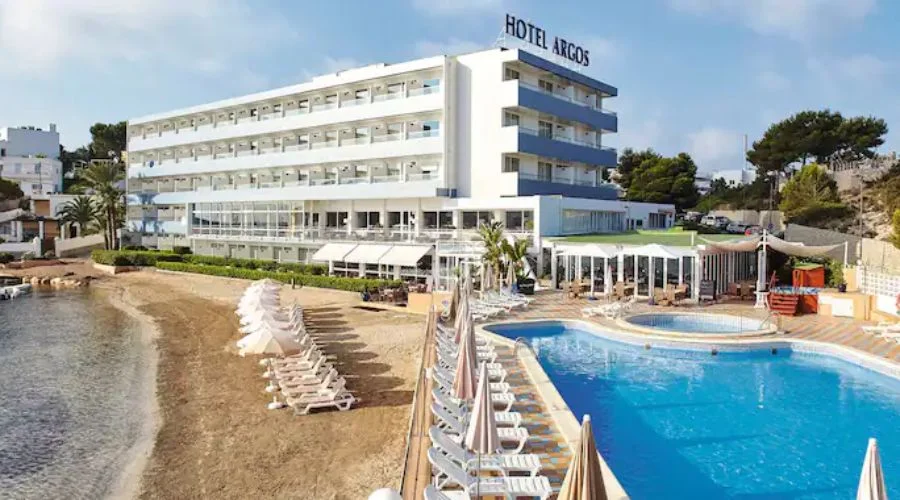 Hotel Argos is an elegant and comfortable accommodation option situated in the stunning location of Talamanca, offering easy access to Ibiza Town. The hotel boasts an enviable beachfront position, providing guests with breathtaking views of the sandy beach. Guests can relax in the hotel's good-sized outdoor pool, which is surrounded by white sun loungers and parasols, providing ample space for relaxation. A separate circular pool is available for children to splash around in, and the indoor pool comes equipped with in-water massage jets and a hot tub. The bar situated next to the pool offers guests snacks, drinks, and fruity cocktails.
Hotel Argos offers an array of local and international dishes for breakfast and dinner, served buffet-style. Guests can also make use of the snack bar if they need something to eat in between meals. The entertainment at the hotel is relatively low-key, but there are live music performances a couple of nights each week. For those who wish to party until the early hours, the superclub Pacha is just a five-minute cab ride away.
---
2. Hotel Anfora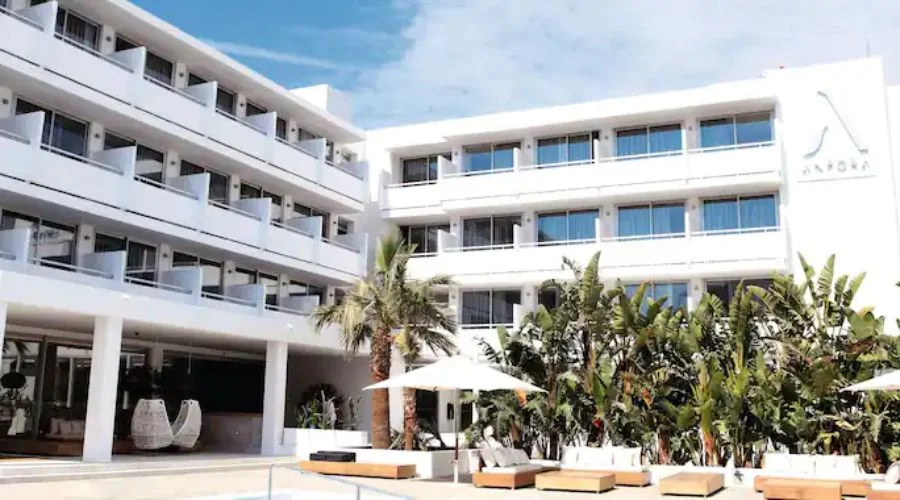 Hotel Anfora Ibiza is the perfect place to base yourself for a beach vacation, with its two modern pools and its location close to Es Cana's waterfront. This idyllic resort on the east coast of Ibiza offers a laid-back atmosphere, with a charming working harbor overlooked by white-washed houses and a range of waterfront restaurants. Evenings in Es Cana are known for lively bars, but the real highlight is the famous weekly hippie market.
The hotel's decor is inspired by Ibiza's natural beauty, with a contemporary color scheme of clean whites and driftwood accents throughout the walls. All rooms are equipped with a TV, a safety deposit box, a minibar, air-conditioning, Wi-Fi, and a balcony. For those looking for extra space, junior suites and suites are available, which feature a double bed, a double sofa bed, a lounge area, and a fridge.
The hotel features a pair of pools, as well as close proximity to the beach. The restaurant serves international and local options in buffet style, while the lounge and poolside bar serve refreshing drinks.
---
3. Hotel Tres Torres 
Hotel Tres Torres is a popular choice among visitors for its excellent location that offers stunning views of the marina and coastline. Situated in the charming Santa Eulalia resort on the south-east coast of Ibiza, this hotel is famous for its gourmet food scene, art galleries, designer boutiques, and high-end gift shops. Visitors can also enjoy the sophisticated marina with numerous restaurants and bars, along with the resort's two clean and beautiful beaches.
The hotel is situated on the promenade, adjacent to Santa Eulalia's marina, and the main beach is just a 10-minute walk away. The hotel's outdoor area features a peaceful pool where visitors can relax while listening to tranquil music. Additionally, a second pool, a fitness area, and a renovated lobby and lounge area are expected to open by summer 2023. The hotel's restaurant serves international cuisine, and a snack bar is also available for lunch. The bar is the perfect spot for witnessing cocktail demonstrations by the barmen and trying new drinks.
---
4. Agroturismo Can Lluc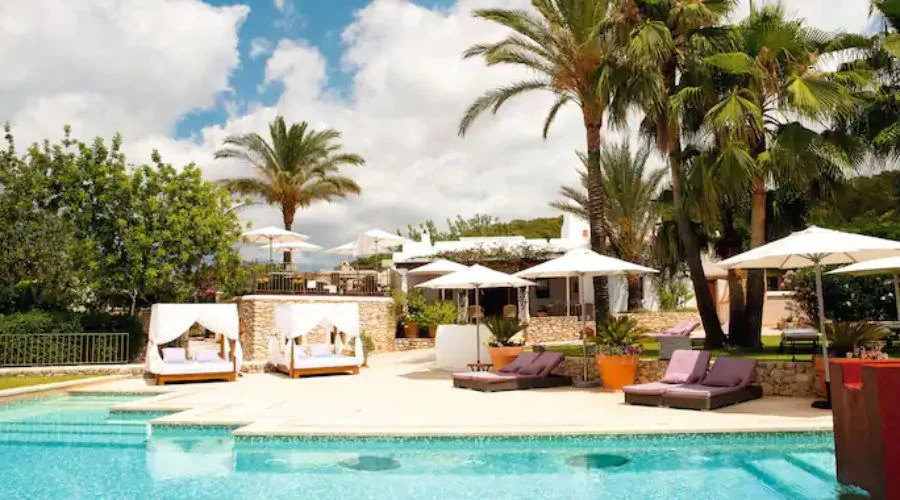 Agroturismo Can Luc is a charming hotel surrounded by lush gardens filled with palm trees and bougainvillea. Start your day with a delicious homemade breakfast, and enjoy a leisurely lunch at the on-site Mediterranean restaurant. The hotel's tropical gardens feature Bali beds where you can relax and enjoy the stunning sunset views.
Located in the heart of the island, in Sant Rafel, this secluded spot is surrounded by lush greenery and offers easy access to both the lively west coast and the laid-back east coast. The hotel includes car hire in your stay, allowing you to explore the island at your own pace.
The swimming pool is situated in the heart of the property, ensuring easy access for all guests. You can enjoy breakfast on the poolside terrace or in the dining room. The snack bar serves light bites and drinks throughout the day, while the restaurant offers a range of dishes made from local ingredients for dinner. For a little extra pampering, visit the on-site spa.
---
5. Aguas de Ibiza Grand Luxe
Aguas de Ibiza Grand Luxe is a modern and eco-friendly boutique hotel located on the edge of Santa Eulalia Marina in Ibiza. The hotel offers sleek and stylish rooms decorated in creamy hues with glass tile walls, and some rooms come with sea views and a balcony with a bathtub. The hotel features a rooftop terrace with a signature Peruvian restaurant, a glamorous bar, and two rooftop pools that offer stunning marina views. The spa, which features Clarins on its treatment menu, and a gym with up-to-the-minute facilities, including underwater bikes and Power Plates®, are also highlights of the hotel. Santa Eulalia is a classy resort on Ibiza's southeast coast known for being the island's gastronomic center, with art galleries, designer boutiques, high-end gift shops, and a sophisticated marina with more restaurants and bars. The resort also offers two beaches with spotlessly clean sand. No doubt, Aguas is considered one of the best hotels in Ibiza.
---
Conclusion
If you're looking for an unforgettable holiday experience on the beautiful island of Ibiza, be sure to check out these best hotels in Ibiza. From luxurious boutique hotels to traditional agroturismos, each property offers its unique blend of comfort, style, and exceptional service. Whether you want to soak up the sun on a pristine beach, party the night away in the world-famous clubs, or explore the island's natural beauty and rich culture, Ibiza has something for everyone. So, don't wait any longer to book your dream getaway and make memories that will last a lifetime.
FAQ's