A wedding is a momentous occasion that marks the beginning of a beautiful journey for couples in love. It is a time when families and friends come together to witness the union of two souls and celebrate their commitment to one another. As the excitement builds towards the wedding day, one crucial element that sets the tone for the celebration is the wedding reception invitation. Wedding reception invitations hold a special place in the wedding planning process. They not only convey the necessary details of the event but also serve as a reflection of the couple's style, personality, and overall ambience they wish to create. These invitations serve as a sneak peek into the upcoming celebration, enticing guests with a glimpse of what awaits them. With its vast collection of customizable designs, high-quality printing, and user-friendly interface, Zazzle has become a destination for couples who desire unique and memorable invitations.
Themes of Wedding reception invitations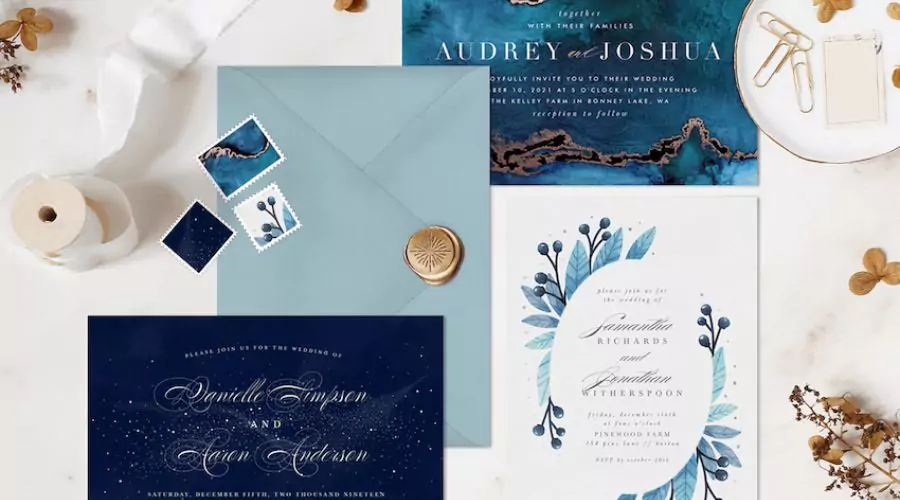 Rustic: 
Rustic-themed invitations often feature natural elements such as wood, burlap, or floral accents. These invitations evoke a warm and cosy atmosphere, perfect for outdoor or barn weddings.
---
Vintage: 
Vintage-themed invitations exude a sense of nostalgia and elegance. They may incorporate antique patterns, lace, vintage illustrations, or typographic styles reminiscent of bygone eras.
---
Floral: 
Floral-themed invitations are timeless and romantic. They showcase beautiful blooms, botanical illustrations, or watercolour designs, adding a touch of natural beauty and femininity to the invitations.
---
Modern/Minimalist: 
Modern or minimalist invitations feature clean lines, simple typography, and a sleek design aesthetic. They often emphasize white space and focus on minimalistic elements for a chic and contemporary look.
---
Beach/Nautical: 
Beach or nautical-themed invitations are ideal for seaside or destination weddings. They may include seashells, anchors, starfish, or coastal-inspired patterns to capture the essence of a beachy celebration.
---
Bohemian: 
Bohemian-themed invitations embrace a free-spirited and eclectic style. They incorporate elements such as feathers, dreamcatchers, watercolour textures, or whimsical illustrations, creating a relaxed and artistic vibe.
---
Formal/Elegant: 
Formal or elegant invitations are characterized by sophisticated designs, luxurious materials, and classic motifs. They often feature elegant fonts, intricate patterns, foil accents, or embossed details to reflect a refined and upscale aesthetic.
---
Tropical: 
Tropical-themed invitations are perfect for destination weddings or tropical-inspired celebrations. They showcase vibrant colours, palm leaves, exotic flowers, or beach motifs, evoking a sense of paradise and relaxation.
---
Whimsical: 
Whimsical invitations add a touch of playfulness and fun to your wedding celebration. They may feature whimsical illustrations, unique typography, or quirky designs, bringing a sense of joy and lightheartedness to the invitations.
---
Cultural/Traditional: 
Cultural or traditional-themed invitations incorporate specific cultural or traditional elements to reflect the couple's heritage or customs. These invitations often include symbols, motifs, or colours associated with a particular culture or tradition.
---
Creative wedding reception invitations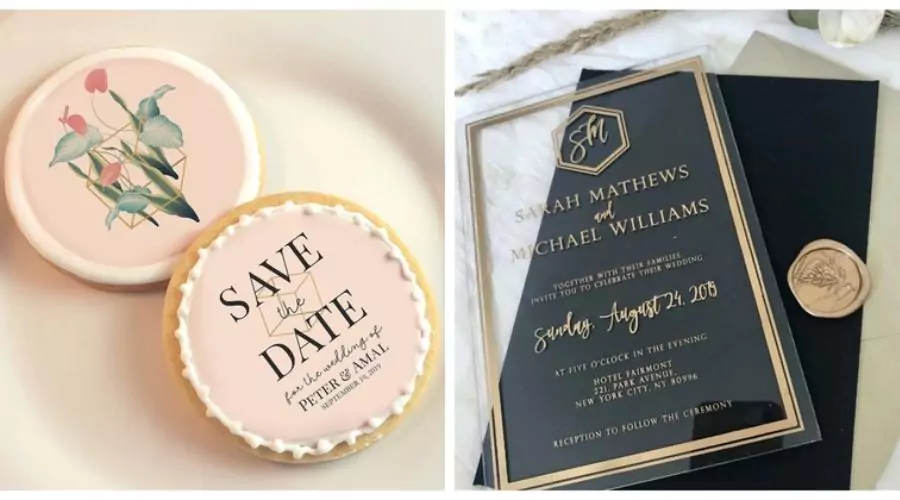 Making wedding reception invitations on Zazzle offers a range of benefits, including a wide selection of designs, customization options, high-quality printing, convenience, dedicated customer support, eco-friendly practices, and time and cost savings. With these advantages, couples can create beautiful and personalized invitations that set the tone for their special day. 
Wide Selection of Designs: 
Zazzle offers an extensive collection of customizable designs from talented artists and designers. With a wide range of styles, themes, and trends available, couples can find the perfect design that suits their personal style and wedding theme.
---
 Zazzle's user-friendly design tool allows couples to easily personalize their wedding reception invitations. They can add their names, wedding dates, venue information, and other relevant details to the chosen template. The platform also offers options for selecting fonts, and colours, and even uploading personal photos or artwork, giving couples complete creative control.
---
Zazzle is known for its commitment to quality printing. The platform uses advanced printing technology and premium materials to ensure vibrant colours, crisp images, and a professional finish. Couples can choose from various paper types and finishes, allowing them to further enhance the overall look and feel of their invitations.
---
Convenience and Efficiency: 
Zazzle offers seamless integration of online RSVP services, making it easy for guests to respond to the invitation directly through a provided link. This streamlines the RSVP process for couples, simplifies guest management, and helps them plan their wedding more efficiently.
---
Dedicated Customer Support: 
Zazzle's customer support team is dedicated to ensuring customer satisfaction. Whether couples have questions about design options, customization, or order inquiries, Zazzle's knowledgeable and friendly staff is available to assist, providing guidance and support throughout the invitation creation process.
---
Eco-Friendly Printing Practices: 
Zazzle is committed to sustainability and eco-friendly printing practices. The platform uses environmentally responsible materials and printing methods, minimizing its impact on the environment. By choosing Zazzle, couples can feel good about their choice and contribute to sustainable practices.
---
Designing and ordering wedding reception invitations on Zazzle can save couples valuable time and money. They can conveniently browse, customize, and order their invitations from the comfort of their own homes, eliminating the need for visiting multiple physical stores or hiring a graphic designer.
---
Conclusion
Wedding reception invitations play a vital role in setting the tone for a couple's special day. They provide guests with a glimpse into the style, theme, and overall ambience of the wedding celebration. With the help of platforms like Zazzle, couples have a wealth of options at their fingertips to create personalized and unique invitations that reflect their love story and vision for their wedding. Visit Trending Cult for more information about wedding reception invitations. 
FAQs