White linen trousers are a fashionable and versatile addition to any wardrobe. Known for their light and breathable fabric, these trousers offer a perfect blend of comfort and sophistication, making them a popular choice for casual and semi-formal occasions.
The airy and lightweight nature of white linen trousers allows for excellent airflow, making them ideal for hot summer days or tropical destinations. Whether you prefer a relaxed and casual ensemble or a more polished and refined look, white linen trousers can be dressed up or down to suit various styles and occasions.
White linen trousers are a wardrobe staple that effortlessly combines comfort and style. If you are also looking to elevate your summer wardrobe, H&M is the best choice to buy trendy clothes. In this blog, we have picked the top 5 types of white linen trousers according to style and occasion that wil give you an effortlessly chic look.
List of top 5 white linen trousers
H&M is here to make shopping for white linen trousers a bit easier for you. You can choose from a wide range of trousers for your next outing or meeting. 
1.Wide Linen-Blend Trousers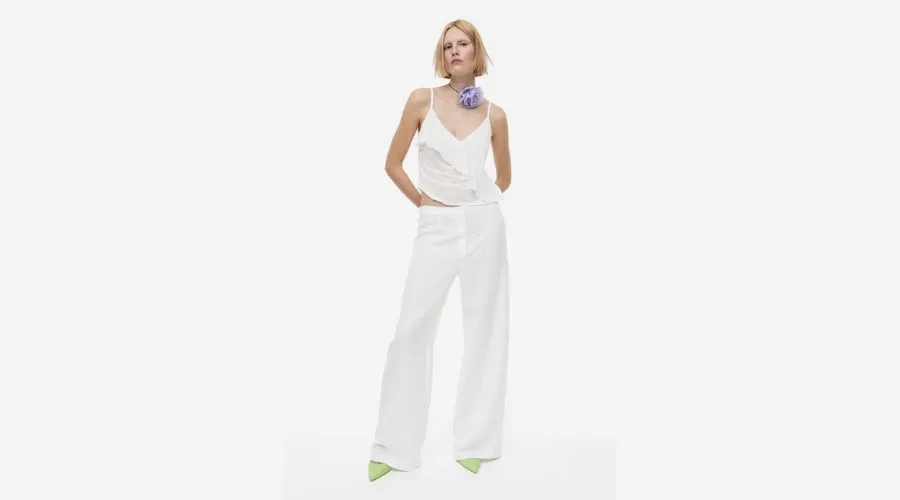 Wide linen-blend trousers are a stylish and comfortable wardrobe essential suitable for a variety of occasions and style preferences. The wide-leg design of these trousers adds a touch of sophistication and modernity to any outfit. The relaxed fit allows for ease of movement and creates a flattering drape, enhancing the overall silhouette. 
Pair them with a simple tee and sandals for a laid-back and relaxed look, or dress them up with a blouse and heels for a sophisticated ensemble. You can accessorise the outfit with a statement belt, oversized earrings, or a straw hat to elevate the overall look. 
2.Linen-Blend Pull-On Trousers
Linen-blend pull-on trousers are a stylish and comfortable choice for women seeking a versatile and breezy bottom-wear option. These trousers combine the lightweight and breathable qualities of linen with the added flexibility and ease of a pull-on design.
The pull-on design of these trousers eliminates the need for buttons or zippers, providing a seamless and effortless fit. This feature not only adds convenience but also contributes to a clean appearance. The elasticised waistband ensures a comfortable and adjustable fit, allowing for easy on and off.
These trousers are well-suited for a variety of occasions, from casual outings and weekend activities to beach vacations and summer parties. 
3.Linen joggers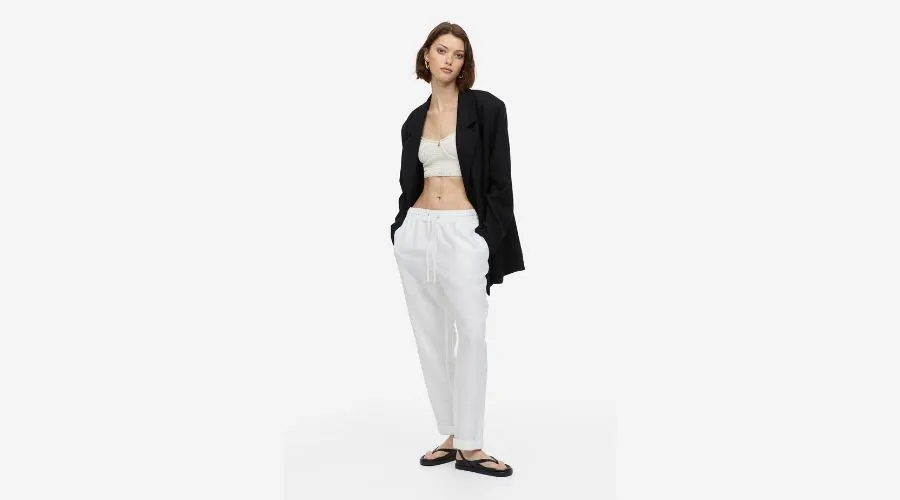 Linen joggers are the perfect blend of comfort and style. These trousers are designed for women who prioritise both comfort and fashion in their everyday attire. Linen joggers offer a relaxed and loose fit, allowing for ease of movement and a laid-back appearance.
The drawstring waistband provides an adjustable and personalised fit, ensuring maximum comfort throughout the day. The linen joggers can be effortlessly styled with a basic t-shirt or tank top for a relaxed look or dressed up with a tailored shirt and sneakers for a more put-together ensemble.
Whether running errands, meeting friends, or simply lounging at home, linen joggers offer the perfect combination of comfort and fashion-forward style. 
4.Linen Drawstring Trousers
Linen drawstring trousers are a stylish and versatile bottom-wear option that combines the timeless appeal of linen fabric with the convenience of a drawstring closure. These trousers offer a lightweight and airy feel, allowing for optimal comfort even on the hottest days.
The drawstring, typically made from the same linen fabric or a complementary material, allows you to tighten or loosen the waist according to your preference. This feature not only adds convenience but also contributes to the casual and laid-back aesthetic of the trousers.
These trousers can be dressed up or down depending on the occasion. For a casual look, pair them with a simple t-shirt or tank top and sandals or sneakers. If you aim for a more polished ensemble, team them with a tailored blouse or shirt and dressier shoes like loafers or heels.
5.Flared linen trousers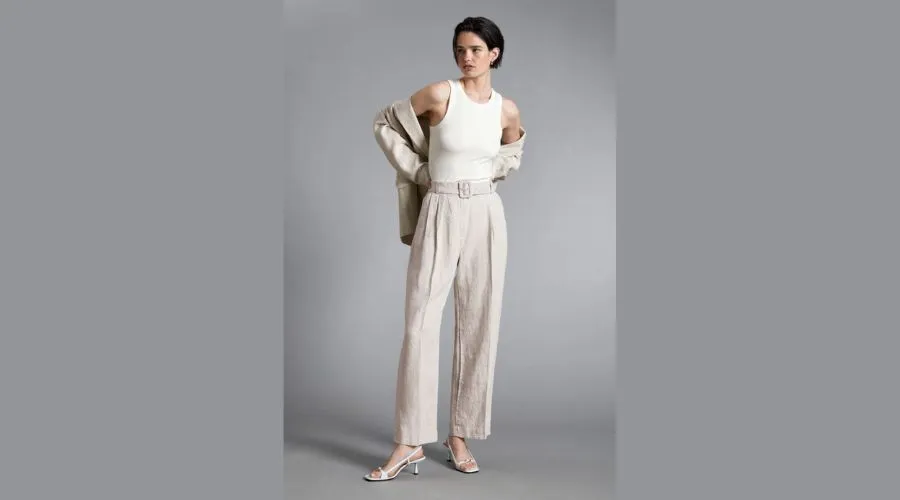 Flared linen trousers are a fashionable and chic choice for individuals looking to add a touch of retro-inspired flair to their wardrobe. These white cropped linen trousers feature a classic flared silhouette combined with the natural and breathable qualities of linen fabric, creating a stylish and comfortable garment. 
The silhouette creates an elongating effect on the legs and adds a touch of retro elegance to any outfit. The flared shape also allows for freedom of movement and a flattering fit for various body types.
Flared linen trousers are available in various colours, from versatile neutrals to vibrant hues, allowing for easy coordination with different tops and accessories. So, what are you waiting for? You can shop for trousers right away from H&M.
Conclusion 
So, these are the few best white linen trousers for women available at H&M. You can pick any trouser on the basis of your preference and style. These are available for all body types and will add a touch of style and elegance to your overall look. You can style these dresses as per your preference. Also, they are quite affordable to buy. For more information, you can visit Trending Cult. 
FAQs