Taking your little one for a swim is an exciting and enjoyable activity that not only promotes physical development but also provides an opportunity for bonding and water familiarity. To ensure a safe and comfortable experience, choosing the right swimwear for your baby is essential. If you want to explore the best baby swimsuit options, then H&M is the best option for you. 
The baby swimsuit from H&M is designed to provide the utmost comfort, protection, and style for your little swimmer. Whether you're heading to the pool or beach, or simply enjoying water play at home, our top picks in baby swimwear will make your baby's swimming adventures both safe and fun. Also, the clothes available on the website are affordable and will definitely not burn a hole in your pocket. 
Best Baby Swimwear to Buy from H&M 
H&M is here to make shopping for your little one easier for you. You can choose from a wide range of swimwear for babies for your next outing.
1. UPF 50 Sun Protection Sets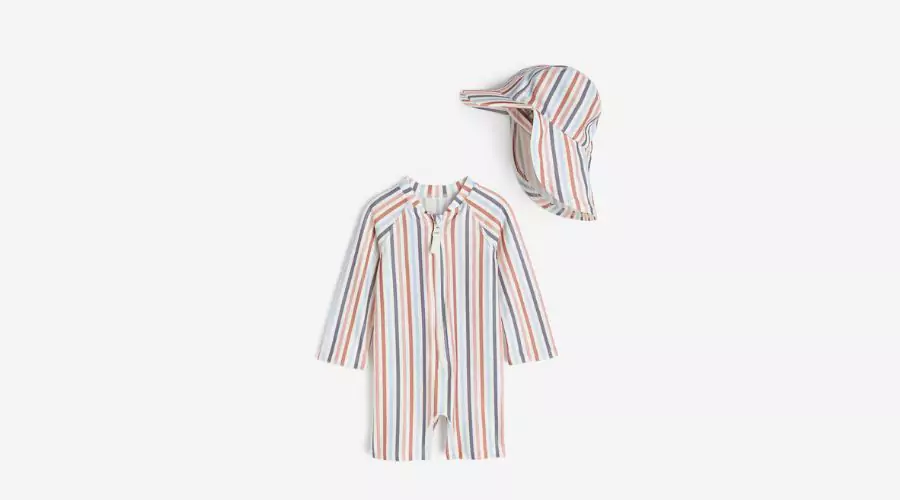 When it comes to protecting your little one's delicate skin from the sun's harmful rays, UPF 50 Sun Protection Sets are an absolute game-changer. These sets are specifically designed to provide maximum sun protection, making them a must-have for any outdoor water activities. 
UPF 50 Sun Protection Sets are made from specially engineered fabrics that act as a barrier, effectively blocking out harmful UV rays. This all-in-one baby swimsuit comes with a small stand-up collar, long raglan sleeves, short legs, and a zip down the front with an anti-chafe chin guard. The fabric is lightweight, breathable, and quick-drying, ensuring your baby stays cool and comfortable even in the heat.
---
2. Poncho towel 
This versatile baby swimsuit is designed to provide convenience and comfort for your little one. It is essentially a combination of a towel and a hooded poncho, making it a stylish garment that can be easily slipped on and off. Made from soft materials like cotton, these towels are designed to quickly wick away moisture from your baby's skin.
Poncho Towels come in a variety of playful and vibrant designs, often featuring adorable animal or character motifs. They are available in different sizes to accommodate babies and toddlers of various ages.
These poncho towels can be used at the beach, pool, or even at home after bath time. Their lightweight and compact nature makes them easy to pack for vacations or trips to the water park.
---
3. Long-sleeved swimsuit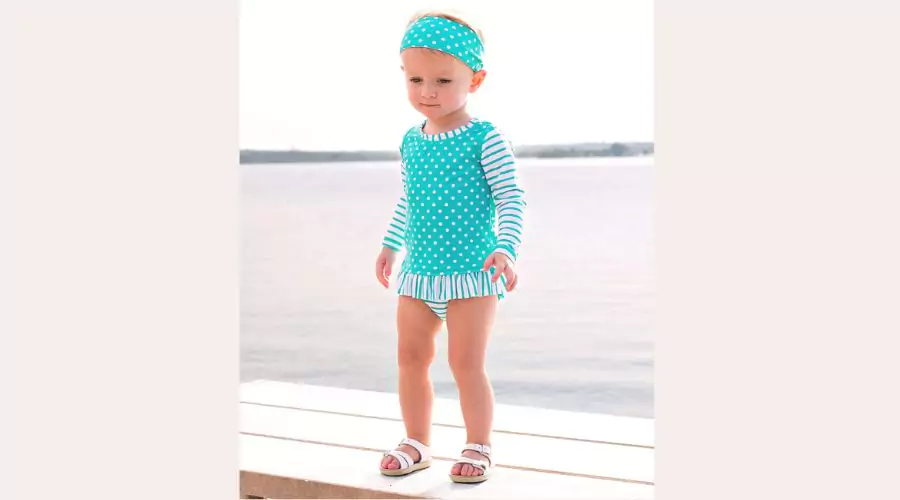 For an extra layer of sun protection and added style, a long-sleeved swimsuit is a perfect choice for your little one's water adventures. These swimsuits combine comfort and fashion to keep your baby protected from the sun's harmful rays.
The long sleeves provide protection for their arms, reducing the risk of sunburn and skin damage. This baby swimsuit is typically made from quick-drying and breathable materials, allowing your baby to stay cool and comfortable in and out of the water.
Some suits may include additional features like front zippers or snap closures, making it easier to put on and take off. These swimsuits are available in all sizes to accommodate babies of all ages.
---
4. UPF 50 sun cap
When it comes to protecting your little one's sensitive skin from the sun, an UPF 50 Sun Cap is an essential accessory for outdoor adventures. Designed with both style and sun protection in mind, these caps offer a practical solution to shield your baby's face, neck, and head from harmful UV rays. The UPF 50 rating ensures that the fabric used in the sun cap provides maximum protection against the sun's ultraviolet (UV) radiation. The caps often feature wide brims or extended flaps at the back to provide additional coverage for the neck and ears, areas that are particularly vulnerable to sunburn.
These caps are available in a variety of designs, colours, and sizes to suit your baby's style and age. Whether you're heading to the park or beach, or simply enjoying a sunny day outside, these caps are a must-have accessory to keep your little one safe and comfortable.
---
5. Hooded bath towel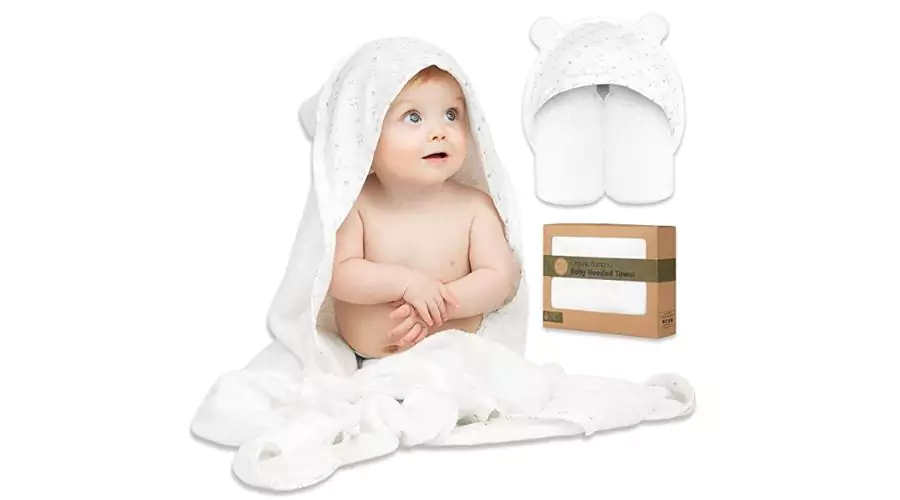 Make bath time cosy and fun with a Hooded Bath Towel for your little one. These towels are specially designed to provide warmth, comfort, and convenience after bath time or swimming. A Hooded Bath Towel features a built-in hood at one corner, making it easy to dry your baby's hair and keep their head warm. The hood adds an adorable touch and helps to retain heat, ensuring your baby stays comfortable and snug.
Made from soft and absorbent materials like cotton, these towels are gentle on your baby's delicate skin. They quickly and effectively absorb moisture, drying your baby off quickly and efficiently. Hooded Bath Towels come in various cute and colourful designs, often featuring animal characters, playful patterns, or charming motifs.
---
Conclusion
So, these are the few best baby swimsuit available on H&M. You can pick any swimwear on the basis of your preference. These are available for all body types and will add a touch of glamour and elegance to your overall look. You can style these dresses as per your preference. For more information, you can visit Trending Cult. 
FAQs