Visiting These Best Beaches In Turkey Could Tend To A Great Vacation
The beautiful country of Turkey is located partly on the Anatolian Peninsula in Western Asia and on the Balkan Peninsula in Southeast Europe. In this article, we'll talk about the best beaches in Turkey. Many people travel across the world to enjoy the stunning beaches of Turkey along its picturesque coastline. The coastline is situated between the Aegean and Mediterranean seas which offers a plethora of magnificent beaches that provide an awesome experience for travellers. It feels great to spend holidays in serenity and hear the pleasant sound of the tides. It will freshen you up for upcoming life events. The best beaches in Turkey are a blend of natural beauty and cultural heritage. You may get confused while choosing among the best beaches in Turkey for you to visit. TUI helps you organise your whole vacation on one platform. You can check out all the available offers and prices on the website and plan your best trip. 
In this article, we will discuss beautiful beaches for you to visit. 
Top 5 best beaches in Turkey: 
Turkey is renowned for its beaches. The turquoise waters, soft sandy shores and stunning sunsets create a beautiful memory for the travellers to remember. The best beaches in Turkey to visit are given below. 
1. Kaputas Beac
h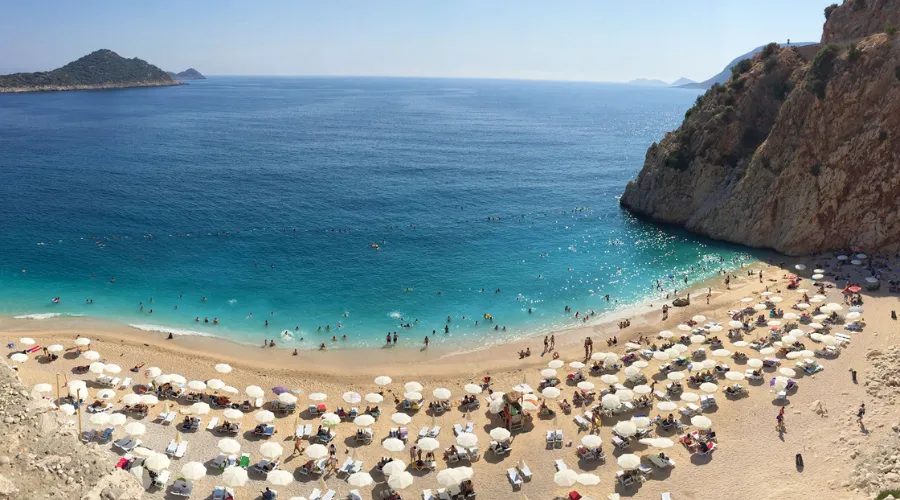 This beach is famous for its awesome location. Situated between the famous resort towns of Kas and Kalkan, Kaputas beach is a perfect combination of natural beauty and crystal-clear waters. Despite being a small beach, it is a beautiful place to sunbathe, swim and relax in the sun. The clear visibility of the water makes this beach an ideal destination for snorkelling and diving. To access this beach and enjoy the scenic beauty, you need to overcome steep stairs and reach the bottom. The calmness of the atmosphere around the beach will help you relax and chill. So, to escape from bustling city life, you can always choose to visit the lovely Kaputas beach. 
2. Icmeler Beach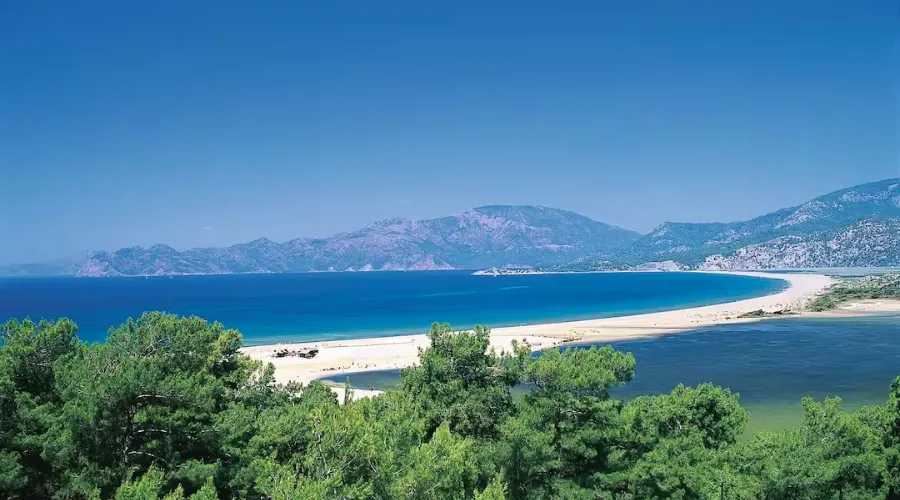 Located in the Marmaris district of Turkey, this elegant stretch of coastline mesmerises beachgoers with its beauty. Icmeler beach is renowned for its azure and transparent water and golden sand. The surrounding pine-clad mountains make this a perfect place for photography. Besides, this one of the best beaches in Turkey provides a range of hotels, resorts and apartments for you to choose from according to your preferences. You can find the best beach resorts in Turkey here. Not only can you indulge yourself in the beauty of this beach, but you also can enjoy the cultural experiences. Travellers can visit the local market or explore nearby historical sites like 'Marmaris Castle'. Overall, this beach is an ideal place for travellers who want to experience a perfect blend of natural beauty, entertainment and cultural experiences.  
3. P
atara Beach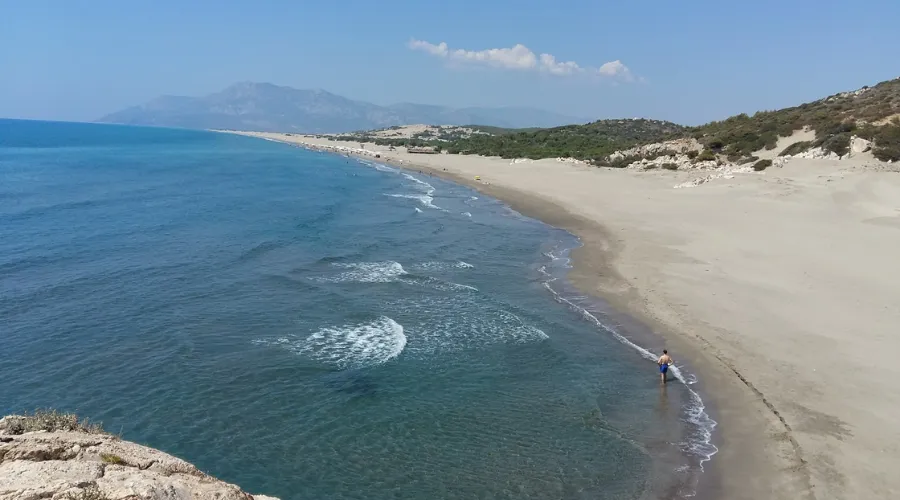 Patara beach is one of the best beaches in Turkey, where you can experience an excellent blend of natural beauty, historical significance and recreational activities. This beach is situated on Turkey's southwestern coast in the Antalya region. The 18 km (about 11.18 mi) long beach is famous for its crystal-clear water, golden sand dunes and incredible sunset. If you want seclusion from your busy daily life and to spend a peaceful vacation with your family, then this beach is the ideal place. You can also visit the ancient city of Patara and learn about the fascinating history of this area.  
4. Iztuzu Beach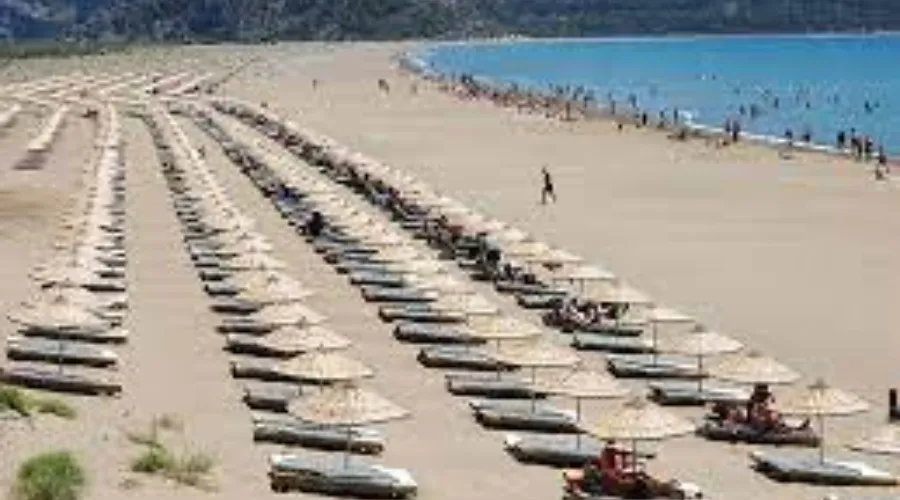 If you love the combination of wildlife and natural beauty, then Iztuzu beach is the perfect place to visit. Situated in the Dalyan Delta, this beach offers its visitors an unforgettable experience. As it is a nesting site for the endangered loggerhead turtles, it remains closed during the nesting season. You can pay a visit to the sanctuary if you want. A visitor can soak in the beauty of the Mediterranean and enjoy the 5 km long fine stretch of golden sand and transparent water. You can indulge yourself in certain activities like swimming, sunbathing, snorkelling and water sports. Visitors can use boat tours to explore nearby caves and coves.  
5. Olu Deniz Beach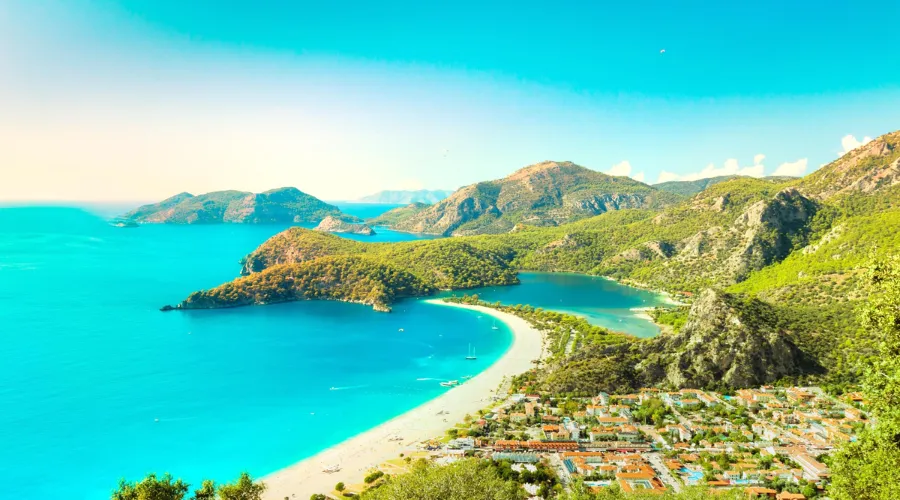 The still water that lies behind the beach explains the name, which means 'Dead Sea'. The Olu Deniz beach is situated on the southwestern coast of Turkey, which is a perfect destination for nature-loving travellers. This picture-perfect destination is considered one of the best beaches in Turkey. The crystal-clear turquoise water and stunning views of the nearby mountains let the visitors relax in peace. Interesting activities like parasailing, paragliding, and scuba diving never make you feel bored. You can stroll along the scenic route and explore the ruins and historical sites. The beautiful view of the Mediterranean makes your visit a memorable one. The impressive view of this beach makes it a must-visit destination for anyone who wants to enjoy nature. 
Besides, you can also travel to many other popular beaches in Turkey, like 'Lara Beach', 'Kabak Beach', 'Kleopatra Beach', 'Konyaalti Beach' etc. Visitors can find a wide variety of luxurious hotels in Lara beach Turkey to accommodate.
Many best beach resort in Turkey is available. The weather in Lara beach Turkey is most suited for a summer vacation. You can choose from an extensive list of the best beach in Turkey.  
Conclusion 
The vibrant country of Turkey provides tourists with a range of stunning beaches to spend their holidays. The beaches are a perfect blend of nature, history and recreational activities. You can find the beach best suited for you. Whether you are looking for a relaxing day in the sun or an action-packed water sports adventure, the best beaches in Turkey always have something to offer. So, plan your next vacation to Turkey and indulge yourself in the beauty of nature. For more details, go to TrendingCult.
FAQ's