When it comes to getting a good night's sleep, the right bedding can make all the difference. And one of the most important components of your bedding is your duvet. The best duvet will keep you warm and cosy all night long, while also being comfortable and breathable. But with so many options out there, how do you know which duvet is the best for you? In this blog, we'll go over everything you need to know to choose the best duvet for your needs.
What is a Duvet?
Before we dive into the details, let's start with the basics. A duvet is a type of bedding that consists of a soft, flat bag filled with down, feathers, wool, or a synthetic alternative. The duvet is used to cover your body while you sleep, and can be used on its own or with a cover. Duvets are typically warmer and fluffier than comforters, and they provide a higher level of insulation.
Factors to consider when choosing the best duvet:
When you're choosing the best duvet, there are several factors to keep in mind. Here are some of the most important things to consider:
Size: Make sure you choose the best duvet that is the right size for your bed.
Material: Consider the material the duvet is made from, as this will affect its feel, warmth, and durability.
Fill Power: This refers to the loftiness and insulating power of the filling material. Higher fill power means a warmer and fluffier duvet.
Warmth Rating: Duvets come with different warmth ratings, ranging from lightweight to ultra-warm. Choose a warmth rating that suits your needs and climate.
Thread Count: A higher thread count means a softer and more luxurious feel, but it can also affect the breathability of the duvet.
Allergies: If you have allergies, consider choosing a hypoallergenic duvet that is less likely to trigger your symptoms.
Price: Duvets come at a range of price points, so consider your budget when making your choice.
Best duvets in the market for you: 
1. M&S COLLECTION Goose Feather & Down 10.5 Tog Duvet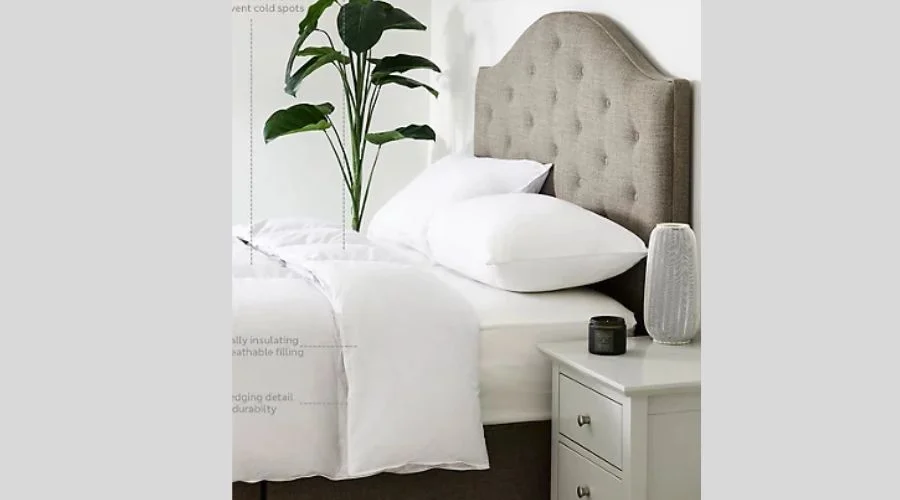 This goose feather and down duvet is the perfect way to stay cozy and warm on chilly nights. With a tog rating of 10.5, it's ideal for autumn and winter, providing natural insulation to keep you snug all night long. 
Despite its warmth, this duvet is lightweight and breathable, thanks to its natural fill. The pure cotton cover adds to the comfort factor, with a luxurious 233 thread count that feels soft and smooth against your skin.
But that's not all – this duvet is also sustainably sourced, with 100% of the feather and down either recycled or certified to recognised animal welfare standards.
---
2. M&S COLLECTION Microfibre 13.5 Tog Duvet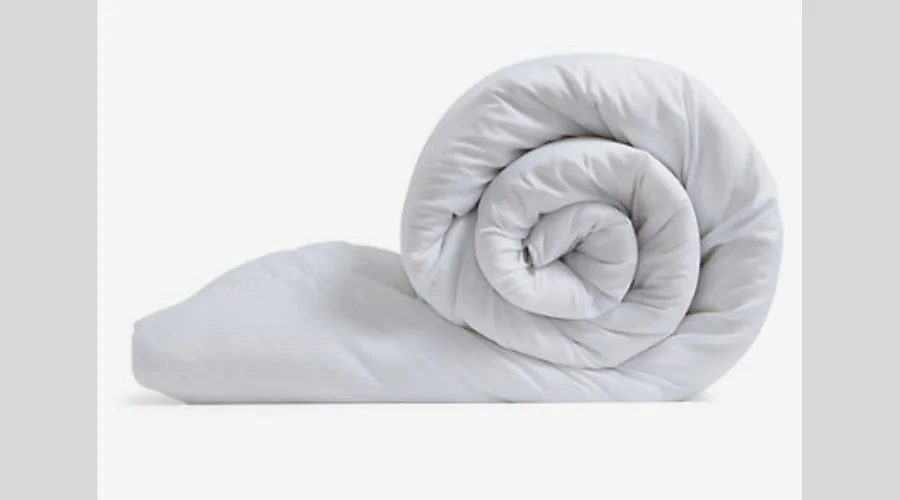 The soft microfibre cover is not only comfortable but also designed to be quick-drying for a healthier and fresher night's sleep. The interior of the duvet is filled with light, breathable, and fluffy hollow fibre material, providing you with the ultimate cloud-like feeling while you sleep.
Whether you're looking for a bit of extra warmth or everyday comfort, this is one of the best  duvets in the market. The 13.5 tog rating makes it ideal for colder weather, ensuring you stay snug and warm all night long.
---
3. M&S COLLECTION Duck Feather & Down 13.5 Tog All Season Duvet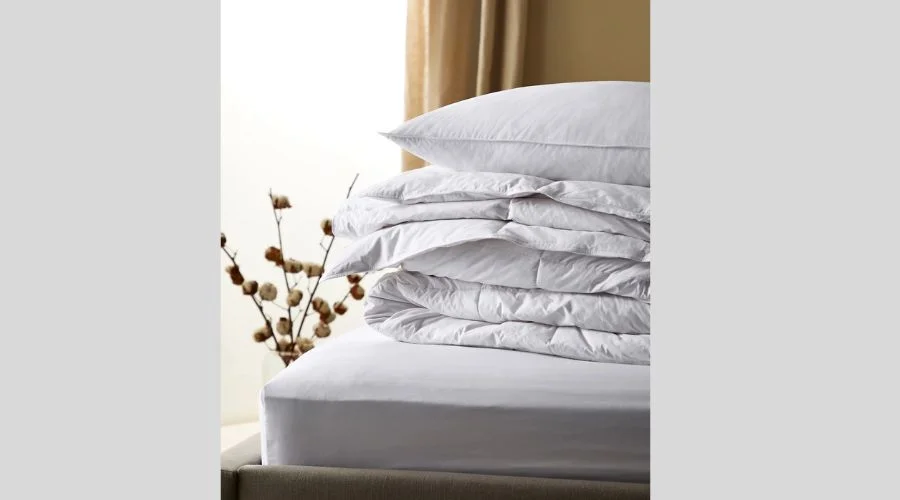 With a luxurious duck feather and down filling, this duvet provides both breathability and insulation, ensuring you stay comfortable all year long. The pure cotton cover with a 233 thread count adds to the luxurious feel, making it super soft to the touch.
This duvet is made up of two parts, a 4.5 tog and a 9 tog, which can easily be clipped together to create a 13.5 tog duvet, perfect for keeping you snug and warm during the colder winter months. And because it's made up of two parts, you can use just one part during milder seasons, providing you with the ultimate flexibility and versatility.
---
4. BODY SENSOR™bBody Temperature Control 10.5 Tog Duvet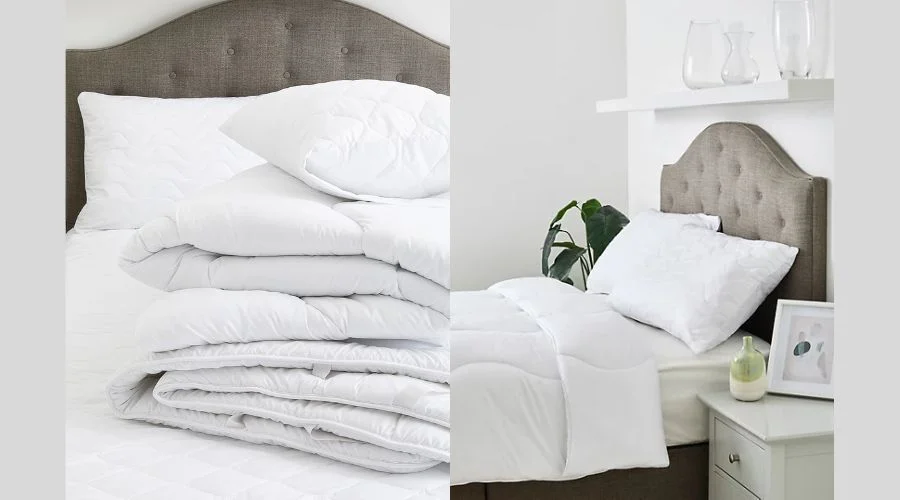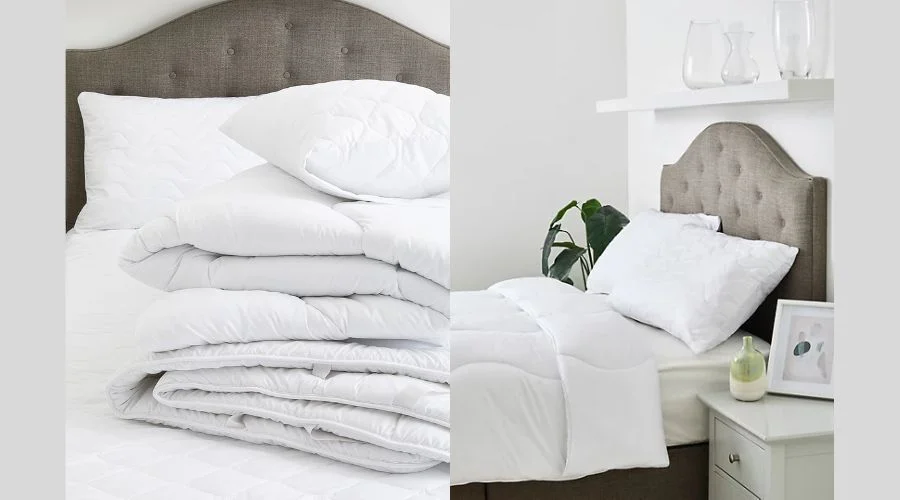 Introducing the Body Sensor™ range, featuring specially developed technology that keeps you comfortable and regulates your temperature throughout the night. The 10.5 tog duvet is the perfect example of this technology in action, using both the cover and fibre to draw away moisture and create a drier environment for a more comfortable night's sleep.
The cover and fibre of this duvet have been designed to complement your skin's natural ability to regulate temperature. This means that you'll stay warm when it's cool and cool when it's warm, ensuring maximum comfort no matter the season.
The beautifully soft hollow fibre fill, made from 100% recycled polyester, ensures that you'll be kept comfortable and snug all night long. This filing is not only luxurious, but it's also environmentally friendly, with at least 30% of the filling in this product being recycled.
---
How to care for your duvet
Once you've chosen the best duvet for your bed, it's important to take good care of it to ensure it lasts as long as possible.
Here are some tips for caring for your duvet:
Cleaning: Always check the care label for specific instructions, but in general, down and wool duvets should be dry cleaned or spot cleaned, while synthetic duvets can be machine washed.
Storage: When not in use, store your duvet in a cool, dry place, ideally in a breathable cotton bag or cover. Avoid storing it in plastic, as this can trap moisture and lead to mold or mildew.
Maintenance: Even if you buy the best duvet in the market, you still need to keep it in top condition, fluff it up regularly by shaking it out or using a duvet cover with ties or snaps to keep the filling evenly distributed.
Conclusion 
Choosing the best duvet for your needs doesn't have to be overwhelming. By considering the factors we've discussed, and using our top picks as a guide, you can find the best duvet that will keep you comfortable and cosy all night long. And by taking good care of your duvet, you can ensure it lasts for years to come. Sweet dreams!. For more information visit our website Trendingcult.
FAQ's