In a world increasingly conscious of health and fitness, creating a personal workout space has become a popular trend. Whether it's a corner of a room or a dedicated home gym, the right fitness equipment can drastically enhance your workout routine, helping you to achieve your fitness goals more efficiently. But with an overwhelming variety of equipment available, deciding what to invest in can be daunting.
That's where we come in. We've taken the guesswork out of your hands and have compiled a list of the top five best fitness equipment to buy. Our selection criteria focus on the versatility of the equipment, effectiveness, user-friendliness, and of course, value for money. This comprehensive guide is designed to assist you, whether you're a fitness newbie looking to start your journey or a seasoned workout enthusiast eager to level up your fitness game. Get ready to power up your workout routine with our curated selection of the top five best fitness equipment. Stay tuned to discover how these fitness game-changers can help you sculpt, strengthen, and sustain your ideal physique right at home. So here are the top 5 best fitness equipment.
List of best fitness equipment to buy from Vida XL 
vidaXL Weight Bench
The vidaXL Weight Bench, with its sleek white and black design, is an ideal addition to your fitness journey, offering both durability and versatility. This robust steel-made equipment is adjustable to cater to a range of exercises, with seven levels for the backrest, four levels for the arm curl pad, and five levels for the bar support. Measuring 180 x 126 x 103 – 123 cm (L x W x H), it easily fits into various spaces, and with cushions measuring 48 x 30 cm (seat) and 68 x 24 x 4 cm (backrest), it ensures comfort throughout your workout.
---
 2. vidaXL Electric Treadmill
The vidaXL Electric Treadmill is an ideal choice for those seeking to lose weight and maintain fitness from the comfort of home. It features a customizable speed range from 1-6 km/h, perfect for both walking and jogging routines. The treadmill is fitted with a 3″ LCD screen for monitoring speed, time, distance, and calories burned during your workout. With a generous running surface of 100 x 34 cm and comfortable handles, it promises a comfortable exercise experience. For safety, an emergency button is included that can halt the treadmill's operation almost instantly. Capable of supporting up to 100 kg, this versatile treadmill also boasts a foldable design for easy storage when not in use.
---
 3. vidaXL Dumbbell Set 30 kg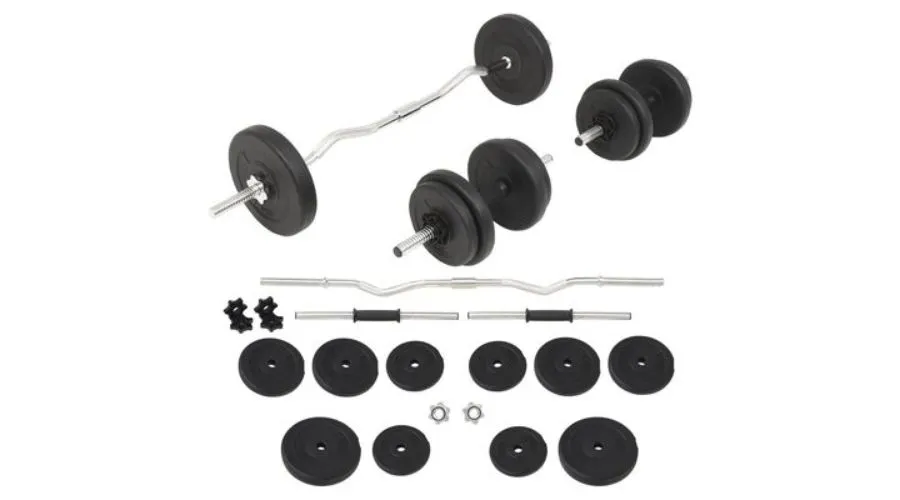 The vidaXL Dumbbell Set is a versatile fitness accessory perfect for targeting a variety of muscle groups including the chest, biceps, arms, triceps, and back. The set comprises two 5 kg plates, four 2 kg plates, four 1.25 kg plates, a barbell, and two dumbbells, totaling approximately 30 kg. This adjustable set allows users to customize the weight they lift according to each exercise. Constructed with cement discs encased in a plastic sleeve, these weights are both durable and easy to handle. The set also includes spring locks for secure attachment of the discs to the barbell. With the weight of each disc marked, users can quickly identify and adjust their weights for an efficient workout experience.
---
 4. vidaXL Exercise Bike with Band Resistance White
The vidaXL Exercise Bike with Band Resistance is a robust and compact fitness solution for your home. This exercise bike comes equipped with a flywheel, an LCD computer screen, and an adjustable seat, ensuring a comprehensive and efficient workout. The LCD screen displays crucial information, such as time, speed, distance, and calories burned, keeping you informed of your progress. For maximum comfort, the bike's saddle can be adjusted to fit any height. Its anti-slip pedals guarantee optimal power transfer from your feet, while the pedal straps prevent your feet from slipping off the pedals. One of the standout features is the +/- resistance button, allowing you to tighten the belt for a more challenging and intensive workout. Whether you're a beginner or an experienced cyclist, this exercise bike can cater to your fitness needs.
---
 5. vidaXL Home Gym with 2 Pulleys Wall Mounted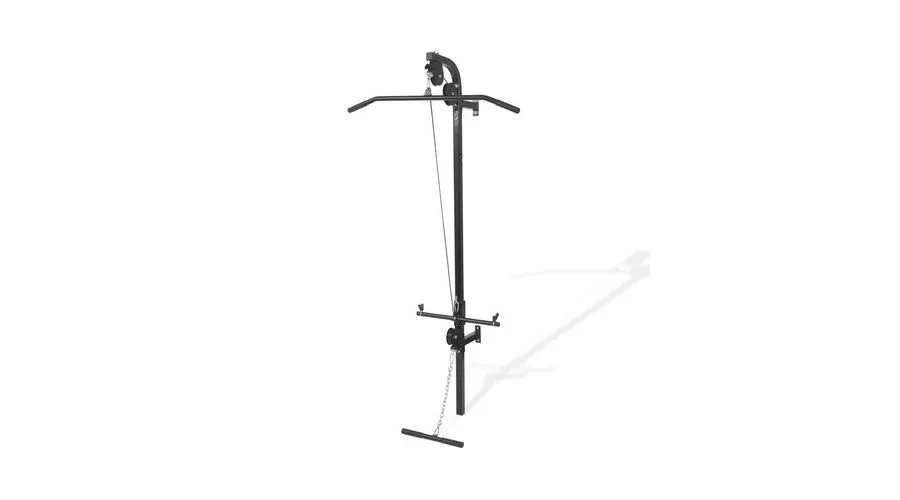 The vidaXL Home Gym with 2 Pulleys is a wall-mounted exercise system that offers an all-around workout for all major muscle groups. The gym includes a lat pull-down bar and a low cable-pull bar, enabling a variety of strength training exercises. Made from robust steel, the cable pull station guarantees durability and stability, capable of supporting up to 120 kg in weight plates. Its handles, crafted from soft material, ensure an enhanced grip for comfort and safety during your workout. This home gym package includes mounting accessories for straightforward wall installation, making assembly an easy task. Whether you're a seasoned fitness enthusiast or a beginner, this equipment is an excellent addition to your home workout space.
---
Conclusion
When it comes to improving your physical health, choosing the best fitness equipment is crucial. Equipment such as the VidaXL Electric Treadmill, vidaXL Dumbbell Set, vidaXL Exercise Bike with Band Resistance, and the VidaXL Home Gym with 2 Pulleys Wall Mounted, all bring the gym experience into your home. These machines are tailored to provide a comprehensive workout, catering to various fitness levels and goals. Each of these tools represents the best fitness equipment for different exercise types, be it cardio, strength training, or muscle toning. In conclusion, investing in the best fitness equipment, like the aforementioned, will significantly elevate your fitness journey, making it efficient, comfortable, and safe. Remember that the best fitness equipment is that which suits your individual needs and goals, setting you on the path to a healthier lifestyle. For more information about cheap fitness equipment visit the official website of Trendingcult.
FAQs