Let loose and pamper yourself with an outdoor sunbath. How does a reading session under the shade sound? You can have such pleasant and leisurely moments by yourself or with your loved ones without going anywhere else! How? Well, with lounge chairs! Lounge chairs are comfortable, adaptable, and excellent decoration items! If you want to fill up your outdoor spaces or add a key furniture piece for comfort, then lounge chairs are the best way! vidaXL, an online retailer from the Netherlands, has a fantastic collection of lounge chairs! Fulfill your furniture goals with vidaXL! 
Top lounge chairs on vidaXL: Embrace utmost comfort and convenience! 
1. Black Sun Lounger with Cushion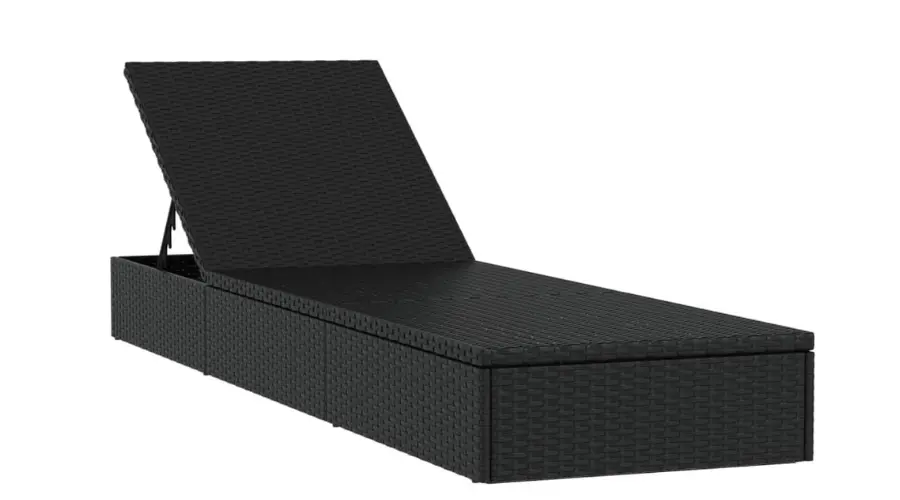 This lounger comes with a cushion and is weather-resistant and durable. So, you don't have to worry about rainy days or extreme weather conditions deteriorating the chair's condition. You have the option to adjust your seat according to your comfort level. The steel coated steel frame ensures its strength and firmness. Keep the chair covered with a water-resistant cover for added durability. The lounger comes with an assembly manual, so the process is simpler for you.
Certainly a classic addition to your garden, the chair's black shade makes it blend in with other furniture pieces easily. Whether it's a chill day at the pool or a sun bathing session, you'll certainly love this adornment!
---
2. Sun Lounge Chair with Round Roof
This eye-catching sun lounger will definitely keep you captivated. Crafted from a powder coated steel frame and poly rattan material, it is durable and stable. Its adjustable feature gives users the freedom to recline according to their convenience. It is 100% polyester and includes a cushion. The filling consists of foam and fiber materials. The brown and white colors add a touch of elegance to this furniture. Enjoy reading your favorite book in the fresh air without worrying about the blazing fun! The round roof will keep you protected. 
The utmost creation of design and comfort, this chair will certainly add meaning to your life! From garden spaces to terraces to balconies, you can fit this chair anywhere you like! And if you don't want the roof, you can easily take it out! To enhance its durability, keep the chair covered with a water-resistant cover. 
---
3. Sun Loungers with Table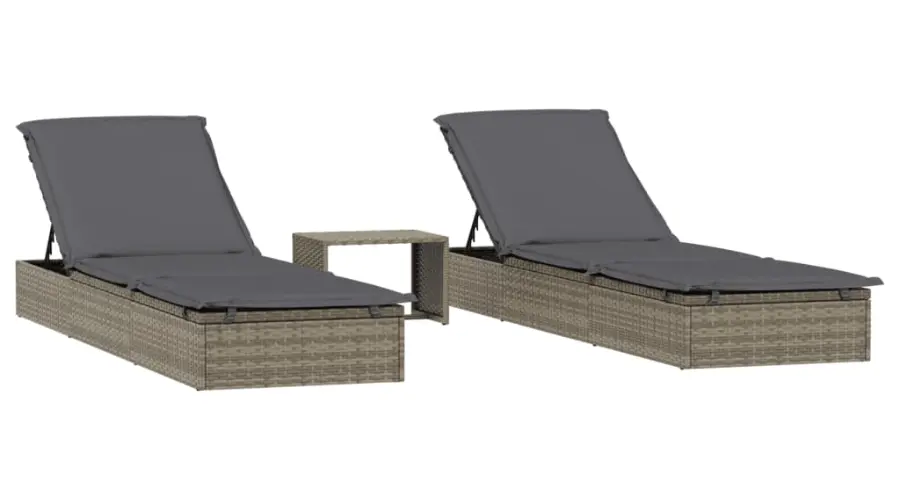 Enjoy a poolside date with your loved one! These 2 sun lounger chairs come with a sturdy table! So you can easily keep items like phones and drinks within reach. The chairs are made of poly rattan material and polyester fabric. The steel coated frame ensures the durability and strength of the furniture. The seats are adjustable, and you can choose the angle most suitable for you!
The coffee table is about 28 cm high and is also made of poly rattan and powder-coated steel. The furniture is easy to assemble and decorate. A great way to accessorize gardens and poolside! So, whether it's spending some quality time with your significant other or a chit-chat session with your best friend, it's all attainable with these chairs!
---
4. Sun Lounger with Foldable Roof
Whether you want the shade or feel the sun's caress on your body, you can do both with this lounge chair! The roof is foldable, and you can use it as per your convenience. It is made of poly rattan material and a powder coated steel frame. You can accessorize this chair in your garden, terrace, poolside, or patio! It comes with one cushion and an adjustable height.
---
5. Sun Lounger with Round Roof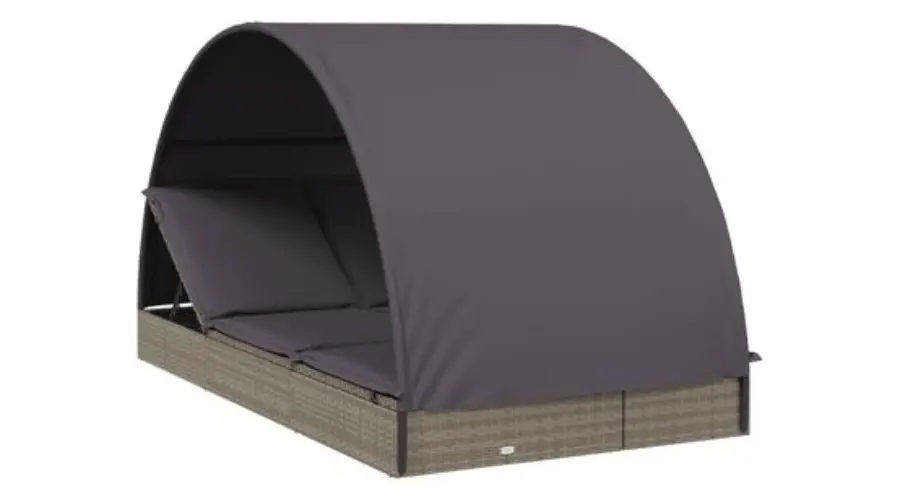 This sun lounger has space for 2 people! Whether it's a campsite location or a terrace, you can enjoy some private time away from the sun. The stable steel frame ensures the durability and firmness of the chair. The gray color makes it a great decorative piece for your outdoor spaces. 
There are two gray cushions for added comfort while laying down. The poly rattan material is affordable, good quality, and gives a stunning appearance. If you feel like chilling under the shade after a refreshing swim then this chair is perfect for that!
---
Conclusion
In conclusion, lounge chairs are a great way to relax as well as aestheticise outdoor spaces. They don't take up much space, are a great outdoor accessory, and are super convenient. Let's not forget about their versatile functionality. They can be used for various decorative purposes as well as garden lounge chairs. vidaXL's extensive catalog of lounge chairs is impressive and appealing. The platform is a convenient space to get the best quality lounge chairs! 
For more information, visit Trending Cult. 
FAQs