Baggy jeans have become a fashion staple that effortlessly blends comfort and style. From relaxed streetwear looks to chic casual outfits, baggy jeans offer versatility that appeals to both men and women. Unlike their slim-fit counterparts, baggy jeans offer a more relaxed and roomy silhouette. This relaxed fit not only provides a comfortable wearing experience but also allows for easy movement, making them ideal for various occasions.
Stradivarius offers a diverse range of women's baggy jeans designed to cater to various style preferences. From distressed finishes to classic indigo washes, their collection has something for everyone.
Styling baggy jeans
Baggy jeans for women can be styled in numerous ways to suit different fashion preferences. Whether going for a laid-back streetwear look or aiming for a more sophisticated ensemble, baggy jeans can be your go-to choice. Here are some stylish ways to rock baggy jeans:
Streetwear Chic: Pair your baggy jeans with an oversized graphic tee, chunky sneakers, and a trendy bucket hat. This effortlessly cool look captures the essence of street fashion.

Effortless Casual: Combine your baggy jeans with a fitted basic top and white sneakers for a classic yet comfortable outfit. For an additional layer of style, put on a denim jacket..

Elevated Elegance: Transform your baggy jeans into a chic ensemble by pairing them with a tailored blazer and heeled ankle boots. This unexpected combination creates a stylish contrast.
List of top baggy jeans to buy Stradivarius
BAGGY-JEANS – BLACK DENIM DARK 

BAGGY-JEANS – BLACK DENIM DARK | trendingcult
Elevate your style with these black denim dark baggy jeans, boasting a wide-leg, relaxed fit that merges contemporary and classic elements seamlessly. Designed with a half-high waistband, five-pocket configuration, and secured by a zipper with a metal button, they offer both practicality and trendiness. Crafted from 100% cotton on the exterior, these jeans promise not only a fashionable look but also comfort and durability for versatile wear. Whether you're aiming for a casual urban vibe or a unique statement, these baggy jeans are the epitome of fashion-forward comfort.
---
 2. BAGGY-JEANS – Faded Blue
Embrace a relaxed yet stylish aesthetic with these baggy jeans, expertly tailored to offer a comfortable wide-leg fit that allows for freedom of movement. The distinctive half-high waistband adds a touch of modernity to the classic jeans design, creating an intriguing fusion of old and new. The five-pocket configuration not only serves as a functional aspect for storing small essentials but also contributes to the jeans' visual appeal by maintaining a balanced and symmetrical look. The incorporation of a zipper fastening accompanied by a sturdy metal button ensures both convenience and durability, promising a secure closure and ease of wear. Whether you're going for a laid-back casual appearance or seeking to experiment with your fashion choices, these baggy jeans effortlessly blend elements of comfort, versatility, and style, making them an essential addition to any wardrobe.
---
  3. BAGGY-JEANS DENIM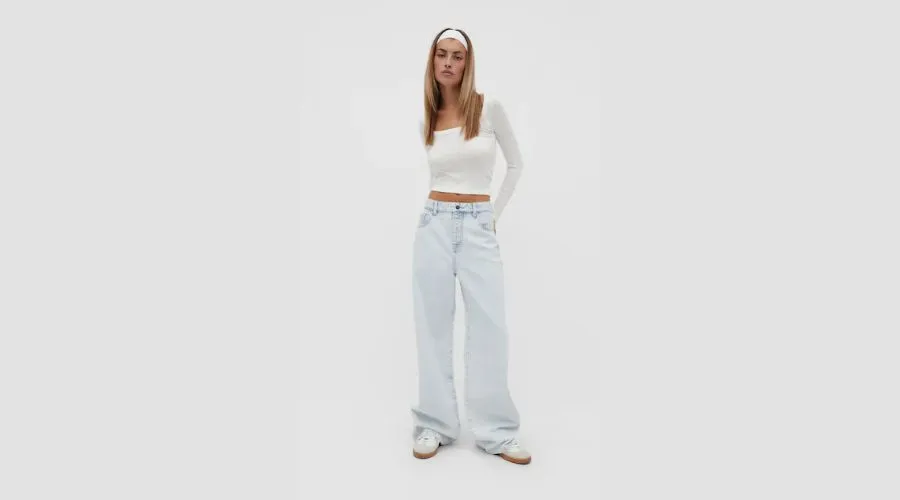 Experience the ultimate fusion of style and comfort with these denim baggy jeans. Boasting a wide-leg design, they incorporate a unique half-high waistband, a five-pocket configuration, and a secure zipper with a metal button. Crafted from 100% cotton on the exterior, these jeans offer not only a fashionable look but also a soft and durable texture. Whether you're aiming for a relaxed urban vibe or a standout fashion statement, these baggy jeans are the embodiment of versatile sophistication.
---
  4. BAGGY JEANS – OVERDYED DENIM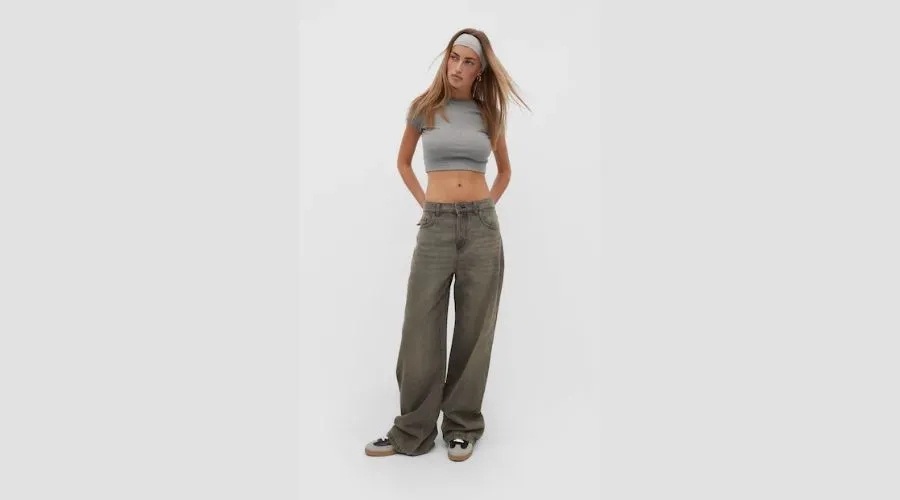 Indulge in the cutting-edge allure of overdyed denim with these baggy jeans, featuring a captivating wide-leg composition that not only prioritizes unrestricted movement but also showcases a distinctive half-high waistband and a five-pocket arrangement for both functional utility and visual harmony. The secure zipper adorned with a robust metal button ensures a seamless closure, while the 100% cotton exterior guarantees a blend of comfort and durability. Whether you're aiming for an urban chic vibe or aiming to redefine your style, these overdyed denim baggy jeans encapsulate the epitome of versatile sophistication.
---
Choosing the Right Fit
While baggy jeans are known for their relaxed fit, finding the right size is crucial for a stylish appearance. Consider the following tips when choosing baggy jeans:
Waist Fit: Opt for a waist size that comfortably sits on your hips without being too tight or too loose.

Length: Choose a length that works well with your preferred footwear. Baggy jeans can be cuffed or left unrolled, depending on your style.

Proportions: Balance the baggy fit of the jeans with a well-fitted top to avoid an overly bulky appearance.
Conclusion
Stradivarius offers a versatile and trendy collection of baggy jeans that cater to various fashion preferences and styles. The baggy jeans trend has made a strong comeback in recent years, and Stradivarius has embraced this trend by providing a range of options for both women and men. From classic blue denim to unique washes and designs, their baggy jeans collection allows individuals to express their personal style while enjoying the comfort and ease that this style offers. With a focus on quality, fit, and fashion-forward designs, Stradivarius has proven itself as a go-to destination for those looking to embrace the baggy jeans trend. Whether you're aiming for a casual, streetwear-inspired look or want to experiment with different outfit combinations, Stradivarius baggy jeans are a versatile addition to any wardrobe. 
FAQs