Denim jeans have always been a timeless and a must-have item in every woman's wardrobe. These denim jeans for women offer a perfect blend of both comfort and style and one can simply style them according to their liking. So, if you are looking for some amazing finds that complement your unique style and empower your overall outlook, NA-KD being one of the biggest online clothing retailers, offers various unique articles to choose from.
Finding your perfect denim jeans fit
1. Know your body shape
The first step is to figure out your body shape, whether it's pear, apple, or hourglass. Understanding your shape will guide you towards jeans that flatter your figure.
2. Measure yourself
Take correct measurements of your waist and hips to find the perfect-sized denim jeans for women. Refer to sizing charts provided by brands to find the right size.
3. Understand denim cuts and styles
Learn about different denim cuts such as skinny, straight-leg, bootcut, boyfriend, and wide-leg. Experimenting with various fits and styles will help you discover what looks and feels best on you.
4. Consider rise options
Jeans come in different rises, including high-rise, mid-rise, and low-rise. Choose the rise that provides the desired level of comfort and coverage.
5. Walk and move around
Don't just stand still in the fitting room. Walk, sit, and move around to ensure the jeans remain comfortable and do not restrict your mobility.
6. Opt for reputable brands
Different brands have their own sizing standards, so don't rely solely on one brand's sizing. Experiment with multiple reputable brands to find your ideal fit.
---
Also Read: Hottest Trends: Women's Jeans Edition
---
Creating outfits with denim jeans for women
1. Casual chic
Pair your favorite skinny jeans with a loose, off-shoulder top and slip-on sneakers for an effortless casual look. Add sunglasses and a crossbody bag for a trendy finish.
2. Classic denim and white tee
Opt for straight-leg jeans and a crisp white tee. Roll up the jeans slightly and add a statement belt. Complete the look with ankle boots and a leather jacket for a timeless, edgy vibe.
3. Office ready
Choose tailored, dark-wash jeans and pair them with a blouse or a button-up shirt. Add a blazer for a polished touch. Complete the look with heels or loafers and a structured tote bag for a sophisticated office ensemble.
4. Weekend comfort
Go for distressed boyfriend jeans and a cozy oversized sweater for a relaxed weekend look. Sneakers or ankle boots and a slouchy tote bag complete this comfy and stylish outfit.
5. Dress it up
Elevate your jeans with a silk blouse and heels for a semi-formal occasion. Add statement earrings and a clutch bag to enhance the sophistication of the outfit.
6. Layered perfection
Wear a sleeveless denim vest over a long-sleeved shirt and jeans. Add ankle boots and a wide-brimmed hat for a chic layered look perfect for fall.
7. Denim overall
Embrace the classic double denim style by pairing your jeans with a denim jacket. Ensure the denim is of slightly different shades to avoid a matchy-matchy look. Complete with ankle boots and minimal accessories.
Accessorizing and styling tips for women's denim jeans
1. Statement belts
A stylish belt can cinch your waist and add a pop of personality to your jeans. Consider wide, embellished, or colorful belts to make a statement.
2. Cool footwears
Depending on the occasion, pair your jeans with different footwear options. Sneakers, ankle boots, heels, flats, and sandals can all create distinct looks.
3. Go with layers
Layer your denim jeans for women with denim jackets, blazers, cardigans, or oversized sweaters. Outerwear can enhance both style and warmth during cooler seasons.
4. Jewelry additions
Statement necklaces, layered bracelets, and bold earrings can draw attention to your upper body and enhance your outfit's overall aesthetic.
5. Handbags or clutches
Match your choice of handbag or clutch to the occasion. Totes, crossbody bags, and clutches can complete your outfit and carry your essentials.
6. Add a pop of print
Incorporate printed tops, scarves, or accessories to infuse fun patterns and contrast with the simplicity of denim.
Top denim jeans for women for every age and body shape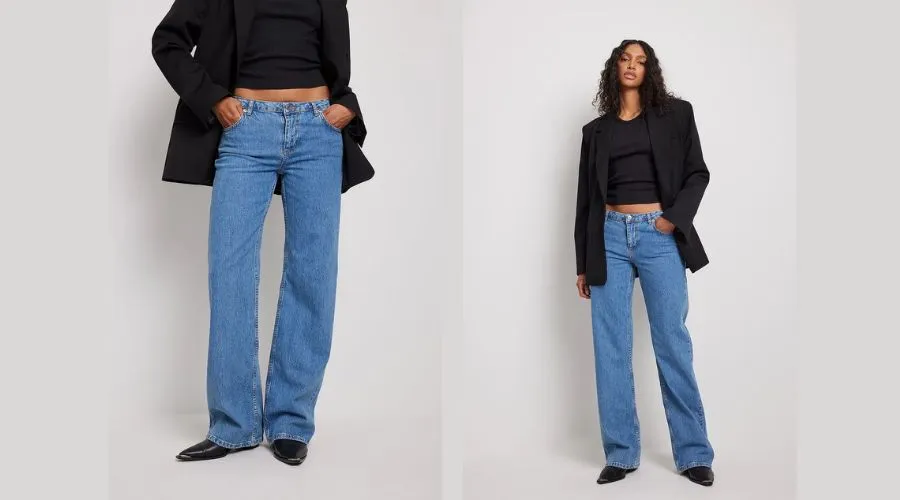 These Low waist jeans offer a trendy low-rise fit with a convenient zip and button closure, showcasing a timeless five-pocket design and wide-legged style in a versatile shade of blue. These jeans boast pocket lining composed of a blend of 25% cotton and 75% polyester, ensuring both comfort and durability for your fashion-forward denim choice. And, it only costs $64.95, making it the most affordable denim jeans for women.
---
Also Read: Baggy Jeans: The Ultimate Comfort And Style Statement
---
Wide high waist jeans- black
This Wide high waist jeans is crafted from durable denim material, offering a high-rise fit with a long, generously wide leg. Secured with a zip and button closure, these jeans also feature the practicality of five pockets. Available in a sleek black shade, the composition of these jeans is made from 100% cotton, ensuring both comfort and style for your fashion-forward denim choice. So, if you are looking for black denim jeans for women, this piece only costs $59.95.
---
Skinny high waist strech jeans- grey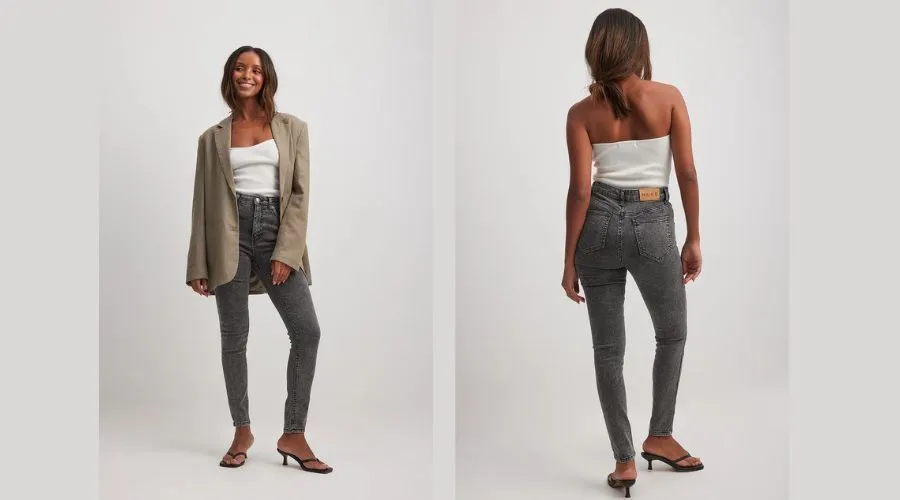 This Skinny high waist strech jeans is designed with a classic five-pocket layout, complete with a belt loop, and secure with a zip and button closure. With an inseam length of 28.7 inches, they offer a comfortable fit in a stylish grey color. The composition includes pocket lining made from a blend of 25% cotton and 75% polyester, ensuring both durability and comfort. And, you can order them from NA-KD for a price of $44.95.
---
Wide high waist jeans- beige
Crafted from high-quality denim material, these jeans boast a high-rise waist and an elongated wide leg, offering a fashionable look. They are equipped with a secure zip and button closure and feature five functional pockets for added convenience. Available in a chic beige hue, these jeans are composed entirely of 100% cotton, ensuring both style and comfort for your wardrobe. If you are looking for trendy-colored denim jeans for women, these beige jeans only cost $59.95.
---
Conclusion
If you have been looking to find the comfiest and coolest-looking denim jeans for women, NA-KD is one of the top US retailers that houses a variety of clothing articles to shop from. So, go, explore the website and purchase your favorite item right away at reasonable prices. For more information, visit Trendingcult.
FAQs