Ever feel like running an errand but don't want to leave your furry friend alone? Then you are in the right place because we know exactly what you need- Dog carriers! It is like a mini, breathable suitcase for your dog. It allows you to easily place your dog inside and carry it wherever you like. Whether it's the nearby printing shop or monthly veterinary visits, provide your dog a safe and secure way of traveling. This way, you can avoid the furbaby's naughty antics and make it cooperate. Tiendanimal is an online pet store based in Spain. Whatever you want for your pet, you'll find it here. Whether it's food, medicines, toys, accessories, or more, you'll find a diverse range of categories here. Keep reading to find out more.
Convenient dog carriers on Tiendanimal!
1. Outech Dog Carrier with Net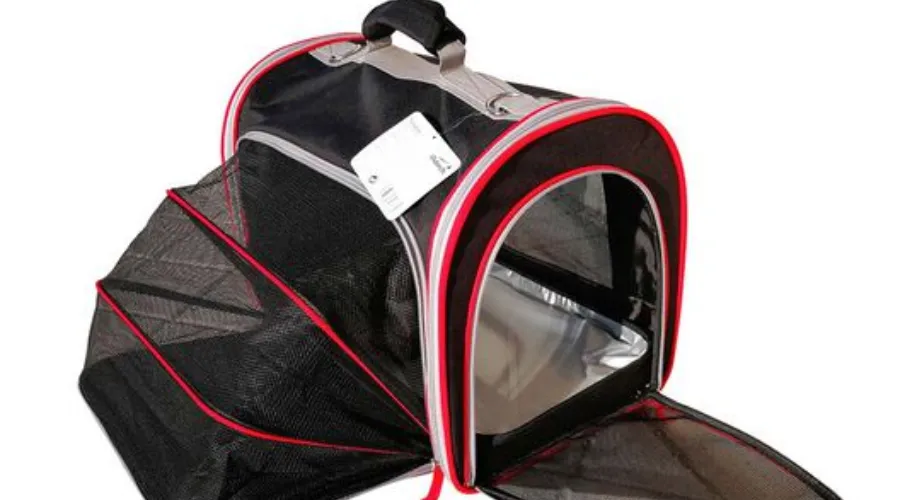 This dog carrier is ideal for both cats and dogs! It is made of fabric material and spacious enough to provide apt ventilation and resting space for your dog. There is a side opening that features a balcony, so your pet can enjoy the view and have ample space to chill. It is like a small, portable home for your little one.
It has a transport compartment and removable tray, so long trips can be easier without any unnecessary burden or problems. You can use the shoulder handle to hang it if you want. There is a small side pocket where you can keep small essentials that you'll need to use frequently. If your pet is jumpy and naughty, then there is a solution for that too! Just use the internal leash option and secure your pet in place. Don't worry, your pet won't feel confined or trapped because there is ample space to chill in this dog carrier.
2. TK- Pet Dog Carrier (Blue & Black)
This dog carrier is made of plastic and has a convenient handle for easy carrying. The air grids allow proper ventilation and breathability for the pet. If you want to travel by car and take your pet along, then this is a great option! It is easy to assemble. For cleaning, you can disassemble the product for effective results. Your pet will be super comfy inside and easily able to move without restrictions. You can seamlessly attach it to the seatbelt in the car backset.
3. Mobiclinic, Dog Carrier (Grey)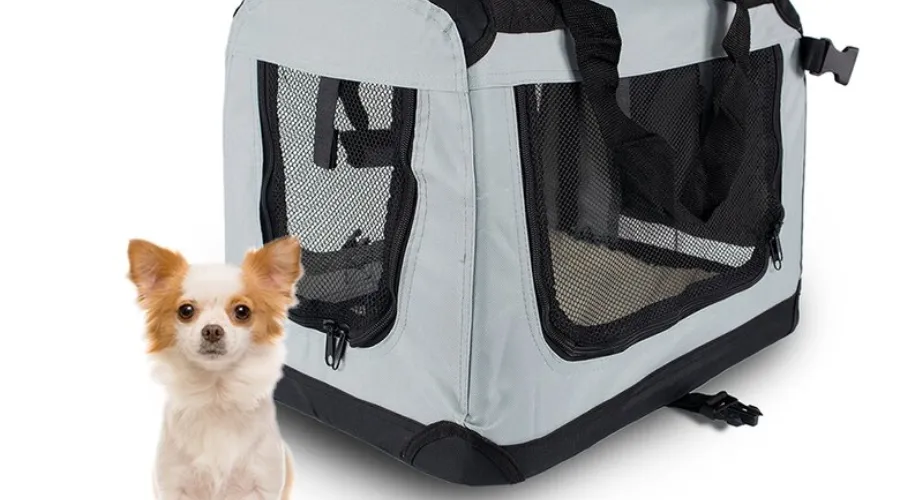 This dog carrier features nets for proper ventilation and to allow your pet to enjoy the outer view. It has belt straps for better securing. The interior structure is soft and spacious so your dog can chillax and have a great time. There are three different sizes available and you can choose the one that caters the most with your dog's size. Choose one that is bigger than your dog's size so there is maximum space for it to chill in.
4. Flamingo, Foldable Pet Carrier
If your dog has mobility issues, sick or old then this pet carrier is a lovely option for you! It is foldable and portable which means that it is easy to carry and store. It has a lightweight design and supports small and medium-sized pets. You can keep pets up to 15 kg in the stroller. It is made of 100% oxford nylon and steel, which ensures its strength and durability.
The wheel option is an easy going way to let your pet enjoy the fresh air and reduce the burden on the owner. Whether it's a leisurely walk to the park or a short trip to the countryside, let your dog enjoy all those moments with you and make some nostalgic memories together.
Conclusion
Dog carriers are so special! They allow you to spend bonding time with your dog outdoors without bearing the burden of carrying him everywhere or using a leash. And what about long trips? Your dog deserves to see the beautiful seaside view too! And dog carriers make traveling and portability easier. Make sure to choose a spacious option for your dog and ensure that the dog carrier you are choosing has the ideal features that suit your dog's comfort and convenience. Tiendanimal has an excellent catalog of dog carriers with different features. You'll certainly find an ideal dog carrier for your tail-wagging hero. For more information, visit Trending Cult.
FAQs