Temperature is rising because vidaXL's summer sale products are here! (No pun intended) You'll find the best home and garden products! Whether it's decorating your living room or accessorizing your outdoor space, this summer sale is a great opportunity to build your ideal living space! Another added benefit is getting top-quality items at a discounted price. There is a 15% discount on certain products in this summer sale!
The Ultimate Retail Therapy: Summer sale items you can buy on vidaXL!
1. Gas Barbeque With 6 Burners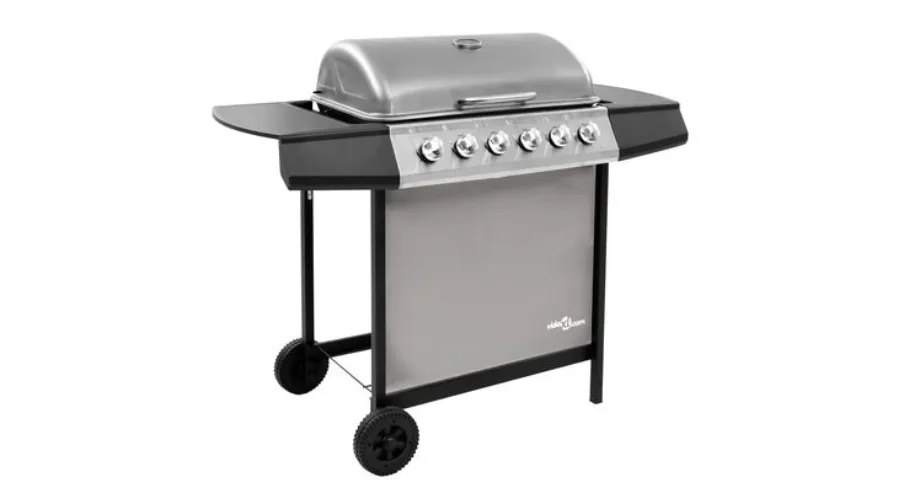 Hosting an outdoor party? A barbeque sounds like a great option! There are 6 burners and hence ample space for you to grill your favorite meats! It comes with an integrated thermometer, which provides temperature readings. It will help you adjust the temperature according to your needs! The grill is spacious, durable, and easy to remove. Plus, there are two side tables to keep chopped veggies, ingredients, and other side dishes while grilling.
There is a shelf where you can store accessories and ingredients. Another great benefit of this barbeque is the presence of wheels on the bottom for easy movement. Keep the barbeque cover on to keep the product protected from external risks.
2. Bed Frame Solid Wood
Do you like light colored furniture? Then you'll love this pine wood bed frame. Made of solid pine wood, it is durable firm, and stable. It is a perfect way to adorn your bedroom with a dash of old-school aesthetic. There is a headboard that allows one to lie down and relax their back. Come back to this cozy bed after a long day at work!
This product does not include a mattress, only a bed frame and headboard. The bed frame is made of plywood which is resistant and distributes the weight evenly. The length of the bed is about 205 cm and it is 125 cm wide. So, before making the purchase, measure your room space thoroughly.
3. Foldable Gazebo with 2 Side Walls
This foldable gazebo is ideal for hosting outdoor events and parties. The gazebo's roof is made of PVC coating and provides UV protection. Plus, it's water and dirt repellent, so you don't have to worry about light rain showers interrupting your event! The frame is durable and strong because it's made of powder coated steel. The tent has two side walls, which provide necessary privacy and are lightweight. It is portable, easy to store, and easy to assemble.
According to the seller, if there is rain, you should use a waterproof spray on the tent. Make sure not to use this product in extreme weather conditions like heavy rain, storms, and snow.
4. Floating Parasol with Aluminium Pole
Adorn your outdoor space with this elegant parasol! Whether it's by the poolside or patio, getting shade from the sun is simple and convenient. The cloth is made of UP-protective material and polyester fabric. You can rotate the parasol 360 degrees as per your seating position. The pole is made of aluminum and is stable. There are 8 ribs on the parasol which are also made of aluminum. There is thorough air ventilation with the parasol.
The parasol can be easily opened and closed. It is advisable to use a waterproof spray on the parasol if there are chances of heavy rain for added protection!
5. Beach Chair with Canopy
Going to the beach? Let this beach chair accompany you on the retreat! The chair's fabric has black and white striped patterns and is made of polyester fabric. The backrest can be adjusted in three different positions, so adjust according to your comfort! The wooden frame and poly rattan material of the chair give it a sturdy frame, sturdiness and strength. And, you'll love the extendable footrest for utmost relaxation. Use a damp cloth for effective cleaning.
The side panels protect you from windy weather and give more privacy. There is a canopy attached for sun protection. So, no you don't need to go indoors if you want to enjoy your favorite book in the fresh air. Use the canopy and you are good to go! Assembly is required for this product so follow the instructions provided for the same.
Conclusion
The summer sale is the perfect opportunity to get your favorite items at low prices! So you don't have to break the bank and can easily obtain the essentials. vidaXL's summer sale catalog is huge! Go on a shopping spree and give your home some much needed decor! And do not forget your outdoor space. Aestheticize your gardens, patio, balcony, or terrace with vidaXL's featured products! For more information, visit Trendingcult.
FAQs