Turkey, one of the most beautiful places in the world, is home to a wealth of stunning landmarks and attractions. From its ancient ruins, exotic beaches and bustling cities to its vibrant culture and delicious cuisine, Turkey has something for everyone. Here, we will be looking at some of the best places in Turkey to visit on your next holiday. We'll explore everything from historic sites like Ephesus and Cappadocia to natural wonders like Pamuk kale and Olu Deniz Beach. So, grab your passport – it's time to start planning an unforgettable trip and visit the best places in Turkey.
Here are the 6 best places in Turkey:
Istanbul: One of the best places in Turkey, a vibrant city that straddles two continents, Europe and Asia. It is famous for its historical landmarks, such as the Hagia Sophia, the Blue Mosque, and the Topkapi Palace.
Cappadocia: A unique landscape of fairy chimneys and cave dwellings, this region is a popular destination for hot air balloon rides and outdoor adventures.
Antalya: Known as the "Turkish Riviera," this coastal city is one of the best places in Turkey. It offers beautiful beaches, historical sites, and opportunities for outdoor activities such as rafting and paragliding.
Bodrum is a chic and trendy seaside town known for its nightlife and scenic beaches.
Pamukkale: A natural wonder that features hot springs and terraced pools filled with mineral-rich water.
Ephesus: An ancient city once a major centre of the Roman Empire and is now a popular archaeological site and one of the best places in Turkey.
Best Place to Stay in Turkey
Here are the best place to stay in Turkey.
1. TUI BLUE Sensatori Barut Sorgun hotel in Turkey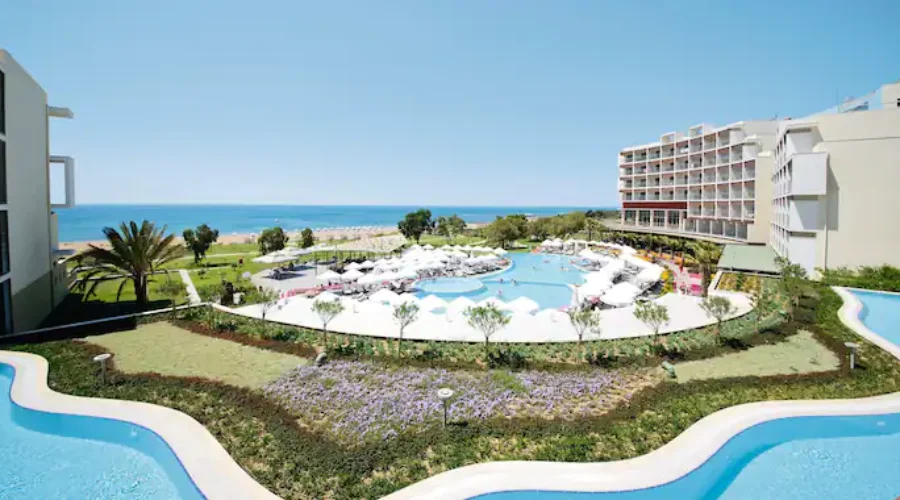 The TUI BLUE Sensatori Barut Sorgun hotel one of the best places in Turkey for travellers looking for a luxurious holiday experience. This five-star all-inclusive resort, located on the Mediterranean coast of Turkey, boasts a variety of amenities and activities to keep guests entertained throughout their stay. From its private beach area with sun loungers and parasols to its two outdoor swimming pools and modern spa facilities, the hotel provides everything needed for a relaxing getaway. Guests can also enjoy fine dining options at several restaurants within the complex or participate in watersports activities such as scuba diving and sailing. Additionally, the hotel offers various fitness classes, such as yoga and Pilates, which will surely leave visitors feeling energised after their stay. With so much to offer, it's no wonder that this exquisite property has been named one of TripAdvisor's top recommended hotels in Turkey!
2. Titanic beach & resort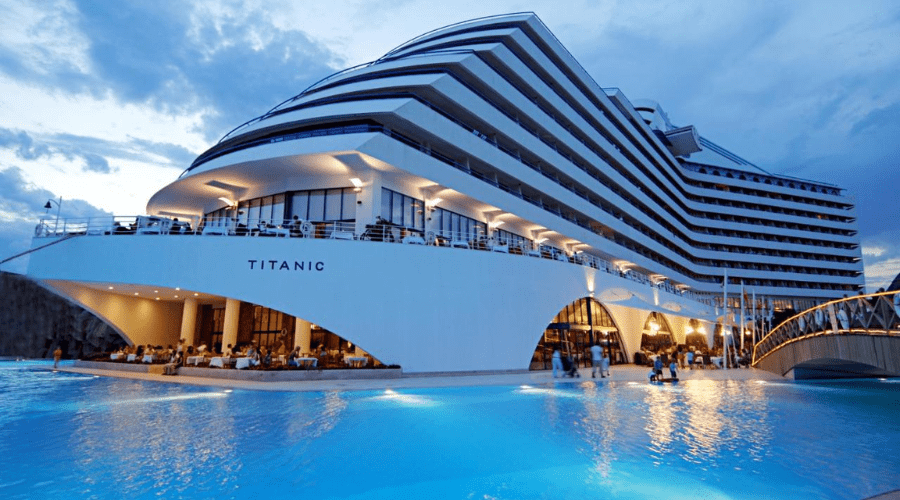 Titanic Beach & Resort Hotel in Turkey is one of the best places in Turkey for a luxurious and relaxing vacation. Located on the Mediterranean Sea, this five-star hotel offers guests stunning panoramic views of the sea and an array of activities to enjoy during their stay. From its private beach to its water sports centre, there are plenty of ways to entertain adults and children. The outdoor pool area is equipped with a waterslide, while inside, guests can take advantage of saunas, Turkish baths, and massage treatments at the resort's spa. And when it comes time to dine out, Titanic Beach & Resort Hotel has several top-rated restaurants serving traditional Turkish dishes and world cuisine. All these amenities make Titanic Beach & Resort Hotel one of Turkey's premier destinations for luxury travellers seeking an unforgettable experience that combines relaxation with adventure.
3. Rixos Premium Bodrum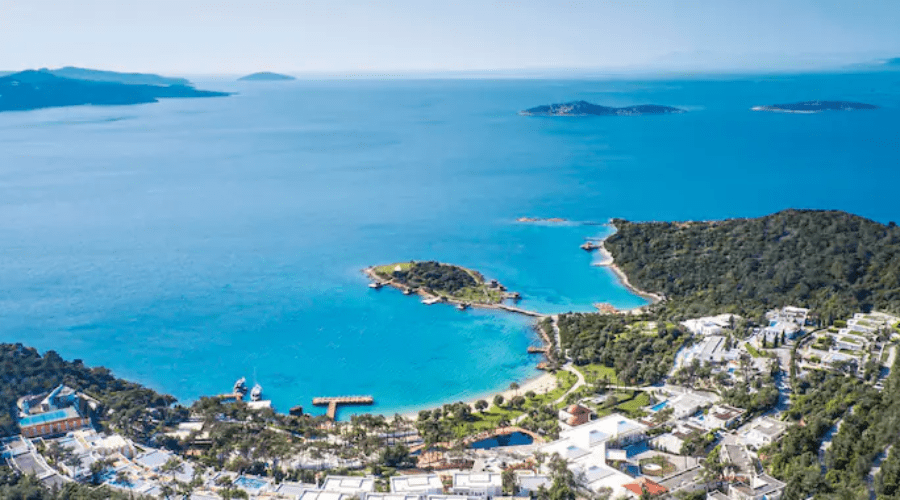 Naxos Premium Bodrum Hotel in Turkey is the perfect destination for a luxurious getaway. Located on the stunning coastline of Bodrum, this hotel offers guests a unique and unforgettable experience with its state-of-the-art amenities, exceptional service, and stunning views. The hotel features an outdoor pool with lush gardens and direct beach access. Guests can relax and unwind while taking advantage of the amazing spa facilities, including a sauna, Turkish baths, Jacuzzi, fitness centre and beauty salon. Additionally, many exquisite dining options are available, ranging from international cuisine to traditional Turkish delicacies at one of their four restaurants or two bars within the premises. For those looking for extra activities beyond just lounging around in the sun or swimming in their pool or sea, Rixos Premium Bodrum also offers tennis courts, biking trails and water sports such as sailing and diving – providing something to do for everyone! With its exemplary services combined with breathtaking views – it's no wonder why Rixos Premium Bodrum Hotel is known as one of the best places in Turkey!
Conclusion
Turkey is a country with many exciting places to explore. From the ancient city of Istanbul to the stunning beaches along the Aegean and Mediterranean coasts, this amazing nation offers something for everyone. Turkey has everything if you're looking for an unforgettable cultural experience or a relaxing beach getaway. For those seeking adventure and natural beauty, head south to Cappadocia or east towards Mount Nemrut. With its unique blend of modern cities and centuries-old history, there are plenty of the best places to go in Turkey that will make your trip unforgettable. So, what are you waiting for? Select the best place to holiday in Turkey and start planning your next trip with Trendingcult today!
FAQ's