Explore a diverse collection of dining room chairs, designed especially to add style, comfort, and functionality to your space. Whether you prefer a classic look or a unique design, these chairs are crafted to elevate your dining experience and complement your home's aesthetics perfectly. And, to get the best deals and prices on the dining room chairs set, The Home Depot is one of the best options to explore. 
Premium materials to look for in dining room chairs
Chairs made of hardwoods like oak, maple, or cherry are known for their sturdiness and long-lasting quality.
Steel or aluminium frames provide excellent support and resistance to dining room chairs to withhold any wear and tear.
High-quality upholstery materials like microfiber, leather, or stain-resistant fabrics ensure longevity and easy maintenance.
Natural materials such as rattan or wicker offer a charming look and resilience when properly cared for.
Veneers made from real wood can add an elegant touch to chair designs while maintaining durability.
If your chairs are upholstered, high-density foam in the cushioning provides comfort and retains its shape over time.
Space-saving dining room chairs to buy
Set of 4 Oslo replica eames chairs black colour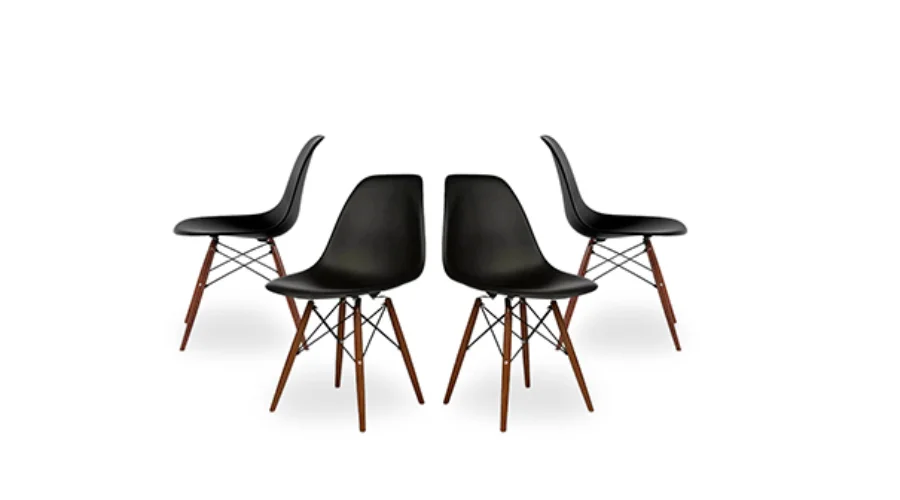 The Oslo chair brings innovation to your space with its warm beech wood legs, stylish seat, and comfortable design. Its unique look sets it apart, allowing you to add the style you desire to your room. This chair is inspired by the famous American designer Charles Eames. To keep it looking its best, easy maintenance involves wiping it with a damp cloth; harsh solvents or abrasives are best avoided. The dining room chairs set is constructed with a black metal frame and features a seat and backrest made from polyurethane material.
---
Metal chair set black 4 pieces
The Home Make chair set, a versatile 4-piece collection, is perfect for your home's interior spaces like kitchens, living rooms, or dining rooms, offering comfortable seating and relaxation. These chairs feature a sturdy metal frame capable of supporting up to 120 kg, soft sponge cushions on the seats, floor-friendly leg pads, and durable PU woven backrests measuring 51.5 cm. Their sleek matte black design complements any decor, and each chair measures 99 x 37 x 44 cm. For those who are looking to add black dining room chairs to their surroundings, this set of four pieces is available at The Home Depot to buy.
---
Set of 4 Eames chairs, 4 modern minimalist dining chairs, white colour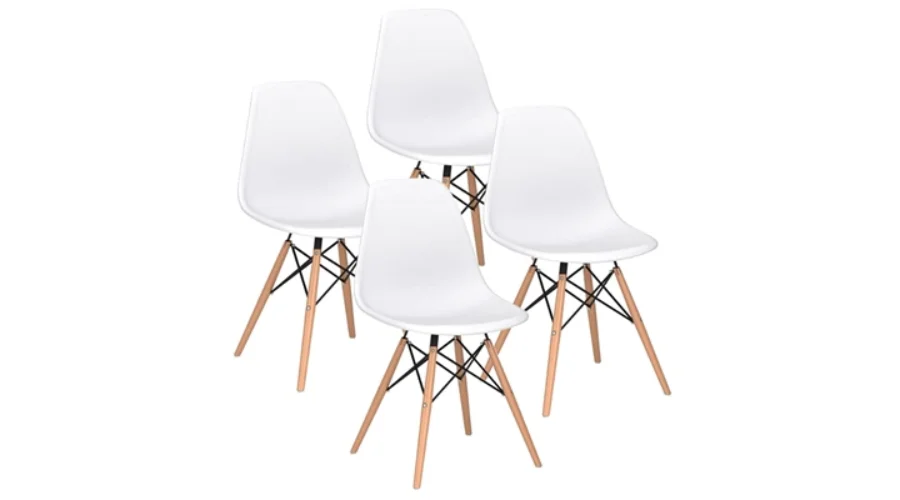 The Eames design chair is a versatile and durable choice for various rooms, like dining areas, bedrooms, and kitchens, whether indoors or in partly covered spaces. Its modern and simple design complements any home decor. Constructed from sturdy polypropylene with reinforced wood and steel legs, it's easy to clean and built to last. It's special pigments and UV-resistant colours prevent fading. This minimalist Eames dining chair is available in white, black, and gray, supporting up to 120kg with dimensions of 41cm in backrest height, 51cm in length, 46cm in width, and 82cm in height.
---
Set of upholstered dining chairs, pink 2 pieces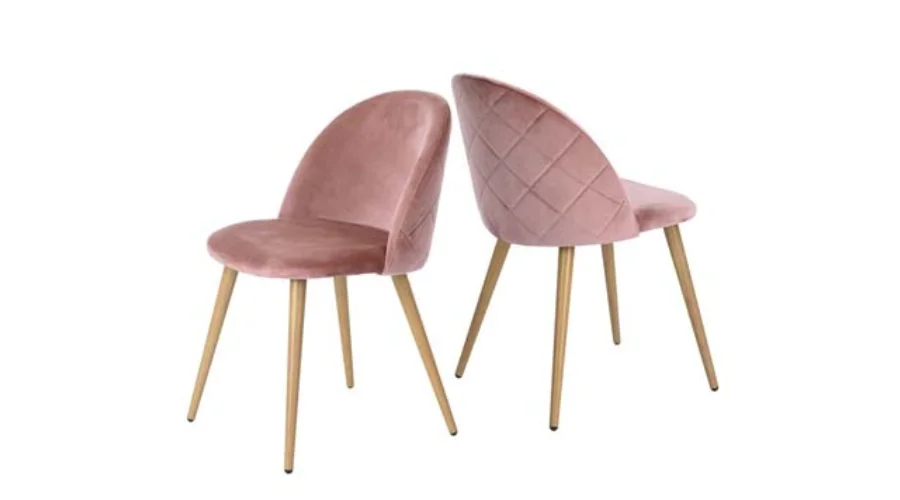 These chairs offer exceptional comfort with their high-density sponge padding and luxurious velvet fabric upholstery. The sturdy black metal legs not only provide strong support but also come equipped with anti-scratch and noise-reducing rubber mats, protecting your floors and reducing daily wear and tear. Setting up these chairs is quick and hassle-free – you can have two chairs ready to use in just 5 minutes, thanks to the included tools and clear instructions. If you are looking for something different and elegant, these pink chairs for the dining room are the best bet to make.
---
Cleaning and maintaining the dining room chairs
Dust your dining room chairs frequently with a soft cloth or a duster to prevent the buildup of dirt and grime.
Deal with spills by blotting them with a clean, dry cloth or a paper towel. Avoid rubbing the chairs harshly to prevent the stain from spreading even more.
If your chairs have upholstery, use a soft brush attachment on your vacuum cleaner to remove dust and debris.
For leather chairs, use a leather cleaner and conditioner to maintain their sheen and prevent cracking.
Wooden chairs can be cleaned with a damp, lint-free cloth and a mild wood cleaner. Avoid excessive water, as it can damage the finish.
Metal parts can be easily wiped down with a damp cloth and dried thoroughly to prevent any rust or debris.
If you need to store chairs, do so in a dry, cool place and cover them to protect them from dust and damage.
Consider professional cleaning or wood cleaning services for a thorough and deep cleaning session when required.
Conclusion
If you are looking for some of the finest dining room chairs, The Home Depot houses a variety of articles to choose from at pretty reasonable prices. You'll surely get good-quality, amazing designs, and unique colours to explore and you can shop them according to your home accent. For more information, visit Trendingcult. 
FAQs