Today's generation is more into gaming and wants to convert their interest into something profitable. You need to create a zone where you can play games without giving your body any trouble. This is where gaming chairs come into play. These chairs are considered to be the most comfortable option while gaming. To fulfill your need for the best gaming chairs, The Home Depot has some amazing options that you can buy.  
To get the best gaming experience, let's check out some relaxing gaming chairs by The Home Depot.  
Factors to consider when buying gaming chairs
There are several things that you need to keep in mind while buying a gaming chair for yourself. Some of those factors are mentioned below for your knowledge:
Features of gaming chair-
If you go out to the store to buy a gaming chair then you can check the features of the chair by trying it out physically. There are several features that these chairs have like massage functions, pillows for body rest, built-in speakers, etc. You can consider these features for your chair before buying it. 
 2. Body support-
A gaming chair should necessarily involve features like an armrest, backrest recline, and height-adjusting facility so that you can properly focus on the game. To give you a comfortable and cosy feel while playing games, choose a chair that fully supports your body. 
 3. Durable-
Durability in any product should be its key feature as it needs to be appropriate for longer use. The best gaming chair must be durable, have a sturdy frame, and also have high-quality upholstery. 
 4. Budget-
Always set a price range before buying any gaming chair. They are available at a pocket-friendly price between $100 to $500 and have enough features to give your body a proper rest. 
Best gaming chairs that you can add for your comfort
Black deluxe gamer chair, reclinable and ergonomic backrest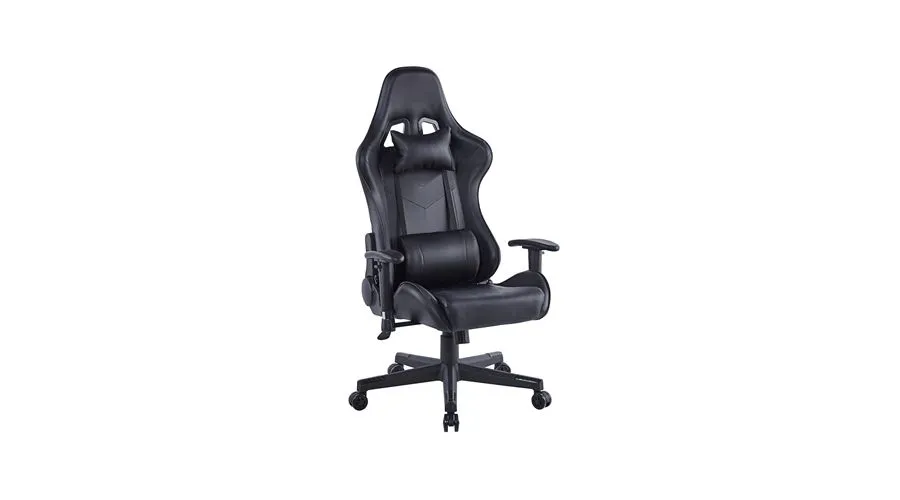 This black gaming chair is one of the deluxe products of The Home Depot. It has comfortable and convenient features like a high, padded backrest and adjustable height. Even if you are playing games, want to study, or work, it won't trouble your body and will provide proper rest at all times. The black colour of this chair is perfect for giving an aesthetic look to your space.
---
  2. Gamer 2.0 chair, ergonomic, reclinable and modern design, black and red colour
With an ergometric reclining feature, this gaming chair from The Home Depot is a great choice for your gaming experience. The unique and vibrant black and red colour detailed chair is a good choice for your body as it can tilt from 90-135 degrees easily. It has an adjustable height of 40cm to 50cm, armrests covered with padded cushions, and also a high-density foam seat to give your body a good posture.
---
 3. Ergonomic executive office chair with reclining and adjustable height. comfort mesh backrest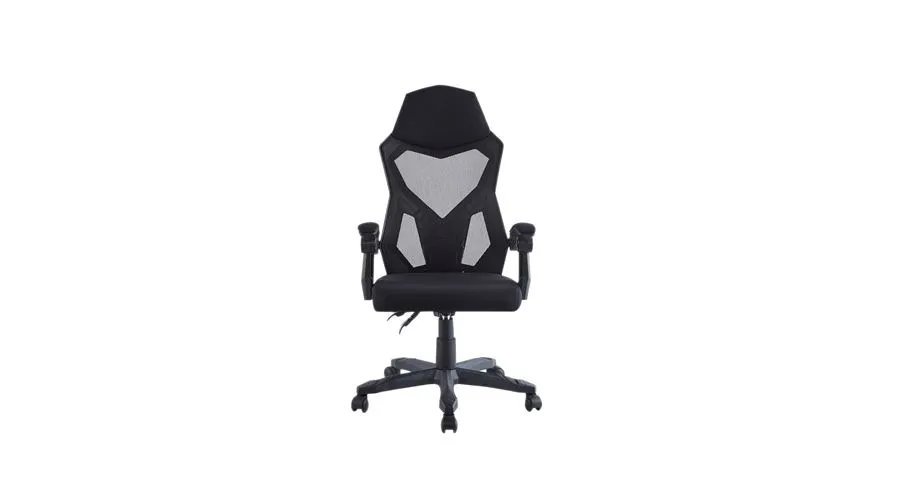 If you want something that fits your budget and is not that heavy and loaded with extra features, then this chair is a must-have. It has a tilt design of 90-135 degrees, ergometric reclining properties, adjustable height, and also mesh backrest for back and head support. Available in black colour and is also good for any type of desk work.
---
 4. Executive office chair, ergonomic and black mesh upholstery
This basic and comfortable gaming chair is something that you can add to your desk. It is ultra comfortable with a padded comfort seat. It also comes with a head support, and ergonomic design, and is produced to avoid body pain. You can buy this from The Home Depot under a budget and do your other work apart from gaming.
---
 5. Mesh office chair 66x69x128cm pink
If you want something other than the same black colour, then this pink mesh gaming chair is a convenient option for you. It has an ergonomic feature for body rest, is made of breathable mesh, and comes with a separate headrest and flip-up armrest. You can adjust the height of this chair according to your needs. Buy this resting gaming chair from The Home Depot to avoid any type of body pain and posture issues.
---
  6. Primus gaming blue chair
Gaming is an interesting and time-consuming activity. It involves spending a lot of time in front of the screen. The best you can do to avoid any type of body problem is to buy a proper gaming chair. This is not just for gaming purposes but also improves body pain and bad posture. The Home Depot is considered to be the best platform to buy such gaming chairs and one of them is this black and blue detailing chair. It has stability and durability to provide a better experience while you are doing any type of work. Designed ergonomically, it has a solid metal structure with padded cushions all over, along with a head and armrest to support the body. You can also adjust it according to your height.
---
Conclusion
Choosing the right gaming chair is as important as any other furniture. It not only gives long-lasting comfort but also helps avoid any type of body pain while working or gaming. The Home Depot is the go-to platform to get your ideal gaming chairs. They provide the best quality gaming chairs that are durable, sturdy, adjustable, and ergonomic. Some examples of perfect gaming chairs are given in this blog to help you make an informed decision. Also for more information and tips to buy a gaming chair or any other furniture, you can visit Trendingcult. 
FAQs