Gardens are already a magnificent addition to our outdoor spaces. But we can enhance them even more with flowers, lighting, seating, tables, and other such decor. Garden swing benches are a versatile way to accessorize our gardens or outdoor spaces. They are great for leisure, aesthetics, and comfort. vidaXL is a convenient online retailer specializing in home decor, hardware tools, gardening items, and other accessories. If you are thinking about incorporating garden swing benches into your living space, then keep reading for some ideas!
Garden swing benches idea to decorate your outdoor spaces!
1. Pinewood Swing Bench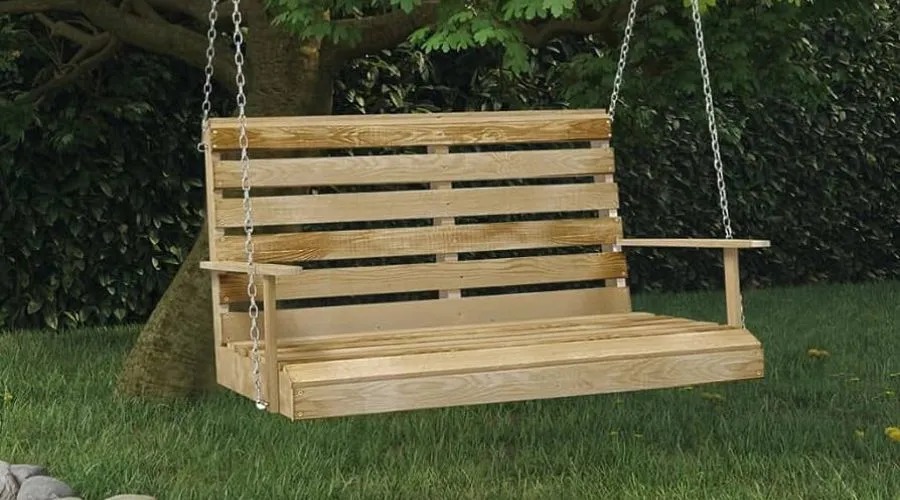 Keep it simple and minimalistic with this pinewood swing. The assembly process is easy too. If you love things that are natural, then this is the perfect option for you. Whether it's some leisurely time by yourself or an evening chat session with a friend, this bench is a great companion for any occasion.
Pine wood prevents rotting, is weather resistant and is super durable. For added comfort, keep a fluffy pillow or cover the bench with a soft cloth!
---
2. Fabric Green Garden Swing Bench
A green bench is perfect for the natural greenery. This swing bench has a powder coated steel frame, which increases its sturdiness and ease of cleaning. Shaped like a normal bench, this swing bench is multi-functional.
The seat and backrest are built from polyester fabric, which is water resistant. The attached roof provides a great cover from blazing sunny weather and rainy days. So, enjoy some meaningful time by yourself or with a loved one without any distractions.
---
3. Swing Bench with Palm Leaves and Cushion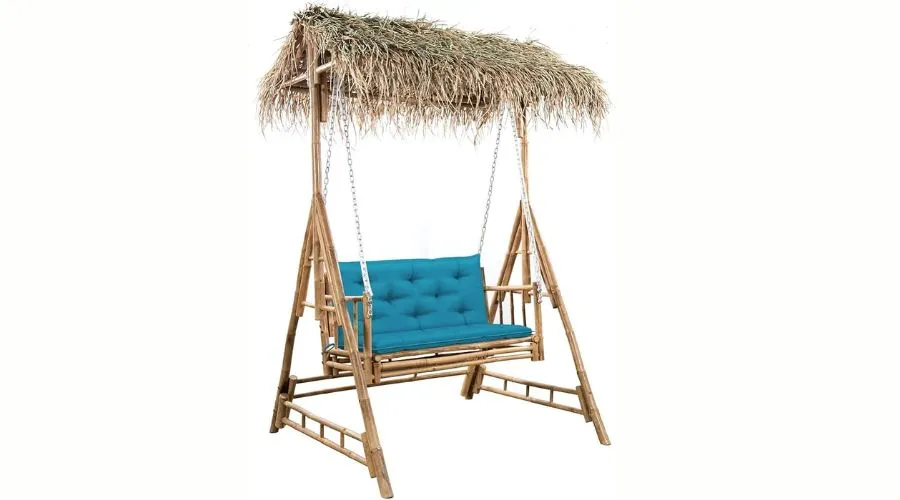 Can't go to the beach? What if we told you that you could create a beach at home? It is attainable and convenient, too! This swing bench comes with a palm leaf canopy and a comfortable cushion.
Made from bamboo, it is highly durable and weather resistant. Get the tropical vibes without doing much! Place the bench near your poolside area or by a pond (if you have one)! Plan a family pool day and have an eventful day surrounded by your close ones. Swing on the bench in between swim breaks and enjoy the cool breeze. And there you go, you achieved a beach day without actually going to the beach!
---
4. Coffee Colored Swing Bench
Add a bit of elegance and splendor to your outdoor space with this garden swing bench. The brown color gives it a naturalistic vibe, and the spacious design is attractive. The soft curtains have a Velcro closure, and the mesh finish enhances the swing's look. If you feel like you need some private time, then close all four sides to create that.
You can convert the seating into a bed, and there are two similar shaded cushions for added comfort. The steel frame is rust resistant and the assembly process is simple. For a more enriched look, add some string lights around the bench and make it stand out at night!
---
5. Swing Bench with Canopy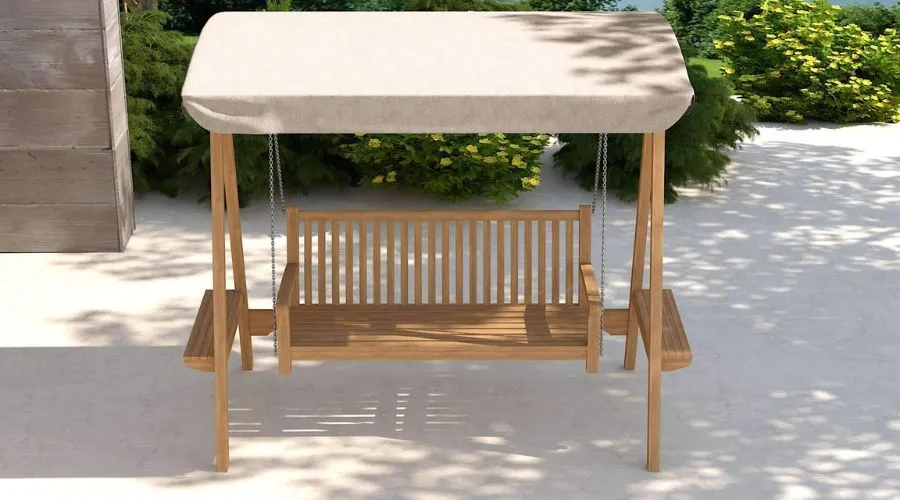 This swing bench is multi-functional and a valuable addition for any setting. Whether it's the garden, terrace, porch or the poolside area. The bench has a steel frame which makes it durable and strong. The awning on the top provides sun and rain protection.
The seats are made of fabric for extra comfort and are spacious enough to fit 3 people at once. The light sand color makes this swing bench a great fit anywhere.
---
6. Sand Colored Swing Bench
This stunning garden adornment will certainly beautify your space! The sandy white shade is a classy addition and makes it eye-catching. The awning provides sun and rain protection. So the weather cannot stop you from having some recreational time. The swing and awning have a patterned design on the front edges. If you want to lie down in the fresh air, then this swing can also be converted into a bed.
Take your journal and jot down some thoughts, watch your favorite movie; or bring a friend for some chit-chat. This bench is super convenient and accessible.
---
Conclusion
In conclusion, garden swing benches are very aesthetic and convenient to have. They enhance our outdoor spaces, are a good spot for some personal quality time, and are very fun to swing on! vidaXL's diverse options for swing benches are stunning and quite intriguing! It is highly reliable and trusted, plus it is an excellent platform to get your home-related needs fulfilled. Whether it's new items, redecorating items, or other accessories and tools, you'll find it all here. For more information, visit Trending Cult.
FAQs