When it comes to working out, having the right gym outfit is essential. Not only do gym outfits provide comfort and support during exercise, but they also give you the confidence you need to crush your workout. H&M is a popular clothing retailer that offers a wide variety of gym outfits for ladies.
Types of gym outfits for ladies on H&M:
H&M offers a wide range of gym outfits for ladies. Here is a list of the varieties of gym outfits:
Leggings:
Leggings are a staple in any gym outfit. H&M offers a variety of leggings, from basic black to colourful prints. Their leggings are made from stretchy, moisture-wicking fabric that provides both comfort and support. Some of their leggings also feature pockets, which are great for holding your phone or keys during your workout.
Sports bras:
Sports bras are another essential item for gym outfits for ladies. H&M offers a range of sports bras, from low-impact to high-impact. Their sports bras are designed to provide support and comfort during exercise, with features such as adjustable straps and removable padding. They also come in a variety of colours and styles, so you can choose one that fits your personal style.
Tank tops:
Tank tops are a great option for workouts, as they provide both breathability and freedom of movement. H&M offers a variety of tank tops, from basic black to trendy prints. Their tank tops are made from lightweight, breathable fabric that wicks away sweat, keeping you cool and dry during your workout.
Here is a list of gym outfits for ladies at H&M that you don't want to miss:
1. Light Support Sports bra in DryMove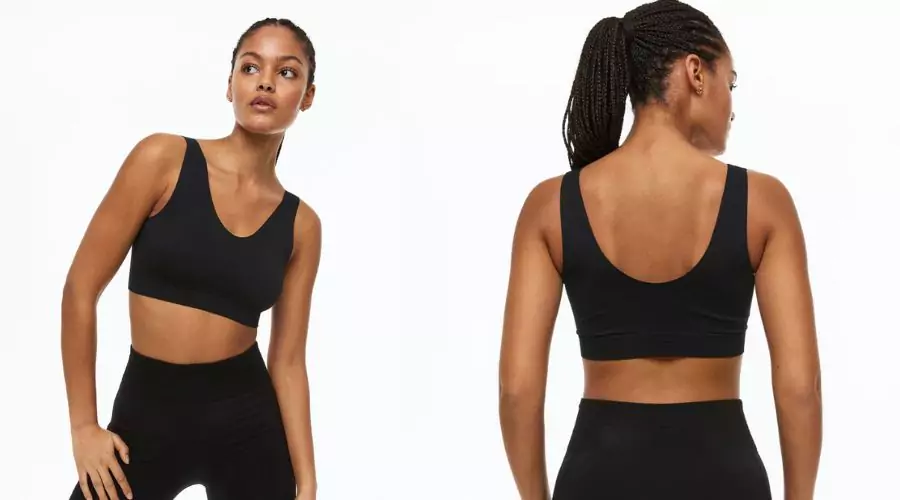 The Light Support Sports bra in DryMove is designed with several features that make it suitable for different types of workouts. Firstly, the DryMove fabric technology used in making this sports bra ensures that it wicks away moisture from the skin, keeping the wearer dry and comfortable throughout their exercise. This feature is particularly important for women who engage in high-intensity workouts that may cause them to sweat profusely.
The Light Support Sports bra in DryMove also has removable padding that provides extra support for the breasts, making it ideal for women who want to prevent bouncing and discomfort during workouts. The bra is also designed with a narrow racerback that offers full freedom of movement for the shoulders and arms. This feature makes it suitable for activities such as yoga, Pilates, and light cardio exercises.
---
2. High Waist Sports shorts
Gym outfits for ladies are no longer limited to basic t-shirts and leggings. With advancements in fashion and technology, the gym attire industry has seen a significant transformation in recent years. One such trend that has gained immense popularity is the high-waist sports shorts. H&M, a renowned fashion brand, has also incorporated this trend into its gym outfit collection. 
H&M's high-waist sports shorts are designed to provide maximum comfort and flexibility during physical activities. These shorts are made up of a blend of polyester and elastane, making them stretchable and durable. The high waist feature of these shorts is beneficial in providing support to the core muscles during exercises such as squats, lunges, and crunches.
---
3. Tennis skirt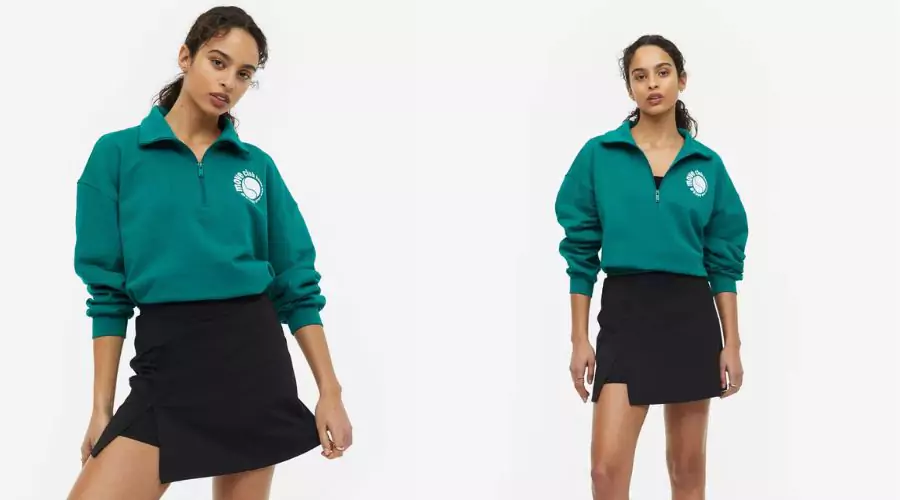 The tennis skirt is a fashion staple that can be seen both on and off the court. It is typically a short, A-line skirt that falls just above the knee, with a fitted waistband that sits comfortably on the hips. The skirt is often paired with a form-fitting top, such as a tank or a crop top, which allows for a full range of movement during exercise.
The tennis skirt is available in a variety of colours and patterns, making it a versatile piece of gym outfit for ladies. Some popular options include solid colours like black, white, and navy blue, as well as bold prints such as polka dots and florals. The skirt can also feature detailing such as pleats, ruffles, or zippers, which adds a unique touch of style to the garment.
---
4. Seamless Sports bralette
The H&M seamless sports bralette collection offers a range of features that make it an ideal choice for women engaged in sports and fitness activities. The collection is made from high-quality, breathable fabric that provides excellent support and comfort. 
The bralettes are available in a range of sizes, from small to extra-large, ensuring that women of all body types can find the perfect fit. Additionally, the seamless design of the bralettes ensures that there are no uncomfortable seams or stitches that could cause irritation or discomfort during physical activities.
---
5. High Waist Sports tights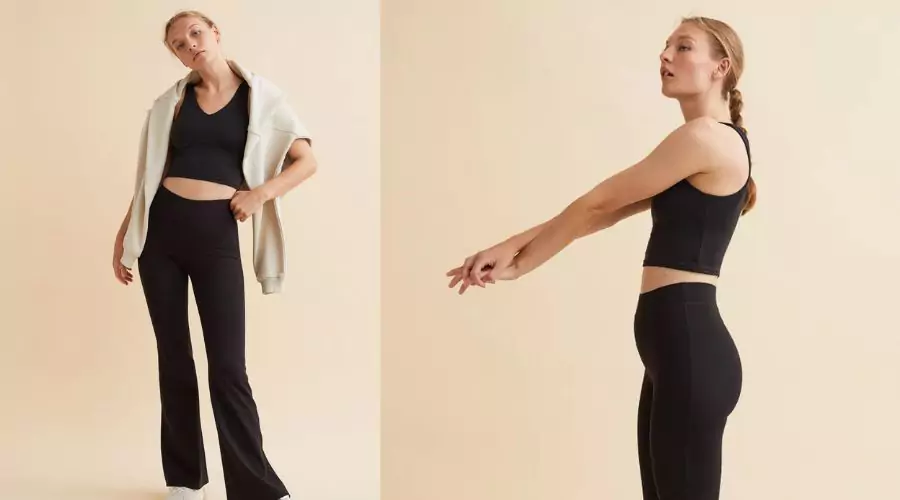 High-waist sports tights have become an essential item in every gym-going lady's wardrobe. These tights are designed to provide comfort and support during workout sessions, while also enhancing the overall aesthetic of gym outfits for ladies.
The high waist provides extra coverage and supports around the midsection, which can help to smooth out any bumps or bulges and create a more streamlined appearance. This is especially helpful for women who may be self-conscious about their stomach area or who want to create a more defined waistline.
---
Conclusion
Investing in quality gym wear is essential for anyone who wants to get the most out of their workouts. H&M offers a wide range of gym outfits for ladies, including leggings, sports bras, tank tops, and jackets. Their gym wear is designed to provide comfort, support, and breathability, helping you to perform at your best during your workout. Whether you are a seasoned gym-goer or a newbie, H&M has something for everyone when it comes to gym outfits for ladies. For more information, visit Trendingcult.
FAQs