Summer are here! That only means one thing it's finally time to put together a cute and stylish beach wear fit so that you can lay around on the beach or even enjoy various beachy activities with ease. Before jumping ahead directly to curating cool beachwear outfits, let's take a look at these 3 steps to understand what you really need.
3 Steps to Curating a Fashionable Beach Wear Fit
Step1: Occasion
When it comes to deciding on a cute beachy dress, you can easily drown in so many choices like whether you should go for swimwear, a coverup, or simply wear your basic clothing. It becomes simpler when you know what the occasion is, whether you are going to a beach party or just spending the day lying on the sand and relaxing. So, this helps narrows down your list of choices.
Step2: Style
Once you know what occasion it is, it's time to decide what kind of beach wear style you want to pull off, like whether you want to go chic, or sexy. The kind of style statement or design you choose says a lot about you, as you have surely heard that clothes speak for us, so if you want a comfortable fit or a stylish fit, it should do justice to your personality.
Step3: Accessories
Apart from selecting stunning beach wear, pairing it will other things like flip-flops or adding beachy accents only makes it whole. So, go for lighter shades, fun, and easy-to-carry accessories that go well with both your fit and occasion. Ensure that your outfit is balanced and you don't overdo it.
---
4 Trendy beach wear outfits ideas
1. Beach CoverUp Outlook
Do you want to go to the beach for a nice relaxing session and also stay ready for hanging out with friends? What's best than wearing a beach coverup that lets you show off that sensual bikini but still provides a bit of coverage? Take a look at this Hunkemoller's Beach Dress which would be just the perfect beach wear you might be looking for.
It is a stunning net beachwear coverup that comes in two classic black and white shades and has a cute little tie in the front. The article is made from a cotton blend fabric but you'd surely need lots of sunscreen to protect your skin from harmful UV rays. Pair the beach wear with toe-separators flip flops so you can easily walk around on the sandy beach.
---
2. Party Ready Beach Wear Fit
You don't have to leave comfort behind and get all dolled up just because you are going to a beach party. This long, flowy Hunkemoller's Beach Dress is a gem of an item that would look stunning for a lunch date or even for a beach party. The transparent long dress with a lit on one side gives the dress an eccentric touch and you can easily pair it up with a crochet bikini fit for adding that lavish touch. 
Take out your black or silver heels to go with the black elegant beachy dress, and wear some matching hoop earrings. And you have got yourself a fashionable, cosy, and comfortable beach wear party outfit.
---
3. Cute Beach Vacation Outfit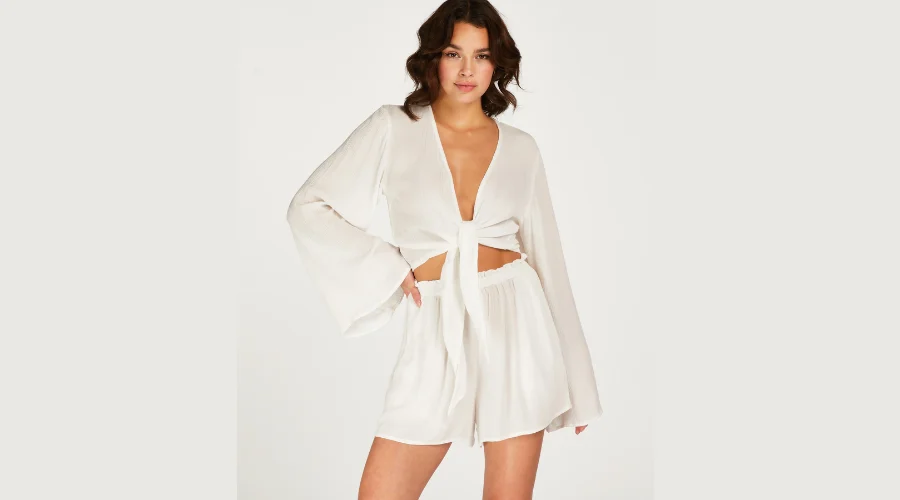 If you love travelling and spending all day long on beaches, investing in this Hunkemoller's White Beach Shorts would be an amazing idea. They are made from great flowy material that works perfectly well for breezy or sunny days. You can either add a printed mix to the shorts by pairing it up with a vibrant-coloured top or find a matching white top that wouldn't steal away the focus but will only enhance your beach wear outlook.
For turning the all-white theme beach wear look into a monochromatic one, you can add colourful slippers and a striped shoulder bag. Braiding your hair or giving them beachy waves will only add more style and elegance to your overall attire.
---
4. Summer Bikini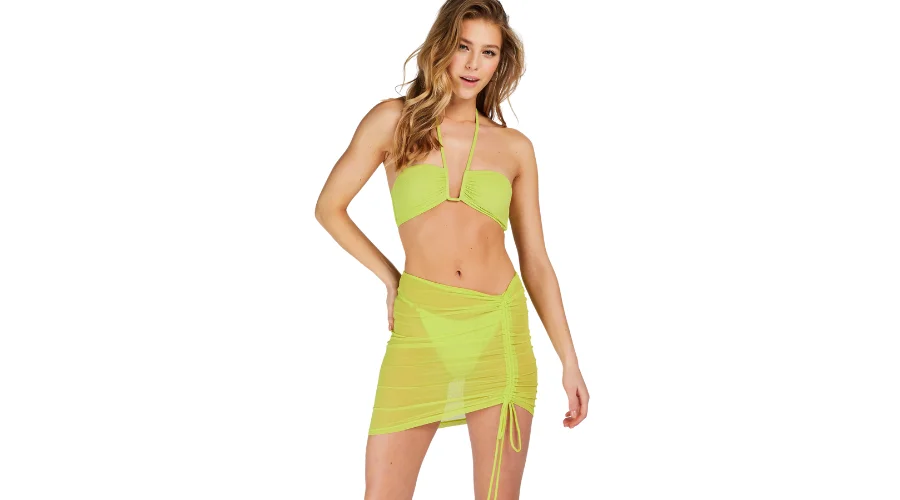 Everyone has a distinctive idea of the perfect bikini beach wear dress. And, with this Hunkemoller's Green Pareo, you can curate yourself a fashionable yet easy-going outfit that works for every occasion. Whether you want to go swimming, or simply lie down on the beach, wear this Pareo over your favourite bikini or swimsuit and you are all set.
The greenish-neon shade adds a bit of vibrancy and style to the overall appearance and you can easily shorten or longer the Pareo skirt with a tie attached on the hem. You can also add a body chain over the waist for completing the whole beach wear outfit.
---
Conclusione
Whether you want a classic beach fit or pull off a desirable beach wear outlook, Hunkemoller offers a wide range of beach wear collections at pretty affordable prices and various styles to choose from. Take on the ideas mentioned above, curate a beach wear fit according to your style and you are ready for the summer vacations to be spent in calming and pleasing beachy locations. For more such information, visit Trending Cult.
Domande frequenti