Loafers have long been a staple piece in men's fashion statements, combining comfort and sophistication in one timeless shoe design. Originally inspired by casual moccasins worn by Native Americans, men loafers have evolved into a versatile footwear choice suitable for various occasions. From formal events to casual outings, loafers effortlessly add a touch of elegance to any outfit. In this comprehensive guide, Trending Cult will explore the popular brand's men loafers and styling tips, helping you make informed decisions when adding these classic shoes to your wardrobe.
Top 5 men loafers collection for a classic and trendy look:
1. Penny Loafers Navy Suede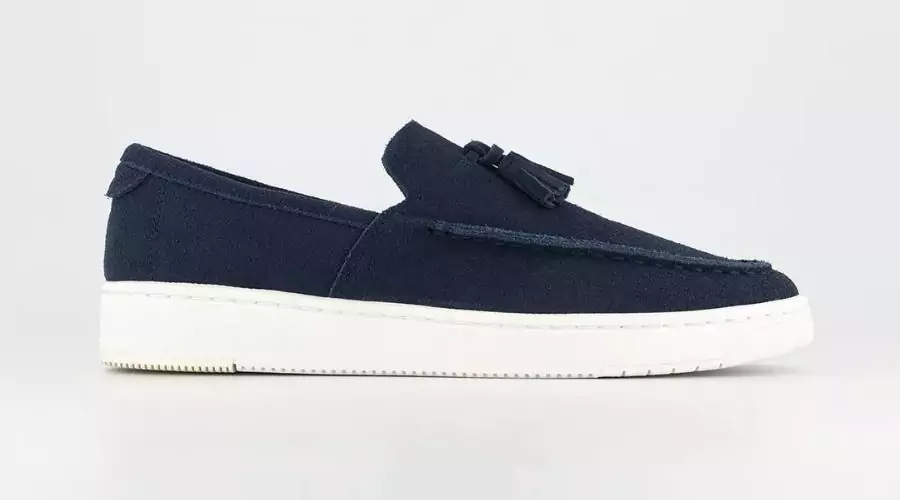 These Penny men loafers with suede tassel detailing are a sophisticated and stylish choice for men seeking a blend of elegance and comfort. The upper material, made of luxurious suede, adds a touch of refinement to these classic slip-on shoes. The lining, crafted from soft textiles, ensures a comfortable fit, making them ideal for extended wear. With their slip-on design, these penny loafers provide convenience and versatility, effortlessly complementing both casual and semi-formal outfits. Whether paired with dress trousers or jeans, penny loafers exude timeless sophistication for the modern gentleman.
---
2. Slip On Loafers Tan Suede
These Slip-On Men Loafers with a metallic ornament in tan suede exude a perfect blend of style and comfort. Crafted from premium quality suede, these loafers offer a luxurious and refined look. The metallic ornament on the vamp adds a touch of sophistication, elevating the overall design. With cushioned insoles, these loafers ensure all-day comfort, making them a practical choice for daily wear. The sturdy rubber soles provide excellent traction and durability, ensuring a confident stride on various surfaces. Whether paired with tailored trousers or casual jeans, these tan suede slip-on loafers make a fashion statement that exudes class and versatility for the modern gentleman.
---
3. Tassel Loafers Black Leather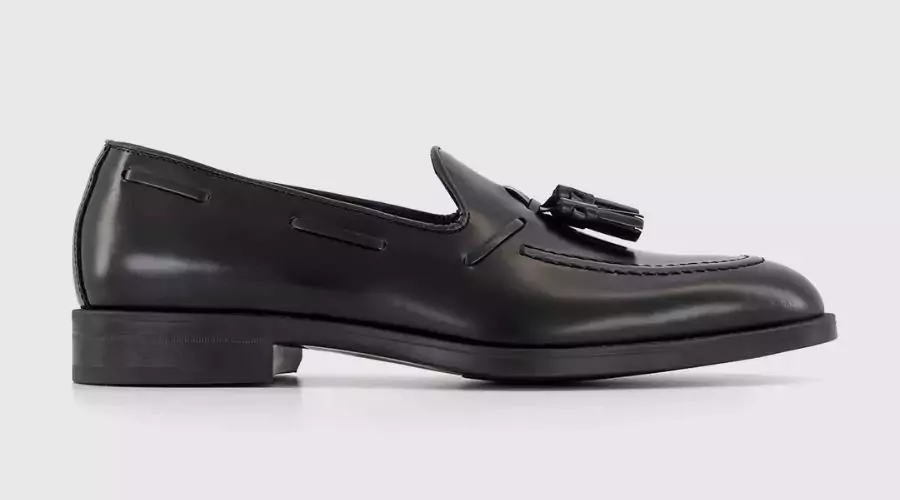 Tassel loafers in black leather create timeless elegance and sophistication. Crafted with high-quality leather, these black loafers for men boast a sleek and polished appearance, making them a versatile addition to any wardrobe. The tassel detail on the vamp adds a classic and refined touch, elevating the overall design. Lined with luxurious leather, these loafers offer comfort and breathability, ensuring a pleasant wearing experience. The almond toe shape adds a touch of modernity and complements the overall sleek look of the loafers.
---
4. Tassel Woven Loafers Tan Leather
Tassel Woven Loafers Tan Leather is a perfect blend of classic style and eye-catching details. The woven design and tassel detail on the vamp adds a touch of uniqueness and charm. These loafers are crafted with high-quality leather, ensuring durability and a refined finish. The synthetic sole offers excellent traction and sturdiness, making them a practical choice for various occasions. With a slip-on design, these loafers offer convenience and ease of wear.
---
5. Trvl Lite Loafers Oatmeal Suede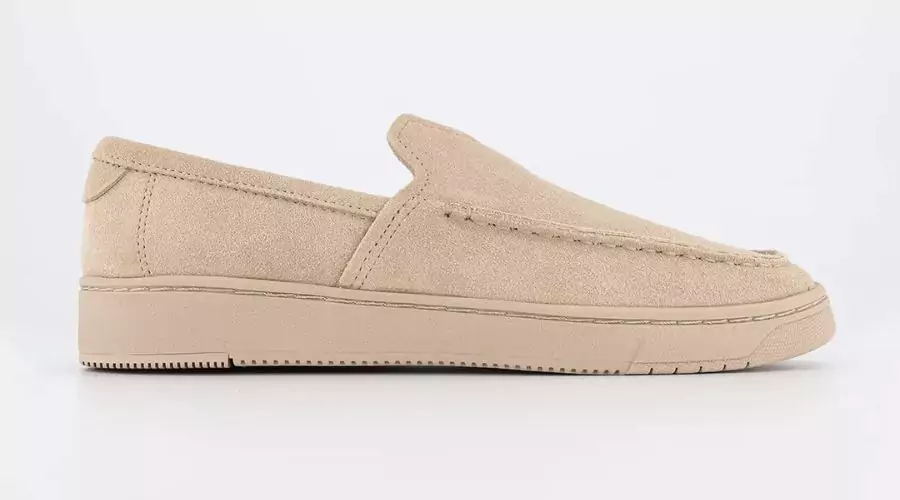 Trvl Lite Loafers Oatmeal Suede is a stylish and comfortable footwear choice that effortlessly blends fashion and functionality. Crafted with premium suede, these loafers boast a luxurious and soft texture that adds a touch of sophistication to any ensemble. The oatmeal color enhances their versatility, allowing them to complement various outfits, from casual to semi-formal. The addition of a platform heel elevates the shoe's profile, adding a subtle lift and a contemporary twist to the classic loafer style. The synthetic sole offers reliable traction and durability for long-lasting use.
---
Tips on styling men loafers for an effortless look:
One of the significant advantages of men loafers is their versatility in styling. Here are some tips to help you make the most of your loafers for various occasions:
Formal Wear: For formal events or professional settings, opt for classic black or dark brown leather penny loafers or tassel loafers. Pair them with a well-tailored suit in coordinating colors for a polished and dapper look.
Semi-Formal Attire: Tassel loafers or bit loafers in leather or suede are perfect for semi-formal occasions. Combine them with dress trousers, a button-up shirt, and a blazer for a sophisticated yet relaxed ensemble.
Casual Outings: Embrace the casual charm of loafers by wearing them with chinos or dark-wash denim. Tassel loafers or driver loafers in suede or leather can elevate your casual look effortlessly.
Summer Style: In warmer months, consider opting for light-colored loafers, such as tan or beige, to complement your summer wardrobe. Pair them with lightweight trousers or shorts for a comfortable and stylish look.
Smart-Casual Ensemble: Achieve a smart-casual appearance by pairing suede loafers with tailored chinos and a casual button-down shirt. This combination strikes the perfect balance between relaxed and refined.
Sock or No Sock: The sock or no sock debate is a matter of personal preference and occasion. For formal settings, opt for dress socks that match the color of your trousers. In more casual settings, you can go sockless or wear no-show socks for a modern and laid-back look.
---
Conclusion
Men loafers are a timeless and sophisticated footwear option that effortlessly blends style and comfort. Whether you're dressing up for a formal event or aiming for a casual yet refined look, loafers can be a versatile addition to your shoe collection. With the right styling and care, these classic shoes in the Office shoes collection will remain a staple in your wardrobe for years to come, serving as a symbol of elegance and understated luxury. So, step into the world of men loafers and embrace the fusion of tradition and contemporary fashion with these elegant slip-on shoes. For more information, visit Trendingcult.
FAQs