Athleisure has become a new fashion trend, and it's not just limited to wearing in gyms or when working out. Women are transforming these sporty looks into chic wear to easily fit them into their everyday routines now. And the best way to do this is by styling them accurately. This article curates five inspirational looks that you can choose to style women's sports leggings for a day out. So, if you also love wearing leggings all the time, do give this blog post a read.
5 Tips for Styling Sports Leggings For Women
It's safe to say that women's sports leggings are becoming quite trendy right now, and when you accessorize and style them efficiently, they can even contribute to an elegant runway look. So, take a look at these styling tips and let your inner stylist make a run for it.
1. Monochromatic Outlook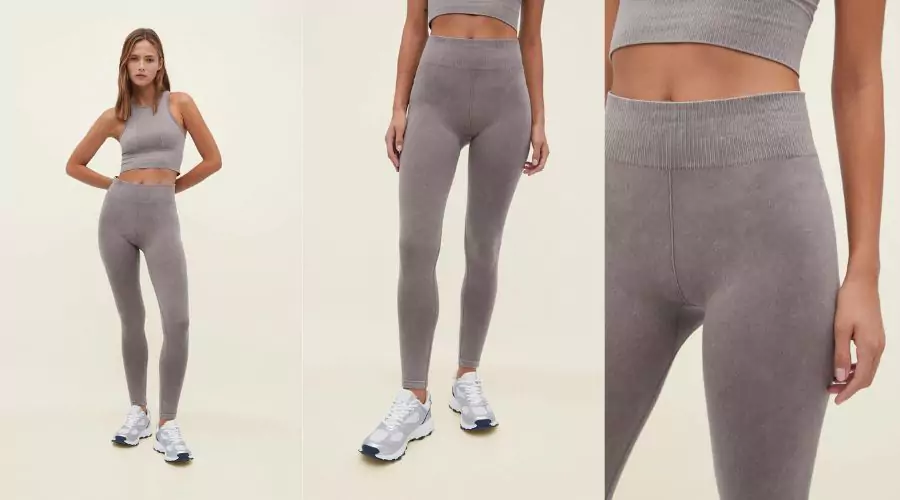 It's time to boost your fashion outlook by curating these Sports Leggings in a Washed Look by STRADIVARIUS. Not only will these women's sports leggings help make a seamless statement, but they will also combine fashion and comfort. The article is available in sizes from XS-XL and only costs €19.99.
You can style the high-waist leggings with a matching crop top or pair them up with a sweatshirt, running shoes, and a waist bag to maintain a minimalistic look. Available in so many vibrant colours like Heather Gray, Marine Blue, and Grey, you can even layer on a trench coat and make an adorable day-out attire that is both comfortable and stylish.
---
2. Classic Oversized Look
Styling a classic black legging look is the easiest and most versatile of all. Pick out the Black Sports Leggings Soft Touch from STRADIVARIUS and you can literally pair them however you like; the result will be stunning. This article is made from stretchy and soft fabric that provides a comfortable fit with freedom of movement. It is available in sizes from XS-XL, costing €29.99.
You can either pair these women's sports leggings with an oversized t-shirt or hoodie, a jeans hat, and sneakers for a casual look. Else, style it with a crop top and a bomber jacket for a fashionable outlook. Complete the attire with sunglasses, a handbag, and ankle boots, and you are ready to party.
---
3. Mix-Matching Colours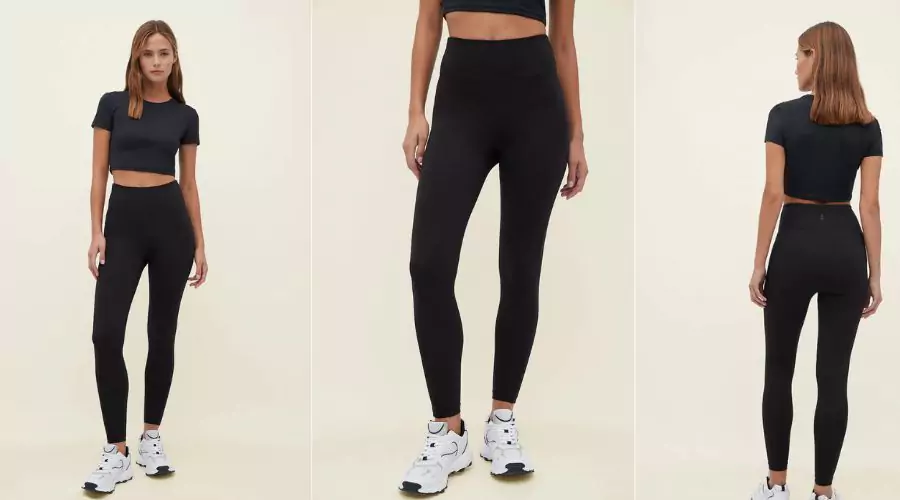 When deciding what to wear on those lazy weekends, try this Sports Leggings Sculpt by STRADIVARIUS that you can mix and match with a pop of colours. The stretchy, soft fabric made from high-quality polyamide and elastane provides enough support for an ideal fit. Available in three solid colours- khaki, navy blue, and black, it is one of the best women's sports leggings to invest in as it only costs €19.99.
Pair the sports leggings with a vibrant red or baby pink ribbed tank and add a long, flowy trench coat for the perfect twist to the classic outfit. If you are going for brunch, then styling the fit with shoes and a denim hat would work stunningly, but if you add heels and a clutch bag to the outfit, you are ready for a dinner date. So, order the stylish and comfy sports leggings right away and style it your way.
---
4. New Neutrals
If you are into neutral shades, trying STRADIVARIUS's neutral brown or light camel-shaded Sports Leggings in a Washed Look would sit perfectly with your body. Built from polyamide and elastane material, provides enough support and elasticity, making them fit smoothly on your body.
The activewear, ankle-length sports leggings for women are one of the best workout leggings, ideal for a gym session or a yoga session. You can pair the leggings with an oversized hoodie for an airy look or with a matching seamless top with sneakers and a running jacket to complete the look. Being one of the most affordable women's sports leggings, this clothing item only costs €19.99.
---
5. All-Black Fit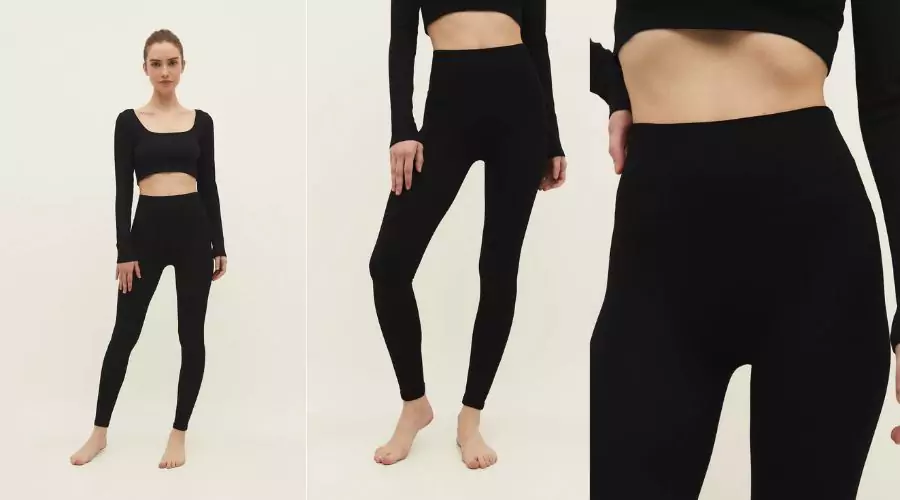 Going all-black is one of the safest and boldest looks you can pull off. And, to do that, check out this STRADIVARIUS's Seamless Sport Leggings with Herringbone Structure that provides a figure-shaping effect and fits your curves seamlessly. The women's sports leggings come with a high-waist band for better support and structure.
Style the leggings with a matching black fitted crop top or a ribbed top and layer it with a faux leather trench coat and ankle boots for a polished all-black look. You can also pair it with a black tank top and a furry Swoosh jacket for a quirky look. You can purchase the item in a range of sizes between XS-XL and it would cost you around €22.99.
---
Conclusion
Whether you style women's sports leggings for a workout session or for going out on dinner dates, STRADIVARIUS holds a wide selection of sports leggings that fit your body's shape perfectly well. And, made from high-quality fabrics gives them a comfortable and cozier touch. So, choose your favorite from a range of sizes and order right away. For more fun updates, visit Trending Cult.
FAQs