From classic silhouettes to contemporary designs, Dr. Martens offers a diverse array of sandals to suit every taste and occasion. Explore the timeless elegance of their gladiator-inspired sandals, exuding a touch of sophistication for those special events. For the adventurous souls, the platform and chunky sole designs add a bold statement to any outfit, while the sleek and minimalist options offer versatile styling options for everyday wear. Trending Cult has curated a list of top Dr Martens sandals on the OFFICE shoes which are a mix of classic style with a modern comfort twist.
The Best Dr Martens Sandals for every Women:
1. Myles Slides Black Brando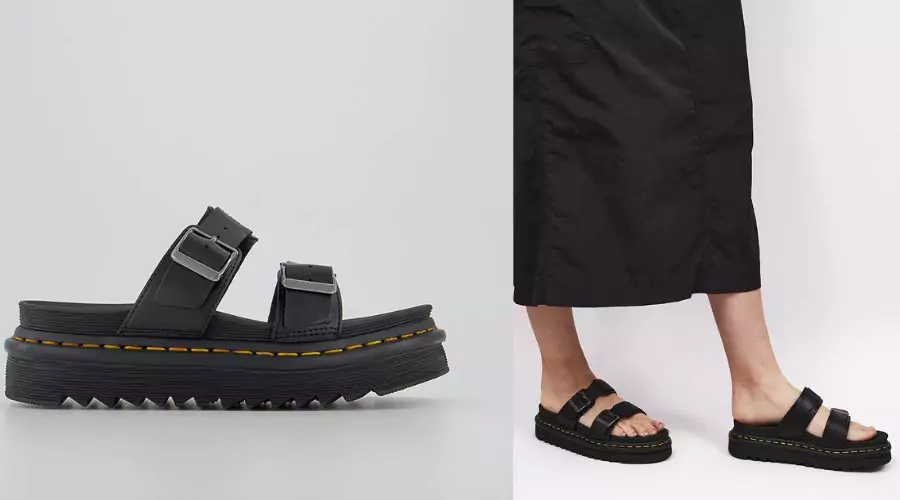 Te Myles Slides by Dr. Martens are a stylish and practical addition to the brand's sandals collection. Made from durable and hard-wearing waxy full-grain leather, these slides are built to withstand various conditions and daily wear. These slides feature two upper straps with fastening pin buckles, allowing for easy adjustability to achieve a comfortable and secure fit. To maintain their pristine appearance, the slides can be cleaned using a damp cloth, making maintenance hassle-free and ensuring they look great for a long time.
---
2. Nartilla Sandals Black Hydro
Nartilla Sandals Black Hydro by Dr martens sandals are classic and elegant gladiator-inspired footwear that feature hydro leather upper ensuring durability and resistance to water, making them suitable for various weather conditions and everyday wear. One of the standout features of these sandals is the lightweight ripple effect sole. This unique sole design not only enhances the overall aesthetic but also provides excellent traction and comfort for extended wear.
---
3. Kimber Sandals Polyrip Stop Black Element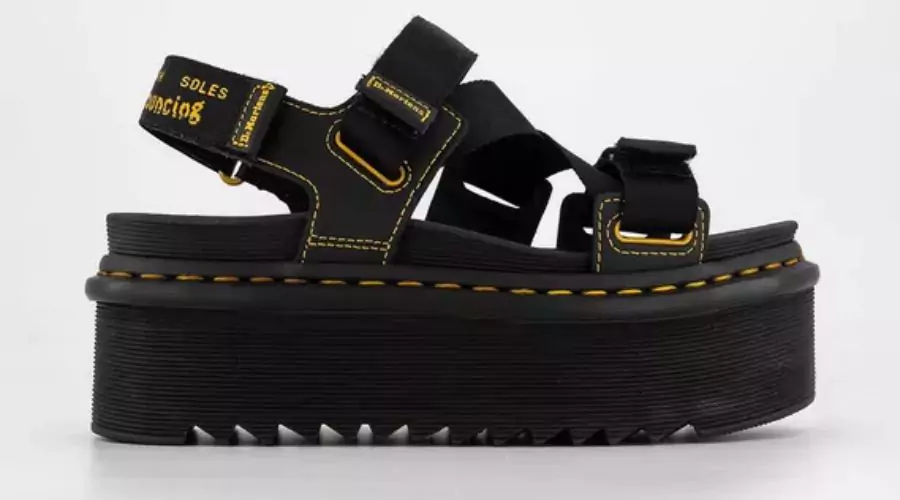 Crafted with a mix of high-quality materials, these Kimber Sandals Polyrip Stop Black Element deliver a unique and eye-catching appearance. The Polyrip Stop Black Element upper adds a touch of edginess and modernity to these sandals, making them stand out in any crowd. Featuring a hook and loop fastening, they offer an adjustable fit that is both convenient and secure. The platform design heel type adds a trendy elevation to your style while maintaining stability and ease of wear.
---
4. Ayce Slide Sandals: Olive Milled Coated Leather
Ayce Slide Sandals olive colour Dr Martens sandals are a sleek and modern addition to the brand's collection, designed to provide ultimate comfort and effortless style for your everyday adventures. The cleated heel complements the modern design while providing an elevated feel without compromising on comfort. The convenient slip-on fastening allows you to effortlessly slide your feet into the sandals, making them a convenient choice for those busy mornings or quick outings.
---
5. Jorge II Slingback Sandals Rust Tan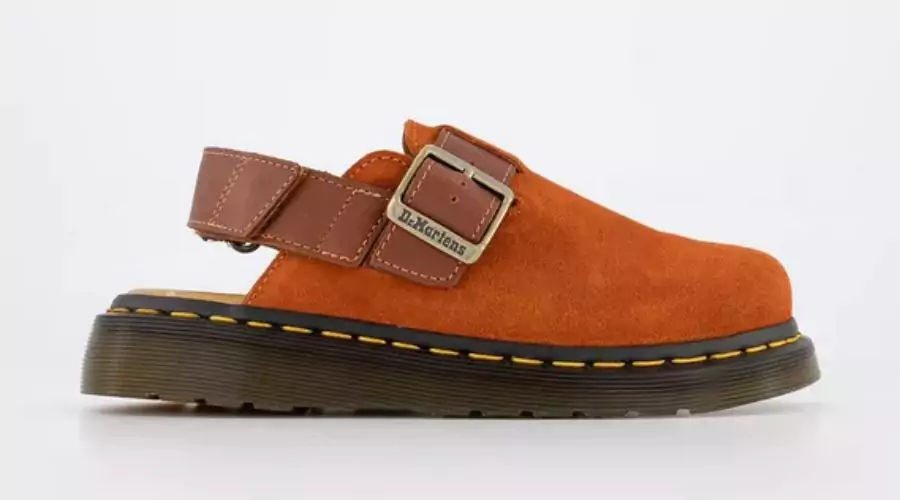 Crafted with a suede upper in a warm and earthy rust-tan shade, these Jorge II Slingback Sandals Rust Tan by Dr Martens sandals exude a sense of sophistication, making them a versatile choice for various occasions. The luxurious suede upper of the Sling Back Sandals adds a touch of refinement to your ensemble. Designed for optimal comfort and durability, the sandals feature a rubber sole that provides excellent grip and stability. A slingback strap not only enhances the overall look but also provides a practical function, ensuring a secure fit throughout the day.
---
6. Olson Sandals White
Olson Sandals White by Dr Martens sandals are made with soft Milled Nappa leather to offer a luxurious feel and durable construction for lasting wear. Featuring a front zip and adjustable buckles, providing easy on and off access. The DM Goodyear-welted lines are heat-sealed at 700°C, guaranteeing long-lasting durability and stability. Reinforced with the brand's signature welt stitch, these sandals are designed to withstand various terrains and offer the ultimate support for your feet.
---
7. Myles Sandals Dark Brown Suede Cream Sherpa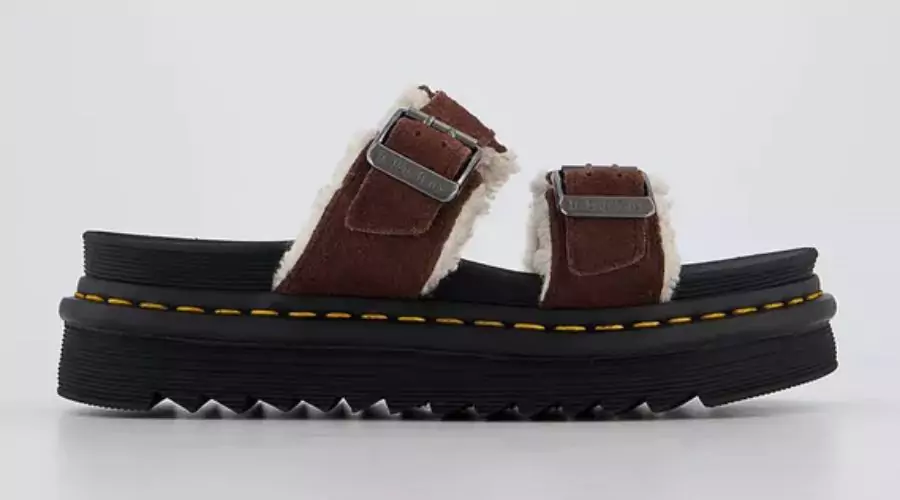 These Myles Slides are a testament to both durability and fashion-forward design. Crafted from premium suede, these slides are built to handle any challenge with ease. These slides feature two upper straps adorned with fastening pin buckles, allowing you to enjoy an adjustable and practical fit. In a versatile dark brown colourway, these slides add a sophisticated touch to your wardrobe, effortlessly complementing various outfits and styles. The luxurious Sherpa lining provides an unparalleled level of coziness, enveloping your feet in softness and ensuring a comfortable experience with every step.
---
Wniosek
Designed to stand out from the crowd, this Dr Martens sandały collection on the OFFICE shoes showcases a range of fashion-forward styles that complement any wardrobe. Each pair is crafted with the brand's signature attention to detail and quality, making them a must-have addition to your footwear collection. When high-profile figures like Rihanna, Gigi Hadid, and others wear Dr Martens sandals, it signals that the brand is not only trendy but also accepted among the fashion elite. This exposure and association with A-list celebrities elevate the brand's status and credibility, making it more desirable to consumers. 
For more information Dr Martens Blaire sandals, visit Popularny kult.
Często zadawane pytania