As technology continues to advance, so does the way we interact with our homes. One of the latest advancements in home automation is the smart light switch, which allows you to control your home's lighting from your smartphone, tablet, or voice-controlled virtual assistant. In this blog, we'll explore the benefits of smart light switches and what features to look for when shopping for one.
How smart light switches work
Smart light switches work by connecting to your home's Wi-Fi network, allowing you to control your lights remotely. There are two types of smart light switches: those that replace your existing light switch and those that plug into a wall outlet. The former requires a bit of electrical knowledge to install, but the latter is as easy as plugging in any other device.
Once installed, you can control your lights with a dedicated app on your smartphone or tablet. You can turn your lights on or off, adjust brightness, and set schedules or timers. Smart light switches also work with virtual assistants like Amazon Alexa or Google Assistant, so you can control your lights with your voice.
Benefits of smart light switches:
One of the primary benefits of smart light switches is convenience. With a smart light switch, you can turn your lights on or off without ever leaving your couch. You can also adjust your lighting from anywhere, whether you're at work or on vacation. Plus, with voice control, you don't even need to use your hands to turn your lights on or off.
Smart light switches can also help you save on your energy bills. With scheduling and timer features, you can ensure that your lights are only on when you need them. You can also adjust the brightness of your lights, which can further reduce energy consumption.
Smart light switches can also improve the security of your home. With scheduling features, you can make it look like someone is home, even when you're away. This can deter potential burglars, who are more likely to target homes that appear unoccupied.
While smart light switches are initially more expensive than traditional light switches, they can help you save money in the long run. By reducing energy consumption and improving the security of your home, smart light switches can help you save on your energy bills and reduce the likelihood of break-ins.
Top picks for smart light switch for you: 
1. PHILIPS HUE Smart Wireless Dimmer Switch V2
Philips Hue Smart Wireless Dimmer Switch V2, a must-have for anyone looking to upgrade their home lighting experience. With this switch, you can easily and smoothly dim or brighten your lights without ever leaving the comfort of your couch or bed.
Control up to 10 lights with a single switch and pair it with the Hue Bridge to unlock even more controls and customization options. This switch can be mounted on any wall, or used as a remote control for added convenience.
Experience easy, smart lighting by using this switch to adjust the lighting in your home based on the time of day, toggle light scenes or simply dim or brighten the room. With its wireless design and battery-powered operation, installation is a breeze and the switch can be mounted anywhere with the included adhesive tape.
Switch between the four preset light recipes, Read, Relax, Energise and Concentrate, by simply pressing the Hue button. And with the Hue Bridge, you can even customise the switch with your favourite light scenes and set the perfect lighting based on your preferences.
2. PHILIPS HUE Bridge Smart Lighting Hub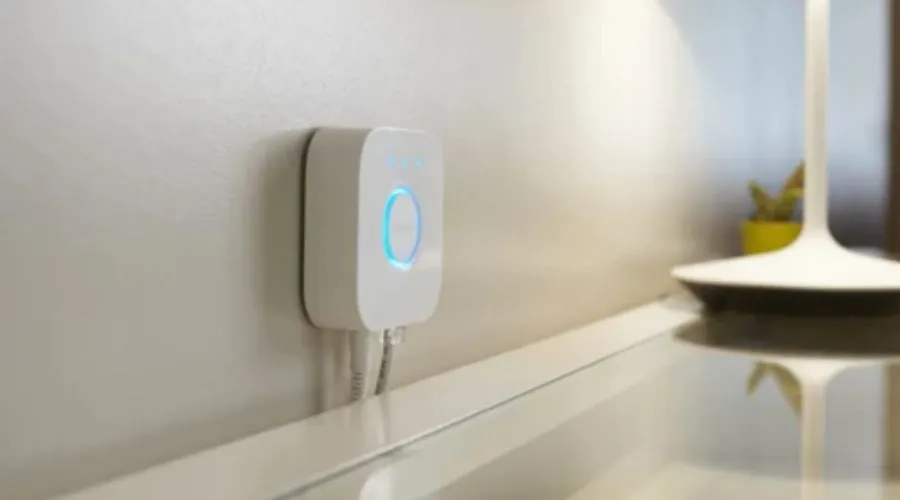 The Philips Hue Smart Bridge is the heart of the Philips Hue system, allowing you to connect and control up to 50 of your Philips Hue smart lights with ease. The bridge is easy to set up using the Philips Hue app on your smartphone or tablet, and it unlocks a range of features that allow you to automate your lights and create custom lighting schedules.
With the Hue Bridge, you can also control your lights remotely from anywhere using the Philips Hue app, making it easy to check and control your lights even when you're not at home. And with compatibility with Amazon Alexa, Apple HomeKit, and Google Home, you can even control your lights with your voice.
The Philips Hue Smart Bridge is based on ZigBee technology, a low-power and reliable technology that ensures seamless and wireless updates to both the software and firmware of your Philips Hue products. With the Philips Hue Smart Bridge, you can easily create a personalised and seamless lighting experience throughout your home.
3. ENER-J WS1060X Wireless Kinetic Switch and RF Receiver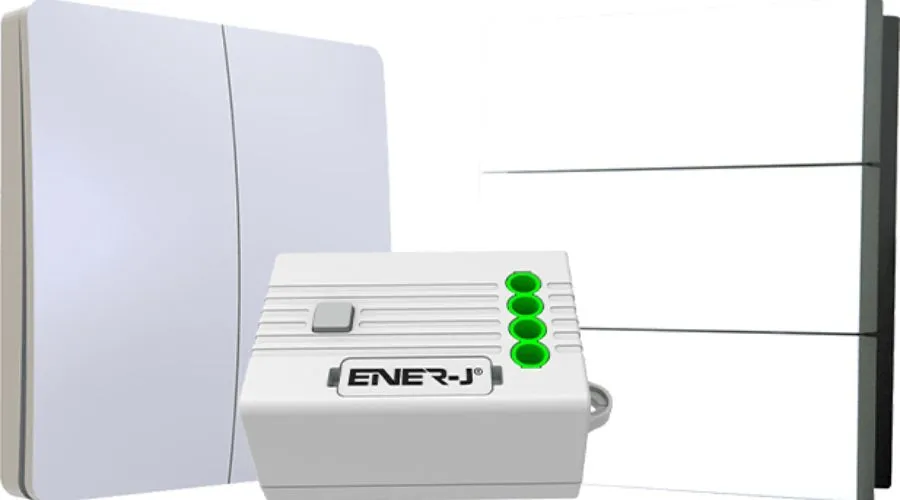 The Ener-J wireless switch brings the magic of kinetic energy to your home. With no batteries or wiring required, just a press of the button is enough to turn on your lights. You can carry it around or place it wherever you need. It works up to 80 metres outdoors, so you can even switch on porch lights from the end of your garden. The switch is also IP56 dust and water-resistant, making it perfect for use in the bathroom.
With multiway switching, you can control several lights with one switch or one light with multiple switches. The switch is suitable for any light, including halogen, incandescent, CFL bulbs, fluorescent tubes, LED lighting, and more. The ultra-low power consumption means that the switch can last up to 20 years, so you won't have to worry about replacing it anytime soon. The only wiring you need is for the RF receiver that sits between your light and its power supply.
Conclusion 
A smart light switch is a great addition to any home. It offers convenience, increased security, and energy savings, making it a worthwhile investment. With its various features and benefits, a smart light switch can make your life easier and improve your overall home experience. Consider installing one today and experience the difference it can make! Visit trendingcult for more articles.
FAQ's