If you are looking for some slimming padded bikini tops, Hunkemoller, one of the top European lingerie brands offers a broad fashionable collection. You can choose from basic essentials to a sexy range of articles, all made with high-quality silhouettes and providing a comfortable and stylish fit. So, get beach ready with these 7 Padded Bikini Tops offered by Hunkemoller at pretty reasonable prices.
7 Stunning padded bikini tops for curating the perfect beach attire
1. Molded Push-up Underwire Bikini Top Scallop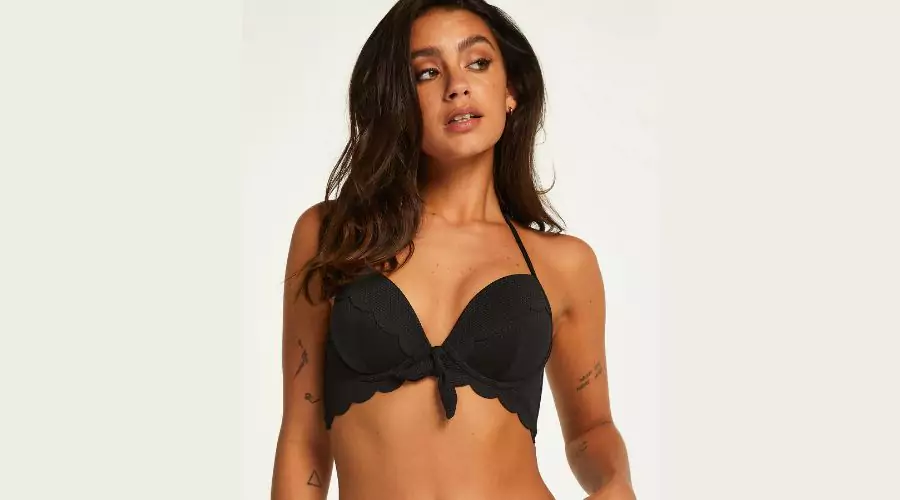 For those who want to invest in a classic black bikini top that will help enhance their assets, this Molded Push-Up Underwire Padded Bikini Top is a perfect choice. This push-up bikini top comes with a scalloped edge and a back tie, providing high support along with a stunning fit. 
The black padded bikini top is made from 100% recycled polyester, giving it a softer touch and it covers larger sizes as well ranging between European 65-95 band size, and cup sizes from A-D. The bra costs €34.99.
---
2. Triangle Bikini Top Sardinia- Red
This stylish and sexy bikini top is perfect for a beach vacation or a beach-themed party. The padded triangle bikini top closes at the front, making a cute bow. The Triangle Bikini Top Sardinia may provide little support but offers a fashionable outlook to pull off this summer. It comes with removable padding, so if you prefer non-added bikinis, you can simply remove them. 
The fabrics used to make this chic-red bra consist of 80-90% of recycled polyamide (nylon). And, is available in varied sizes including XS-2XL, with a cost of €27.99.
---
3. Riviera Bandeau Bikini Top- White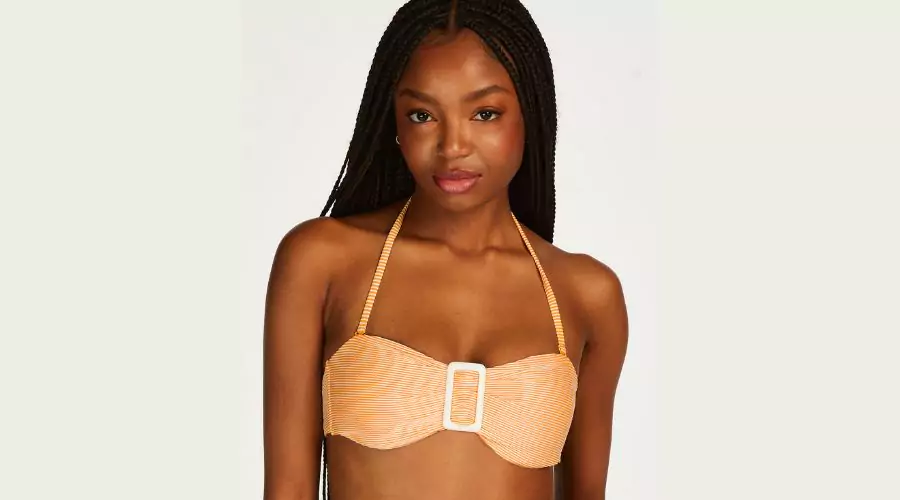 If you want to create a bold and modish beach appearance, this Riviera Bandeau Bikini Top with a white base and orange stripes is an elegant choice. Not only this bikini features detachable and adjustable straps providing a comfortable back and neck closure, but it's also embellished at the front between cups. 
You can wear this stunning padded bikini top as it is or remove the paddings if you'd like. The fabric used is 60-79% of recycled polyester, is available in sizes ranging between XS-2XL, and only costs €7.
---
4. Padded Underwired Bikini Top Scallop- Green
Pull off smart and whimsical beach attire by pairing this Green Padded Bikini Top with matching bottoms. It has a playful scallop edge, adjustable straps, and is underwired providing you with moderate support. The contemporary bikini top fits your body perfectly giving a sizzling appearance for bolder, confident women to pull off. 
The padded scalloped bikini top is available in larger sizes as well ranging between European 65-95 band size, and cup sizes from A-F. And, the bra is also available in two more colours- black and blue to choose from, costing €7 only.
---
5. Padded Underwired Bikini Top Seia- Purple
For an eye-catching outlook, this Purple Padded Bikini Top proves to be a real gem. It comes with removable padded cups along with an underwire providing maximum support and superior comfort fit. The bra has a playful frill border on top along with detachable double straps that you can style however you like. 
The fashionable bikini top is made from 80-99% of recycled polyester giving it a lighter and pleasant touch. This padded bikini top is available even in bigger sizes ranging between European 65-95 band size, and cup sizes from A-F. And, the bra only costs €7.
---
6. Tahiti Triangle Bikini Top- White
Whether you want to go sunbathing or swimming, this striking Tahiti Padded Triangle Bikini Top gives you a fun and lively vibe. It comes with removal padding, and the top closes with loops tied to the neck and back. A white base and colourful stripes on the bra along with the best fit, make it the perfect outfit for a beach day.
The bra is made from 80-99% of recycled polyamide fabric, providing a gentler and smoother touch. You can find this stylish Tahitia Bikini Top in various sizes ranging from XS-2XL, and it only costs €7.
---
7. Padded Underwired Bikini Top Made of Lurex Fiji- Green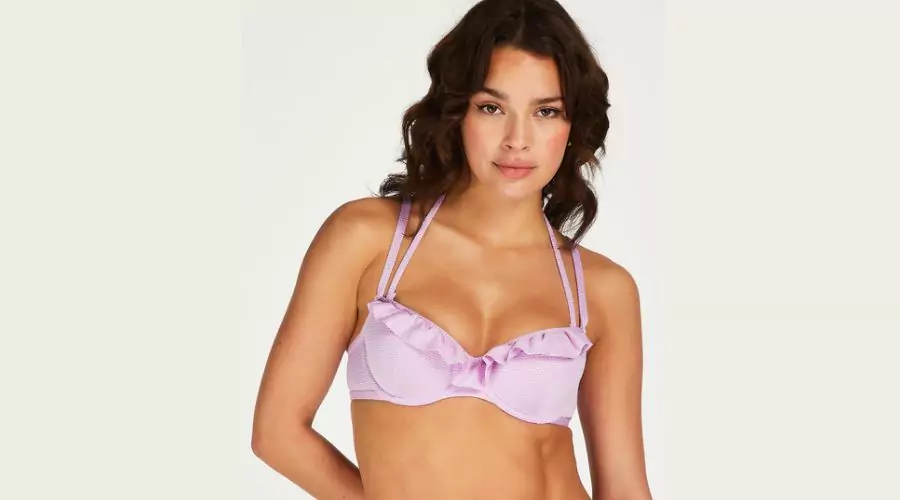 For women who love to showcase their fierce and confident side, this Padded Bikini Top offered by Hunkemoller is what you need. It has a dynamic design along with adjustable straps, and a back clasp for a cosy and comfortable fit. The bra is both padded and underwired, providing full support and extra coverage, so you can relax and enjoy the beach day.
The article is made from 79% polyamide making it durable and comes in varied sizes ranging from European  65-95 band size, and cup sizes from B-F. The non-removing padded bikini top only costs €7.
---
Conclusion
Whether you need a standard padded bikini top or want to try something bolder, Hunkemoller has a selection of lingeries to choose from. They are made of recycled fabrics along with stylish designs and comfortable fits that will last all summer. So, whether you have an upcoming beach vacation or require a bikini top for everyday use and that too at affordable prices, take a look at Hunkemoller's website. You'll definitely find the ideal fit you are looking for. For more such information, visit Trendingcult.
FAQs