Having a tough time keeping track of your shoes? Whether it's your latest heels or branded sneakers, we promise that safeguarding them isn't a hectic process. Shoe cabinets are the answer to your worries! If you haven't heard of them before, shoe cabinets (also known as shoe racks) are like mini cupboards for your shoes. Like a shoe closet. They make storing and arranging footwear easy and hassle-free. Are you thinking about integrating shoe cabinets in your furniture catalog? vidaXL's array of shoe cabinets includes products of different colors and materials. Keep reading to find out more! 
Shoe cabinet recommendations to safe-keep your shoes- 
Take a look at these unique, cool, and narrow shoe cabinet from vidaXL:
1. Walnut Wood Shoe Rack with Drawer
Do you love light-colored furniture? Then this walnut wood shoe cabinet is a great option for you! There are four compartments for you to keep your footwear however you want and there is a drawer on the bottom as well. You can use the bottom drawer for keeping shoes that you won't wear this season or other shoe accessories. 
It is advisable to keep the shoe cabinet mounted on the wall. This will keep it from tipping over and your shoes will stay in place. Categorize your shoes however you like!
---
2. White Shoe Rack With Cushion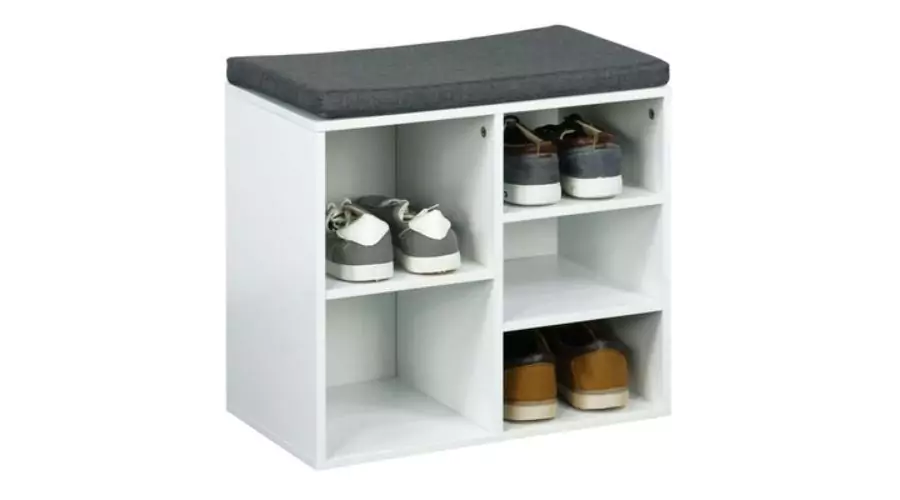 This handy shoe rack is absolutely everything! With ample space to keep your shoes in five different compartments, there is also a cushion on the top for comfortable seating. So, save time in the morning, pick the pair you want to don that day, sit on the cabinet, and wear your shoes! No need to waste time rushing to the living room to wear your shoes! 
This shoes cabinet is best recommended for those who are living alone or someone who wants a  separate shoes cabinet for themselves. This white chipboard shoe rack is classy and will give your home an upgrade.
---
3. Aluminum Shoe Rack with Bars 
Not a fan of wooden shoe racks? This aluminum cabinet is a perfect match for you. Keep it simple and modest without breaking the bank. You can keep 30 shoe pairs and 6 boots easily. No need to spend hours sorting your shoes in a cupboard, just hang them on this rack and you are free! 
The best part about this shoe rack is that you can easily see your shoes and so planning outfits becomes simple! This item doesn't take much space and hence can be kept in your room too! There is an option to adjust the height according to your preferences.
---
4. White Shoe Cabinet with 12 Interlocking Compartments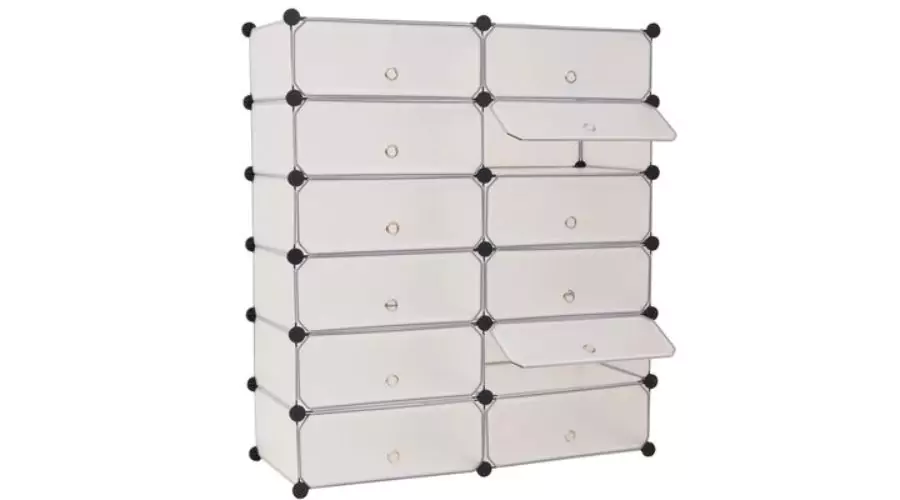 Don't you just love the vintage vibes? This white shoes cabinet exhibits that exactly! The whitish shade and steel frame give it an old-school look. Are you a clean freak who is super particular about your shoes? Then this may be the right shoes cabinet for you. Keep all your shoes inside away from the dusty environment and brush off the responsibility of cleaning them every two days. 
The cabinet is lightweight and functional. All you have to do is sort out your shoe collection and decide the compartment for each one of them!
---
5. Finori's Three Colored Shoe Cabinet
Is colorful your thing? Then you will love this gray, white, and blue cabinet. The cabinet comes with 3 flap doors that have two compartments each. According to the brand, the cabinet is perfect for 12 pairs of shoes! The shoe rack is easy to assemble and the wooden legs give it a cutesy finish. So, it's time to give your shoes a new home!
---
6. Processed Wood Shoe Cabinet in Black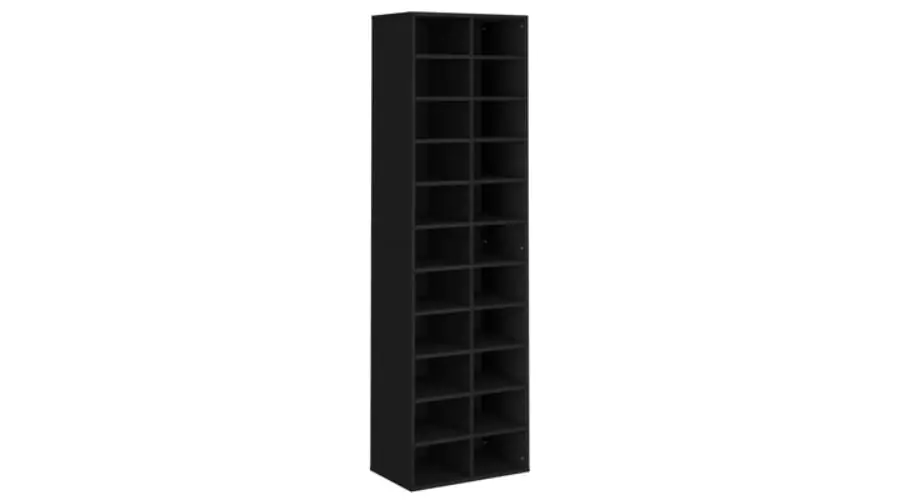 Add a touch of elegance to your life with this black shoe cabinet. If you got a large shoe collection and want them all in one place then this 22-compartment shoe rack is waiting for you! Absolutely easy to clean and maintain, you don't have to spend much time taking care of it. The shoe rack comes with other accessories to help with wall mounting so that the rack doesn't tip over. An attractive feature of this rack is its versatile functionality. If not shoes, then you can store other decorative or essential items here! If you don't want black then there are nine other options for you to decide from!
---
Conclusion 
Shoe cabinets are convenient, easy to maintain, and highly practical. They come in so many shapes and forms that you don't have to worry about running out of space or losing your shoes again! vidaXL's comprehensive catalog of shoes caters to different needs. Whether it's a shoe rack for a family or an open rack, you'll find it all here. 
For more information on a slim shoe cabinet, visit Trending Cult. 
FAQs