Does your living room feel empty, or are you considering a full home makeover? Vida XL's expansive range of home and garden products will help you achieve your desired interior decor! Let's talk about a stable and handy add-on that can be a perfect member of your furniture family! Wooden TV Stands!  
Wooden TV stands provide great support for your TV and related accessories (like wires, speakers, etc.). They help fill spaces, aestheticize the room, and are great storage options for other items like decorations, landline phones, and wifi routers. 
Why shop with vidaXL? 
vidaXL is an online retailer based in the Netherlands. It includes a diverse variety of home and garden related items. From furniture, hardware, garden ware, vehicle parts, electronics, and sporting goods, all your useful things are here! 
If you think your home needs an upgrade or you are shifting places, then consider this convenient and trustworthy platform for your home decor and interior designer needs! vidaXL has been launched in 30+ countries, including Australia, the United States, Japan, and Saudi Arabia. 
Wooden TV Stand recommendations for your dream home! 
Okay, it's time to make your idealized home a reality! If you are confused about what type of wooden TV stand to choose, here are some suggestions! 
1. TV Cabinet with 2 Sliding Doors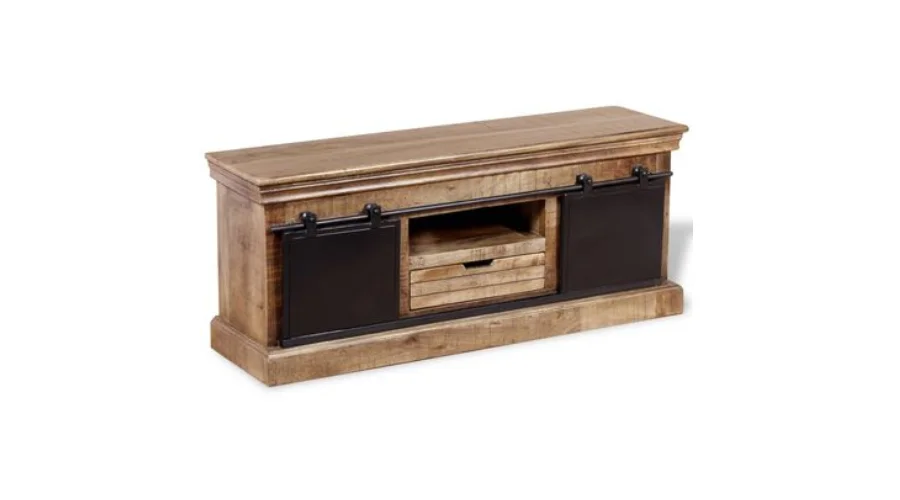 Made of mango wood, this durable and firm wooden TV stand is multi-functional and handy! There is space for you to keep various items, and there are two compartments included. The blackish-woody look of this TV cabinet gives it a vintage type vibe. If you are a sucker for those old movies, then bring home this TV stand that represents something you dearly love.
---
2. TV Cabinet Aviator Vintage Aviation Style 
Made from mango wood and aluminum, this TV stand looks like a cute radio from the 90s! A perfect addition to bring in jaw-dropping looks and sentiments. Who wouldn't appreciate this beauty? This TV stand is spacious and comes with two compartments and four drawers. 
If you feel like your home needs something unique, then this TV stand is it!
---
3. TV Cabinet Solid Mango Wood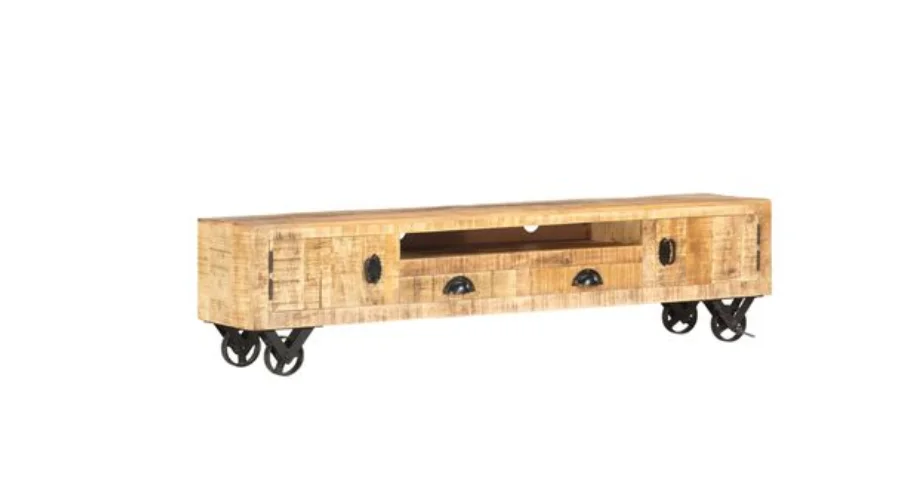 Hate heavy things? Who doesn't! If you don't want to bear the hassle of picking up and relocating your TV cabinet, then this wooden TV stand needs your attention! It has two drawers, two doors, and one compartment. Plus, the biggest advantage of having this stand is that it has four roller wheels! So, if you don't like your cabinet's position, just shift it! A gentle push, and you are good to go! The whitish wood color gives it a stylish finish.
---
4. Solid Teak Wood TV Cabinet 
Not a fan of fancy TV stands? Keep it simple and modest with this teak wood TV cabinet. Shaped like a table, if you feel like giving it another purpose, then consider that! The patterns on the cabinet give it a fancy finish and add a pop of design. Strong and sturdy, the teak wood material ensures durability and a long-lasting affect. The tabletop is smooth and easy to maintain.
---
5. TV Cabinet Black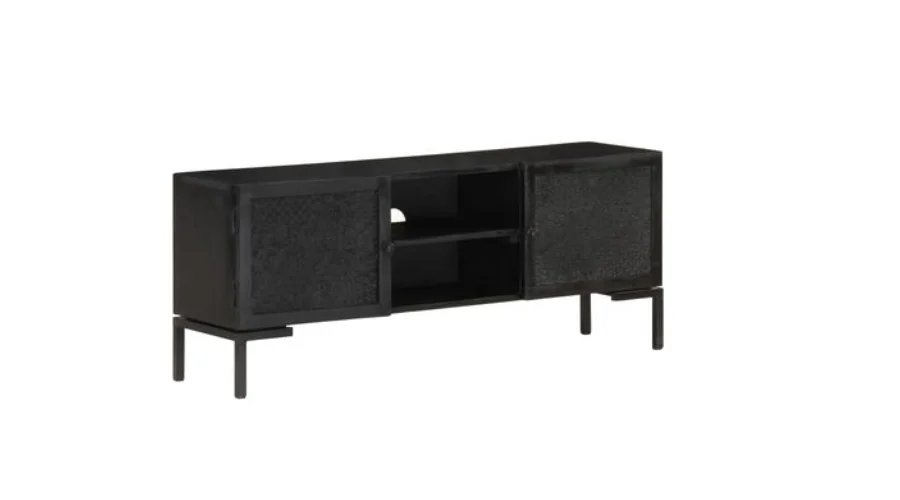 If you prefer furniture that blends in well, then a black TV stand is the right choice for you! This cabinet has two shelves and drawers, providing you with space to keep small and important items. Black gives this TV cabinet a touch of sophistication. The mango wood ensures the strength and weight handling capacity of the cabinet. So don't worry about your heavy TV! This black TV stand will do its work with grace. 
---
6. Homemania TV cabinet 
How does a white TV stand sound in your room? If you have white furniture or love the aesthetics 'white' offers, then you will love this one! A classy item, this white tv stand comes with one drawer and one shelf to keep some basic essentials like wifi router, CDs, call logs, etc. 
One of the best parts of choosing this TV cabinet is that it is white in color, so if it gets dirty, you'll know! Easy to clean and maintain; you won't have to do much! All you need to do is place it properly and let it shine!
---
Conclusion 
Wooden TV stands are an excellent way to have a comfortable TV viewing experience while also accessorizing your living room. vidaXL's array of outstanding wooden TV stands is impressive and a heavenly treat! If you are very particular about how to decorate your home and additional spaces, then the list of products on vidaXL will surely help you! If you are considering incorporating wooden TV stands into your living space, then come back for these recommendations for guidance! For more information, visit Trendingcult. 
FAQs 
What material is best for a TV stand?
TV stands are made of many types of materials. Some popular ones are- Metal, wood, and glass. Some TV stands are made from a combination of various items. 
Is it necessary to have a TV stand?
Although it is not necessary to have a TV stand, having one is a convenient and safe option. Not only is your TV secure, but you also have ample space to decorate and keep other things. At the same time, TV Stands make great furniture pieces and give living rooms a great update. 
What can I use in place of wooden TV stands? 
If you are not a fan of wooden TV stands, then you can consider TV stands made of other materials. If you do not want to opt for stands, then attaching the TV to the wall (if you have a wall TV) is also a great option. Besides that, you can use tables and dressers too!