Best Restaurants In Barcelona  – Barcelona is one of the most sought-after cities in the world for its vibrant culture, stunning architecture, and unique cuisine. Eating out in Barcelona is a must-do for any traveller, as the city is home to an incredible variety of restaurants, from traditional tapas bars to Michelin-starred restaurants. Barcelona has a variety of food to offer depending on everyone's taste. Whether you are looking to sample local specialities or international cuisine, the city has a culinary scene to please you. But with thousands of restaurants to choose from, it can be hard to decide where to go. Fortunately, we have rounded up five of the best restaurants in Barcelona, so you can rest assured that your next meal will be memorable.
---
Best restaurants in Barcelona:
1. Gravin Restaurant at Borne
The Gravin Restaurant is one of the best restaurants in Barcelona for a delicious Italian meal which serves an array of homemade pasta and other Italian specialities with an emphasis on fresh market produce.
The menu is full of delicious dishes that will surely tantalise your taste buds. You can Start your meal with smoked aubergine with tomatoes and onions, served with toasted bread. And you can also enjoy a plate of Tagliolini and hake with lemon or delve into the unique pumpkin gnocchi with Asiago cheese fondue flavoured with white truffle oil. Other specialities on the menu include grilled sea bass with artichokes, potatoes and honey and saffron sauce, tenderloin pork with roasted vegetables, and ricotta cake with raspberry sauce.
2. Restaurant Petra at Born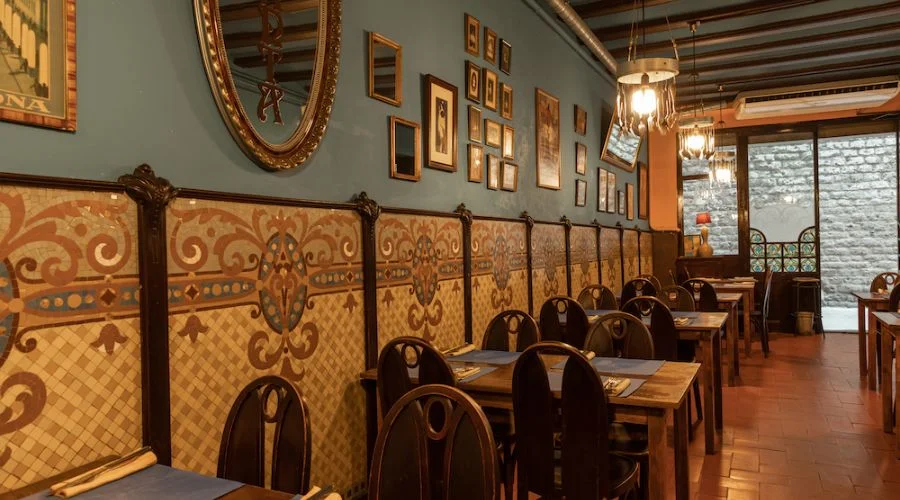 Restaurant Petra is one of the best restaurants in Barcelona. And offers traditional, seasonal Catalan cooking in a quirky atmosphere with colourful tiles and stained-glass windows.
Restaurant Petra uses the freshest ingredients from local farmers and purveyors to cook dishes that are delicious and unique. Their menu features a variety of cuisines, including Mediterranean, European, Spanish, and Catalan dishes. And dishes such as freshly-caught fish, vegetables cooked in a variety of styles, and homemade pasta. They also serve a selection of plant-based foods, vegetarian and vegan dishes, and gluten-free options.
Whether you are looking for a romantic evening out or a lively family dinner, or a late-night snack, Restaurant Petra has something for everyone. 
3. La Pubilla at Gracia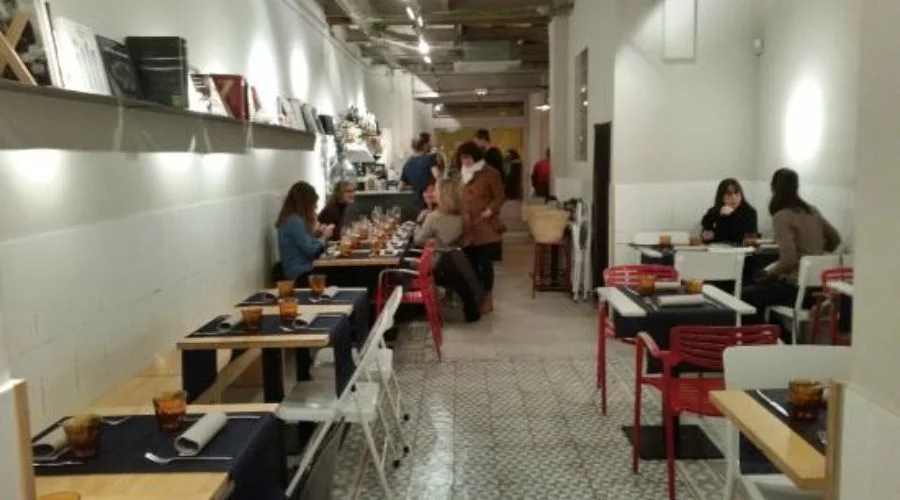 La Pubilla is among the best restaurants in Barcelona. And a  perfect place to enjoy delicious Mediterranean, European, Spanish, and Catalan cuisine.
La Pubilla offers a variety of food options made from market-sourced ingredients. Whether you want to go out for breakfast, lunch, dinner, or even for brunch, La Pubilla is sure to have something for your tastes. And, of course, The extensive wine list also offers something for everyone's palette.
La Pubilla offers vegan options, gluten-free options, and vegetarian-friendly dishes for those with special dietary needs. 
La Pubilla will give you a cosy venue that is perfect for your romantic dinner or a fun family night out. The staff of this restaurant is friendly and attentive and is always more than happy to serve you the perfect meal in the place. 
4. Lasarte Restaurant at Eixample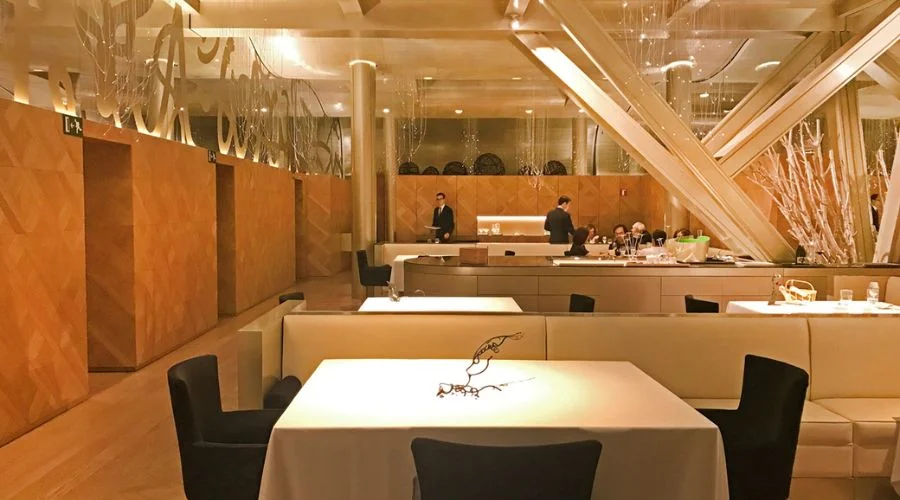 Lasarte Restaurant is one of the best restaurants in Barcelona and also the Michelin-starred eatery located in the Eixample, Barcelona. The place opened in 2006 and, since then, has been a top choice for food lovers across the city as it offers a unique and exquisite dining experience.
The restaurant has been renovated recently and comes with a stunning look with the light texture and the oak furniture, which gives a unique and modern aesthetic look. The restaurant has incredible food created by a passionate and enthusiastic Masterchefs.
The menu of this one of the best restaurants in Barcelona features a wide range of Mediterranean, European and Spanish cuisine as well as vegetarian and gluten-free options. Every dish in this restaurant is made up of fresh ingredients. The restaurant also gives private dining and late-night meals. It also has free Wi-Fi and bar service.
5. Restaurant Loto at Gothic Quater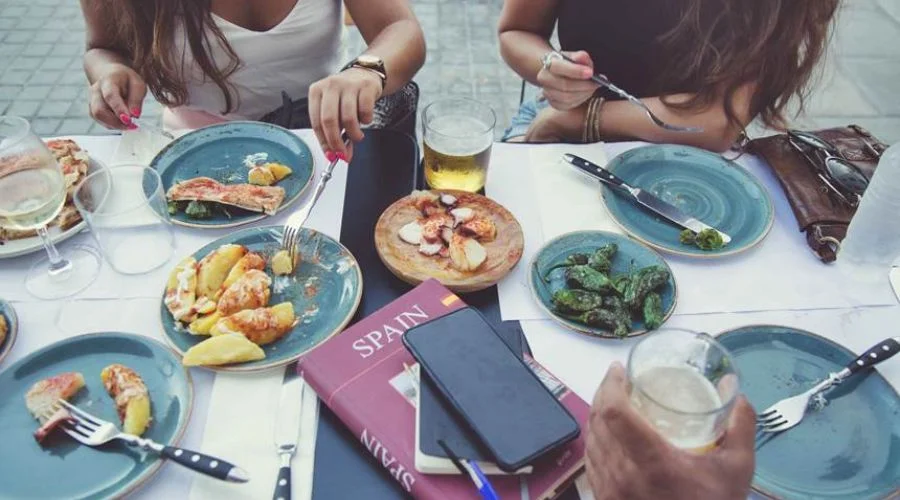 Restaurant Lotto is one of the best restaurants in Barcelona. S located on located at Gothic Street Gothic quarter in this Bohemian eatery offers you amazing Asian cuisine with a focus on fresh ingredients and authentic flavour aunties and taste.  
The restaurant has an open kitchen which will allow you to watch the talented chef prepare your meal, adding to your mesmerising atmosphere. The selection of cuisine as well as vegetarian-friendly, vegan-friendly, and gluten-free. The restaurant has something for everyone.
The cuisine of this restaurant has a wide variety of Asian-inspired dishes with authentic Thai, Korean, and Chinese tastes. The restaurant changes its menu regularly to keep you up with the latest trend.
The restaurant offers you a relaxed and stylish atmosphere with an attentive staff who are always at hand to provide you with the best service. So, if you are looking for light lunch or a full dinner, this restaurant is best for you.
Conclusion
Barcelona has a number of restaurants that offers a wide range of cuisine and experience. But it can be hard to choose the right one for different traditional tapas from Michelin-star restaurants. But These five best restaurants in Barcelona by TrendingCult are sure to provide you with an unforgettable dining experience. Whether you are a local or a visitor, these restaurants will surely tantalise your taste buds and make your trip to Barcelona a truly memorable one.
FAQ's