You will undoubtedly struggle to pick from the many excellent hotels in Greece if you plan a trip there. The top-rated Greece hotels ensure a happy and fulfilling stay by providing a surreal ambiance, beautiful restaurants, tastefully decorated rooms, modern conveniences, revelatory sunsets, and thrilling recreational activities.
Above all, there are many places in Greece where you may find wonderful luxury hotels. These hotels all provide a wide range of fantastic features. Consequently, you can unwind and spend your vacation in stunning locations. Therefore, we compiled a list of all the best luxury hotels in Greece. 
List of the Top Hotels in Greece
1. The Rooster, Antiparos
The small island of Antiparos is an odd blend of elegant Cycladic style and unhurried wildness. Hippies continue to congregate on the island's campsite and dance all night in the little port town while highfliers go to and from their contemporary villas by helicopter.
The Rooster is a stunning bridge connecting the two faces of the island, crossing a tranquil valley with views of Livadia Bay. You might travel here for a family vacation, a wellness retreat, or even a romantic getaway. The atmosphere is more like a second home than a hotel room; the tan and caramel interiors have wine coolers and gowns, and the shaded terraces have outdoor stoves and showers so you can enjoy the beauty of the surroundings.
---
2. The Vasilicos, Santorini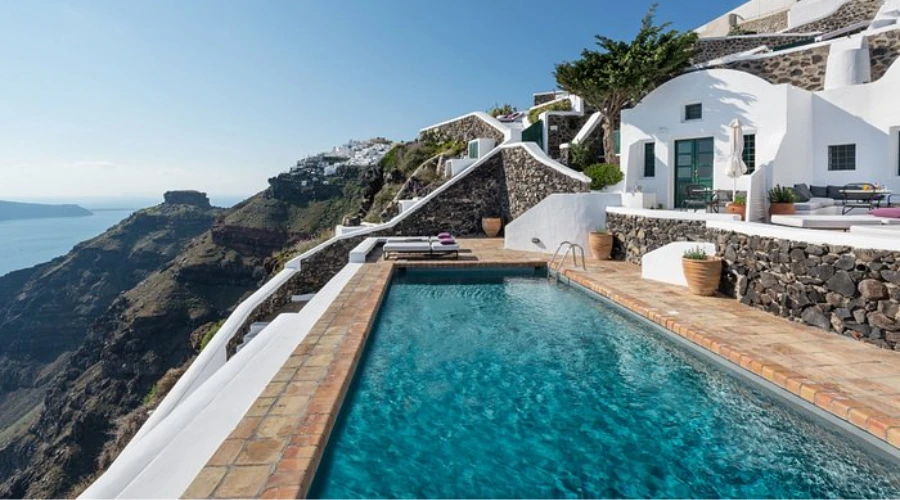 The Vasilicos has only seven bedrooms, yet it has already made a name for itself as one of the best hotels in Greece. It has the coziness and attention to detail you would expect from a hotel that wasn't even meant to be a hotel.
Every square inch of this terraced, cliffside home, which bon viveur Vasilis Valambous designed as a summer home to receive extended family and guests, has a tale to tell. His daughter Daphne and run by her husband Makis renovated it. Custom beach towels include a leaf pattern from a local plant called metrosidiros.
---
3. Mystique Hotel, A Luxury Collection Hotel, Santorini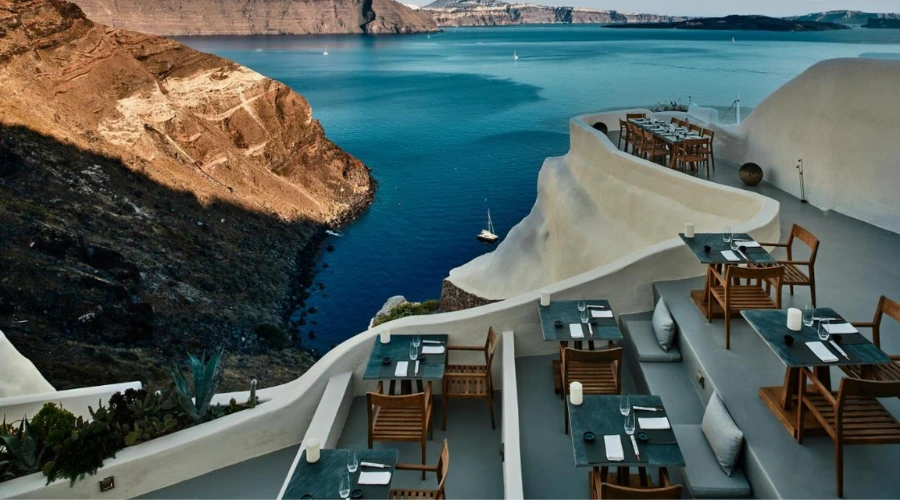 Mystique, a sensory adventure on the sun-drenched island of Santorini, celebrates life's finer pleasures. The chic Mystique, which is located on Oia's well-known cliffs, offers stunning views of the volcano, the Aegean Caldera, and crystal-clear waters in a brilliant shade of blue.
The resort's island-style architecture pays respect to nature in an environment of unapologetic luxury while being encircled by some of the most breathtaking scenery on earth. The 35 suites and villas are constructed from wood, local stone, and glass with alluring patterns carved into the walls, offering a sensory experience in settings of understated grandeur.
---
4. Amalia Hotel Delphi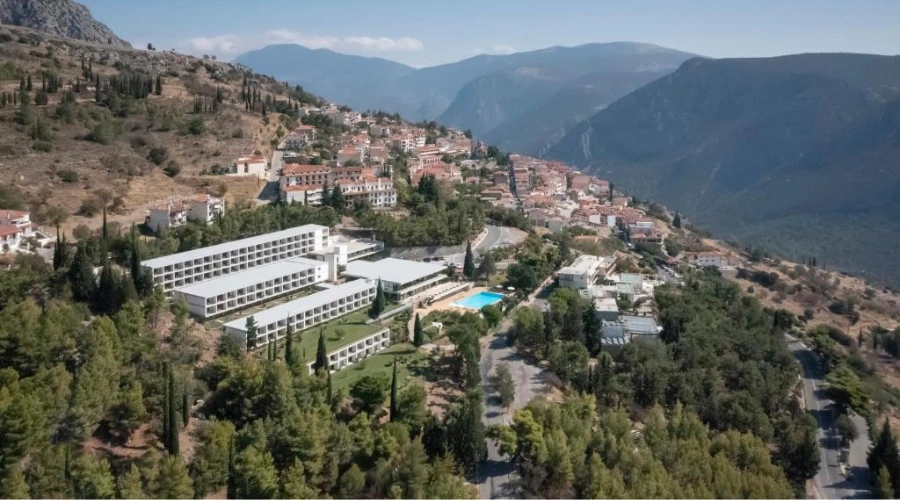 One of the best hotels in Delphi, Greece, with stunning views of the valley and the cities of Itea and Galaxidi, is the Amalia Hotel Delphi, guarded by Mount Parnassus. With its cozy accommodations, proximity to the historical site of Delphi, and two thriving port cities, it makes for the perfect family hotel.
---
5. Spetses Hotel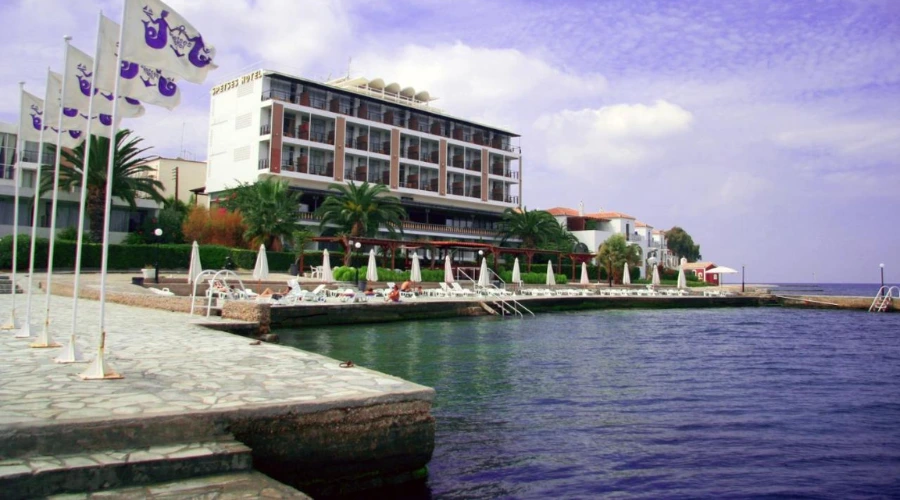 There are many excellent Spetses hotels available for anyone seeking to spend their summer on this affluent island. But since it's only a few minutes from the beach and ten from the town center, we recommend the called Spetses Hotel. The four-star hotel offers separate villas and rooms with views of the Saronic Sea, as well as a private beach where you can unwind and take in the scenery.
---
6. Mystras Grand Palace Resort & Spa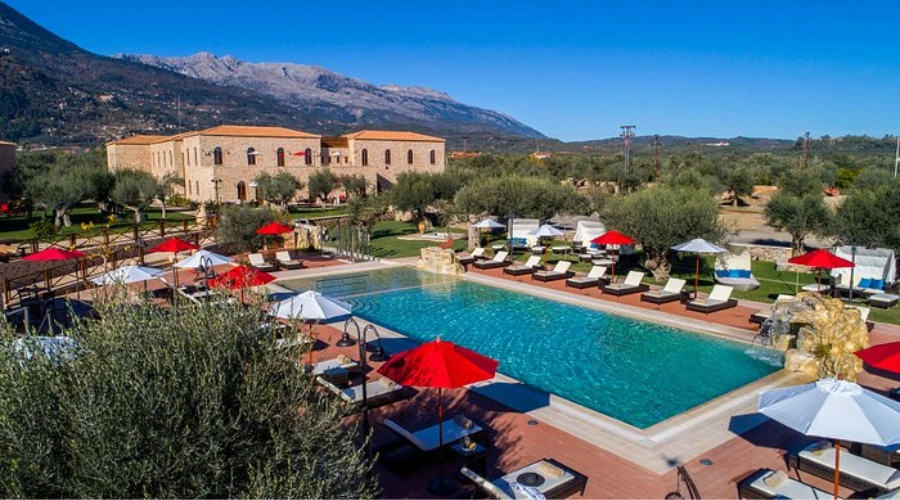 Explore Sparta's long history, folklore, Mediterranean climate, and delectable regional food at your leisure. One of the more well-known hotels in Sparta Greece is the Mystras Grand Palace Resort & Spa, where you can stay while visiting. Exquisite luxury is waiting inside elegantly created spaces that have a hint of rustic charm.
---
7. Hotel Pezoules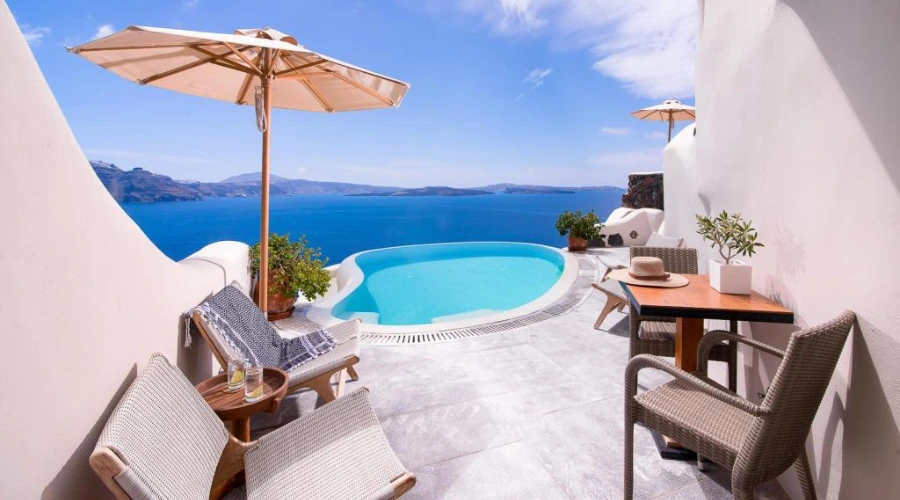 The Hotel Pezoules is ideally situated near everything. The visitors will find a variety of shopping centers with all kinds of services close to the front door, including food courts, gift shops, clinics, banks, and more.
One of the most well-known resorts in Crete among all the Greece Hotels in Hersonissos. The hotel has its own aquatic sports facilities and boasts three magnificent swimming pools.
---
8. Royal Olympic Hotel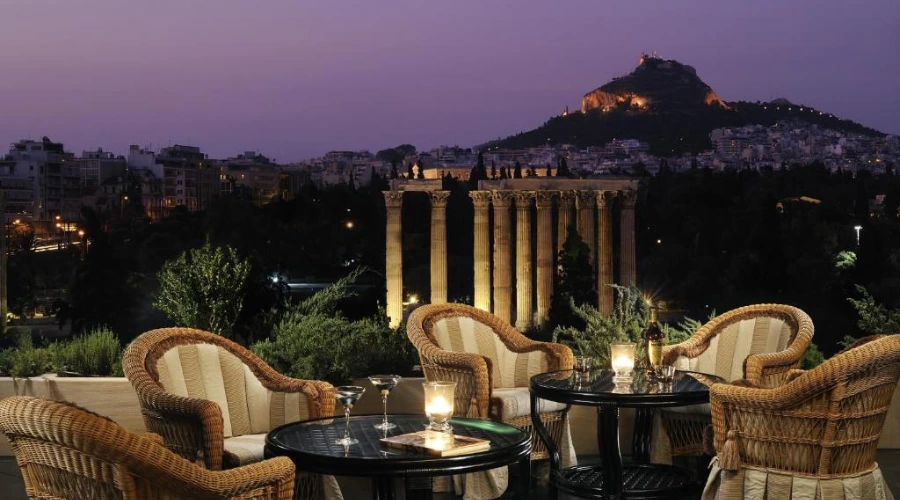 One of the famous five-star hotels in Greece, the Royal Olympic Hotel provides top-notch amenities on the Athens beaches. This hotel in Greece has an award-winning restaurant, an opulent spa and fitness center, and top-notch conference spaces, including one of the biggest ballrooms in Europe that can accommodate up to 1900 guests. Quick shuttle service is offered 24 hours a day from the hotel to the Athens Airport, which is only 10 miles away.
---
9. Volcano View Hotel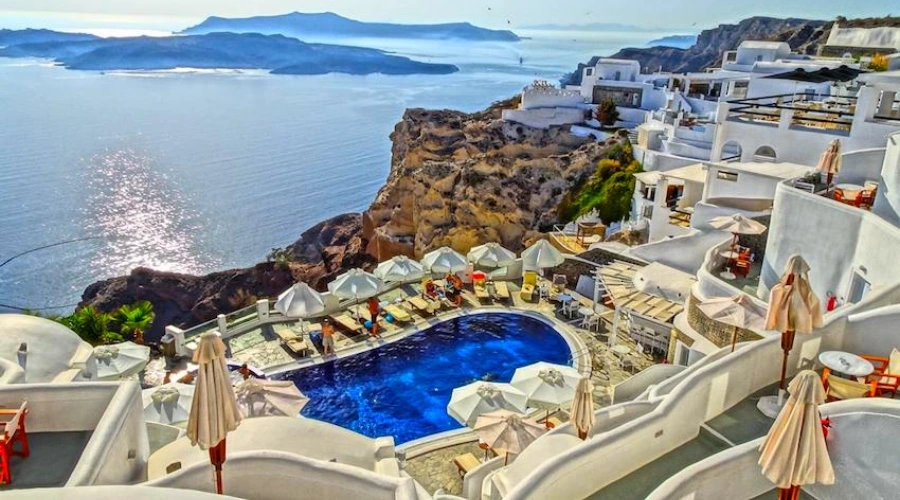 The Volcano View Hotel is one of the most intriguing hotels in Greece despite having only 18 rooms and a tiny size. It is located on the northeastern slope of Mount Vatopedi. The hotel's location gives unhindered views of the active volcano and the Ionian Sea.
It has 12 opulent, classically designed rooms and six suites. The location also boasts an opulent spa, an outdoor café, and an open-air swimming pool with views of Santorini, making it ideal for couples or groups that want to explore this special atmosphere produced by nature.
---
10. Elysium Boutique Hotel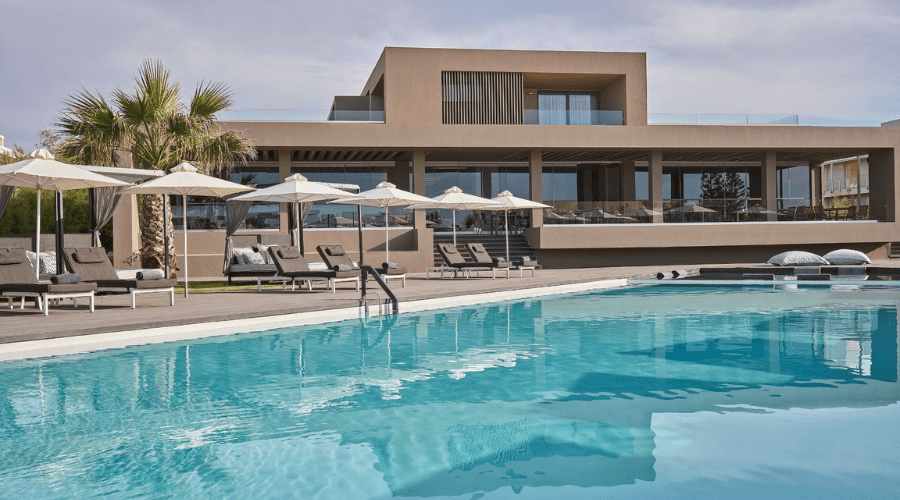 On the western side of Greece, in the lovely town of Corinth, is where you will find the Elysium Boutique Hotel. There are ten large rooms in this hotel, which is one of the best among Greece's five-star hotels. Each room is carefully furnished and has magnificent elements like an ancient stove and real Greek columns.
The guest rooms include double-glazed windows that offer lovely views, contemporary digital appliances, and breathtaking vistas from their terraces where they may have breakfast or cocktails at any time while staying there.
Read more – Enjoy the view of Niagara Falls NY from these top 5 hotels
The Bottom Line
These hotels in Greece provide a wide range of amenities for leisure-seeking visitors, including designated parking spots, stunning swimming pools, well-equipped lounge bars, and roomy banquet halls. To guarantee business visitors have an uncompromised experience, these hotels go above and above by providing impressive conference facilities, high-speed internet access available around the clock, and specialized meeting rooms. For the best family hotels in Greece updates, follow the Trendingcult website. 
FAQ's