Just like seasons shifts, so do fashion styles, but there is one article that stands still and will live on forever, and that piece is trench coats for women. They are a versatile and practical purchase that, once you invest in them, will keep you warm for a lifetime. And, with STRADIVARIUS's website, you can find high-quality trench coats for women at pretty reasonable prices. So, look at these seven trench coats you wear with every outfit.
7 Fantastic trench coats for women to Buy
1. Short Trench Coat With Belt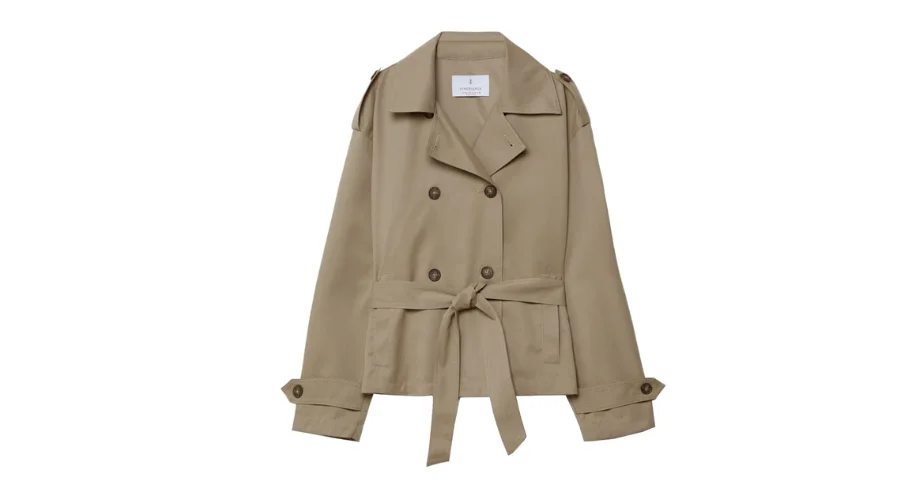 If you are looking for shorter and boxier versions of trench coats for women, you are in luck. This Short Double-Breasted Trench Coat with Belt provides a classic chic style with a touch of elegant colours, making it an ideal find for every occasion.  
Whether you pair it with trousers or layer it over a fashionable dress, this article will highlight your fit even more. Made with high-quality polyester fabric, it has a comfortable and timeless charm that would only cost you. The trench coat is available in stone gray and khaki colours along with various size options from XS-XL.
---
2. Short Trench Coat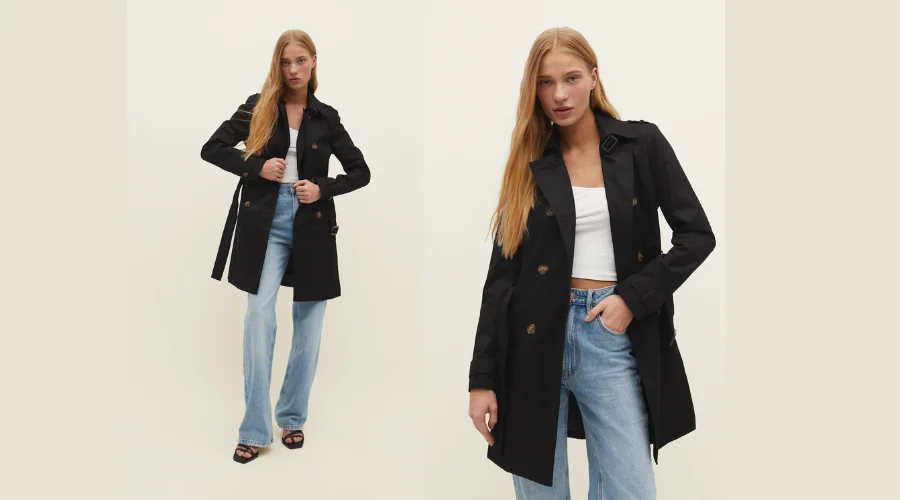 This Short Trench Coat that goes just over your knees is a perfect blend of elegance and modern design. The stylish piece with contrast buttons and long sleeves would make a perfect addition to your wardrobe.
You can easily pair it with a skirt and a top for a day look or wear it with a graceful long dress for pulling off an evening look. The inclusion of the belt adds chic definition to your waistline and also provides you with a comfortable fit. The article is made with an ideal mixture of polyester and cotton, along with distinct colours and sizes from XS-XL to choose from. And, it only costs €39.99.
---
3. Long Flowing Trench Coat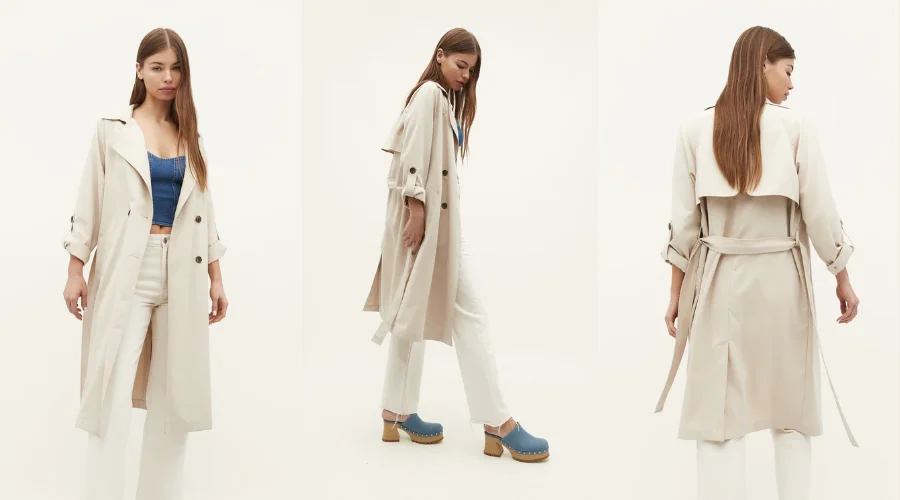 With so many vibrant colours available, this Long Flowing Trench Coat that comes with long sleeves with dropped shoulders offers a contemporary effortless look. The sleek design and the signature waisted belt allow a tailored fit that accentuates your body.
Whether worn casually with jeans or styled for an evening ensemble, it is one of the best trench coats for women that exudes a sense of refinement that is both versatile and alluring. So, investing in a long trench coat made with top-quality polyester would be a smart choice. And, you can easily purchase this item available on STRADIVARIUS at a cost of €49.99 with sizes ranging from XS-XL.
---
4. Oversized Trench Coat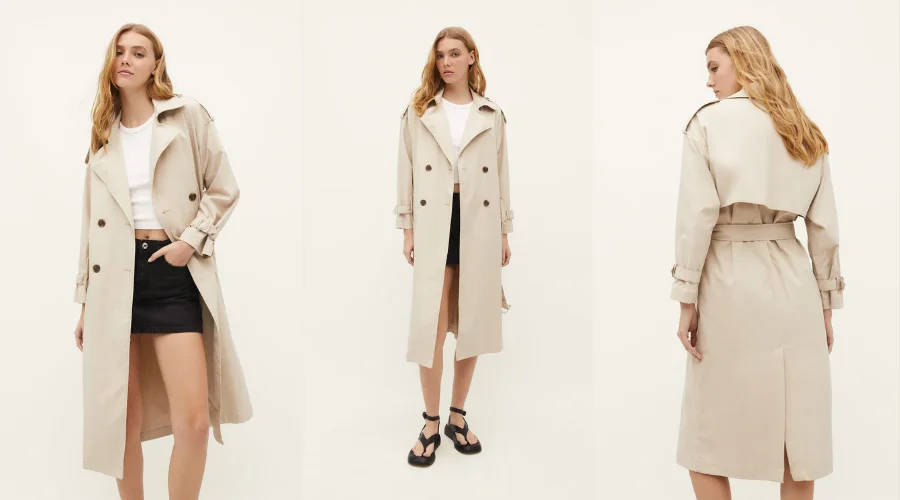 Oversized fits are taking the fashion world by storm as they redefine the old classic fits into contemporary designs. So, if you are looking for such trench coats for women, this Oversized Trench Coat is just the perfect and elegant article for you, available in many colours.
The long, flowy, double-breasted trench coat with long sleeves makes for a chic and cosy aesthetic that you can simply style with any outlook. So, make a bold statement with this comfortable and stylish fit, made from high-quality polyester fabric that is durable and lightweight. The trench coat is available in sizes from XS-XL and costs €49.99.
---
5. Denim Trench
This versatile Denim Trench Coat is made for fashionistas, providing them with a unique fusion of the iconic trench coat design. One of the greatest trench coats for women, it has long sleeves, a split at the hem, and a self-tie belt that give it a little urban appeal.
With this piece, you can make a bold statement that easily lets you transition any daytime outlook to eventful evenings. Since the trench coat is made entirely of cotton, it is both breathable and cozy in the cold. So, steal this trendy apparel through STRADIVARIUS and style it accordingly to your liking. It is available in sizes from XS-XL and costs €69.99.
---
6. Long Faux Leather Trench Coat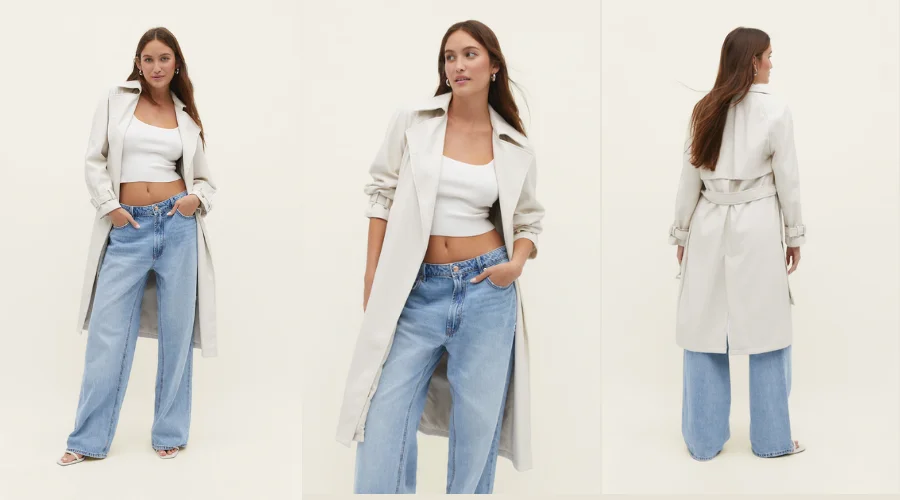 This Long Faux Leather Trench Coat is a remarkable combination of traditional style and contemporary flair that exudes timeless sophistication. With long sleeves, a lapel collar, and a sleek faux leather outlook, the fit provides a sense of elegance and refinement that highlights your body.
This black trench coat is made from a perfect blend of polyurethane and polyester which provides vibrancy, toughness, and glossiness and also makes it a lightweight. You can purchase this stunning trench coat through STRADIVARIUS in the white shade as well, and it is available in sizes ranging from XS-XL. And, it would cost you around €59.99.
---
7. Short, Oversized Crinkled Trench Coat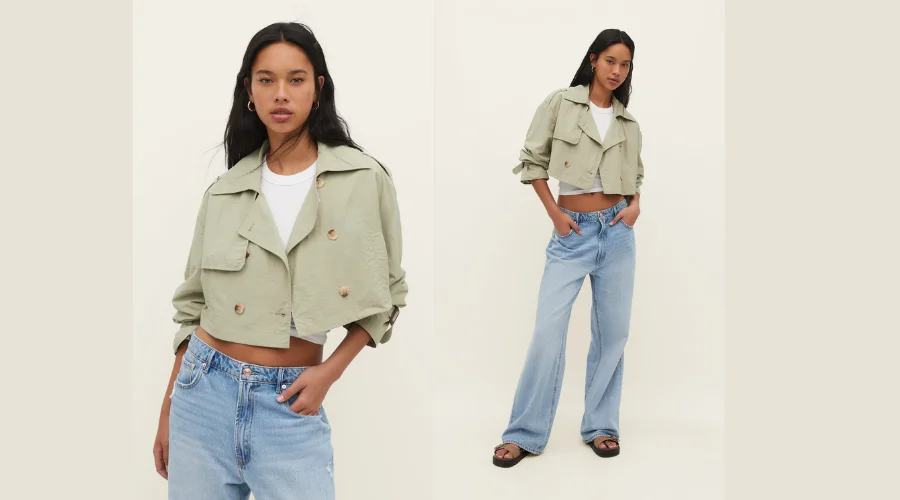 Pull off a bold outlook with this Short, Oversized Crinkled Trench Coat that comes with dropped shoulder seams, a lapel collar, and loops on the long sleeves. The double-breasted trench coat exudes a modish chic look, and vibrant colours like Khaki and Stone Gray complete the artful design.
Whether you are going to an event or simply hanging out with friends, this clothing piece is one of the best trench coats for women to invest in. Made with 100% polyamide provides resilience and coziness that make it a worthy investment. So, pull off a confident look with this trench coat, available in sizes from XS-XL and costing €39.99 only.
---
Conclusion
Trench coats for women are iconic and must-have clothing pieces that can quickly transform any look into a decent, elegant one. The timeless fashion piece is made with high-quality fabrics like cotton or polyester, providing resilience, durability, and chic designs, so it can be easily paired with different outfits. So, if you are planning to stay warm and stylish this winter, take a look at the wide selection of trench coats for women offered by STRADIVARIUS at affordable prices. For more such information, visit TrendingCult.
FAQs