When it comes to women's jumpsuits and dungarees, they always exude a sense of elegance and comfort. Being a one-piece item makes it even easier to style for both a day out and an eventful evening by either layering the fit with a coverup or simply going as it is. While jumpsuits are best suited for formal occasions, dungarees provide a more carefree, chic design; hence, both provide a fusion of fashion and a graceful charm, letting the body move freely.
So, take a look at these amazing women's jumpsuits and dungarees offered by STRADIVARIUS at pretty affordable prices for you to choose from.
6 Women's Jumpsuits and Dungarees at Affordable Prices
Denim Jumpsuit
---
The Denim Jumpsuit in bleached blue and darker blue shades is a fitted jumpsuit that gives an outlook of comfort, style, and chicness. Made with high-quality cotton fabric, this short-sleeved women's jumpsuit offers a modern twist to a classic design. Being one of the outstanding women's jumpsuits that are placed at reasonably lower prices, STRADIVARIUS offers a variety of sizes from XS-XL to choose from.
Whether you are going on a picnic or a weekend getaway, this denim jumpsuit is your ideal companion that embraces both fashion and practicality. So, pair the fit with hoop earrings or pearl earrings along with a denim shoulder bag, and you are ready to step out in style.
---
 2. Short Strap Jumpsuit with Open Back
The Short Strap Jumpsuit with Open Back in gray melange shade is one of the most comfortable-looking women's jumpsuits you'll find. Made with a blend of polyester, cotton, and elastane, this strappy open-back jumpsuit with a round neckline adds a flirtatiousness to the fit giving you carefree and amazing confidence to pull off the sexy outlook. STRADIVARIUS offers the article in various sizes from XS-XL and it only costs €17.99.
There's also another limited edition of this short strappy jumpsuit in the black shade made with lacey material that surely makes up for a captivating and charming appearance that any woman can easily pull off.
---
 3. Long, Rustic Jumpsuit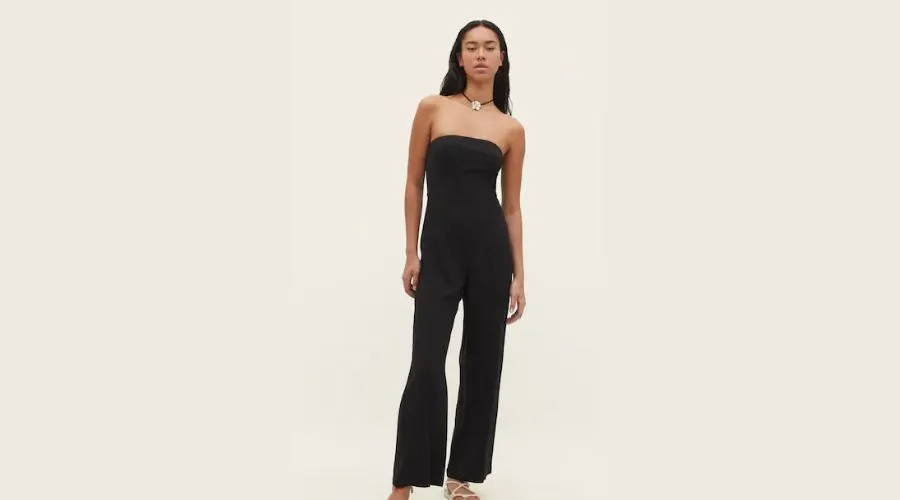 Available in two classic colours black and off-white, this Long, Rustic Jumpsuit with a strapless neckline and wide legs is designed to make a bold statement for every angel. Made with rustic fabric, this article provides a sense of beauty and authenticity with a touch of elegance that lets you move your body effortlessly. Being one of the must-have women's jumpsuits, this article is available in various sizes from XS-XL and it costs €35.99.
Whether you are out for a stroll in the city or going dancing at night, this wide-legged jumpsuit works elegantly as both a casual or an occasion fit. Pair it with a heart necklace, a shoulder bag, and flat sandals and you're good to go.
---
 4. Short Workwear Dungarees
Made with 100% cotton fabric, these Short Workwear Dungarees are the ultimate combination of style and functionality. This blue denim dungaree is available in sizes UK 32-44 and costs only €19.79 It's the most affordable and classic women's dungaree you'll find on STRADIVARIUS. The five-pocket design gives you enough space to hold your essentials while working, along with the adjustable straps that ensure a comfortable fit.
So, whether you're having a rough working day or simply want to enjoy a painting or pottery session, this clothing item is the perfect versatile look one should pull off. Pair the dungaree with a white shirt and sneakers for a laid-back vibe.
---
  5. Flowing Dungarees in a Rustic Style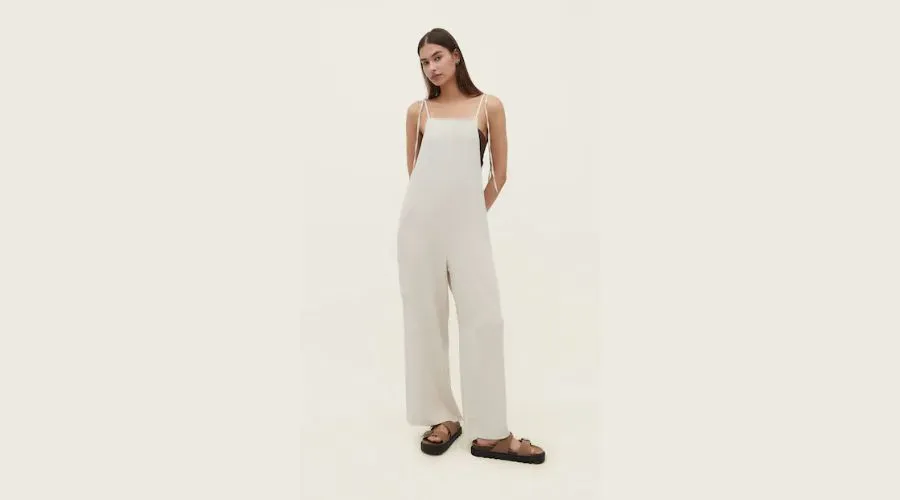 Administering these Flowing Dungarees in a Rustic Style makes for a relaxing yet classic attire that you can wear for any occasion. The long, flowy dungaree available in white with a rustic design provides a modern flair and embodies both comfort and style. The narrow straps and bow details give it an elegant touch, while the wide legs offer a carefree charm. So, order this article right away from STRADIVARIUS, which offers a broad range of sizes from XS-XL to choose from, and costs around €29.99.
Whether you are going to hang out with your friends or to the office, these flowing women's dungarees let you style versatile looks when paired with the right accessories like cute rhinestone earrings and flat sandals.
---
  6. Textured Satin Short Jumpsuit
While all the other products offered by STRADIVARIUS carried a minimalistic look, this stunning Textured Sation Short Jumpsuit in a navy blue shade oozes magnificence. Made from textured satin fabric, this jumpsuit is a perfect luxurious outfit for a dinner date or a fashionable outing. The v-neckline, short sleeves, and elastic waistband offer a chic design, making this dress a worthy spend, whereas the back slit adds a touch of glamour to the overall fit.
Being one of the sexiest women's jumpsuits, this article costs around €29.99, and you can choose from a variety of sizes available between XS-XL. Style the ensemble with heels and a clutch, and you're ready for a wonderful evening.
---
Conclusion
In the world of fashion, articles like women's jumpsuits and dungarees are still standing firm because of their timeless and carefree designs. You can either style them and make a cool casual look or completely transform the fit according to the occasion you are attending, it all depends on how well you are pairing them. So, explore STRADIVARIUS's website for a wide range of stylish and comfortable women's jumpsuits and dungarees and order them right away at affordable prices. For more fashion information, visit Trending Cult.
FAQs